There are programs and spyware that infect devices and allow criminals to stalk and steal from you. Today this crisis is more prevalent as compared to a few years ago. Spyware is the first mobile security threat facing many mobile phone users in 2021.
Are you worried that someone might be spying on you? This is a reason for concern. In this article, we are going to learn how to stop and remove spyware from your android phone and keep your valuable information safe.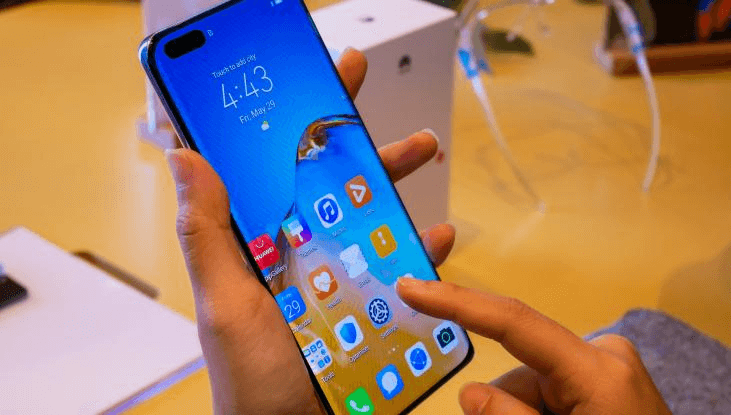 Why is Spyware Dangerous?
Spyware is malicious software that monitors your activities on your phone device. It can track your passwords and logins and track your phone to get your sensitive information such as password, GPS location, and so on.
Spyware can take control of your phone due to the exposure of your text messages, photos, and browsing history. One of the focuses of hackers is extracting your financial information. This enables them to get into your credit cards and bank accounts and gather information for identity theft. Malware theft and cost to the victims are expected to reach $6 trillion globally in 2021.
How Do I Know if I'm Being Installed Spyware?
1. Slower Speeds
Apps are slow to load, they freeze, or your phone takes longer to load it is necessary to check your phone for spyware. The resources of your phone will be hijacked because spyware is constantly transmitting and monitoring your data. It also prevents your phone from shutting down before it has finished its operation.
2. A Quick-Draining Battery
Spyware will use your battery since it needs the energy to check what you are doing and send it to its maker. This background activity uses a chunk of your phone's battery. Getting rid of spyware will extend your phone's battery life.
3. Device Overheating
Your CPU and RAM are like the heart and brain of your phone. Spyware will push them to exhaustion. It will continue searching and sending for data until your phone collapses. Your phone can also overheat if you are using many apps at once or if there is a faulty wire.
4. New Apps Appearing
You can innocently download apps by tapping on links in your email, social media, or text messages. Spyware can also use random websites as bookmarks and stick them to the home screen. One strange app can be used to download other strange apps as well.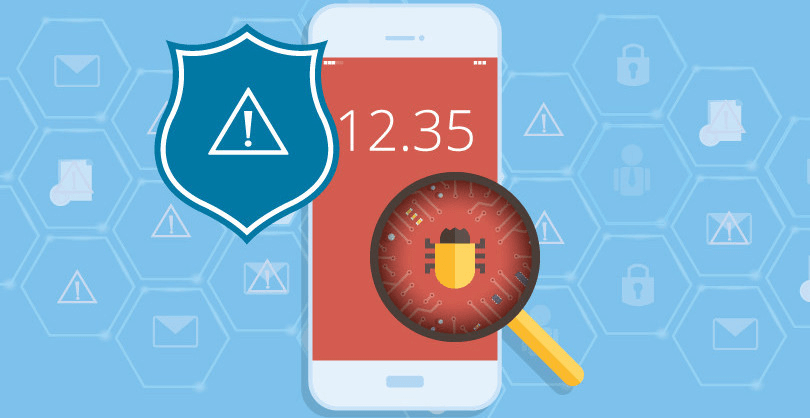 How Can I Remove Spyware From My Android Phone?
Spyware is a spying and malicious software that can access the deep activities of your device. Having spyware infecting your Android could mean that you are sending your password, user name and credit card information to cybercriminals. Learn how to detect and remove spyware on your android phone manually and get detailed and full protection for your phone.
1. Most Radical Way to Remove Spyware from Android Phone: ClevGuard
Spyware attacks on your Android phone can get you stressed up, however, removing spyware radically is not easy, you have to find the professional tools such as ClevGuard to help you. ClevGuard has powerful functions which not only can scan spyware on your phone, but also can remove it radically. Let's know more about ClevGuard.
Why Choose ClevGuard
(1) Quick Check Spyware:
Spyware can be deceptive and difficult to detect at times. This feature, on the other hand, allows ClevGuard to scan third-party apps and identify all spyware in a very quick way.
(2) Real-time Protection:
ClevGuard, being the most dependable anti-spyware, delivers real-time phone protection. It has the capability of scanning your phone's download files 24 hours a day, seven days a week, for potential spyware infections, and notifying you in time if anything is wrong. With ClevGuard's protection, you won't have to worry about any spy apps tracking your personal information, and you'll be able to surf the web safely.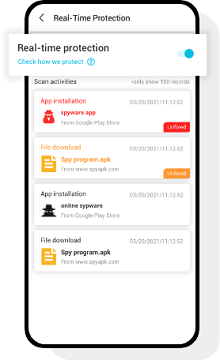 (3) Completely Clean Spyware:
ClevGuard is created with advanced technology. In addition to its exceptional detective abilities, it enables the safe and permanent removal of spyware files without damaging your device or personal data.
(4) Warns of Safety Protection:
ClevGuard gives notification in case of a potential malware attack. If anything seems off like a harmful link or bad app you get an alert and you are given tips on the actions to take. This protection is built into every task you do like browsing the web, downloading apps, and data sharing. ClevGuard has powerful internal security that protects your data and device. This ensures that you stay protected even if you are not using your phone.
How to Clean Spyware Radically with ClevGuard
Let's see how to clean spyware radically at easy steps.
Step 1: Download and Install ClevGuard
Go to Google Play to download and install ClevGuard.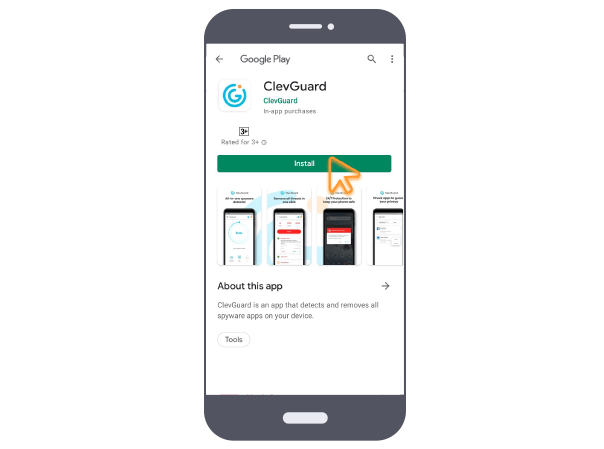 Step 2: Scanning and Detecting Spyware
Open ClevGuard anti-spyware, and use the "Scan" function to detect spyware.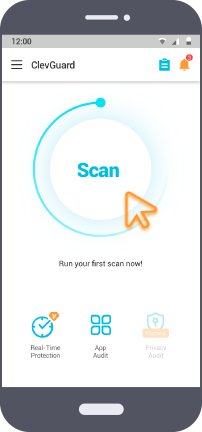 Step 3: Spyware with ClevGuard
Examining the results of the scan and then cleaning the spyware on your phone.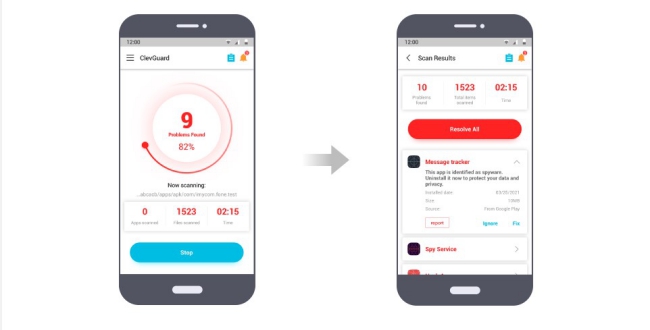 2. Common Ways to Remove Spyware from Android Phone
(1) Change All of Your Passwords
If you have shared your password, this is the most important thing to do. It is a terrible thing if someone you shared your password with is using your account for the wrong reasons. They have access to all your accounts.
(2) Enable Two-Factor Authentication
Two factor authentication?increases your account's security. If someone guesses your password it will be hard to access your account. You are able to add another layer of security to your phone in case someone steals your password. After setting up two-step verification you will be able to sign in to your accounts via two steps using something you are aware of like your password, or something you have such as your phone.
(3) Consider Creating a New Email Address
Once you notice that you have been hacked. You can block your hacked email and create a new email address with a very strong password.
(4) Update Your OS
New spyware is generated constantly which threatens your Android phone and the apps installed in it. Your browsers and anti malware software are also at risk if not kept properly patched or not kept current. It protects your personal e-Property. This is a common method but the results are not that effective. This works by stopping the spread of malware.
(5) Reset Your Device
This is one of the easiest ways to remove malware from your device. You can get the default settings which is a feature that comes with factory reset phones. Doing this has a disadvantage it will delete all your data including saved contacts. Ensure that you have a storage backup before resetting your phone.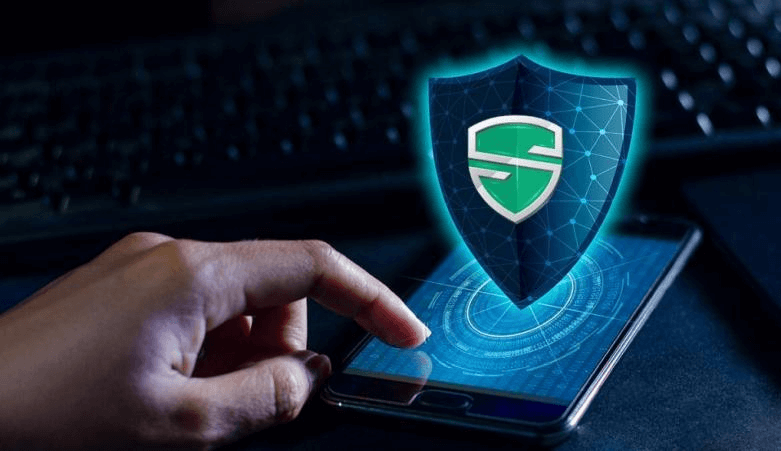 How to Protect Your Phone Device?
The real threat of mobile tracking does not only come from GPS or cellular networks. It is effective and easier to spy on someone from an installed app on your smart phone. The tips below will help protect your phone device.
Use two-factor authentication and a strong password for all important accounts like your Google account or Apple Id.
Protect your devices with a complex and strong pin and do not show them to anyone. It is impossible to install malware if the device is properly locked.
Use official stores to download apps. However, some risky programs sneak into Google Play Store and App Store but they are very few as compared to other sources.
Avoid giving permissions to mobile apps if they seem to cross the line. Grant permission if they are genuinely required.
Use an original security solution like ClevGuard. It detects legal spyware and malware and gives warning notifications to the owner.
You can use ClevGuard to detect malware from your device and remove it. It is or recommended application for dealing with spyware.
To prevent future spyware, you need to install a reputable and certified antispyware like ClevGuard. You are assured of getting 24/7 protection from other forms of malware and spyware. Detect infected apps before they have a chance to infect your android phone.
Conclusion
ClevGuard remote control anti-theft features enable you to track and recover your device if it gets stolen or lost. This locks out thieves and prevents them from accessing your data. ClevGuard has a usability and protection score of 99.9% and the most trusted anti-spyware for your android phone.
You may also be interested in:
By Megan Evans
Posted on May 26, 2021 ( Updated: Sep 16, 2021 )
A certified content marketing specialist with great passion for Internet and online safety. She is bent on educating the audience about cyber safety tips and tricks.