Question: Why We Need to Find a Spyware Removal Tool?
Android operating is designed so that any app can ask you for the permission request.
Once you give them access to the corresponding permission, they will get full access to monitor and track the respected allowed permission anytime they want without your further request.
To keep your phone protected from spyware, you should use the best free spyware removal for android.
Because spyware and tracking apps are some of the worst enemies of your privacy, they can easily steal all your device data and your activities and send it back to the transmitter.
Table of Contents
How to Check for Spyware for Free?
You can use an anti-spyware app to prevent spyware from spied on and remove any spyware from your phone. These kinds of anti-spyware only have one job: to monitor and keep an eye on every app and stop them from spying on you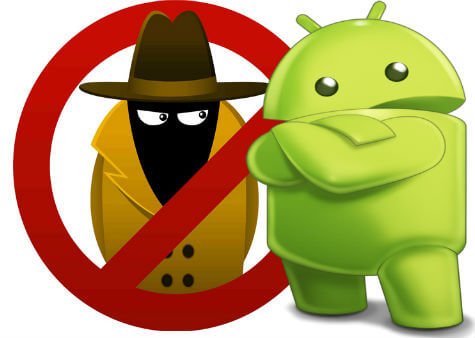 ClevGuard Anti-spyware (Free scaning)
ClevGuard is the most professional and cutting-edge software to helps you check and remove spyware on your Android phone, let's see how does ClevGuard function in your phone protection:
1. Quick Scan All Apps: With the advanced technology, ClevGuard performs a rapid scan of all third-party apps to see whether there are spywares on your phone.
2. Give Whitelist and Blacklist of Apps: After scanning process, ClevGuard will provide a whitelist and blacklist of your apps. Apps that are blacklisted make it impossible to use them. Whitelisting allows a selection of apps to run on your phone. Also, you can use either blacklist it or whitelist it if you trust it.
3. Completely Remove Spy Apps: ClevGuard can remove spy apps completely with one click and also make sure that no spyware is working in your phone. With an advanced background running, it will keep scanning all the app activities in real-time.
4. Real-time Protection: The real-time protection will make sure to alert you and terminate the process in real-time before it takes place.
5. App Audit: App audit will scan every app on your phone in a detailed manner. After the audit is complete, it will show you results, including app permissions, overlays, background usage, etc.
How to Protect Your Phone with ClevGuard Easily
Let's check the easiest steps to protect your phone.
Step 1: Download and Install ClevGuard
Click "Get it on Google Play" button below to download and install ClevGuard Anti-spyware.
Step 2: Scan and Detect Spyware
Open ClevGuard and touch the Scan button to detect spyware that has been installed on your phone.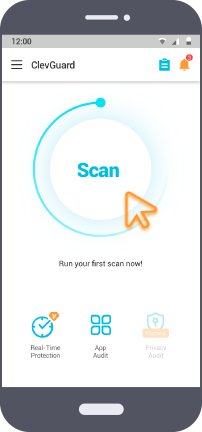 Step 3: Remove Spyware Quickly
View the scanning results and removing spyware by click Resolve all.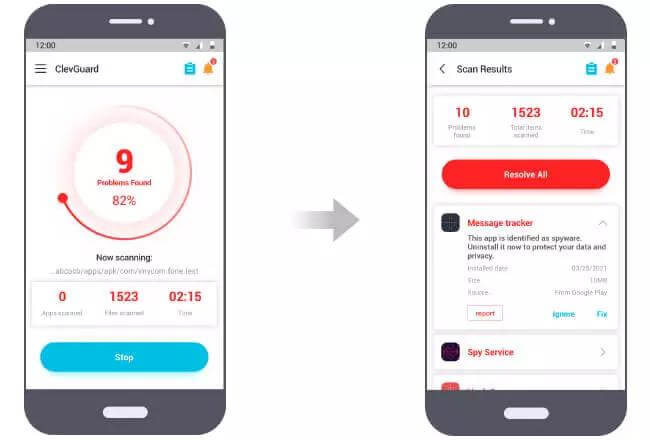 WireTap and Spy Removal
WireTap is specifically designed to prevent any 3rd party apps from tapping your phone recordings and audio messages. Its main focus is to avoid any other 3rd party app from recording your call.
If it detects any app doing call recording or monitoring your market, it will send your alert, and you can either remove it or allow it.
With this app, we're pretty sure that no call tapping Trojan will stay on your phone. This is because the app uses AI that detects any call recording in a matter of seconds.
Supports VoIP calls such as WhatsApp, Skype, and Messenger and detects those Trojans who are spying on your VoIP calls.
Free spyware detector for your android device makes your phone free from any spyware.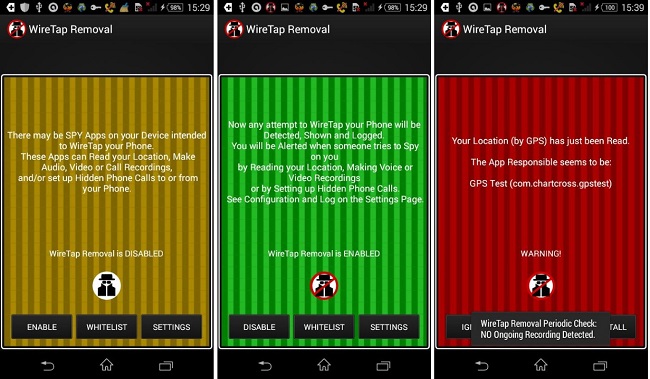 Related Read: Protect Your Privacy with Best Spyware Detector
Anti Spy Mobile Free
Anti Spy Mobile is perfect for those who want minimal UI. The app uses AI and a database of Spywares that efficiently detects all the spyware running on your device.
The database is used to identify any app that has been reported as spyware and installed on your phone. The app will alert you and eliminate it even if it's not working.
Perfect for those who want a simple spyware remover on their device.
Database of spyware applications and AI algorithm makes it the great spyware remover for android.
Able to detect spyware even if they're not working. It is all possible through its database of spyware.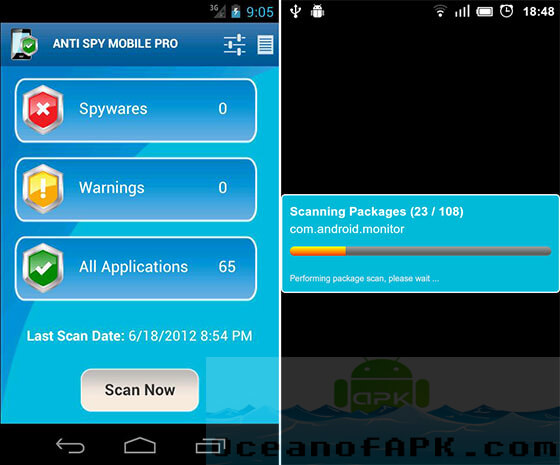 Anti Spy (SpyWare Removal)
Anti Spy is an all-in-one privacy application that scans for spyware and looks for other privacy attacks. The app comes with a spyware detector, app analyzer in which it scans each app, hidden apps, and many other privacy-based features.
This spyware remover is perfect for the removal of any spyware and only consumes 3MB of your device storage.
A dedicated app analyzer is best for analyzing all the app details through this app. The analyzer displays permissions, overlays, critical alerts, and background usage.
The hidden app feature will display all those applications that are not displayed on your home screen but working in the background. In this way, you can easily detect spyware.
Extremely light-weight, only consumes 3.0 MB of your device storage.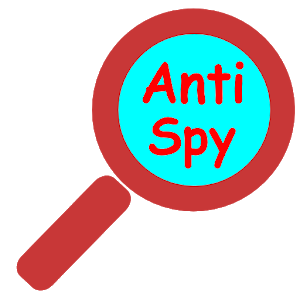 Free Spyware & Malware Remover
Today's modern spyware can track your location, browsing history, VoIP calls like WhatsApp and Skype class, and much more. They are so advanced that you can't even see them on your phone. To prevent spyware from spying on your phone, you can use Free Spyware & Malware Remover. An advanced and powerful spyware remover that makes sure no spy on your phone is working. The app is not just limited to apps. Instead, it can even scan websites for any tracking cookies.
Dedicated VoIP calls tracker that scans which app is tracking your WhatsApp, IMO, and Skype Calls.

A website analyzer will let you know if there is any tracking cookie available on the page that tracks your browsing activity or not.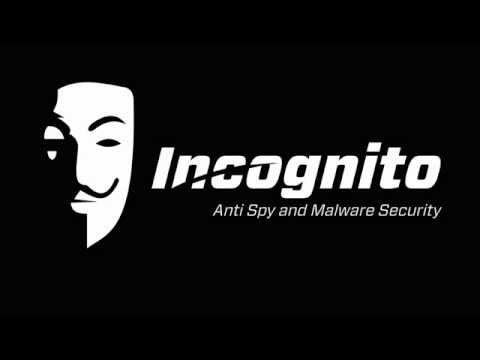 Which One is the Best Anti-spyware?
Aforementioned apps are all excellent in the field of remove spyware. However, if you want to find a Anti-spyware can offer 24 real-time protection for your phone, ClevGuard is the best choice.
Spyware is the most common type of attack on android. They are usually simple applications that have access to all your device permissions. Once they are installed on your phone and started working, it's hard to detect them manually. Because they are so smart that they rename themselves as "system application" or "android service."
If you want to get basic protection from spyware, you can install the anti-spyware which we've mentioned in the above review. However, if you pursue a full protection, we strongly suggest you install a trusted and superb spyware removal tool on your phone such as the professional one, ClevGuard. You can trust and install it on your phone for maximum security.
Conclusion
Spyware is one of the most dangerous threats to your privacy. Usually it takes all your important information secretly. If you don't know much about the system tech, you might be unable to know if the spyware is hidden in your phone. Therefore, protecting your privacy is no time to delay. We strongly suggest that using ClevGuard if you pursue a complete security. No one comes close to features that ClevGuard provides.