Over 70% of the population with smartphones are Android users. Most of them are reporting the slow performances and ask for a solution. Thus, chaos and frustration create among Android users due to the slow performance of the system.
In this blog post, you will find how to clean junk files from Android phone that will work 100% on your smartphone. Let's discuss in detail.
Why is My Android Phone So Slow and Laggy?
There are countless reasons behind the slow performance of the Android?phone. One of them is the accumulation of junk files.
When you use your phone, various unwanted files are constantly created. These unnecessary files bring a noticeable lag in your phone performance. Therefore due to the cluttered junk files, your phone may start running slower or at near capacity over time.
Another reason is that Your ROM is full of videos, pictures, social media apps, and other data. As a result, a considerable decline in your phone's functionality occurs.
Another reason may be that spyware is affecting your phone. Its presence overloads your phone's processor and can cause erratic browser behavior and make RAM unusable.
The one quick fix to solve these issues is to clean up junk files on Android and clear out its unnecessary data and unused apps. A potential solution is a system update to get your phone back up to full speeds. That's why it's important to clear junk files on your Android phone.
Best Junk File Cleaners for Android
The best app to clean junk files on Android should have the following features;
Keep your system clean by detecting and removing junk files from your phone.
Android cleaner apps should prevent any unwanted app to run in the background.
It works fast enough and has a smoother operation.
It should speed up your phone performance.
It should protect your phone against malicious files, spyware, and worms.
Keeping these in mind, I came up with the six best methods for junk cleaning. ClevGuard junk cleaner is my top pick lets discuss why I ranked it number one.
Method 1. Clean Junk Files on Android Using ClevGuard
If you're looking for the best Android phone cleaner app, ClevGuard should be on your shortlist. It will automatically do most of the job by itself without letting you worried.
ClevGuard is an excellent anti-malware app for Android. With ClevGuard, you always have the power to surf the internet with safety. ClevGuard provides a solid 24/7 defense against spyware and other malicious files that may harm your device. Thus, it removes all of the hidden files and boosting up your phone performance.
Time needs to spend:few seconds
Effectiveness:
Download and install ClevGuard on your phone by clicking "Get it on Google Play" button as below. After installation is complete, open ClevGuard to Junk File page. Now, with a click, you can find junk files in your Android phone. ClevGuard will display the junk file types on your device after scanning. Such as App cache, APK files, Ad junk and Empty folders, etc. You can easily remove them in a few seconds to free your phone's storage.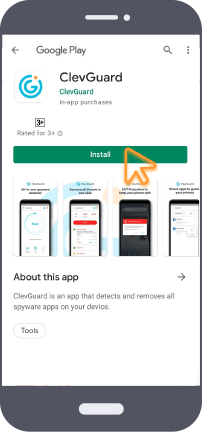 Not only for clean junk files, some of the prominent features of ClevGuard include:
Protect your device by scanning dangerous downloaded files and third-party apps.
Provides a 24/7 real-time Spyware detector to shields your phone from being monitored.
Notify you when some applications turn on microphone or camera with or without your consent. You can also view history logs or disable protection.
Method 2. Clean Junk Files on Android with Files by Google
Many of the junk-cleaning apps have a lot of unneeded cleaning features. Google's official Android file manager app employs a simple method that doesn't have any fluff to it.
Time needs to spend: maximum 5 minutes
Effectiveness:
Step 1: Install the app
Install the app from an On Android device and open files by Google.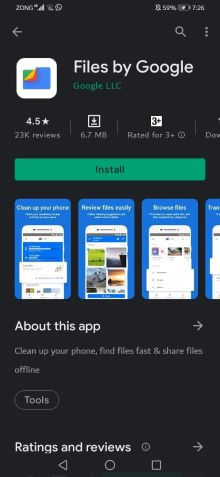 Step 2: Start scanning
After opening the app, go to the "Junk Files" section and select files to free up the space.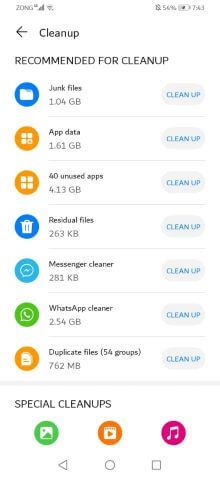 Step 3: Delete junk files
In this step, tap "See junk files" and press Delete on the file types you want to delete. Tap on "Clear" to delete them and then hit clear again to confirm.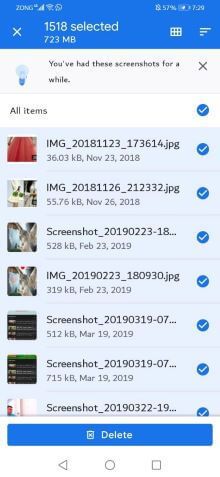 Method 3. Clean Junk Files on Android Directly
Android cleans up junk files from its system directly. It has this built-in feature that will help you get rid of junk files. You can do it directly on your phone by deleting cache files from all the apps.
Time need to spend: almost 3 minutes
Effectiveness:
Step 1: Go to setting
Tap on "Settings" and scroll down to the "Apps" tab. You will find all the apps installed on your phone with the number of running ones in parentheses next to each of them.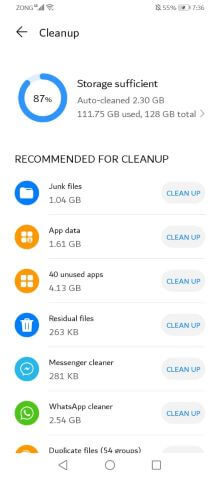 Step 2: Clear Cache
Click on any application to clear up storage. By clicking "CLEAR CACHE/CLEAR DATA" all junk files of that particular app will be removed.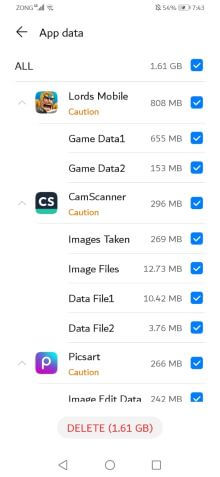 Method 4. Delete Junk Files on Android Using System Settings
Another effective and easy method to delete junk files from your phone is using system settings. This method is similar to the previous one. You can do this easily from its settings or with a third-party tool.
Time need to spend: 3 minutes
Effectiveness:
Step 1: Open settings
Open "Settings" on your Android phone and visit "Storage and memory". Now, you will find information about how much memory is used by apps and other data.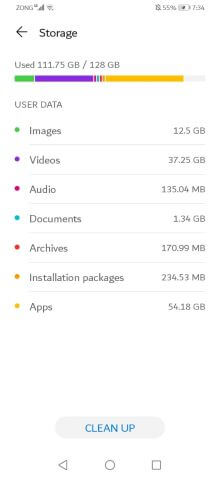 Step 2: Select files
From the displayed list, select "cached data". All the cached files will be showed to you that have ever been created on this device.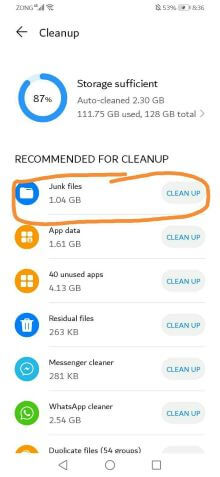 Step 3: Delete files
Confirm the "delete" button to delete all cache memory on Android.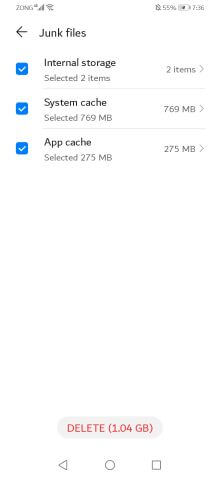 Method 5. Clean Junk Files on Android from Your Device Recovery
Deleting Junk Files on Android from Your Device Recovery complicated process that requires pretty advanced knowledge about the Android?platform.
It requires special knowledge about Android?devices so that you don't damage your phone. If you have enough knowledge and want to know how to clean junk files in Android without app, follow the steps given below.
Time need to spend: almost 10 minutes
Effectiveness:
Step 1: Press "Power off"
At the first step, you have to power off your device by pressing the "power" button for few seconds.
Step 2: Press "volume up"
Now, press the "Power" and "Volume Up" buttons simultaneously for about 5-10 seconds. As mentioned earlier this varies depending on your device but you can find information online about your particular device. If this doesn't work then the final resort would be to factory reset your phone.
Step 3: Alternative
If you have a stock Android?recovery, the touchscreen might not work. You can use the buttons to navigate as an alternative.
Step 4: Delete junk and turn on your device
You can then proceed with wiping the cache partition, which you access by going to "wipe cache partition". Once done, power down your device and that'll delete junk files. This process may take a significant amount of time. The last action is turn on your phone.
Method 6. Clean Junk Files on Android by Wiping Cache Partition
It is possible to try clearing the Android cache partition on your phone. Taking this action without first going into device recovery mode and clearing the cache partition can put your device at risk.
Time needs to spend: almost 10 minutes
Effectiveness:
Step 1: Press "power off"
Switch off your device by pressing the "power" button for a couple of seconds.
Step 2: Press sides buttons
Press the power button and volume up for 5-10 seconds. It will automatically take you to recovery mode. (The method varies depending on your device, so please check out the Internet for instructions). When your phone is in recovery mode, you can use the volume (up and down) and power button.
Step 3: Reboot Your System
Go to the power button and press "wipe cache partition" to delete junk files on Android. After completion, select "Reboot system" to turn on your device.
FAQs & Conclusion
Q1. What are the different types of junk files?
The different types of junk files include; thumbnails, temporary internet files, recently deleted folders, downloaded program setup files, unused data such as images, photos, videos, and unwanted social media apps. All of these junk files slow down your phone performance.
Q2. Is it safe to delete junk files?
It's safe to delete junk files on your phone. Doing so will improve performance and lead to a faster and more smooth experience as the phone won't have to work as hard to function properly because it will have more free space.
Q3. How do I do a deep clean on my Android phone?
The answer to "how do I clean junk files from my Android?" is very straightforward. There are countless methods used to deep clean any Android?phone. Some of the commonly used ways include; removing junk from Android directly, from system settings, from device recovery, by wiping the cache partition, and by using the third-party app such as ClevGuard.
Q4. How to keep Android Clean and Tidy?
Regular maintenance of your Android device is required for it to stay clean and tidy. Cleaning the device with scanning programs can help prevent software and files from piling up, freeing up space in RAM to give better performance.
Conclusion
Routine maintenance is a necessity on Google-based devices. Practically all programs feature basic requirements for cleaning various junk files, ease of use, and enhancing functions. That's where ClevGuard comes in handy as it has everything you need for proper maintenance.
ClevGuard is a trusted Android?safe app as it provides 24 hours protection for your phone from potentially harmful spyware and files. It will also remove hidden files that may slow down your device and boost its performance. So, give it a try and let us know about your experience in the comment section below.