How will your new cell phone and mobile phone lock to your mobile device be protected and tracked if you want to be? Or am I being tracked online? Yes! It would be easy to give the new phone number to a company you don't want to be tracked and made vulnerable. Then, how can I avoid being tracked? There is a method of protecting yourself if someone is tracking or looking for you without alerting a carrier to it. However, to know how to protect yourself and your phone, follow a few things.
Can Someone Access My Phone Remotely?
Yes. (But) not all of them. To do so, you need an iPhone or Android phone with a dedicated Apple or Android app installed on it. But even without that additional app, your device can be "fuzzed" remotely, and hackers can listen in to conversations, take photos, send messages, etc.
It can be done by using a Spyware. Spyware is an application installed on your smartphone by hackers, and malware dealers. It is a type of threat that affects all the users as the software developed by these criminals usually is full of malware and Spyware. There are also some hidden spy apps on your phone. It can download its applications and run on your phone without your permission. It may also share your personal information. Then how to stop someone from accessing your phone remotely?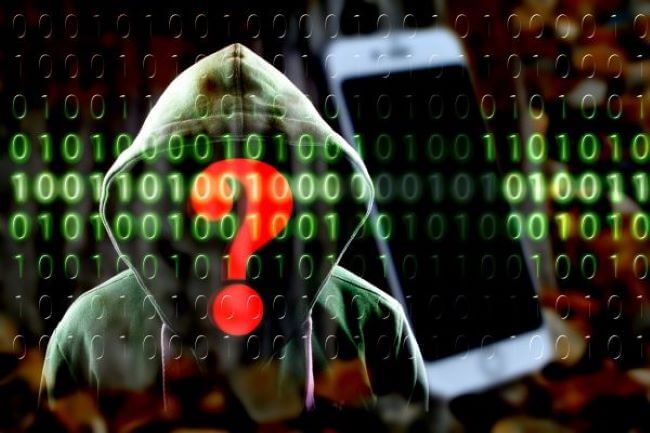 How to Remove Spyware from my Phone?
We can't ignore that your smartphone or laptop gets infected with the virus and malware as much as a virus; this is why we need to use anti-spyware as a protective measure to clean the junk and viruses on our smartphones, computers, and tablets. But, how to remove mobile tracker from phone? If you want to remove spyware from your device using simple and effective methods, it is ideal to use Clevguard. It is one of the best and most potent anti-spyware tools to remove spyware from your phone, smartphone, PC, or laptop. It is also extremely easy to use.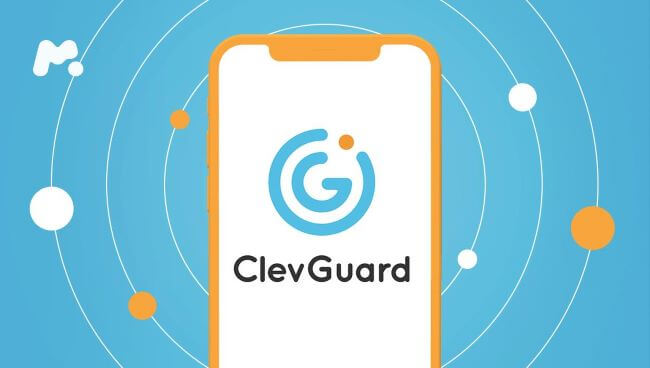 Five Features of Clevguard
Clevguard Anti Spyware is a powerful tool with five major features that make it to be a one-stop anti-spyware tool that efficiently removes all types of unwanted malware from your system and safeguard your personal data. Let's have a look on these features:
One-click Install:
Clevguard Anti Spyware has the ability to install programs automatically. So, you don't have to manually uninstall it and remove any tracks of it. All you have to do is just click on "install" and wait for it to start. You can also allow the installation to happen, in order to install apps that you don't want to remove manually.
Add-on apps:
Clevguard Anti Spyware also offers three kinds of add-on apps to clean up the environment on your computer. All you have to do is just click on the "add-on" button, type the name and hit the "Install" button. It is a one-click solution to clean up the system.
Anti-ransomware:
You can secure all of your files to prevent them from any kind of computer viruses, worms, Trojans, and other types of spyware. With Clevguard Anti Spyware, you can get free anti-ransomware to ensure that you keep your computer virus-free and run fast and safe. It can also lock the program windows if ransomware infects your computer.
Anti-rootkit:
With this feature, you can hide your system files, apps, fonts, shortcuts, documents, browsing history and other stuff from any kind of rooting malware. In case you find yourself having problems with it, you can give it a try and find out that this tool is incredibly useful.
Cleans up system:
This tool has the ability to clean your system by removing the unnecessary files and apps. This tool also comes with a free uninstaller that can remove all tracks of spyware that can be installed. You don't have to worry about removing spyware in order to get it working perfectly.
How Does Clevguard Work to Stop Someone Tracking You?
Clevguard anti spyware is a somewhat unique option, as it not only blocks certain apps and websites, but also intercepts the calls that are sent from your device. It's an all-in-one package that can stop an attacker in their tracks. How an anti-spyware works? Let's take a look at how it works.
Step 1: Download Clevguard Anti Spyware
Click the "Google Play" button button as below to install ClevGuard Anti-Spyware.
Step 2: Start scanning with Clevguard
After installation, click the Scan button to start a detailed scanning on your phone software to see if your phone has spyware.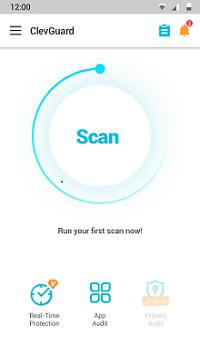 Step 3: Remove Spyware with Clevguard
Once the scan is complete, you will see a list of malware and spyware applications on your phone. You can check for and click the "Resolve All" button to remove it.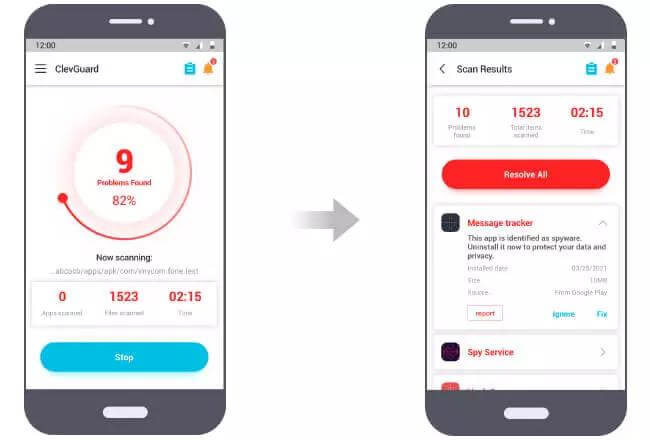 Other Ways to Protect Your Phone from Tracking
The most favorite concern of mobile users is how to make your phone impossible to track. The following precautionary ways can do a lot here:
Timely operating system updates

Any time you install a new version of an operating system, you're agreeing to new privacy policies and other new features. You should do this, of course, if you're extremely concerned about your privacy.

Raise awareness of password security (Use complex passwords)

The simple solution is to use different passwords for all apps and websites you use frequently. The basic idea is to use a different password on each site. We like to use a combination of uppercase, lowercase, and numbers, and a number representing the month.

Beware of suspicious emails

Some malicious emails attempt to trick users into visiting a phishing website, and then trick them into giving away their credentials. Beware of messages that say your email account needs to be changed or updated or that have a link to click that leads to another site.

Uninstall suspicious software

If your phone contains apps that you suspect to be unsafe, you can remove them from your phone and do a factory reset. This is particularly handy if you have downloaded a lot of freeware from random places on the internet.

Use insecure Wi-Fi connections with caution

It goes without saying that you should use secure Wi-Fi if you can. But it's a good idea to enable Wi-Fi scanning at home as well as at the office. If your network doesn't support Wi-Fi scanning, that's okay, but you should avoid browsing any questionable sites from your home networks, and avoid logging into unknown Wi-Fi networks from your office network.
Conclusion:
If you're looking for an anti-spyware tool, Clevguard is certainly worth checking out. It's fairly lightweight, and it should have a minimal impact on your device's performance. The only downside is that it will slow down your device a bit while it scans, but it's by no means a major impact, and you can always enable some level of dynamic scans to speed it up a bit. If you're looking for an easy and effective way to make your device more secure, Clevguard might just be it.