Google Hangouts, one of the most downloaded instant messenger and video calling apps, is on the crest of the wave.
However, some accusations are that Google Hangouts' security might not be up to the mark beside its popularity and arises the question of "is Google Hangouts safe?".
That's why in this article, we've written an ultimate article on the truth behind the accusations of Google Hangouts.
So let's get into it:
Is Google Hangouts Safe?
Google Hangouts does use some encryptions and securities. However, still, it doesn't comply with many Standards and doesn't use today's latest encryption like other IMs. Below are some of the loopholes of Google Hangouts: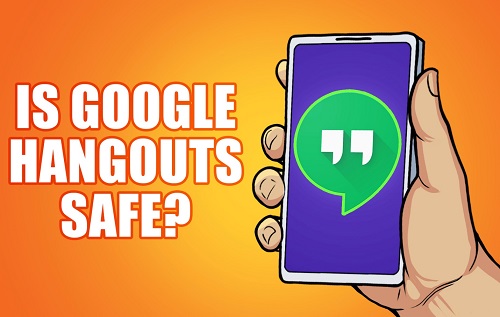 Google Hangouts Doesn't Follow End to End Encryption:
The bad thing about this IM is it doesn't have any end-to-end encryption for messages and calls. Unlike other IMs which send your message to other users in encrypted forms, Google Hangouts doesn't work like that.
All your messages are sent freely decrypted over the internet, and even a beginner-level hacker can read your messages!
Google Hangouts Privacy Concerns:
In terms of privacy, Google Hangouts also lacks it. If you have used Google Hangouts, you might notice that the platform doesn't offer privacy options. You can't even hide your profile image from a dedicated group of users like WhatsApp and Facebook.
Another drawback of their privacy is that you can't delete the messages from other users' chat boxes as most IMs provide. Their privacy is just like an old school essential instant messenger.
Hackers Might hack Google Hangouts:
Due to their worst encryption, old school security and outdated privacy, their safety is like a rusted metal chain that any hacker can break easily. Therefore, any hacker can break into the security of Google Hangouts easily.
How to Keep You Safe When Using Google Hangouts?
If you want to keep your privacy secure, here we have found out the methods and tips for you. Continue reading the section below for more information:
1. Stay Safe on Google Hangouts with Professional App
One of the best apps that you can use to protect your privacy and stay away from Google hangouts hacking attacks is ClevGuard.
It's not just a simple privacy protection application but a complete all-in-one service that ideally protects your Google Hangouts and shields you against hacking attacks on Google Hangouts.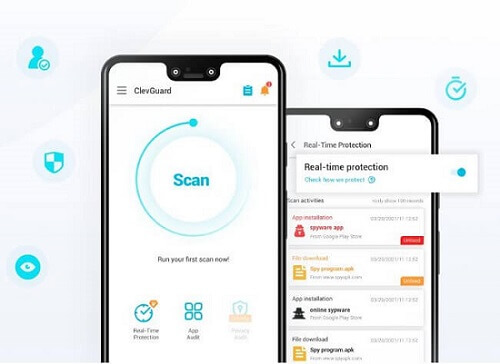 How to Stay Safe on Google Hangouts with ClevGuard?
Step 1. Download and Install ClevGuard on Your Phone
Click "Google Play" button, then you can directly download ClevGuard on your phone.
Step 2. Scan Your Phone with ClevGuard
After installation, open ClevGuard and then tap on "Scan" button to scan all your phone files to see if there is any threat to your Google Hangouts and phone device.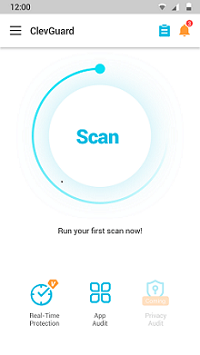 Step 3. Start Protect Your Google Hangouts and Phone
Once the scanning process is finished, ClevGuard will provide a scanning report, and then you can check if there are spyware and malicious files on your phone.
And then you can click the "Resolve All" button to remove all threats for your Google Hangouts and phone.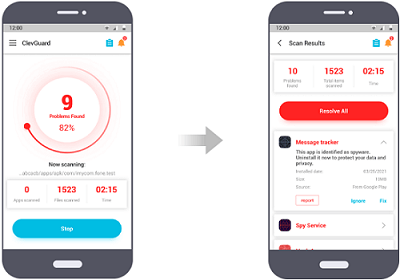 How ClevGuard Secures Your Privacy on Google Hangouts?
If you want to know precisely how ClevGuard protects you from Google Hangouts rusted security, read the below section:
1. Find Out Any Threats on Your Phone

First of all, ClevGuard scans your smartphone and searches for any threats or malicious files in the device. So that, even if someone sends you a virus containing malware through Google Hangouts, ClevGuard will keep you safe against viruses.

Protect Your Google Hangouts and Phone in Real-Time

ClevGuard comes with a dedicated Google Hangouts and phone protection. Due to this, the ClevGuard will keep monitoring all the activities made on your Hangouts account and phone.

For example, it'll keep scanning all the incoming files on your Hangouts and will notify you if any suspicious activity is recorded on your Hangouts account and phone.

Check Your Email Data Breach

Your Google Hangouts account is linked to your Google Account. Therefore, if your Google email address gets hacked, Hangouts will also be hacked.

However, ClevGuard comes with a built-in email data breach checker. All you need to do is enter your email address; ClevGuard will check your email against the billions of breached emails. If your email is breached, ClevGuard will provide the details and also provide you the security tips.

Protect Your Phone Camera and Microphone

The camera and microphone is the first target of any hacker. ClevGuard knows it. That's why it provides you complete protection against camera and microphone hacking.

The ClevGuard will notify you immediately if any application tries to access your microphone or camera in the background without your permission.

Clean Your Phone Junk Files

Junk files are the most common cause behind the slowing down of your smartphone. They're temporary files that your device's CPU creates. In most cases, junk files slow down your smartphone as they occupy a large portion of RAM and CPU resources.

ClevGuard provides the function of scanning all your phone junk files, and then you can clean your phone junk files to speed up your phone device.

2. Secure Your Account with a Strong Password

Besides what ClevGuard will do, it's essential that you also take necessary actions from your side to keep your Hangouts account protected.

The first thing you might consider is to make sure you have a strong password. Your Google account password is your Hangouts password as well.

We highly recommend you change your Google account password at least once a month. Moreover, never use your name, 12345678, password, and username as passwords. Always create a solid, complex, and challenging password!

3. Report or Block Unwanted Friends

The next thing you might consider doing is to report unwanted or suspicious users. Especially those users who send you unwanted spam links and adult ads.

So that Google will know what they're doing on Hangouts and can block them from the Hangouts platform, such users are primarily scammers and hackers, so better to report them!

Alternatives for Google Hangouts

Google Hangouts isn't the only video meeting and IM application out there is. If you're still not satisfied with Hagnout's privacy and system, you might consider moving out to its alternatives.

Below we've reviewed three best options for Hangouts:

1. Zoom

Zoom is the most downloaded application in 2020 and the most grossing software company during the pandemic. About 400+ million people downloaded the Zoo application on their smartphone only. The platform is secure, encrypted, and uses end-to-end encryption.

Zoom comes with all the basic to advanced features that you can expect from a full-fledged video meeting app. For example, unlike Hangouts, it can allow up to 100 people to join a video call, message delete for everyone feature, and many other privacy features.

2. Skype

Online video calling, Skype was the first-ever platform that introduced the concept of video calling and online meetings. Launched in 2003, it currently has over 171 million downloads. For those who're highly conscious about their privacy and security, no app can be better than Skype.

The most secure and highly encrypted video calling app, it'll take hackers' blood, sweat, and tears if they want to get into the loophole of Skype. Moreover, it offers all the advanced and basic features of an online meeting platform.

3. Viber

Viber is closer to IM than a video meeting application. Among all the alternatives we've mentioned in the article, Viber has the most number of downloads. With over 1.1+ billion downloads, Viber is one of the most downloaded applications of all time in the world.

Besides its number of downloads, it's a great platform if you care about your security and privacy. Viber offers 16-bit Linux-based end-to-end encryption and a user-friendly privacy policy.

Moreover, it also contains some extra features that other IMs and video calling apps aren't showing. Overall, it's a far better alternative to hangouts.

Conclusion

Google Hangouts, popularly known for its fragile and outdated rusted security. It's recently been accused of not using encryption in calls and chats, an ancient security system, and an un-friendly privacy policy.

That's why we've written this article on how you can protect your privacy and security on Hangouts through ClevGuard and mentioned the three best alternatives for Hangouts as well.