Nowadays, everybody has a mobile phone, and we take it with us somewhere we go. However, have you wondered that someone can easily track your location and know where you are via your phone?
In this article, we are going to cover a few different ways that most hackers use to track the mobile phone of the victim. More importantly, we will discuss how to find a GPS tracker on your phone and make your phone impossible to track.
What Can GPS Phone Tracker Do?
GPS (Global Positioning System) is a way to work out accurately where something is. For example, a GPS tracking system can be placed in a vehicle, in particular devices, or in a mobile phone that can be portable or fixed. It works by giving information on accurate location.
With this, the movement of a person or vehicle can be tracked. For instance, several companies use to monitor the progress and route of the delivery truck. GPS phone tracker can also be used by the parents to know the exact location of their child. Moreover, it is also helpful for the monitoring of high-value assets.
How To Detect GPS Tracker on Cell Phone?
Detecting GPS trackers on your phone is not always an easy thing. It depends on the type of GPS tracker. For some GPS trackers, like Google Map, you can easily find them. However, for some GPS trackers like spyware, it's very tricky and you are unable to find it without the help of a third-party app.
Therefore, here we have listed the common types of GPS trackers as well as the methods to detect and stop them.
1. GPS Tracking Apps - Spyware
Spyware is the most tricky GPS tracker which is hard to be detected. Generally, it can be installed on your phone remotely and hides in your cell phone as a normal icon. Therefore, you can rarely realize that your phone is installed with spyware.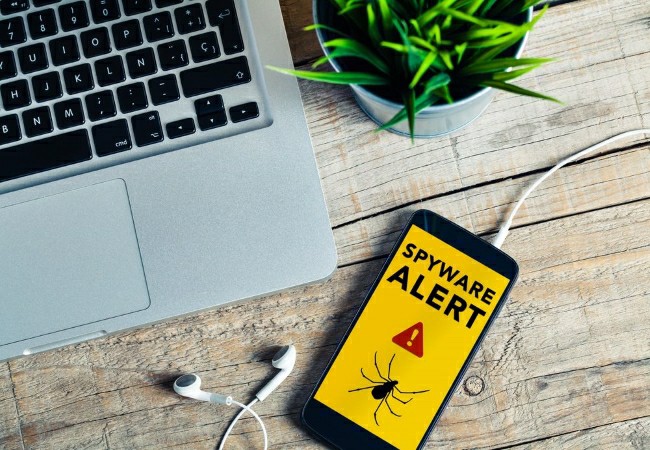 How to Detect Spyware and Stop It
To detect Spyware and stop being tracked, a user will be required a cutting-edge security tool to scan the device for the hacking signs. That's why we recommend using ClevGuard.
ClevGuard is the best anti-spyware tool for the security of your mobile phone data. It helps you to know How to find a GPS Tracker on your phone. Also, it provides other advanced functions such as real-time protection, email breach check, junk files clean, etc.
How to Use ClevGuard Anti-Spyware App to Detect and Stop GPS Trackers?
ClevGuard is an easy operation anti-spyware app that you can protect your privacy just within 3 easy steps.
Step 1: Download and install ClevGuard by pressing the "Get it on Google Play" buttong below to finish installation.
Step 2: Scan your mobile phone with ClevGuard and check the results list, it will present if there exists GPS trackers on your phone.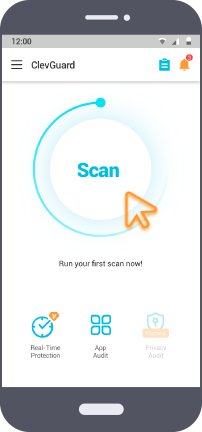 Step 3: After checking the scanning report, you can keep you from being tracked by clicking the "Fix All" button to remove GPS trackers from your mobile phone quickly.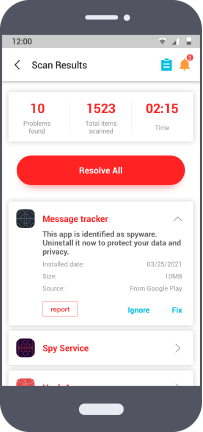 What else You Can do with ClevGuard
To protect your phone, ClevGuard is the best security tool that helps you find out and remove hidden GPS trackers. Moreover, it also provides other advanced features to protect your phone's privacy.
Real-Time Protection: ClevGuard provides 24/7 protection for your phone. It will alert you if there are any GPS trackers or other malicious apps on your phone instantly so that you can stop them from getting on your phone instantly.
Email Breach Check: You might receive lots of emails every day. However, your privacy might be leaked via your email. Therefore, protecting your email account is essential. With ClevGuard, you can check if your email address is breached or not. If yes, you will see the detailed record of the email breach condition and take action accordingly.
Phone Camera and Microphone Protection: Some spyware and malicious files can access your privacy via your phone microphone and camera. If there is any app that is listening to your conversation and taking pictures on your phone, ClevGuard will notify you immediately.
Junk Files Clean: Some malicious files might hide in your junk files. What's more, many junk files might harm your phone like slowing down your phone speed. ClevGuard can check all your junk files on your phone and then you can clean your phone junk files accordingly.
2. Apps with Access to Your Location
You can see if the location sharing is on in any of the apps. There can be a chance to be tracked if you have turned on your location in any app.
Google Maps
It is a web-based service that offers detailed information about geographical regions and sites throughout the world. Moreover, Google Maps also offers satellite and Arial views of the places. You can stop location sharing in Google Maps by these steps.
Open the Google Map application on your phone. In the top right corner, click on the "account" circle.
Click on "location sharing".
Remove the account on which you are sharing your location.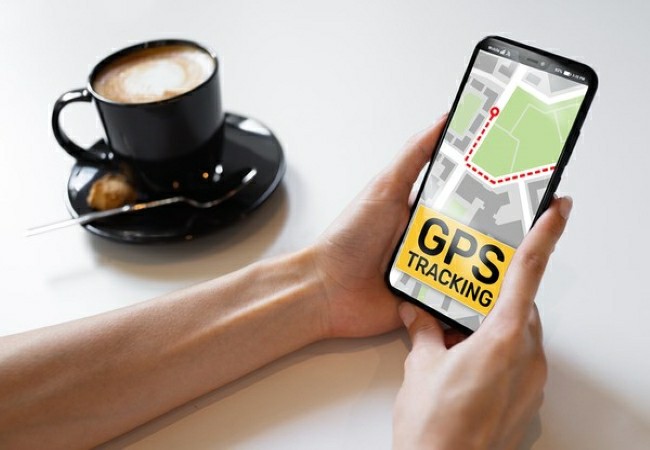 Find My App
Find My app is offered by Apple for their devices. It is used to locate the lost devices even if they are offline. Moreover, it is also helpful for the users to share their location with their friends and family members.
You can stop location sharing in Find My app by these steps.
Open Find My Application on your device.
Click on "Me".
Turn off "Share My Location".
To protect your Smartphone, ClevGuard is the best security tool helping you know how to find hidden GPS trackers. It is a real-time spyware detector to help you keep your phone protected from Spyware by detecting and then removing it. You can use this security tool with these features
Final Words
As it is an age of technology, everything can be done on the internet. Someone can track your location by using some tactics. Some parents track the location of their children to know where they are. But if you are a businessman, this tracking can be harmful to you, as someone can misuse it.
So, you have to keep your location hidden to avoid any type of difficulty. There are a few ways discussed above to hide your location. ClevGuard is one of the best apps to find a GPS tracker. It is a multi-feature software helping you to remove spyware from your Smartphone.