The availability of Internet has provided us much ease of gaining information and at the same time it is easy to obtain large amount of sensitive and inappropriate contents on the Internet. This problem worries us because it is difficult to know what our loved ones are browsing on the Internet, therefore tracking sometimes makes sense.
Considering this, we would like to make you aware of some free internet history trackers and traditional ways that will be of great assistance for you. Begin to scroll and find out how to track browsing history secretly for free!
1. KidsGuard Pro for Android (Most Affordable, Best For Android & iPhone)
Browsing History Tracker KidsGuard Pro for Android is a newer, but nicely-rated cell phone monitoring app to track someone's Internet history which offers impeccable website tracking on Google Chrome, Firefox, Safari and more with 100% secrecy, so you don't have to worry about being discovered by others.
This app is effortless to set up within 5 minutes, and after downloading it, you will be able to keep tab on data of target phone through a online panel in real time.Also, did we mention that it is able to track 30+ files on target phone and only costs $0.27/day? When it comes to a one-stop phone tracker, you can't beat KidsGuard Pro for Android!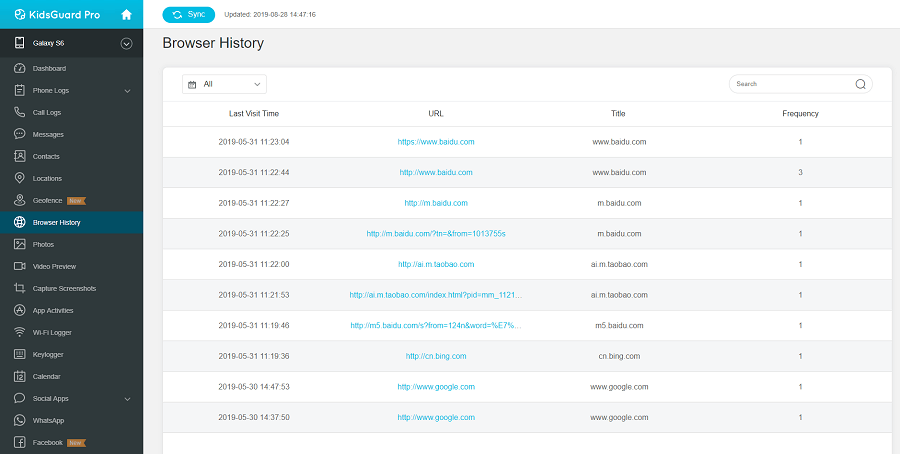 1.1 Compatibility
KidsGuard Pro for Android works for both Android and iOS devices running up to latest OS version without root/jailbreak.
1.2 Useful Features
You can track every site (including deleted history) with specific URLs that the target user browsed on the web.

You can check private or incognito browsing history and find out what your target was visiting behind your back.

Every browser history is attached with the time and date stamps, access frequency, etc. So you can know what was your target supposed to be doing when they visited a site.

This app truly works to track browsing history secretly. As it is 100% invisible on the target device and the data can be checked remotely using your online account.

Real-time and steady data syncing, which gives you a good idea of other's online activities in time.

Except for web history tracking, you can also use KidsGuard Pro to check call history, monitor social app chat history, track GPS locations, record keystrokes, capture screenshot and more.
1.3 Price Plan
With so many wonderful features, KidsGuard Pro only comes with 1 package. All its premium features are available for one purchase.
| Plans | 1-month | 3-month | 1-year |
| --- | --- | --- | --- |
| Price | $29.95 | $49.95 | $99.95 |
1.4 How to Track Web History on Another Phone Secretly
Step 1: Register a KidsGuard Pro for Android account and get a valid license that fits your need.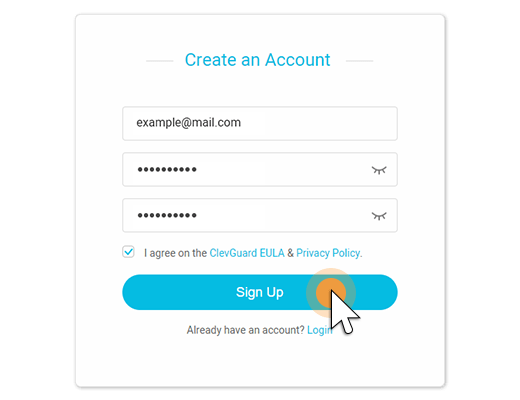 Step 2: Download the app from www.clevguard.net to the target device you want to monitor and complete the setup wizard.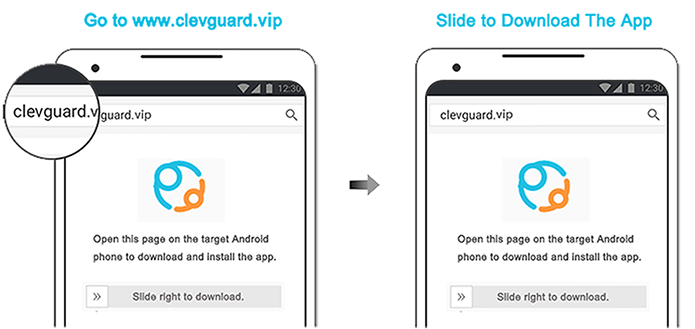 Step 3: Access KidsGuard Pro's online dashboard and select Browser History under Phone Files menu to check the browsing historyr.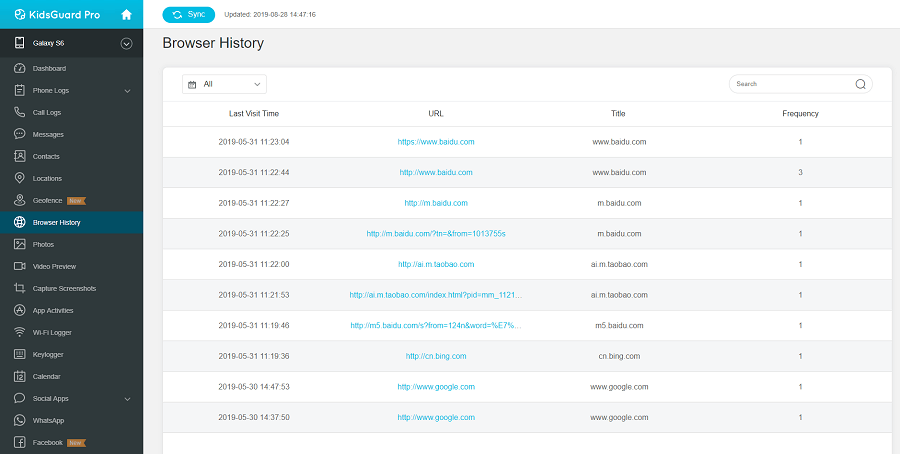 1.5 User Reviews: 4.8/5
"I would have never thought of my son being hooked on online gambling in my life. He is not the kind of person. But when I discovered that he was extremely anxious and irritable. Then I found KidsGuard Pro, which is a secret way to track browser history and many other things on his phone. Thank God we managed to stop this before it was too late." - Real Review from Daniel
Considering the cost effectiveness, ease of use, secrecy and tracking features, KidsGuard Pro has an immense advantages over rival apps.
Some people may not only want to track browsing history on the target phone, but also want to directly block the harmful website. Here is an alternative, KidsGuard. Simply hit the button below and have a try.
2. Xnspy
Xnspy is another big name which offer browsing history tracking seamlessly. It saves the information about all the websites visited by the user of the target device, which you can keep your child away from all dangerous websites. This is an advanced application that provides more except browsing history. It is also a solution on how to record browsing history secretly.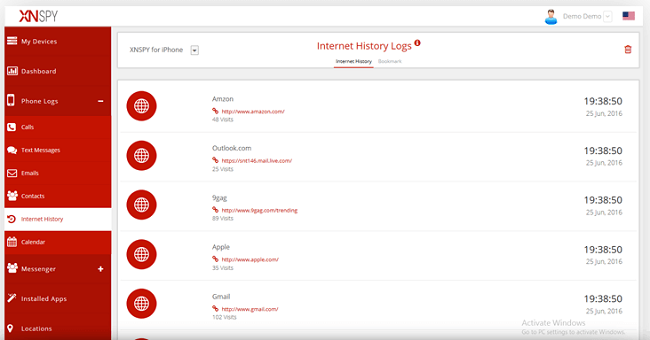 2.1 Compatibility
It supports Android and iOS.
2.2 Useful Features
Check all the websites' URLs that targt user visited.

View time and date stamps for each website.

Know how often the favorite websites are visited.

Get alerts on specific callers and protect your kids.
2.3 Price Plan
Xnspy provides 2 packages for different plans.
| Plans | 1-month | 3-month | 1-year |
| --- | --- | --- | --- |
| Basic | $29.99 | $41.99 | $59.99 |
| Premium | $35.99 | $59.99 | $89.99 |
2.4 How to Use Xnspy
Create an account and purchase a subscription plan.

Follow their emailed instructions to download and install XNSPY monitoring app on the target cell phone or tablet.

Enable enable several settings in the device to make the app start working.

Log into the your account from its official website and select the files you want to check.
2.5 User Reviews: 4.0/5
"With the aid of this app I must say I had a detailed results on my son's phone. But one thing is that price is a bit too high to afford and the customer support is not that timely." - Real Review from Alicia
Overall, Xnspy can be ranked as one of the best browsing history tracker apps. It's intuitive interface and clear user guide can help a beginner to get started quickly.
3. FamiSafe
FamiSafe is a compact browser history tracker that can be used to keep tab on your kid or to your loved ones for iPhone, Android, and tablets. It is designed to monitor web history and filter the web contents. Using this app can can help you care for your children and protect them from pornography, online predators, cyberbullying, and other threats.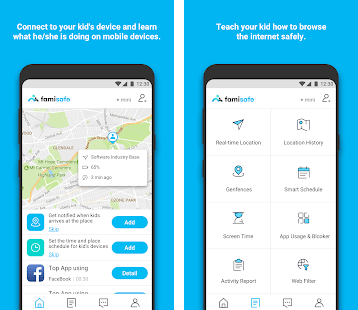 3.1 Compatibility
Famisafe can be installed on both iOS and Android devices. Limited by the operating system, its features are slightly different and the browser history checking is missing in iOS devices.
3.2 Useful Features
You can view the daily browser history visited by your children.

You can set up web filtering rules if there is something inappropriate online.

It also allows you to block apps, limit screen time, create schedule, check app usage and more.

There is a 3-day free trial offered by Famisafe, so you can check the browser history for free.
3.3 Price Plan
Famisafe is much cheaper than other apps mentioned in this article. However, you won't get the advanced features such as social media apps monitoring, phone call recording, etc.
| Plans | 1-month | 3-month | 1-year |
| --- | --- | --- | --- |
| Price | $9.99 | $19.99 | $59.99 |
3.4 How to Use Famisafe
Start with create register a FamiSafe account.

Download the FamiSafe app from the app store on both kid's and parent's phones.

On kid's phone, log into the account and choose the identity as Kid. Fill up the necessary information.

Follow the app's instructions to enable some necessary permissions.

After that go back to your own device, sign in with the same account and select the identity as Parent.

Connect to your kid's device and start tracking.
3.5 User Reviews: 4.0/5
"It's hard to find an app that could do everything. It's great and could track browsing history and block some sites. The only problem is that it can't control social media chats on the phone. In a word, it helped me do the parental control work I need." - Real Review from Frank
We put Famisafe browsing history tracker in third place because it is afforable and gives out accurate results, but as you can easily find from the above review, the initial setup process is a little bit complicated, and most importantly, the app icon will remain on the target device after the installation, which means you cannot track browsing history secretly with Famisafe.
4. Spyic
Spyic is a reliable Internet history tracker with a well-managed control panel which not only can track browser history but also assist you to monitor call log history, messages, contacts, GPS location, and social apps. With Spyic, you can peep onto other's phone and get the minutest details surrounding their device.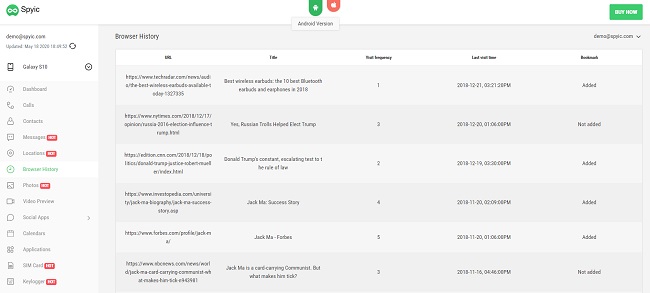 4.1 Compatibility
Spyic is available for Android and iOS devices. For the iOS version, you have to get iCloud credentials.
4.2 Useful Features
You can check Internet history with ease.

You can read a mini-description of visited websites.

Other features provided includes location access, social media monitor, app usage checking and so on.
4.3 Price Plan
Spyic comes in 3 packages and and you can monitor from 1 device to 25 devices.
| Plans | 1-month | 3-month | 1-year |
| --- | --- | --- | --- |
| Basic | $39.99 | $59.99 | $99.99 |
| Premium | $49.99 | $69.99 | $119.99 |
| Family | $69.99 | $99.99 | $199.99 |
4.4 How to Use Spyic
Visit Spyic official website and register an account.

Select the OS of the target phone you want to monitor and finish the purchase process.

If you want to monitor Android, download and install Syic monitoring app on the target device. If you want to monitor iPhone, it is web-based and just enter the iCloud ID and password.

During the Android setup process, you need to grant some permissions for the app to function.

Visit Spyic website and sign in with your account to access its monitoring panel.
4.5 User Reviews: 3.6/5
"This app turned out to be much more useful than I thought as I was able to find all the necessary information I needed within a short duration. However, it was spotted by my target and uninstalled immediately. It is a pity though." - Real Review from Vila
Spyic gives you complete access to the target's browser history. But using the app is also risky because it will requir you to jailbreak the Android if you want to experience some advanced features.
5. mSpy
If you search how to track web browsing history, you would find mSpy in the results as it is already being used by many parents to track their kid's online activities. You can trace all the web browser activities taking place on someone's cell phone.
You will also get to know how frequently and when the target user visits the websites. Similar features like call history tracking, SMS tracking, social app spying can also be found in this app.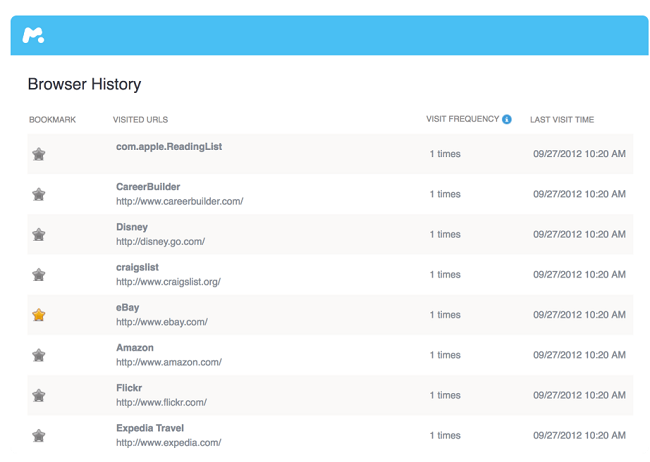 5.1 Compatibility
No surprise. mSpy is compatible with iOS and Android phone. One thing to note is that some features like messages monitoring and call recording will require you to root the Android or jailbreak the iOS device.
5.2 Useful Features
mSpy lets you look through the websites the target user has visited.

You can filter web content to block unwanted websites.

You can check time and date stamps of browsing history, website bookmarks and so on.

You can set keyword alerts to prevent inappropriate content.
5.3 Price Plan
mSpy is relatively expensive if you compare it with other apps. It has different pricing plans, depending on whether you need all the provided features.
| Plans | 1-month | 3-month | 1-year |
| --- | --- | --- | --- |
| Basic | $25.49 | / | / |
| Premium | $59.49 | $101.97 | $169.92 |
5.4 How to Use mSpy
Register for mSpy account and select the correct operating system.

Choose a pricing plan that works best for you.

Before installation, you need to configure the target device properly, such as enable Unknown Sources from Settings > Security.

Download and install the app from the provided link.

Set up the app step by step following the onscreen prompts.

After that, log into mSpy online portal and check the browser history.
5.5 User Reviews: 3.5/5
"You never know what to expect in life experiences as I discovered my husband cheating by using this tool. It provided me all the info I needed. But I have to say that the setup took a lot of time since rooting is required." - Real Review from Tiffany
mSpy is a very successful mobile tracking app in recent years. But with the emergence of some advanced and user-friendly software like KidsGuard Pro, it has been affected to some extent. There is much room for improvement and mSpy really need to break through the limit of rooting and jailbreaking.
6. TheTruthSpy
Last but not least, we come to TheTruthSpy app. It allows you to check the internet history of your child's or spouse's mobile very easily. It is a comprehensive monitoring solution to maintain an eye on someone's online interactions. The best part about TheTruthSpy is that it is totally safe and remote.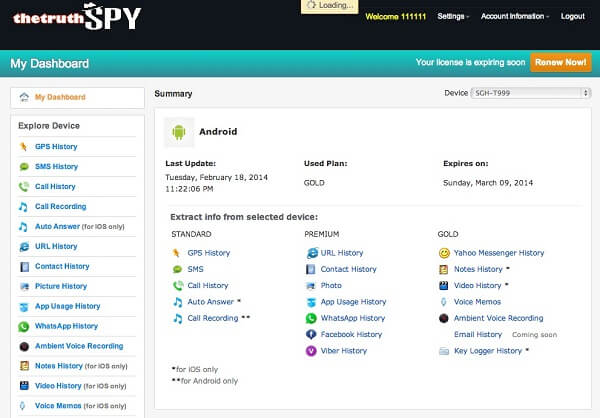 6.1 Compatibility
TheTruthSpy can work for Android and iOS devices. The steps and requirments are different. For example, the iOS device must be jailbroken in advance. You can find more detailed informationits on its official website.
6.2 Useful Features
The app grants you details of browsing activities.

You will get the specific URL of each visit.

You can access the Internet bookmarks saved by your target.

Some other features include GPS location tracking, text messages monitor, live voice recording, etc.
6.3 Price Plan
You can find 3 packages offered by TheTruthSpy, while the browsing avtivities is available in the premium plan and gold plan.
| Plans | 1-month | 3-month | 6-month | 1-year |
| --- | --- | --- | --- | --- |
| Standard | $21.99 | $55.99 | $88.99 | $130.99 |
| Premium | $25.99 | $66.99 | $105.99 | $158.99 |
| Gold | $30.99 | $77.99 | $122.99 | $184.99 |
6.4 How to Use the Truthspy
Similar to all the steps above, you need to have valid account.

Enable unknown sources and disable Package Verifier before you install TheTruthSpy App.

Download TheTruthSpy App and sign in with your account.

The app will pop up a few windows, where you will be requested to make some changes in Settings.

If you want to track someone's browser history secretly, choose to hide TheTruthSpy icon.

Login to your TheTruthSpy account to view all the information from the monitored phone.
6.5 User Reviews: 3.0/5
"I bought this app to look into my husbands phone. It worked some time but unfortunately drained the battery quickly and froze the phone. I got disapported." - Real Review from Lisa
TheTruthSpy gives you remote access of the target phone. It works in the background without notifying the target user. The biggest drawback of this app is that the internet history uploading is not in real-time and some data are missing.
Part 2: Free Ways to Track Browsing History Secretly (Less Effective)
Web browser is one of the most used and built-in features on any phone. By default, we will turn to search the answer with the help of a web browser when encounter any question. Further, any browser frequently used among us provides a list of browsing history in the app itself. So it is very important for you to know how to operate the said browser and how to check its history.
Since there is not much differences on how to check history on Google Chrome, Firefox, we will take Safari as example. Here are steps on how to track browsing history secretly for free on iPhone:
Directly from the Safari app
Open Safari browser app on an iPhone.

From the bottom, long-press on the left arrow icon for a few seconds.

The entire browser history will present to you on the screen.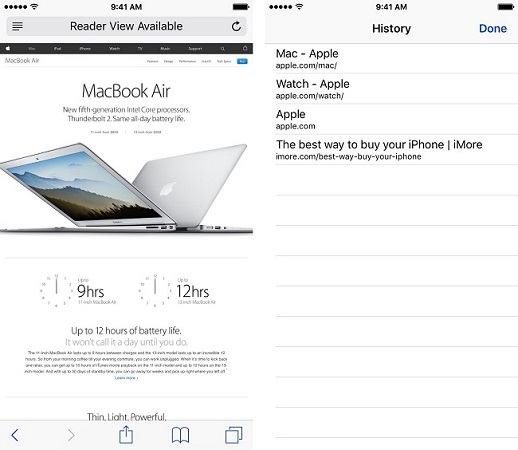 If you are an iPhone user, there is an additional free way to check broswing history, as well as a sneaky way. It provides the most frequently visited websites that stored in the cookies. Just read the following steps to get the details.
From Settings on iPhone
Go to Settings > swipe down to find Safari app and tap on it.

From the bottom, look for Advanced option.

Tap on Website Data and visited Safari history stored in cookies can be found here.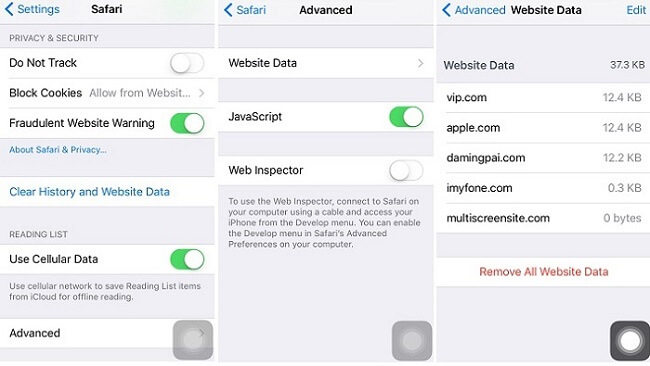 NOTE:
You have to access target phone every time if you want to track browsing history, which may be caught by target user. Therefore, the most secret way to track browser history on target phone is by search history trackers mentioned above.
Part 3: FAQs on How to Record Browsing History
Here are some frequently asked questions from our readers, I hope these answers might help you as well.
1. How to track browsing history remotely?
It is quite easy to track phone internet history online using browsing history tracker. Just simply log into its remote control panel from any web browser, where you can track all sites including deleted ones with specific URLs and timestamps.
2. How to track browsing history through IP address?
Open a command window, hold down the Windows key and press R at the same time on your keyboard.

Type cmd in the box and tap OK.

Type ipconfig/all and tap Enter key to execute the command.

You will get your IP address under the line Default Gateway.

Copy your IP address value to a browser.

You will be promtped to login with your WiFi router account.

Once you login your WiFi router website, you can click on Outgoing Log Table to view the browsing history.
3. Can someone track my browsing history?
You browsing history can be accessed by someone. First, Google stores your search query, so someone who know the password of your Google account can access your web history. What's more, Wifi hotspots, schools, and workplaces maintain a history of your queries as well.
4. How do I see deleted activity on Google?
If you have a Google account and have Web & App Activity turned on.
Open Google and go to Activity controls page.

Login with your Google account.

Click Manage your activity controls to view searches you've done, websites you've visited, and videos you've watched even when the activity is deleted.
Also Read: Top 3 Ways to Check Search History on iPhone Even Deleted
5. Is there an app to track Internet history?
KidsGuard Pro is a professional app to track Internet history on any mobile. It is available for Android and iOS device. You can track all visited sites along with specific URLs, visited time, titles and more through its online control panel.
If you have any other problems, feel free to leave your comments and we will get back to you as soon as possible.
Reasons to Track Browsing History Secretly In the Information Age
The Internet has taken an important role in both adults and children's life. These days, kids are also very familiar with technology and its uses. They have easy access to the Internet, but they may don't know which contents are good for their development and which are harmful.
In today's busy lifestyle, the best way to apprehend someone is by tracking their web activity. This allows us to know if they are running through a troublesome time or is being influenced by anything.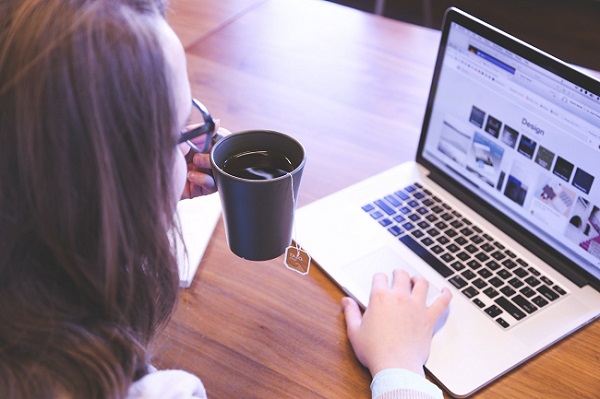 For parents: It can help you know whether your kids are getting revealed to inappropriate content at an early age and whether they are going through a severe dilemma (like depression).
For couples: It provides you lots of clues about what does your partner search for online, why does she/he like, is he/she cheating on you, etc.
For employers: It can save a lot of trouble to watch over employees. You can get a clear idea about whether the employees get distracted during the work time.
No matter what condition you are going through, by learning how to track browsing history secretly and using some peofessional apps, you can surely the task done in different ways.
Summary
The above web browser tracking applications are really productive in their own ways. After the careful review, considering KidsGuard Pro for Android tracking app will be the more suitable option in our eyes. It not only gives a simple and secret way to check browsing history, but also is known for other steady monitoring features.
Besides 3-rd party apps, there are two free ways to get browsing history directly on the phone. But you have to access the phone each time.
Anyway, we hope you got the solutions you were longing for. Thanks for reading!