There are numerous reasons why you might want to view someone else's browsing history even after they delete it. This could be some strict parents who want to keep an eye on kids' internet surfing activities, a spouse who wants to check their partner's browsing activities to clear up any doubts, or there may be any other reason. We know a question might appear in your mind: how is it possible to view the browsing history if someone deleted his/her history? If you are interested in viewing someone's deleted browsing history for legal purposes, keep reading this article!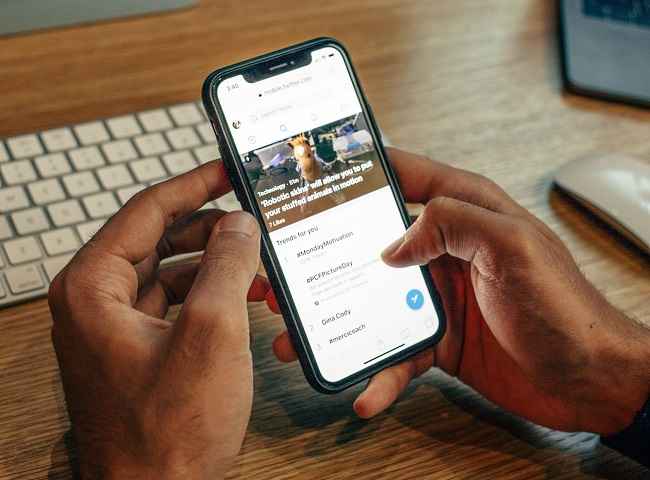 Why Do People Delete Browsing History?
1. Additional Disk Space: It is not always the case that someone clears their browsing history to hide their internet activities. The most common reason why most people delete their browsing is to save disk space. We know that browsing history only uses bytes of data, but some still think clearing browsing history will save a lot of space.
2. Speeds Up Browser: If you know about how today's modern browsers work, then you might have heard about the term "cache." The cache is a small chunk of website data that the browser creates and stores in the CPU along with browsing history. However, this cache usually slows down the other processes of the CPU. That's why most people delete the browsing history to delete the cache.
3. Remove Tracking Cookies: Many advertisers use Tracking cookies to show you micro ads based on your browsing activities. They are used to track your browsing activity and are stored in your browsing history. Some people consider it against privacy and delete the browsing history to remove any tracking cookies.
4. Maintain Privacy: Now, here comes the point which you are waiting. If you visit any private or confidential website, you do not want anyone else to see what you have seen. That's why the majority of people clear history of privacy issues and visit websites in incognito search mode to not let anyone see what they have browsed on the internet.
Why You May Need to View Someone's Browsing History?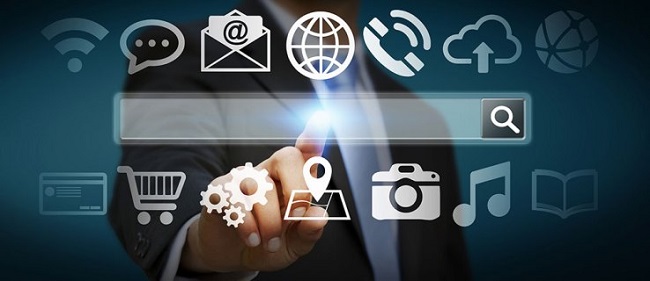 There are many reasons why you might want to jump into someone else's privacy and view their browsing history on their phone. You might need to monitor the privacy of your loved ones to protect them from falling into any wrong activities, or you might need to view the history of your spouse to clear any doubts regarding your relationship.
For Parents: Kids under 18 are usually not mature enough to distinguish between good and bad things. Today, we know smartphones are compulsory for your kids as they can call an emergency when needed. However, sometimes you need to view your kids' browsing history to prevent them from accessing any websites that are not suitable for them.
For Couples: Viewing the browsing history of your spouse becomes compulsory when you have doubts about your spouse. Those doubts can lead to break-ups and can destroy your relationship. That's why you may need to view the browsing history to clear any doubts regarding your spouse.
For Employers: Viewing the phone browsing history of your employees isn't recommended, but essential for your brand's reputation and to prevent any legal notices. Of course, if you offer your employee a smartphone, then you own the right to monitor what they do on that smartphone.
Is it Possible to View Someone's Deleted Browsing History?
Yes, you can! Nowadays, benefiting from the development of cutting-edge technology, viewing someone's browsing history is no longer a problem like before. Some 3rd party services have been created apps that allow people to view someone's browsing history, check deleted browsing history, and see even other activities of the targeted device. However, to realize these kinds of advanced functions requires the high technology of the developer. That's why not every monitoring app supports browsing history, even the deleted contents on phone devices. Moreover, it generally supports viewing deleted browsing history on iOS devices.
How to View Deleted Browsing History?
There are numerous ways to view the browsing history of any smartphone. You can install any monitoring app that offers browsing history checking. However, we have found some methods to view deteled browsing history. Let's have a look:
Method 1: KidsGuard Pro for iOS - Most Effective Way
After deep research, so far we've found that KidsGuard Pro for iOS might be the best option if you want to view anyone's history of what they do on internet browsers including the deleted history. Below we've mentioned some key features of KidsGuard Pro: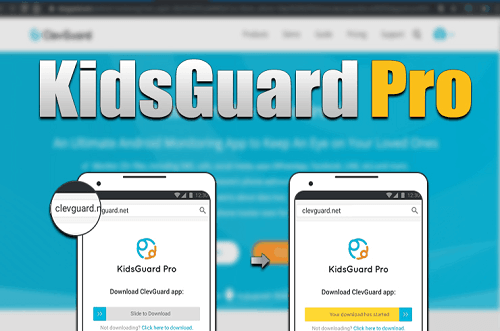 Key Features of KidsGuard Pro for iOS
KidsGuard Pro isn't just a simple browsing history app for iOS. Instead, it offers many other valuable and advanced features that other apps merely provide you. For your ease, we've highlighted some of the best key features that you'll get from this service:
1. View Deleted History: The most highlighted benefit of KidsGuard Pro is the support of deleted browsing history. Unlike other monitoring services, KidsGuard Pro stores all the history on its cloud servers.
2. Checking Browsing History Remotely: Our standard is high; if we've mentioned KidsGuard Pro in this article, it means it offers a-z complete service that you can expect from ideal monitoring apps. You don't need to check the target phone again and again for history. Instead, you can check the history remotely from the KidsGuard Pro dashboard.
3. What else You Can Get from KidsGuard Pro for iOS
As a powerful monitoring app, KidsGuard Pro isn't just limited to browser history monitoring. In fact, it consists everything that you can expect from a full-fledge spyware such as:
Monitor Social Apps
View Call Logs
Check Media Files
View Text Files
Track Location
Listen to phone conversation
How to View Deleted Browsing History with KidsGuard Pro for iOS?
Through KidsGuard Pro, viewing the browsing history of the target phone is extremely easy. There's no coding or technical knowledge required. All you need is the target iOS device, and a secondary PC device that supports web browsing, follow the instruction, and you're all done. Below we've mentioned how you can view someone's deleted browsing history just in 3 steps:
Step 1: Create an KidsGuard Pro Account
To begin, register a KidsGuard Pro account and select an iOS plan that best suits your needs. We know the service is paid, but believe us, you'll never regret it after purchasing it!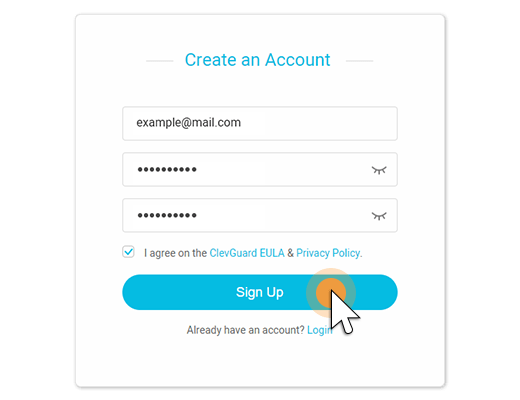 Step 2: Download and Install KidsGuard Pro
Now download and install the monitoring app on your computer (Windows or Mac). There are given 2 ways to scan target device and get data. The first one is that you can get the data by USB connection of PC and iPhone device. The second one is that keeping both iPhone and PC are on the same Wi-Fi.

Step 3: Viewing Deleted Browsing History
Login to your KidsGuard Pro account and start monitoring the deleted browsing history of targeted phones and other essential activities that KidsGuard Pro offers on dashboard.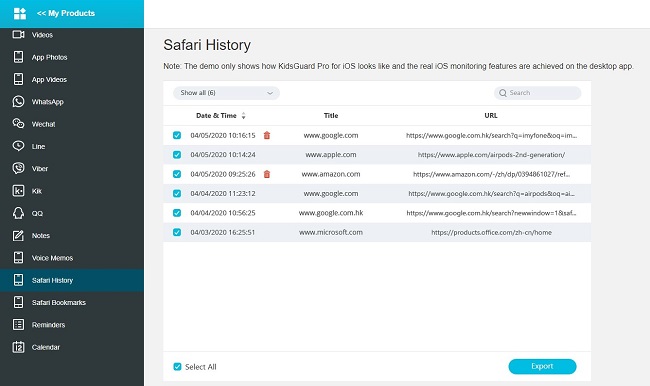 Method 2: Other Ways to View Deleted Browsing History
1. iKeyMonitor
iKeyMonitor is another phone tracking tool that allows you to monitor someone's phone actions from afar. It allows you to monitor another person's SMS, phone records, browsing history, and contacts, etc. However, you'll need to root the target device to use most of the app's functions, which could be a difficult operation and might be harmful to your phone devices. In addition, this app to be more expensive than others.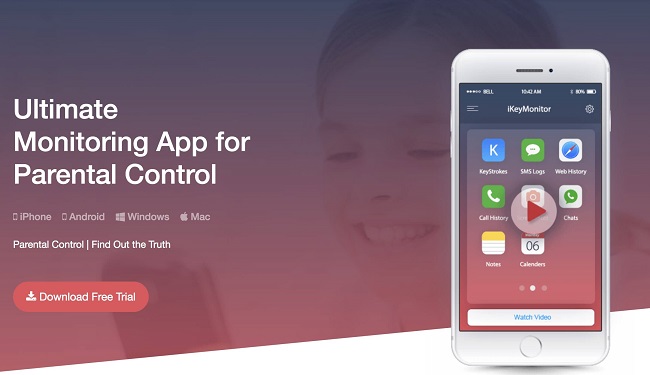 2. FlexiSpy
FlexiSPY is a phone monitoring application that allows you to track activities including call records, internet history, SMS, and texts. Its full-featured edition includes useful capabilities such as the ability to remotely restart and delete programs on the target device. The full-featured version, on the other hand, is rather expensive, while the basic version has very restricted functionality.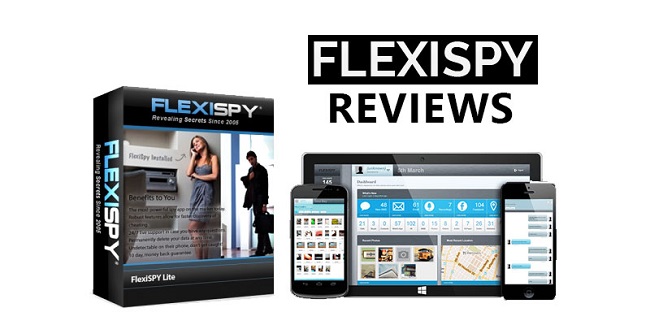 3. mSpy
mSpy is a phone monitoring third party app that allows you to check browser history in the most discreet way possible. This app, once installed on a target phone, allows you to remotely monitor the majority of the phone's activity, including browser history. The mSpy subscription, however, is costly, costing $199 each year. Furthermore, mSpy does not allow you to track popular apps such as Instagram or Kik.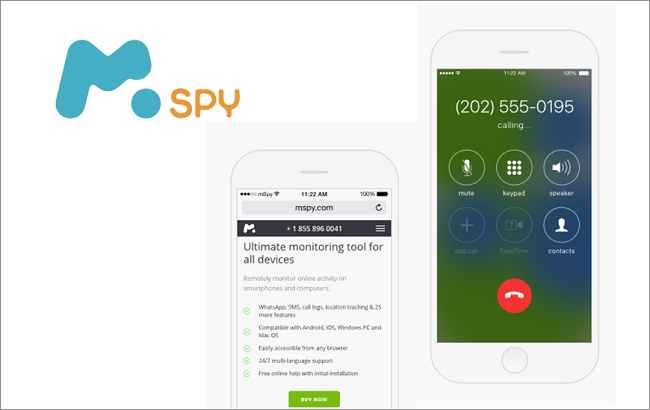 FAQ about Viewing the Deleted Browsing History
Q1. Can I View Someone's Browsing History in Private Mode?
Most monitoring apps on the market today, do not support users to view private browsing history on targeted phone, since it takes advanced technology from the developer as well as the high cost. However, some of the most leading and popular apps have implemented this feature. For example, we discovered that KidsGuard Pro is one of the few programs that can check the browsing history of the target phone in private mode. Therefore, this kind of apps can help you view the target phone's browsing history even in private mode.
Q2. Can Someone Know If I View Their Browsing/Deleted Browsing History?
If you gain access to the target phone and check the browsing history directly on the phone, the owner will have no idea that you are looking at his or her browser history. However, as you may be aware, accessing the target phone is not always simple. If you join in to his or her account, such as Apple ID, to check his or her browsing history, they will receive a message that someone else has signed in from another device. They will be aware that someone is attempting to view their phone actions at that time.
However, if you use the monitoring software to check target phones' browsing history, some monitoring apps, such as KidsGuard Pro, are completely undetected. Also, you can use it to access phone remotely, so the owners will not be aware that you are viewing their browsing history.
Q3. Is It Possible to Access Someone's Browsing History for Free?
To be honest, if you want to view someone's browser history for free, you won't be able to do so until you physically gain access to the target phone. If you have a chance to physically access the target phone. You may look through their browser apps' history or the target phone's settings to see what they've visited on the browser.
However, because this action is bound to take some time, you should be aware that you are easily at risk of being caught by the phone owners. Furthermore, your children, spouse, or employees may have already cleared all their phone browsing history. As a result, using a professional tool like KidsGuard Pro, which allows you to access the target phone remotely, is the ideal option.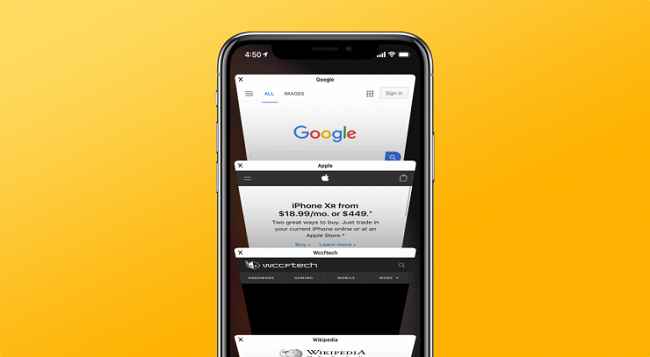 Conclusion
Ranging from adult to entertainment categories, every kind of website exists on the internet. In that case, if you're a parent, you might want to monitor the browsing activities of your kids to prevent them from visiting any non-suitable or harmful website. Moreover, if you're a couple, you might want to check the browsing history of your spouse to clear any doubts regarding your partner.
However, if you pick up their smartphone physically and view their browsing history, it might not be an ethical nor a good way in any kind. For this purpose, you can use any monitoring app that offers browsing history monitoring. For your convenience, after extensive research so far, we have found that KidsGuard Pro may be a better option if compared with any other browser monitoring service for iOS on the Internet. How? In this article, we've proved to you why KidsGuard Pro better than any other browsing history monitoring service.