I used to think that I can't view my wife's texts messages and calls from my phone and I would have to go and check her chats and calls every time. It turns out I was WRONG!
Don't be misled by your erroneous assumption like me! There are many applications designed for remote installation - with no technical knowledge required on the user's part.
This is the key: all you need is the target cell phone to install the software, from then on, your target user call logs, SMS messages, and GPS location will be at your fingertips.
How to Track Someone's Calls & Text Messages without Their Phone?
There are several ways to track someone's phone without operating their phone. But the most efficient solution is the latest invention, KidsGuard Pro, which works on every Android and iOS device.
1. iPhone Solution - KidsGuard Pro for iOS
KidsGuard Pro for iOS comes with over 20 advanced features. It is available for iPhones and iPads to help parents keep a closer eye on the activities of their children. KidsGuard Pro is an app that allows one to monitor almost everything on the targeted device even it let bosses track their employees' lives.
Features of KidsGuard Pro for iOS spying
Here are some of the prominent features that every iOS user can enjoy.
Track messages and calls
KidsGuard Pro allows text tracking including deleted ones. Similarly, you will be able to track all incoming and outgoing calls, getting the contact names and approximate timestamps of when the call was made and a summary of how long the conversation went on.
View Safari History and Bookmarks
Browsing history speaks volumes about a user. KidsGuard Pro allows you to see what sites a target Internet Explorer user has visited and marked up a word document of bookmarks to understand what the user may have been interested in.
Monitor social media apps
With social media apps being so popular, it's hard to monitor a child's activity sometimes. But KidsGuard Pro helps you out with apps tracking and more. You can monitor popular social media applications.
Using Steps of KidsGuard Pro for iOS
Here is the step-by-step process of KidsGuard Pro installation into your phone.
Step 1. Sign Up
The first step is click Monitor Now button below to sign up for KidsGuard Pro with your valid email address and choose a suitable plan which fits for your needs.
Step 2. Download and Install the app
After subscription, go to My Products page and click on Setup Guide, now follow the instruction to download and install the KidsGuard Pro iOS app onto the computer. This step only needs to take 3-5 minutes.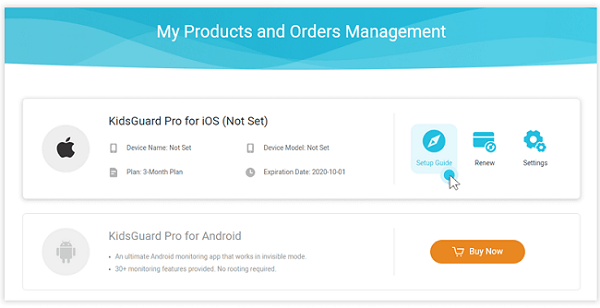 Step 3. Scan the iPhone Data with/without Wi-Fi
After successful installation, scan the iPhone Data with Wi-Fi or without WI-FI. After scanning, all of the target user data will be displayed on the dashboard. More than twenty files will be displayed on the dashboard. You can start viewing instantly.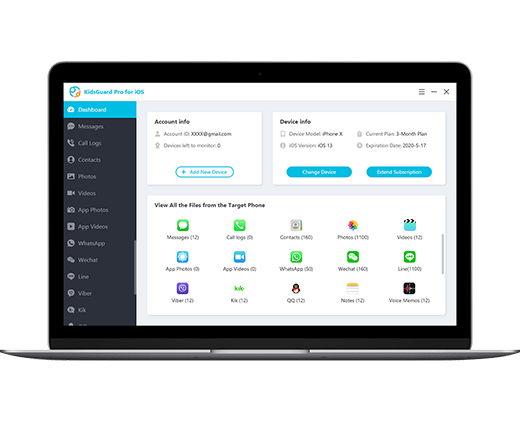 2. Android Solution - KidsGuard Pro for Android
You can remotely see what your staff and loved ones are using by monitoring their social media apps. It's invisible; you can do everything from reading the history of a chat to tracking shared multimedia and checking in on app activity records. This is all without rooting.
Along with features for iOS, KidsGuard Pro has some other amazing features for Androids users.
Track GPS location
The built-in GPS and Wi-Fi location tracking technology tracks your phone's real-time location so you can be informed about the whereabouts of your children.
Set up geofence
You can also set up a geo-fence and get alerts when somebody has left a specific location, or when they've entered one which you've set as "home" for example.
Call recording
KidsGuard pro for android allows you to record the speaking voice of both the caller and receiver.
Capture Screenshots
KidsGuard Pro for Android allows parents to easily capture screenshots from their devices. This will help you keep track of what your kids are doing on the screen.
Take secret photos
The KidsGuard Pro app allows you to take secret photos. This software enables users to remotely capture images through a target phone's front or back camera without being detected; it's used by parents and corporations alike for multiple purposes.
Using Steps of KidsGuard Pro for Android
Here is the installation process of KidsGuard Pro for android devices.
Step 1. Register for KidsGuard Pro
Click Monitor Now button below. By using your valid email, create your account. Selecting a plan which fits your needs.
Step 2. Install the app on the Target Device
After registration, go to My Products page and click on Setup guide button. Now follow the instruction and install the KidsGuard Pro app on your target's device to finish the setup process.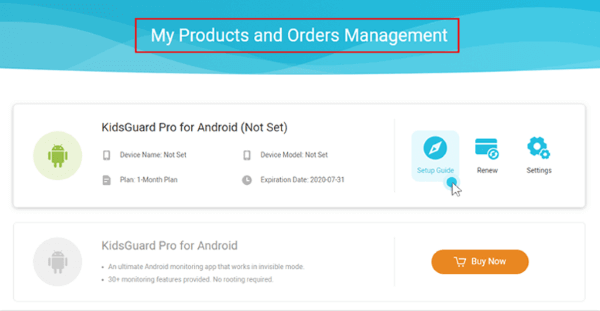 Step 3. Start Monitoring Remotely
After successful installation, you can monitor your target phone activities from the web dashboard control panel.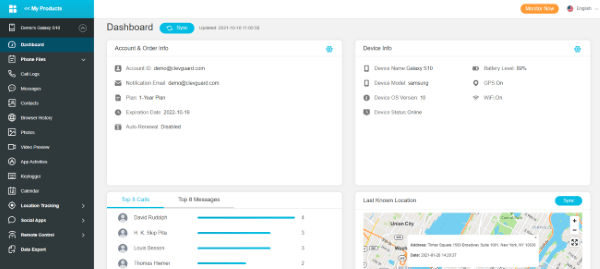 Part 2. Other Solutions to Track Calls & Texts from Another Phone?
Other than KidsGuard Pro, how can I track phone calls and texts? NO WORRIES! We have some other handy tips for you to spy on your texts and calls of your target user.
Directly Ask for their Permission
You can directly ask their permission and have a look at their phone. On their phone, you can see their gallery, chatbox, Google history, and other files that you might suspect.
However, there is a strong possibility that they have deleted their chat and call logs. So it might not be that much helpful. Also, they will come to know that you are watching them so next time they will be more careful.
Hire a Professional Hacker
To avoid the above-mentioned consequences, you can hire a professional hacker. A hacker can spy on your target phone and provide you with all those details that you can view by yourself on your target user's device. But hiring a professional hacker might be expensive as compared to other options.
Contact Network Providers
The third ultimate option is to contact network providers. They will share texts, call logs, call duration, frequent chats with one contact, and much more. Some spying agencies are also helping find out the undercover truths, but it will also cost your money.
Part 3. The Benefits of Using KidsGuard Pro Compared to Other Solutions
Works in stealth mode
As already discussed, asking for your target user's permission to use their cell phone will give them a trigger warning. So, there is a possibility that they clear out all suspicious chats and calls.
In that case, KidsGuard pro works in stealth mode without letting the user know they are being tracked.
Reasonable price
While hiring a professional hacker, contacting the network provider, or using other spying apps will cost your money, KidsGuard pro saves those extra pennies. KidsGuard pro services are available in a reasonable price range, you can subscribe to a suitable subscription plan according to your needs.
All in one spying app
With KidsGuard pro you can not only track texts and calls but much more. You can track their GPS location, set a virtual boundary, view their Chrome or safari history, view deleted messages, and can view their all social media accounts.
Part 4. The Reasons to Use KidsGuard Pro Spy App
Here are a few reasons to use the KidsGuard Pro spy app.
Protect Kids Safe Online
The foremost reason people use kidsGuards Pro is to protect their kids from online predators and pedophiles. With KidsGuard Pro, parents can set a safe online environment for their children.
KidsGuard Pro is an easy to use application that allows parents to monitor the online activity of their children and also protect them from strangers.
Catch Cheating Spouse
If you are wondering about "how to track my wife's phone calls and texts?" KidsGuard Pro can resolve your worry. KidsGuard Pro can dig out any truths that might have been buried. If you are trying to know cheating spouse secrets by spying, KidsGuard Pro makes it easy to do so by keeping everything anonymous.
It is marital bliss for harmonious family life. KidsGuard can discover truths and dig out information about your significant others by letting you monitor their social media application, texts messages, calls, photos, and even GPS location.
Part 5. Final Thoughts
Spying on your loved ones is not a bad thing if you do so with good intentions, i.e., to protect them from dangers or prevent them from being taken advantage of by people who might try and lure them into making poor decisions.
With cell phone tracking software such as KidsGuard Pro, you can monitor the calls and texts of the people you care about in real-time without having their phones. This makes it easy to stay on top of what they're up to while they're away from home or at school, so if anyone suspicious approaches them - you'll know!