WhatsApp Last Seen is a feature to see if someone is online on WhatsApp. Usually, if you want to check someone's Last Seen on WhatsApp, just tap the contact name in the CHATS tab, and the "Last Seen (date) at (time)" will appear below the contact's name at the top of the screen.

However, this status cannot be seen if someone has hidden it. But how to check hidden WhatsApp Last Seen? In that case, we've compiled a list of the 5 Best WhatsApp Last Seen Checker apps for you. In the end, there will be a outstanding tool that even lets you track specific people's WhatsApp chats, calls, status, files, etc.
Let's check the methods together!
How to See Last Seen on WhatsApp if Hidden
Here are 5 best WhatsApp Last Seen checkers in this article, as well as the best WhatsApp last seen tracker - KidsGuard for WhatsApp to track what someone is doing on WhatsApp online. Try the demo by clicking the button below to know how to see Last Seen on WhatsApp. You won't be disappointed!
1. wTrack
Our Rating:
To begin with, wTrack is the best online WhatsApp Last Seen tracker in our list with more than 100,000+ downloads. You can easily check your friends and your family's time that spends on WhatsApp.
It also features in parental control to get a notification once your children become online or offline. More details like online/offline time, duration as well as contact number will be shown on your account. What's more, it's completely anonymous and your contacts can't know that you're tracking their Last Seen or online activity.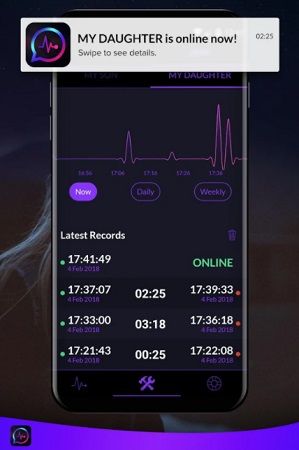 Features of wTrack:
Daily, monthly and weekly WhatsApp activity statistics.

Activate the push notifications to be alerted instantly when someone is online or offline on WhatsApp.

It works well on all types of Android and iOS devices.

You can also block WhatsApp app on someone's mobile in the premium plan.
2. WaStat
Our Rating:
WaStat is also capable of tracking online or offline status of your WhatsApp contacts. It has free access too. You can add a contact to watch. Then, whenever the contact comes online, you get the notification.
You can even see how long the contact remained online. The feature of the duration of access is an excellent option for parents monitoring their kids. You can figure out whether your kids have been up to WhatsApp or study in their rooms. Plus, this WhatsApp online checker is very simple to use and the size of this application is also very less, so it runs very smoothly.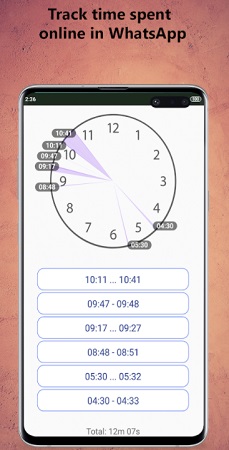 Features of WaStat:
You can check the WhatsApp online status of anyone's WhatsApp number.

It will display all time intervals on WhatsApp in a handy clock view.

You can also observe the last 30 days' statistics in charts.

And finally, with its notification feature, it can send you alerts as soon as the person is online on WhatsApp.
3. WhatsLog
Our Rating:
If you wonder how to see Last Seen on WhatsApp even if hidden, WhatsLog is another amazing Android application that you can use in your WhatsApp. You can put any of your friend's numbers in this application, whenever your friend comes online or offline on WhatsApp, you will get a notification of that.
In this WhatsApp Last Seen checker, you can also change the notification sounds to the ones you want for each contact. It provides a one-day free trial before purchasing. Moreover, at any time you can withdraw the subscription, the data is stored on their secure protocol, everything is safe!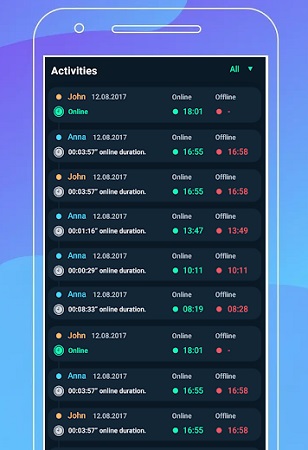 Features of WhatsLog:
Accurate and very effective.

The WhatsApp Last Seen checker app comes with a complete contacts profiles list of online/offline activity.

It will immediately identify the number and even block the telemarketers who are annoying you.

It is working 24/7.

You can manage notification sounds the way you want them.
4. WhatsDog
Our Rating:
WhatsDog is another famous app that could help you see WhatsApp status without seen, which gives you the chance to see the activity of anyone online on WhatsApp. Regarding how to see hidden Last Seen on WhatsApp, through this application, you can track all or specified WhatsApp users on your phone without opening WhatsApp which is a special thing about this application.
In this application, the calendar is provided to switch between dates. So you can check previously saved data. And another menu is provided to see the activity of the current day.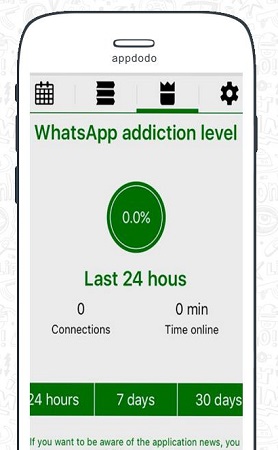 Features of WhatsDog:
Access the list of all WhatsApp contacts profiles.

You can see someone's Last Seen on WhatsApp if hidden at a time.

You will get a notification whenever the selected user comes online.
5. wLog Online
Our Rating:
wLog online is able to identify WhatsApp online status immediately. It is designed for parents or spouses to monitor family's WhatsApp. You will see instant notifications and detailed reports when they are online.
This WhatsApp last online checker gives you all the information about how long your loved ones are sitting online. You can also watch how often your lover goes online and checks messages. And it also provides detailed status activity analysis which is ready daily and monthly.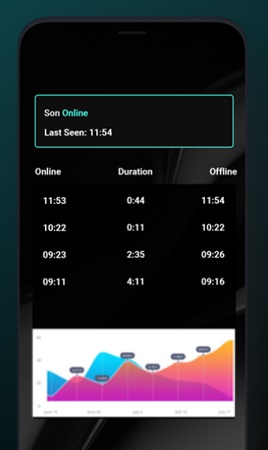 Features of wLog Online:
You can find out how long someone spends time on social media and WhatsApp.

It provides the online mode for your love, your children, and your friends.

Get unlimited statistics to analyze online activity.

Instant membership cancellation.
Bonus App: How to See What Someone Is Doing on WhatsApp Online
Now that you know all the ways on how to see Last Seen on WhatsApp even if hidden. However, are you also curious about what someone is doing on WhatsApp with Last Seen off? Is he hiding something from you? Actually, it is rather than a monitor tool to protect your loved ones from engaging in risky behavior online.
So, without further ado, we have tested some apps in the market, and found out KidsGuard for WhatsApp is the best WhatsApp monitor app, regardless of their last visibility and connection with you.
With it, you can track someone on WhatsApp without them knowing. For example, you will find out that your son is chatting on WhatsApp at 4 am, and you thought he was sleeping peacefully at this time.
Track WhatsApp chats: Sent, received, or deleted messages.

Access media files: Photos, videos, documents, and voice notes.

View WhatsApp status: Public, private, or expired status.

Monitor WhatsApp calls: A detailed list of voice or videos WhatsApp calls and record WhatsApp calls.

Capture WhatsApp screenshot: Automatic phone screenshot when WhatsApp's in use.

Limit WhatsApp Screen Time: Limit WhatsApp usage exact to minute.

Set Keywords Alerts: Get notification once the person types the certain keywords that you set.
KidsGuard for WhatsApp can be very helpful as an ultimate WhatsApp monitoring solution. It is fully compatible with all Android phones and works secretly in the background, it can also hack WhatsApp Last Seen.
Steps of Using KidsGuard for WhatsApp
Step 1. Click the button below to create a KidsGuard account with a valid email. Then you will have to purchase a WhatsApp monitoring plan to activate all the features.
Step 2. You will enter the "My Products" page where you can find the full setup guide. Then download KidsGuard for WhatsApp app from www.installapk.net on the target Android device and finish the configuration according to the on-screen prompts.

Step 3. After the successful installation, the app will disappear from home screen. Finally, you can go back to your web dashboard and view all the collected WhatsApp data by a few clicks. Remember that it will take some time to make initial synchronization for the first time.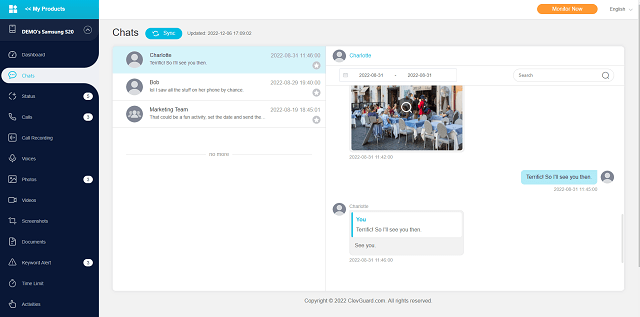 Simply install the WhatsApp monitoring app and log in to your control panel to begin tracking your loved ones' WhatsApp activities. There is a free demo where you can try out the app and make a decision later.
FAQs about WhatsApp Last Seen
Q1. Will Someone Know if I Check Their WhatsApp Last Seen Status Often?
Absolutely no. There is no official way or third-party tool to let someone check if you have checked their WhatsApp Last Seen status. Using KidsGuard for WhatsApp is even less likely to be known, it will be hidden on the desktop and the person you are trying to track will not find it.
Q2. How to Check WhatsApp Last Seen if Blocked?
You cannot see the Last Seen from WhatsApp if you are blocked. But you can utilize WhatsApp Last Seen checker apps mentioned above and even get notified every time the person comes online or goes offline.
Q3. Why can't I see Last Seen on WhatsApp?
There are several reasons that you can't see someone's Last Seen on WhatsApp, which are:
They hide online status on WhatsApp to prevent others from checking their Last Seen.
You may have been blocked by that person.
Your aren't on their contact lists.
Conclusion
Here you've found out how to see someone's Last Seen on WhatsApp if hidden. Depending on what you need, you can choose the WhatsApp Last Seen checker online that's right for you.
If you also want to know what's going on, check out their WhatsApp chat, calls or other activity would be better. Just choose KidsGuard for WhatsApp that offers you a lot of monitoring features and become a WhatsApp spy yourself.
If you have liked this information then please give us your feedback in the comment and share it with your friends on social media.