Don't know how to see hidden chats on LINE? Maybe you've sent your friends a hidden picture or a message, but you are unable to see it after the time is up. Or you want to check someone else's deleted hidden LINE chats, like your spouse or your kids. You're not alone. In this article, we will discuss how to send and receive hidden LINE chats, and a bouns tips for you to check LINE hidden chats even after self-destructing. Just keep reading.
Sending a hidden message on LINE is easy, and you don't even need to have any coding skills to do so. Don't be afraid if you think you can't send hidden chats on LINE. We are here to help you.
Part 1: What is the Feature of "Hidden Chat" on LINE?
Hidden chats in the LINE app allow you to talk with someone without the chat being saved on either of your devices or in the LINE app itself. Hidden chats are excellent for private discussions that you don't want others to hear, such as discussing personal information or confidential business topics. Once you send a hidden message, the only receiver can see it.  
Hidden Chat Messages are not like other chats of LINE. When the recipient taps on the hidden message, the message's contents are only revealed for a limited period, and after that time, the text will be immediately removed.
This feature works by sending you a message that reads "Hidden Message" and only displaying the message's content when you tap on it. And this feature makes LINE one of the best messaging apps for privacy.
Part 2: How to Send/Receive Hidden Chats on LINE?
This is one of the best features of LINE and it makes it a really good app. Let us tell you how to send or receive hidden chats.
Send Hidden Chats on LINE:
Open the chat of your LINE app and you will see the option of "Hidden Chat" in the upper right corner. Tap on it.

As usual, you may send and receive messages without any hidden features. The message has a default checking the time of one minute after it is sent. You may, however, you can adjust it. Once the time has finished, the message will be removed from the conversation.

Receive Hidden Chats on LINE:

When you receive a hidden message, you will receive the notification as usual. You can easily open the message or photo by tapping on it.

But remember, the hidden chat or message will just show for a short time.

Part 3: Conditions for Hidden Chat on LINE to Work

LINE added the Hidden chat feature to the app in 2014. It allowed two users to interact using messages that could be configured to self-destruct after a certain amount of time. This was marketed as a security and privacy feature, and it came in handy for a number of reasons. You can make messages vanish in a matter of seconds or even a week. If they weren't read within two weeks, they'd be immediately deleted.

Many LINE users complain that they can't use this feature. They think that their App has some kind of problem. But no, there is no issue. There are a few requirements to use this feature. If you can't fulfill those, sorry to say, but you will not be able to use this feature.

Here are the requirements.

Condition 1- Phone OS version

Hidden chat LINE is available for Android 2.3 and later, as well as iOS 5.0 and later. However, it does not operate on the following devices:
BlackBerry
Firefox
Nokia
Windows Phone
PC versions of LINE
Condition 2 - Certain Areas Restricted
It does not accept Chinese or Japanese accounts. As a result, make sure that your account and phone are both accessible for Hidden Chats.
Condition 3 - Not Available for Group Chats
The third condition is that you can't use this feature in group chats. You can just use it in one-to-one chats.
Condition 4 - No Notes or Videos
It supports texts, images, stickers, etc. but you can't send notes or videos through this. You can use this feature for sharing sensitive information or pictures.
You don't have to worry about your privacy because of this excellent feature. And these conditions are really important otherwise you can't use this feature.
Part 4: How to View LINE Hidden Chats Even after Self-Destructing? - KidsGuard for LINE
KidsGuard for LINE is the best LINE monitoring software that will help you to track down the activities of your children or any person on the LINE App. It Installs a host software on the target mobile phone to gather data and uploads it to your account, which you may monitor remotely via the internet dashboard.
It has a lot of features that make this tool the best for everyone. It will help you monitor the messages, calls and etc. You don't have to root the device and no jailbreak is required.
How to Use KidsGuard for LINE to View Hidden Chats on LINE?
Let us tell you how can you track the hidden chats on LINE with the help of KidsGuard for LINE.
Step 1. Register an Account
Firstly, you have to register an account on KidsGuard for LINE and you have to use a valid email address. After that, make a payment.
Step 2. Download KidsGuard for LINE
After successfully purchasing the KidsGuard for LINE tool, you will be sent to the My Products and Orders Management page. Download this software on your target device. After installation, open it and click the Setup Guide icon, and carefully follow the instructions to finish setups.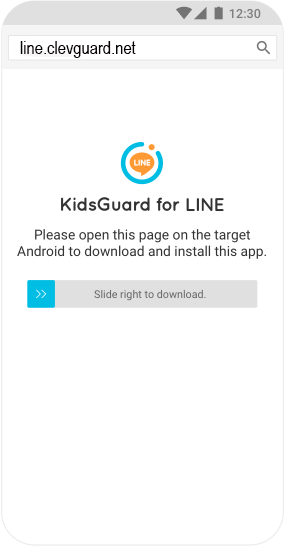 Step 3. Log into Your Account and See the Hidden Chats
Log into your KidsGuard for LINE account on the main website when you've completed the setup. You'll see the device name and relevant information if everything is set up correctly. To view the LINE actions and statistics, go to Dashboard. You'll also be able to see the hidden chats there. Please keep in mind that the first time you sync data from your phone to the dashboard, it will take some time.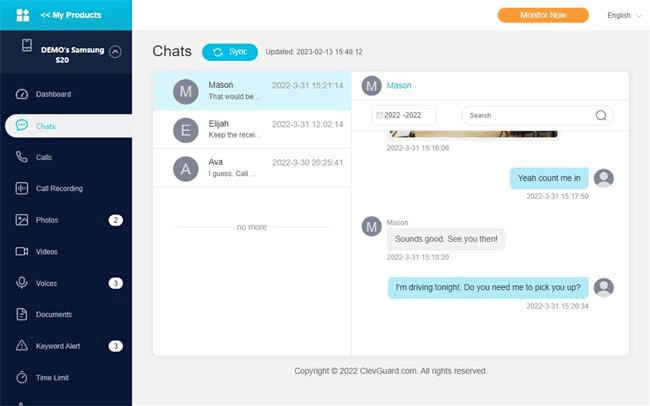 2. What Can KidsGuard for LINE Do to View Hidden Chats on LINE?
KidsGuard for LINE can help you to see the Hidden chats by taking a screenshot or by saving them on the dashboard. KidsGuard for LINE can track LINE chats including all received, sent, and even deleted. That is because KidsGuard for LINE is also a keyboard monitoring app which also has app notification reading, and screenshot-taking functions.
When the target device is connected to a Wi-Fi network, a screenshot will be uploaded every minute. This means you can keep an eye on the screen's activities in real-time.
3. Other Advantages of KidsGuard for LINE
Here are a few other advantages of using KidsGuard for LINE.

Remote Monitor:
This software helps to track the activities of the target's LINE app in real-time.
Access to many Files:
Users can check LINE call logs, as well as all the messages, audio, video, and photos on the target LINE, using this unique tool. Furthermore, users may listen to and record all incoming and outgoing calls in real-time.
User-Friendly tool:
It is really easy to use. You don't have to learn a skill or technique to use this tool.
Monitor the Screen Time:
This tool helps you to track down the screen time of the LINE App. It means that you can see how much time the target person is spending on the LINE App.
Capture Screenshots:
This tool captures a screenshot after every 1 minute. Isn't it amazing?
Stealth Mode:
The target person can never find this tool as it remains hidden. You can track his activities without his knowing.
No Jail Break:
You don't have to root or jailbreak before using this software.
FAQs about How to Send LINE Hidden Chat
Many people ask questions about how they can send hidden Chats through LINE App. Here we will answer the most asked questions by the users.
1. Can you send disappearing messages on LINE?
The answer is yes. You can send disappearing messages. LINE App has launched a timed function that allows users to control when their Hidden Chats vanish. But there are some requirements for this. We have already mentioned them above. Kindly read them.
2. What do hiding chats on LINE do?
Hiding chats don't affect much. You still get chat messages from an account that you've hidden on LINE. Instead of appearing in your friend list, it will appear in Hidden accounts. Hide an account, but it will still remain as a friend or friend suggestion.
3. How do you show hidden chat on LINE?
When you receive a hidden chat on your LINE app, you have to tap on it. The message will appear on your screen for a short period, it depends on the sender.
Conclusion
Here we will end this article. The hidden Chats feature is one of the best features of the LINE App which makes this App the best for chats. It helps us to protect our privacy and it is really easy to use. And if you want to see the deleted LINE chat messages, KidsGuard for LINE is your best choice! If you have any questions, feel free to contact us.