As a parent it is very important for you to know what exactly your kids are doing on their phones. As You should definitely keep a track of whom your child is texting to and what kind of sites they are visiting online. Or maybe you're worried about your husband or wife is cheating on you. Or maybe you're a boss who wants to monitor whether your employees are doing anything to the detriment of the company. No matter what is your purpose, you can use the keyboard tracker app to help you. Now, I will give the detailed review of the top 8 best keyboard monitoring apps after our testing.
Overall Ratings
Price: Only $8.32 per month for an yearly plan.
Compatibility: Compatible with all Android and iOS devices.
Easy of Use: Very easy to use with intuitive interface
Installation: Automatically to get permission access and installed within 5 minutes.
KidsGuard Pro is one of the well known names in the phone monitoring arena. This is an amazing app for tracking all the activities on an Android target phone. One of the outstanding feature is keylogger. It can track all the messages via the function of recording keystrokes. We know that some instant messages have the feature that they will be disappeared after reading. So, this increased the difficulty to tracking messages on target phone. Don't worry, KidsGuard Pro is the master in solving this issue. It comes with an extensive list of features which help you in effectively monitoring their search histories and every texts.
Pros

The keylogger feature can check all the messages sent and received on target phone in real-time.

It is 100% undetectable. Once you install it on your child's phone, it becomes invisible.

It can also help you view all the messages on the social media platform as well.

Browser history on the child's phone can be checked by keylogger.

No need to root the device. So it's very safe for the data.

Clear and direct user guide to help you to install the app successfully.

Live demo supported to experience all the features in advance.
Cons

No free trial.

Not support tablet tracking.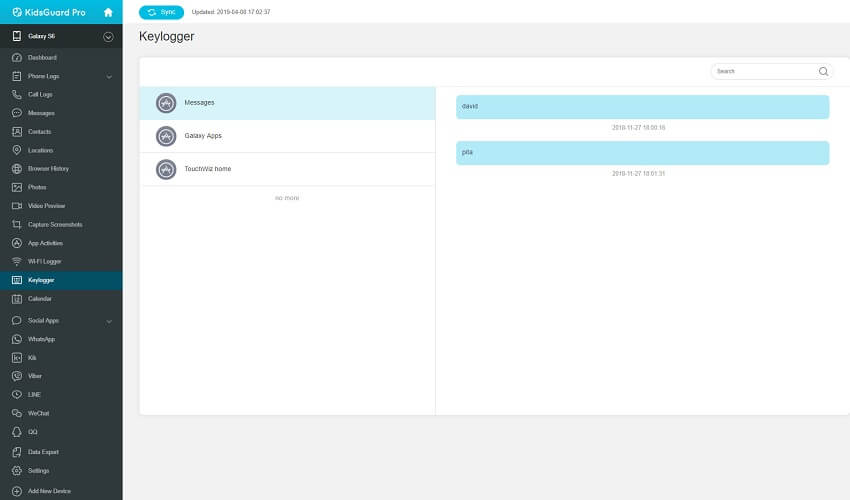 2. mSpy
Price: $199.99 yearly for the premiun version.
Compatibility: Compatible with Android OS 4+ and iOS 7 - 9.1 (with jailbreak) devices.
Easy of Use: It's user friendly with intuitive interface.
Installation: Relatively easy to install but have no clear guide on website. The process will costs 5-10 minutes or more.
This is one of the top keyboard monitoring apps made for the Android phones. It will sync the data in real time. So the users can read the messages on the phone instantly and also check the browser history as well. It's keylogger feature works through combining the every keystroke of the target keyboard to track the messages or other texts. It works in a stealth mode after the first phisical access to the target device. But we regret the keylogger feature for instant message like WhatsApp/Facebook need a rooted target device.
Pros

Simple user interface.

Support messages monitoring with keylogger feature.

Support online dashboard and demo viewing.
Cons:

The keylogger feature only supported in premium version. It's a bit expensive.

The iOS version does not work if the device is running iOS 12 with two-factor authentication enabled.

It only compatible with iOS 7 – 9.1 and the monitored device must be jailbroken.

The target device must be rooted if you want to track it's instant messages like WhatsApp, LINE, Facebook, etc.

It takes time to get it operational.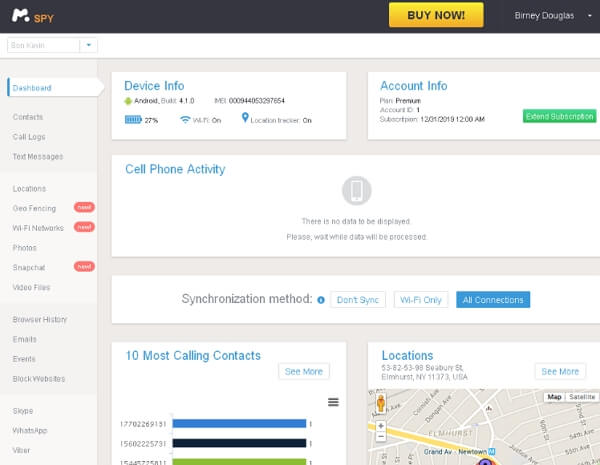 3. KidLogger
Price: $89 yearly for the professional version.
Compatibility: Compatible with Android, Windows and Mac.
Easy of Use: It's not user friendly with non-intuitive interface.
Installation: It's very hard to understand the installation guide. And the connection with dashboard may failed due to unknown error.
This app is preferred by many due to it has free version as well as its excellent compatibility. But we should know that the keylogger feature is not supported in free version. It allows you to find out what a person is typing on their target phone or computer instantly. This way you can be sure of keeping a close watch on your kids' activities to keep them safe. The web history of target device's can be effectively checked to make sure that if they are accessing inappropriate sites or not.
Pros

It provides 3 editions to meet user's various needs.

It widely compatible with both mobile phones, tablets and computers.
Cons

It only keeps log history in 60 days.

It needs the parental time control on the target device for it to function properly.

It requires installing additional components for the keystroke recording feature.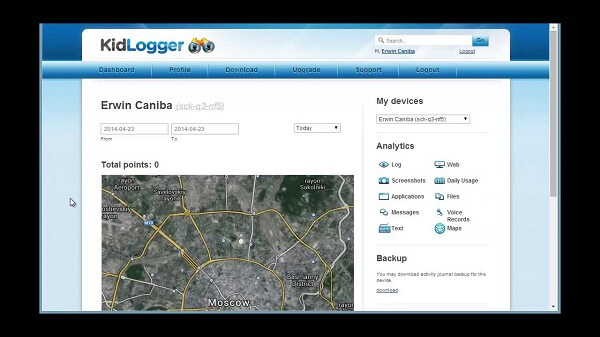 4. iKeyMonitor
Price: $199.92 for 1-year plan.
Compatibility: Compatible with both Android and iPhone.
Easy of Use: It's easy to use with intuitive interface.
Installation: It takes time to install because it's hard to find the installation tutorial.
It is a keystroke monitoring app which has been especially designed for the Android as well as the iOS phones to track the keystrokes on it. Once you install it on any of the target phone, it instantly becomes invisible. It can track all keystrokes typed on the target iOS and Android devices, including pasted texts in all apps so that you can know clearly what happens on the target device. The keylogger enables parents to view whether children conduct inappropriate performance or encounter unwanted trouble. Besides, it is also helpful for employers to prevent employees from leaking confidential data.
Pros

Support online dashboard to view the data.

It works in an undetectable mode.

The app is 100% virus free.
Cons

The keystrokes recording feature for iOS devices needs a jailbroken device.

It needs the Android device be rooted to activate some other fatures.

It needs iCloud ID and Password of the target device. It can't work for the iOS device which has been enabled the two-factor authentication.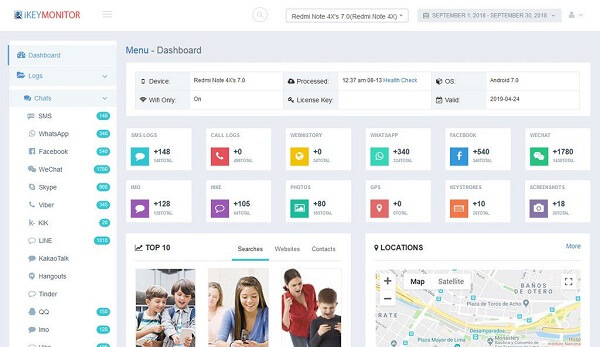 5. Hoverwatch
Price: $199.95 for 1-year plan.
Compatibility: Compatible with all Android devices.
Easy of Use: The online dashboard is not user friendly.
Installation: Manually access each permission is necessary.
Hoverwatch is a phone tracking app which lets you monitor and track your kid's phone without them knowing for their safety in the virtual world. Through this keylogger you can track the messages which have been typed and sent and even received. The internet activity can also be tracked so that you can stop your child from accessing inappropriate sites. Your kid's activity on the popular social media apps like Facebook, WhatsApp, Skype etc can be easily monitored.
Pros

Works smoothly without any glitches.

It provides different edtions for different needs.
Cons

It needs you to root the phone.

It doesn't have demo to experience the features in advance.

Very pricey compared to the other keyloggers.

It doesn't have refund policy.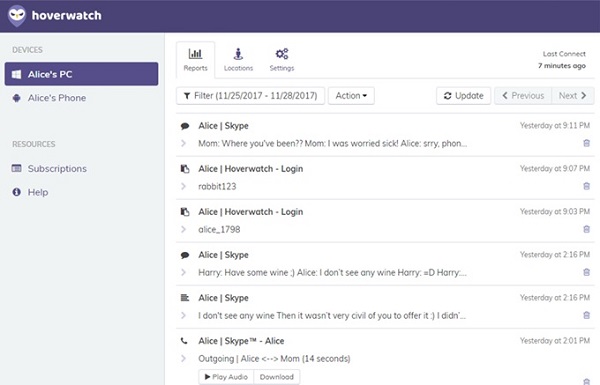 6. Highster Mobile Keylogger
Price: $69.95
Compatibility: Compatible with Android and iOS.
Easy of Use: Much easy to use.
Installation: It takes about 5 minutes to finish the process.
It is one of the highest downloaded keylogger apps which do not require you to pay for a monthly subscription. All you would need to do is download this on the phone and enter your designated license key after which you would be given the access to your dashboard from any device remotely. All the activities on the target phone will be displayed on this keylogger's dashboard.
Pros

Very efficiently in reporting of conversations on social media sites as well as the phone messaging app.

The app is undetectable in target device.
Cons

One time purchase but it is a little bit pricey.

Tends to crash at times while functioning.

It has poor customer service & support.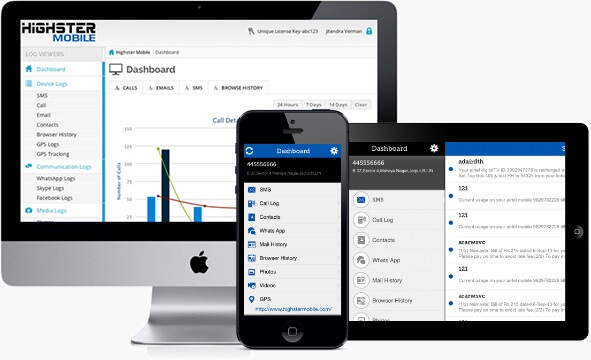 7. Elite Keylogger
Price: $49 for 1 Mac, $79 for 1 Windows computer.
Compatibility: Compatible with Windows and MacOS.
Easy of Use: Easy to use.
Installation: The installation is much easy.
With this keyboard monitoring software you can monitor both Windows or Mac computer to protect kids online. It acts like a hidden surveillance cam and works invisibly without letting your child know that the activities on their computer are being monitored. It can also be used in your business enterprise to optimize the performance efficiency of your employees. Elite Keylogger will also record anything copied to the Clipboard. So passwords are captured, even if they are copied and pasted rather than typed. To some extent, there is also a risk of data breaches.
Pros

Remote installation on the target computer is possible.

It can record anything copied to the Clipboard.
Cons

It does not support monitoring of mobile phone.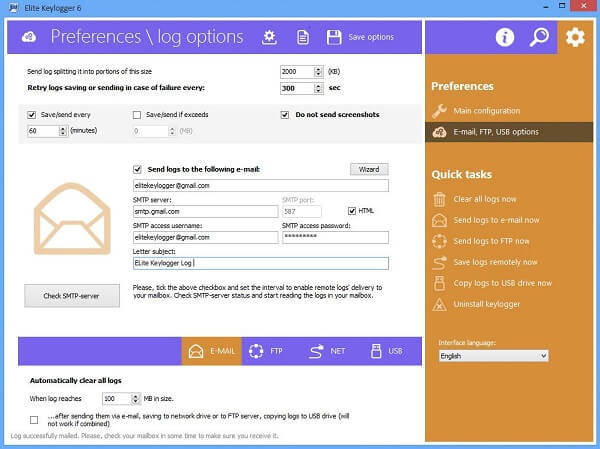 8. Shadow - Kid's Keylogger
Price: Free.
Compatibility: Compatible with Android devices.
Easy of Use: It's easy to use with intuitive interface.
Installation: It's relatively easy to instal the app from Google Play Store.
This app has been specifically developed for parents who want to monitor their kid's activities on their phones to keep them away from the predators online. Just like the name, it's the shadow of the target device's keyboard. This aslo helps you protect your phone as well when someone wants to borrow your phone. All you have to do is install this app on your kid's phone and activate it and then remotely check their activities on their phones over time. You can check and stop your child in case they are trying to access some sites which are not suitable for them or are chatting with some stranger who is dangerous.
Pros

Simple to install and use.

It's free to use.
Cons

This changes the keyboard of the phone which is not that great.

The app is visible in the target device, and anyone can delete it without password.

It fails to capture the keystrokes on some of the apps like Twitter.

Some keys are not responding.

The developer team will not provide updates instantly. And the last updates is in October 18, 2015.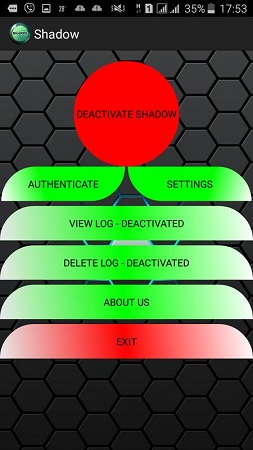 Conclusion
Making use of a keylogger is an essential part of employing parental control. Many a times these keylogger apps prove to be very useful while maintaining a workforce as well. With this you can instantly get to know if your child is keying in some sites name or searching for some content online which is completely inappropriate for them. The best keyboard monitor software with some other extended parental control features is KidsGuard Pro and it is highly recommended to try out this app once.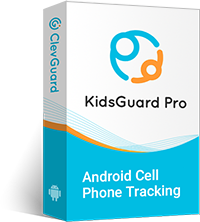 Features
Remotely check the keystrokes on child's phone

All the uploaded data is encrypted

Check the messages, browser history, contacts, calls, apps, etc

Track the real time location and view location history