Which is the best way to record a keyboard? Simple! There are some software to record all keystrokes on computer. This technique is generally used to track the kid's activity over computer, what are they browsing or doing with internet. And later, this has been applied to monitoring between partners and even in company. Today, I will be showing you top 8 keyboard activity recorder for Windows.
8 Best Keyboard Recording Software
Here are top 8 keyboard tracking software and we will help you to choose the best one out. Check out all the software to know more about them.
1. ClevGuard MoniVisor - Editor's Pick
Which tracking program records every keystroke you make on the computer? ClevGuard MoniVisor is a newly developed Windows computer monitoring software to record keystrokes and became one of the popular tool among all the monitoring products of ClevGuard.  This software offers some awesome features that has made it to be the best option one can go for. It allows you to record every keystrokes accurately (including web browsing history and all typed contents from social media apps), and you can view all the data remotely from the web online dashboard anywhere and any time. Even you can download all the keylogger data to your own computer. This makes it possible to help you track what does the target browse even in incognito mode.

MoniVisor is not just a keyboard recorder, besides this wonderful keystroke recording feature,you can even have a screenshot of everything that the targeted device is doing in real time or keep track of the email contents. This software is totally invisible to the users, every data can be checked remotely. Don't just know how well I've described it, get a taste of this amazing product now.
2. REFOG Keylogger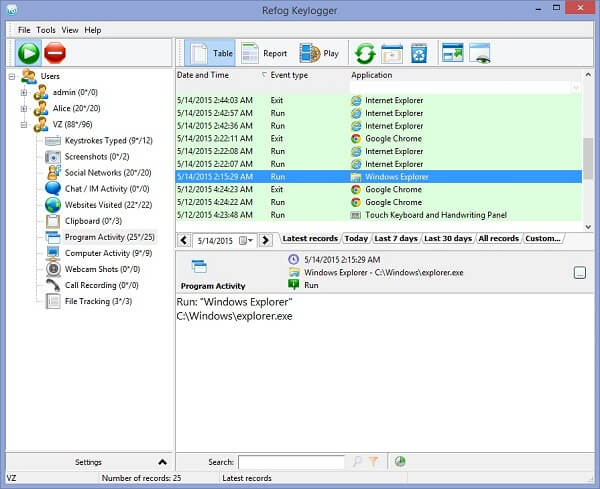 REFOG Keylogger is a keyboard tracer software that let you have total control on the activities of your kids computer. This software is user friendly that helps you to use the software with an ease. You can easily record everything that is being typed on the keyboard, websites history, chats of social networking sites, screenshot history. The good part of this software is that, it is invisible and has password protection which gives you extra layer of security. REFOG keylogger also lets you monitor apps and tracks files and sends you reports on your email but you can't block some websites visiting and program starting as well as you won't even find logon password in the log files which is the drawback of this software.
3. Spyrix Keylogger Free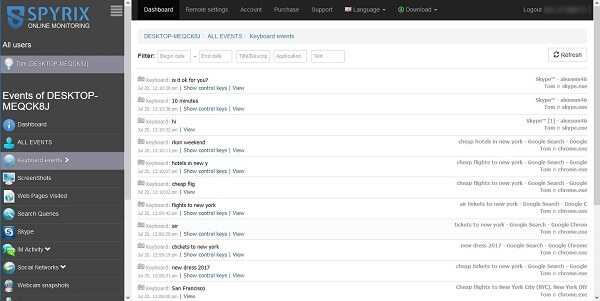 Spyrix Keylogger Free is keyboard recorder free software that can make your job of monitoring your kids or employee much easier. You will have total control over that particular computer and the amazing thing is that even an antivirus software cannot detect it whenever the user scan the computer. There are many features included in this software among which some of them are: remote control from any device, analytics module, screenshot capture, remote uninstallation, activities of the apps, removable drives monitoring and many more. It is available in 9 language but the drawback is that it can't record mouse clicks.
4. Best Free Keylogger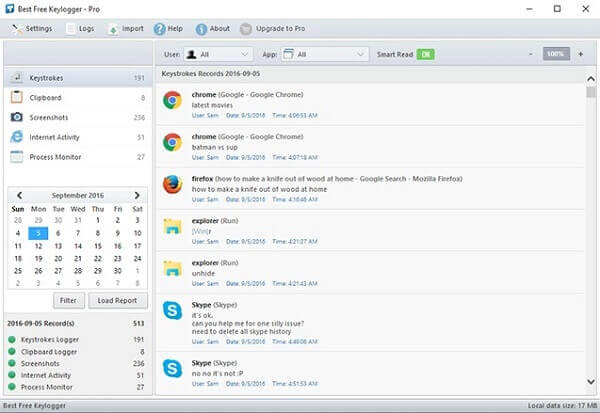 Best Free Keylogger is one of the best keystroke recorder software that tracks what your children and employee are doing on their computer. You can monitor almost everything on the targeted computer. Some of the basic features are: keystroke recording, application monitoring, internet activity recording, capture screenshot, clipboard monitoring, chats and password logging, automatically log clear etc. The awesome feature of this software is that it has invisible mode as well as password protection and it can also be auto uninstall. This software supports Windows XP/Vista/7/8/8.1/10.
5. StaffCop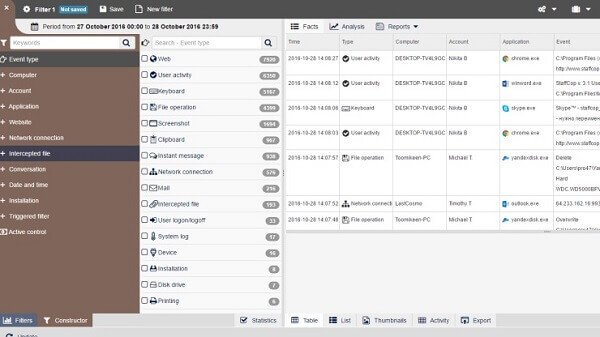 StaffCop is one of the highly used keyboard tracking software that gives you 360 view of the tracked computer and even restrict the unapproved distribution of sensitive corporate information. StaffCop offers three version depending upon the need of the users- Enterprise version, Standard Version and Home Version, which can monitor numbers of computer as per the version. Some of the main features of Standard version are: Keystrokes logging, Skype tracking, email monitoring, websites monitoring/blocking, app blocking, USB blocking, social network monitoring, process monitoring etc. You can keep the software invisible and even prepare report to know the work efficiency but it doesn't provide word filtering function which can be a negative point.
6. Revealer Keylogger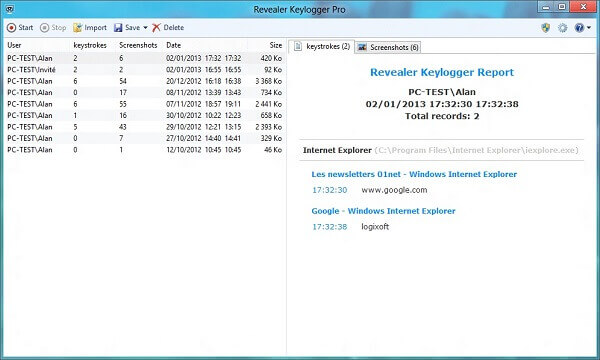 Revealer Keylogger is another keyboard recorder free software that gives you the control over your children computer. It is one of the most famous software available in the market that is compatible with most of the Windows version such as Windows 10/8/7/Vista/XP SP3. Some of its popular features are: conversation monitoring, screenshot capture, remote monitoring etc. As Revealer Keylogger has invisible mode the user won't be able to know that their activity is being tracked and it won't be detected in Windows Task Manager, Windows Explore or the registry. This software has an automatic screenshot features that captures screenshot of the running app when it is being typed out.
7. Elite Keylogger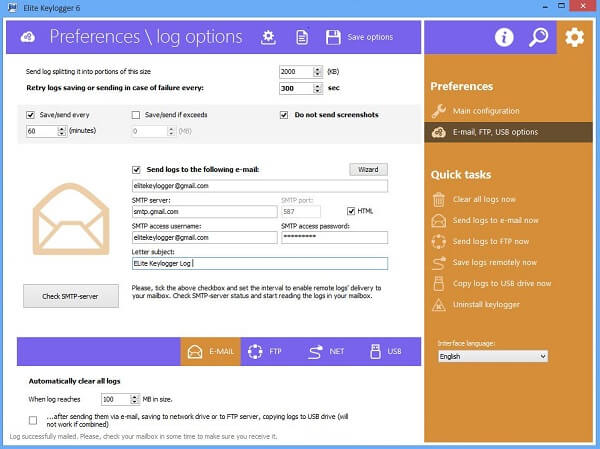 Elite Keylogger is a wonderful keystroke tracker that is compatible with both the operating system- Windows and Mac. This software is like a hidden camera as it is invisible and helps you to monitor your computer even though you are not around. Elite Keylogger keeps an eye on your kids and even you employee. Some of the features are: Monitor Keystrokes, collect passwords, records chats & emails, websites visited, multiple log delivery options, remote installation, application monitoring, clipboard monitoring etc. This software cannot be detected by antivirus when scanned but you cannot find file-activity logging which is one drawback of this software.
8. Spyera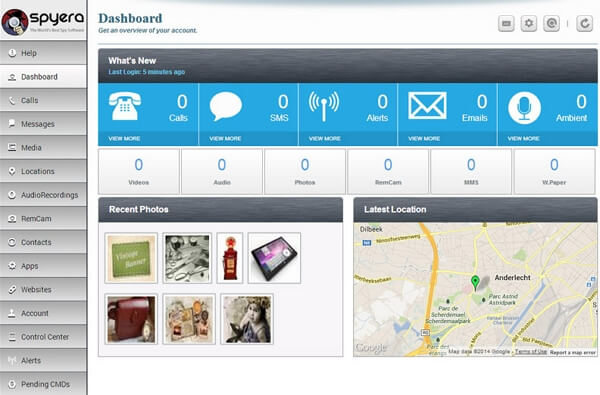 Spyera is one of best and most popular keystroke recorder software that has the ability to do almost all the stuff which a parents require to monitor their kids or a boss require to track their employee activities. This software can easily track all keystrokes and see all keylogs, secretly records screenshots, tracks visited websites even in private mode, capture chats of social networking sites. Some other features are: monitor USB activity and user logins, monitors file transfers and many more. You can even export logs from web portal and get smart reporting system. Free remote updates is available in this software.
What is the Best Keylogger Software?
In this article we have mentioned top 8 keyboard recorder for Windows. You can choose anyone as per your preference as all the software has its own unique features. We have also shown the editor's pick for you, ClevGuard MoniVisor Keystroke Recorder works like a charm in Windows computers.Why MoniVisor for Win stands out? I think there are several main considerations: for it's affordable price, easy operation & clear guide and it's truly workable features. If you don't want to wate time and money to try the tools may not perfect for you, then just trust the editor's choice and give it a try, and hopefully you will love it.
Feel free to contact us, if you have any query.