The most popular belief about the computer monitoring program that they are designed to monitor the employee schedules, the clock in and out times. But actually these programs are more sophisticated than that, obviously, they can track the time. But along with that, these programs can monitor employee activity, internet usage, keystroke, etc., record browser history, and more
Basically, these computer monitoring software are used to enhance the productivity of the employees, in a small to giant organizations. Meanwhile, it can also help to track an underage child and all his/her online activities. The program can be used to monitor any type of activity on computers but the actual usage completely depends on the person who is using it.
The article below states the 8 best computer monitoring software, along with a few other details.
1. Hubstaff
Hubstaff is an excellent example of a computer monitoring software. The time tracking feature of the program is excellent, the work of your employees will get tracked in real-time via screenshots.
The app also comes with other features as well, like activity monitoring, app usage, and others. The program is available for multiple platforms including Mac and Windows. The program basically runs on the background of the computers; so, employees will be able to work without any interruption.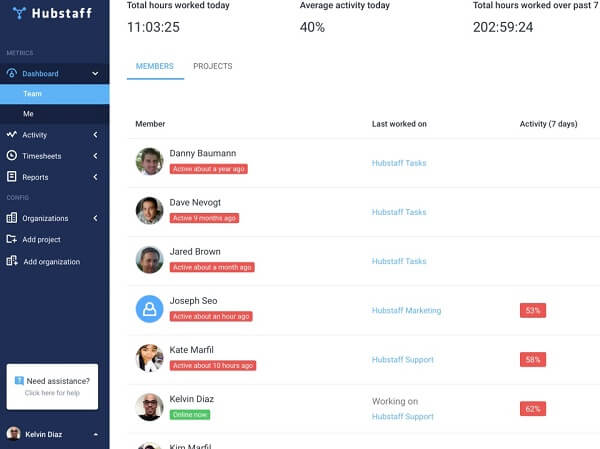 Pros
A very small program but very effective.

The installation is quick and easy, keeps track of working hours for individual projects.

The screenshots and real-time activity tracking is very helpful.

The program also calculates and monitors productivity.
Cons
Some monitoring issues can be really frustrating.
Verdict:
The performance of the software is actually really great. It tracks time and verifies employee productivity. Overall, a great software!
2.Teramind
Teramind is another great inclusion to the list. As usual, the software was designed to monitor employee behavior when they are on their computers. The program collects the data and verifies it and decides if there were any suspicious activities.
The other features of the program include detecting threats, efficiency monitoring, regulatory compliance etc. This software is basically used to monitor any security threats by monitoring user activities in real-time, and sends alerts or warnings and locks out the user.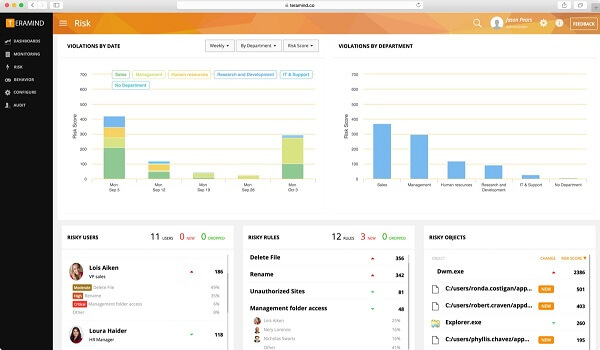 Pros
The software monitors both incoming and outgoing emails using its keyword access.

On the clock performance, monitoring is also available.

The automated alert system can be used for several things.

Screenshot and videos recording is also available.
Cons
The remote access to the desktop is not good enough, it has several issues.
Verdict:
The ability to monitor and scrutinize activities is excellent. And thus it takes our second spot in this list!
3. Qustodio
Qustodio is one of those monitoring software that is not only capable of monitoring computers but also smartphones. The program has more than 29 filter categories. The program can block unwanted application and internet contents.
The program is equipped with several amazing features and it is considered as one of the best PC monitoring software. It is suitable for household use as well in case you want to monitor an underage kid.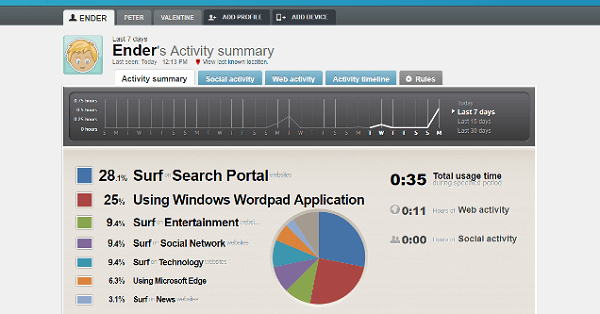 Pros
Easy to install and highly effective.

Block Games & Apps on the computer

More than 18 web filter is available.

Capable of monitoring more than one device at a single time.

Advanced Facebook monitoring
Cons
This program does not provide users with any access requests.

Does not support Chromebooks.

Live support is not available.
Verdict:
With almost all the required features, it is a versatile computer monitoring software that you can go for. You can choose from the various price plans and start monitoring without a fuss.
4. Kickidler
Kickidler is a potent PC monitoring software capable of the multipurpose tasks. The program was designed for monitoring the activity and records of the employees during work.
The program is fitted with several functions like a live video feed, tracking time, keystroke reading etc. If needed it is also capable of screen recording and even takes control of the desktop remotely. The UI is intuitive and designed in such a way that no prior knowledge or even experience is required to operate it.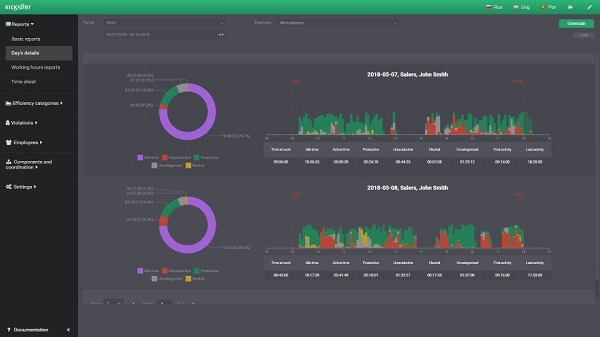 Pros
Operating this software is very easy to use thanks to a simple user-interface.

Constant updates will be available, making sure that you are always working with the latest version of the software.

The program also uses the filter while recording videos. The filter gets activated when interacting with certain websites.
Cons
The program is fully online based, all the data comes via the internet. So, without a proper internet connection, it won't work well.

The manual mode is observation based; no automatic data analysis.

Does not work well with Corporate Offices, if you wish to create a group or a certain user then you have to do it manually.
Verdict:
The program is great, it will increase the productivity of the employees but you have to do the heavy lifting all by yourself.
5. Time Doctor
Considering all the program discussed until now, this is one of the most flexible and capable monitoring programs yet.
Aside from time management web browsing and taking screenshot, Time Doctor is also capable of project management and creating invoices from detailed reports created by the program.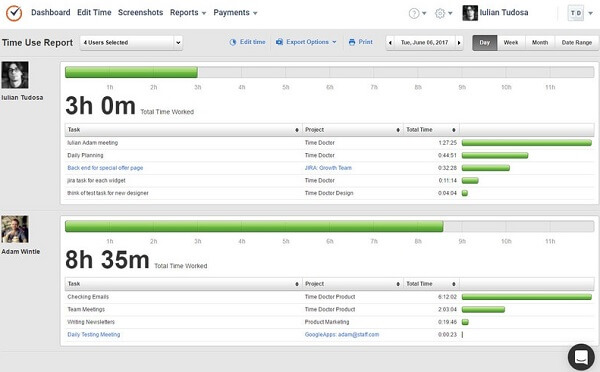 Pros
Very good computer monitoring capabilities.

Capable of creating invoices from the detailed reports.
Cons
The user interface is not that good, simply outdated.

The Stop Watch feature needs an app and a Chrome extension to work.
Verdict:
The Time Doctor software was not really designed for employee monitoring, so it has some other features as well. But the program actually blooms when it is about monitoring computers
6. WebWork Time Tracker
WebWork Time Tracker software was designed to enhance the performance of any company by providing a complete insight on how the employees usually spend their time during the work hour.
The program comes with various features like activity monitoring, monitoring emails both incoming and outgoing, keeps track of time, monitoring browsing history and even calculates productivity, sends invoice, user-profiles etc.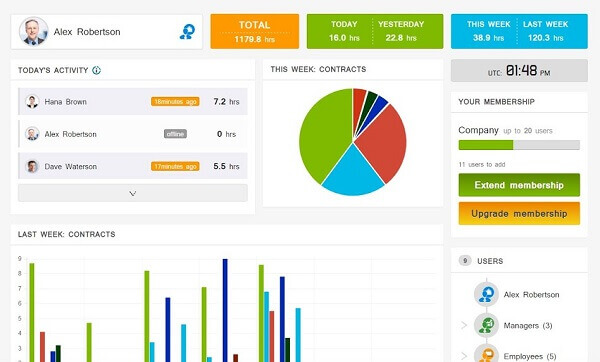 Pros
It is capable of tracking multiple projects from only one interface.

Provides easy access to all the data.

It can create invoices after analyzing the reports.
Cons
The default time out is only 7 minutes.

Reports of a few bugs in the Mac version.
Verdict:
If you want to boost the performance and productivity of your company, this might be a good choice as it ticks almost all the right boxes.
7. ACTIVTrak
There are lots of similar programs available all over the internet but ACTIVTrak is one of the premium software to monitor computer activity. It is a first-tier program with corporate level monitoring tools.
Aside from tracking time, this software is capable of doing a lot of things. It can even calculate the received data to figure out the level of productivity.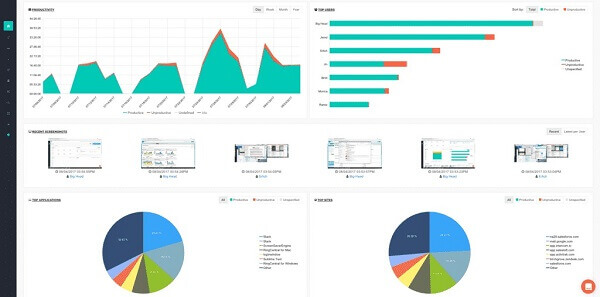 Pros
The program comes with a two-pronged authentication process which is highly secure.

Active Directory integration and app monitoring are also available.

Other features include productivity tracking, data analysis,and other privacy features.
Cons
Keystroke logging is unavailable.
Verdict:
This particular computer monitoring app is available at a very reasonable price with an excellent user-interface and lots of features.
8. VeriClock
There is actually no free computer monitoring software mentioned in the article but this one comes really close. Unlike others on the list, VeriClock is not equipped with a lot of advanced programs but this software comes with the necessary time scheduling features and a few monitoring options.
But the users are attracted by its availability and cheap price.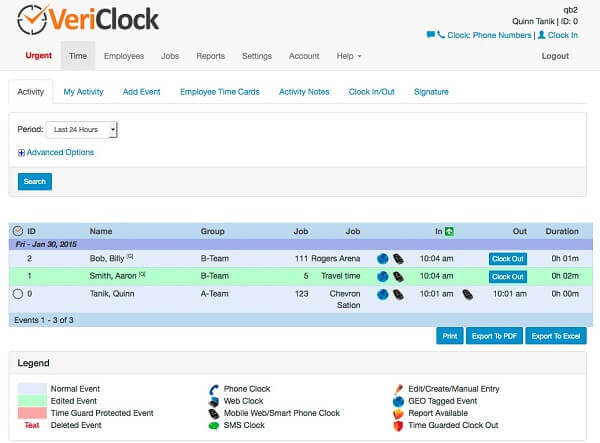 Pros
The price is really affordable.

Operating the program is very easy and simple.

Coms with lots of features for Administrators.
Cons
The time scheduling feature is absent.

The user-interface is not good.
Verdict:
VeriClock only has the essential time tracking features and a few monitoring capabilities. But its flexibility and cheap price attract users the most.
KidsGuard Pro: The Best App for Parental Monitoring on Cell Phones
Similar to computer monitoring programs, there are apps that are specifically designed to monitor different types of cell phone activities. These apps are defined as parental monitoring apps and as the name suggests these types of apps are generally used by the parents to track the cell phone activities of their kids.
Among these apps, KidsGuard Pro is considered the top one. Not only it comes at a very affordable price but offers significantly advanced features. There is also the simple operating guidelines, designed for the parents, who may not be very tech savvy but willing to protect their kids from cyberbullying or any type of unforeseen threats. Some of the app's key features are detailed below;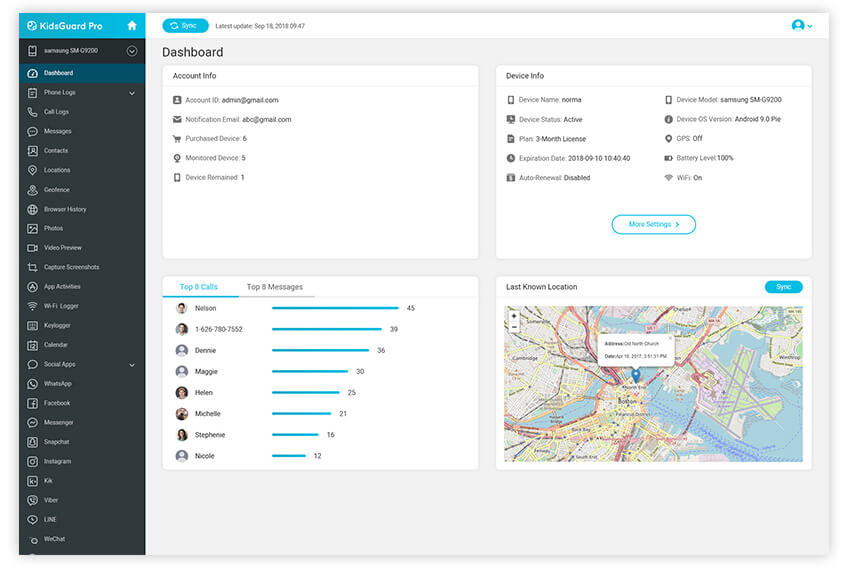 The app comes with great location tracking capabilities. The real-time acute GPS locations are specific.

A great parental monitoring app with several monitoring features and even capable of taking screenshots in real-time.

The keystroke recorder is great for monitoring texts or viewing browser history.

The app can also be integrated with independent messaging apps like WhatsApp, Kik, Line, Viber, WeChat, etc.

The app obviously comes with a stealth mode. As soon as the app is launched the icon from the Home screen will disappear and it will start working on the background of the device.
Conclusion
Aside from the 8 mentioned programs in the article, there is also other software that is capable of monitoring computers extensively but these ones are at the top. Preferred by a large number of users, these programs are quite famous for several reasons, there are still a few drawbacks with each of them but without a doubt their monitoring capabilities are excellent. All of these software come with some unique features that can come really handy while running small to large businesses or even while handling an underage child. Choose accordingly and start monitoring right now!
But if you are looking for an app to monitor smartphones then KidsGuard Pro should be your one and only choice.