Remote computer monitoring is much more common in businesses, educational institutions, and homes. For instance, employers opt for PC monitoring tools to improve the workforce. Meanwhile, it can also help to track online activities of an undersage child on computers.
However, in your opinion, this type of laptop monitoring tool may be sophisticated to configure. Is that real? No worries, let's zoom in and get familiar with the reliable computer monitoring software, along with the pros and cons of each program.
1. MoniVisor for Windows: A Feature-rich PC Monitoring Tool
Developed by ClevGuard, MoniVisor has quickly gained popularity since its debut. This computer monitoring software is a comprehensive tool to track someone's online performance, web usage, active applications, and timeline reports. The built-in dashboard is easy to navigate without a deep learning curve. You can easily see all the app usage and statistics on the online panel.
Let's take a glimpse of why we include MoniVisor as the best computer monitoring software in 2023: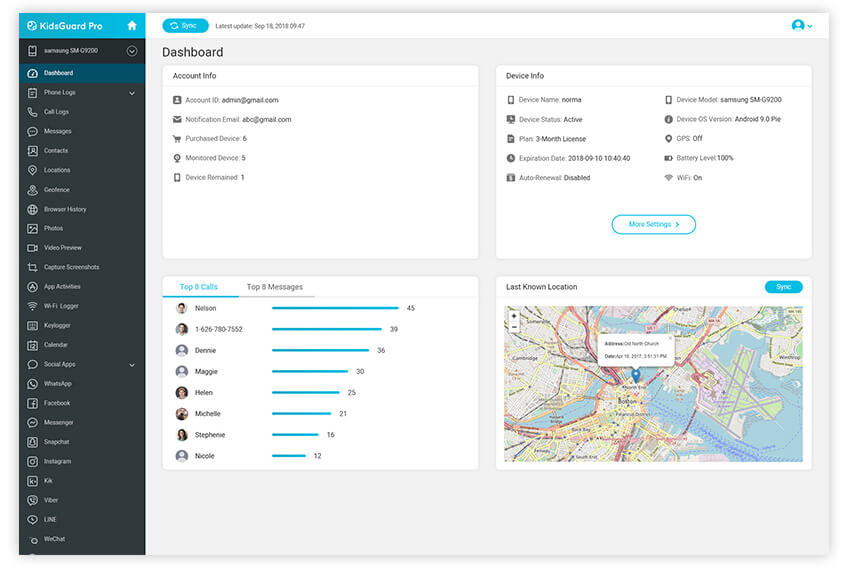 File activity: Whenever your local files are modified, the corresponding actions will be recorded by MoniVisor once he/she makes any changes to them. Besides, the file path, file name, and date are what MoniVisor tracks. Overall, tracking file activity is a fundamental part of data security and management.

Login activity: For the purpose of security or accountability, monitoring a PC's login activity is crucial. Sometimes, you don't want anyone else to access your computer in public offices or shared environments. Hence, monitoring login activity is quite essential to detect unauthorized access. Any security breach is no longer an issue for your computers.

Print activity: In offices, tracking printer activity can be unexpectedly useful. Why? Though a paperless office is not a stranger to us, and we still need to print out important files. That's why a printer tracker can be of great use. MoniVisor is such a computer monitoring tool to keep track of the printer name, file name, page numbers, and date.

USB connections: Are you concerned about insider threats? If yes, it's quite significant to track your USB port. MoniVisor can record the device name, activity, and date of an external drive. Therefore, choosing MoniVisor is to protect data.
Pros
A stealth viewer software to track productivity;

A wide array of powerful features;

Clean UI design to make it easy to use;

Stable performance with real-time data sync;

Flexible pricing strategy;

Allow to export reports in CSV and other modules.
Cons
Only available on Windows.
For more information about this all-in-one remote computer monitoring software, please check out the Free Demo to discover more of its charms.
2. Hubstaff
Hubstaff is an excellent example of computer monitoring software. The time tracking feature of the program is excellent, and another highlight of this product is real-time screenshots.
The app also comes with other features, for instance, activity monitoring, app usage, and others. As a device-agonistic laptop monitoring tool, the program is available on Mac and Windows. When installed on the target computers, it runs on the background, so your employees will be able to work without any interruption.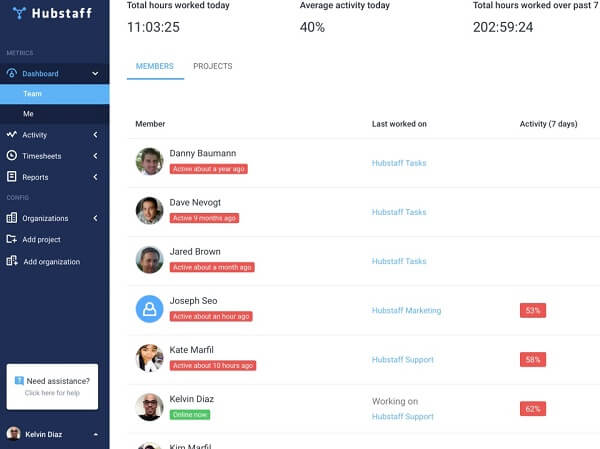 Pros
Available on many operating systems;

Easy and quick installation process;

Some team collaboration features integrated within;

Present analysis reports in different aspects.
Cons
Need to sign up for a free demo.
Verdict:
The performance of the software is actually really great. It tracks time and verifies employee productivity. Overall, this is a great remote work monitoring tool!
3.Teramind
Teramind is another great mention on the list. As usual, the software is designed to monitor employee behavior when they are on their computers. The program collects data, and verifies it, and decides if there were any suspicious activities.
The other features of the program include detecting threats, efficiency monitoring, regulatory compliance, etc. This software is basically used to monitor any security threats by monitoring user activities in real-time, sending alerts or warnings, and locking out the user.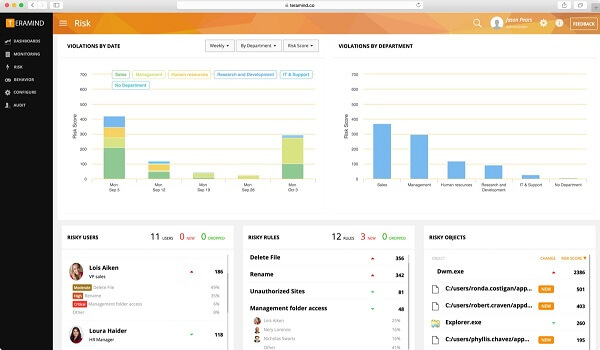 Pros
Monitor both incoming and outgoing emails with the keylogger;

Provide detailed reports for further use;

Automated alert system to block any irrelevant user behavior;

Real-time screenshots and video recordings available.
Cons
Verdict:
The ability to monitor and scrutinize activities is excellent. And thus it becomes the second pick in this review!
4. Qustodio
Qustodio is one of those monitoring software programs that is not only capable of monitoring computers but also smartphones. With the purpose of keeping kids' digital lives balanced, the program is equipped with more than 29 filter options to block unwanted applications and internet contents, such as safe search, web filtering, and games & app blocking.
However, generally, this remote computer monitoring software is suitable for household use since most features are customized for parental control.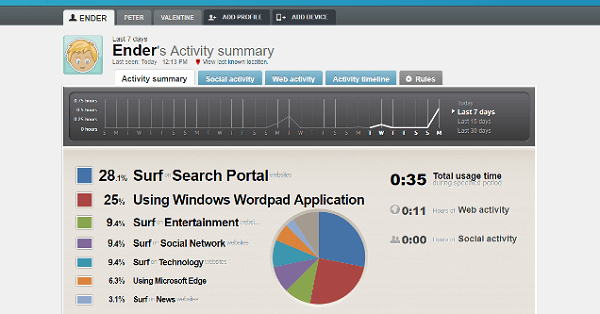 Pros
Easy to install and highly effective;

Block Games & apps on the computer;

More than 18 web filters available;

Multiple devices monitored at the same time.
Cons
Lack of live monitoring and other features for workplaces
Verdict:
With almost all the required features, it is a versatile computer monitoring software that you can go for. You can choose from the various price plans and start monitoring without fuss.
5. Kickidler
Kickidler is potent PC monitoring software capable of multi-tasking. The program is designed for monitoring the activity and records of employees during work.
The program is fitted with several functions, like a live video feed, time tracking, keystroke recording, etc. If needed, it is also capable of recording computer screens and even taking control of the desktop remotely. The UI is intuitive and designed in such a way that no prior knowledge or even experience is required to operate it.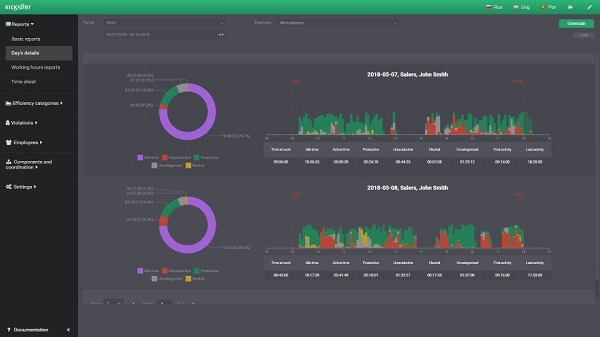 Pros
Free updates available upon every release;

Use the filters while recording videos;

Offer customizable settings on employee monitoring.
Cons
Deep learning curve required;

Potential computer crash;

No automatic statistics generation.
Verdict:
The program is overall great and will increase the productivity of the employees, but it is not friendly for a new user to start up.
6. Time Doctor
Considering all the programs discussed until now, this is one of the most flexible and capable monitoring programs yet.
Aside from time management web browsing and taking screenshots, Time Doctor is also capable of project management and creating invoices from detailed reports created by the program.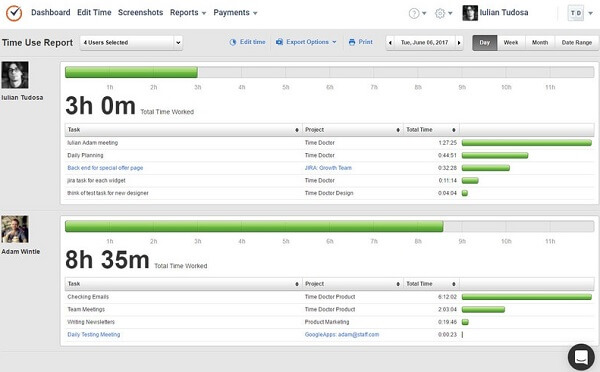 Pros
Excellent computer monitoring to allow for idle time tracking;

Straightforward user interface.

Capable of creating invoices from the detailed reports.
Cons
Expensive pricing for monitoring multiple computers.
Verdict:
The Time Doctor software was not really designed for employee monitoring, so it has some other features as well. But the program actually blooms when it is about monitoring computers.
7. WebWork Time Tracker
WebWork Time Tracker software is a good laptop monitoring tool designed to enhance the performance of any company by providing a complete insight on how employees usually spend their time during the work hour.
The program comes with various features like activity monitoring, monitoring emails both incoming and outgoing, keeping track of time, monitoring browsing history, and even calculating productivity, sending invoices, user profiles, etc.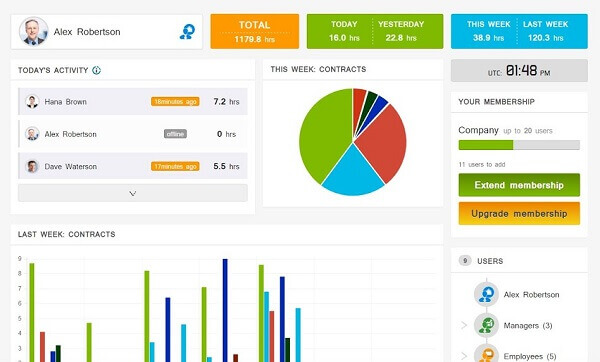 Pros
Capable of tracking multiple projects with only one interface;

Provides easy access to all the data;

Create invoices after analyzing the reports.
Cons
Verdict:
If you need computer monitoring software to boost the performance and productivity of your company, this might be a good choice, as it ticks almost all the right boxes.
8. ACTIVTrak
There are lots of similar laptop monitoring programs on the market, but ACTIVTrak is definitely worth mentioning. It is a first-tier program with corporate-level monitoring tools.
Aside from tracking time, this software is capable of doing a lot of tasks. It can even calculate the received data to figure out the level of productivity.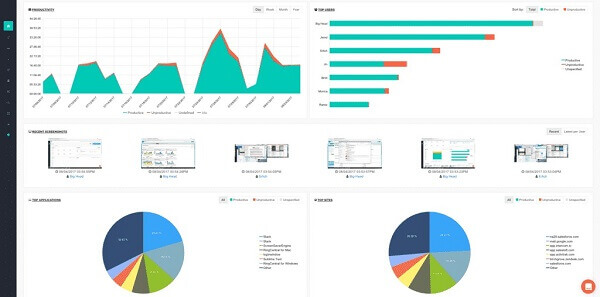 Pros
A two-pronged authentication process to enhance security;

Available active directory integration and app monitoring;

Store data and screenshots even when offline;

Simple layout to ensure no learning curve.
Cons
Unavailable live feed of the screen;

Visible to the end user when having admin access.
Verdict:
This computer monitoring software is affordable at a very reasonable price with an excellent user interface and lots of features. That explains why it stays on top of things.
Conclusion
Aside from the above-mentioned computer monitoring software in the article, we still have many more options out there but these ones are at the top of the list. Preferred by a large number of users, these programs are handpicked for several reasons. If you need computer monitoring for home users or remote work, MoniVisor is absolutely your trusted partner, offering the ultimate laptop monitoring experience.