Apple's iPhone is preferred by many these days. With its extensive list of attractive features it is hard not to be glued to it all the time. This can be severely detrimental to the health of your child. They are at a constant exposure to the dangerous virtual world and may even be subjected to cyberbullying.
With so many such dangers lurking in the online world, parental control becomes a necessity. Moreover, with the introduction of such exciting applications on iPhone your child may start spending more time on their phone and not involve in other useful day to day activities. Are you one of those parents who are facing this issue?
Worry not! Here are 10 of the best iPhone parental monitoring app which prove to be very beneficial in such a scenario.
A List of 10 Best iPhone Parental Monitoring App
Our first pick is KidsGuard Pro for iOS. It is the No. 1 iPhone parental monitoring app in the market. Designed with delicated features, it can provide almost every detail on your kid's iPhone, like text messages, photos, videos, call logs, search history, WhatsApp messages, Kik, contacts, notes and more. With such an advanced tool, you can rest assured and protect your kid from online risks.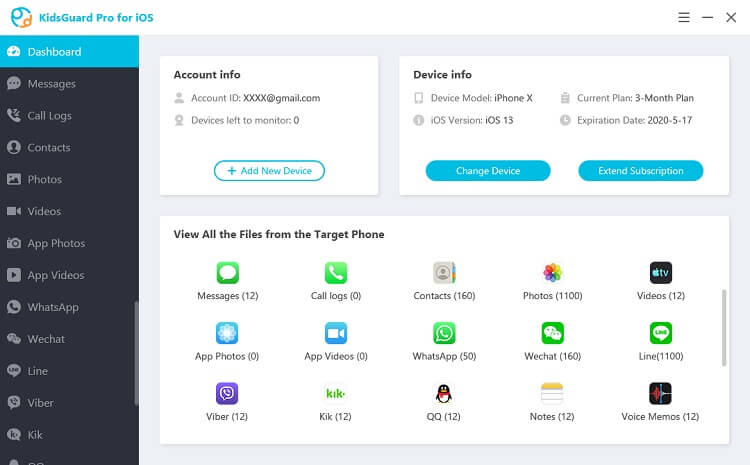 Features:
Monitor messages

Track call history

View photos and videos

Social media monitoring

Data exporting

Monitor notes, reminders and contacts

Listen to voice memos
Price: It starts at $39.95/month.
Check out its free demo to see how it helps in parental control.
2. Net Nanny App
This application is one of the most trusted applications to monitor your child's cell phone activity in a safe and secure manner. It helps in limiting the type of content your child can access online so that they don't land up on an inappropriate site which is not suitable for their age. It has an extensive list of attractive features which work together effectively to keep your child safe in the online world.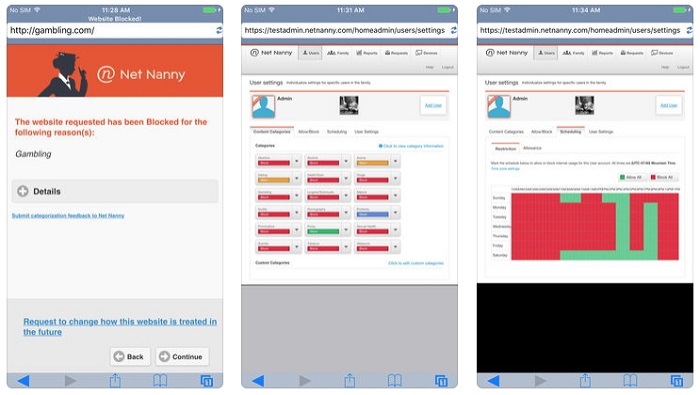 Features:
Parental controls

Internet filter

Pornography blocking

Time management

Profanity masking

Social media monitoring

Alerts and reporting

Remote administration

Customization of user profile settings
Price: Protect 5 devices at $59.99/year, protect 10 devices for $89.99/year and protect 15 devices for $119.99/year.
3. FamilyTime App
FamilyTime is one of the most powerful iPhone parental control apps which can be used for managing your child's activities on their iPhone. Location, internet activity, applications, phone logs, and so much more can be monitored using this wonderful application. It makes the task of parental control an effortless ordeal.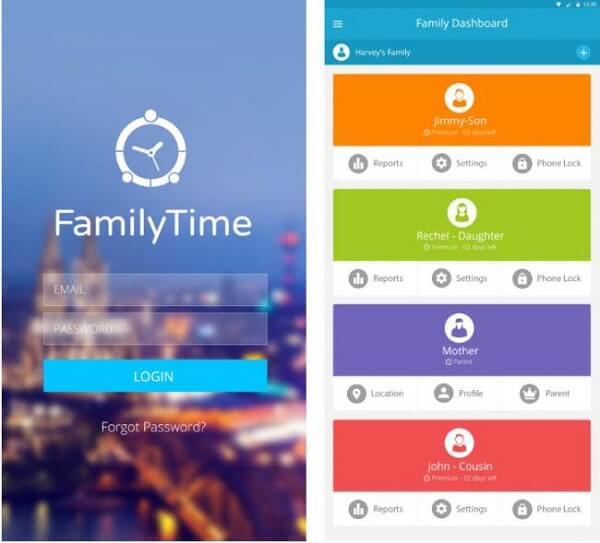 Features:
Set time limits

Block pornography

Enable safe search

Apply web filters

Geo-fence places

Locate family members

Check app usage

Control several social media applications
Price: The most popular version of this application costs $1.15/month for every device added.
4. Qustodio Parental Control App
You can manage, supervise and protect your child's activities on their iPhone with the help of this parental control app. It offers the easiest way to control your child's activities online and keep them safe from the dangers of being addicted to their cell phones at all times.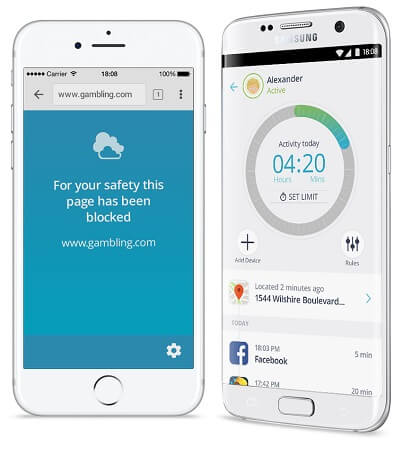 Features:
Block pornography

View activity on social media

Balance and set screen time

Control the other apps and games

Track the incoming and outgoing calls

iPhone parental monitoring text messages

Track real-time location
Price: Premium version at $54.95/year for 5 device monitoring, $96.95/year for 10 device monitoring and $ 137.95/year for 15 device monitoring.
5. Circle Smart Family Control
This is one of the best parental monitoring app for iPhone which offers an amazing interface for families to connect and monitor in a smart way. The devices of a family can be interconnected at one place through this application and can be monitored effectively. It makes the management of online time and content very easy. You can even reward your child when they have been good.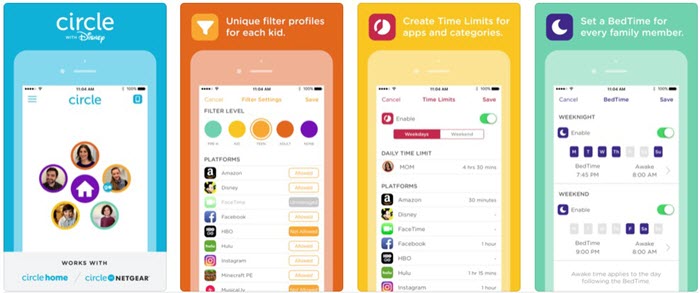 Features:
Set screen time limits

Filter content

Set a bedtime

Limit usage

Set offtime

Give rewards

Pause your child's device

View history of accessed content online
Price: $54.99
6. Kidslox Parental Control App
Kids get exposed to a lot of unwanted and inappropriate content online. Kidslox parental control app is excellent in providing the right parental control features for your kids which becomes very essential. With this application the unwanted web pages can be blocked easily without any hassle. Not just iPhone but you can also monitor iPad, iPod and Android devices as well.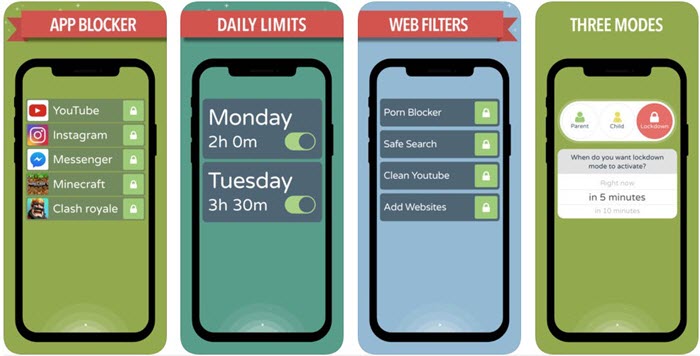 Features:
Locks applications

Blocks content

Can set daily limits

Can set mode timers

Enables scheduling the cell phone usage

3-way-toggle

Childproofing

Fingerprint ID
Price: Premium membership for $3.99/month, $19.99/6 months, $39.99/year and Lifetime Premium membership for $79.99
7. ScreenGuide Parental Control
You can stop worrying about your child's cell phone usage once you start using this application. ScreenGuide Parental Control works effectively in monitoring and managing your child's activity online and you can take the necessary action in case of any suspicious activity. It comes with internet filtering, proper Time-Out feature which is very effective. You can remote lock device whenever you want and it is very easy to go through.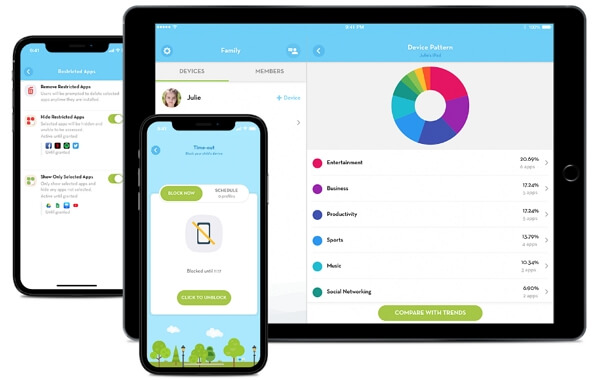 Features:
Content filtering

Screen time limit with Time Out feature

App monitoring and blocking

Remotely lock and unlock device

Customizable restrictions
Price: Free
8. Netsanity App
You can monitor and protect your child in the best possible way with the help of this parental control application. More than 20 premium features are included in this app which helps in effective monitoring of your child's cell phone activity. It offers a safe and secure medium to create restrictions of usage for your child.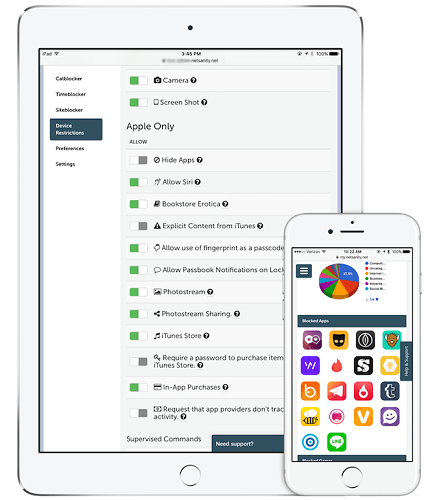 Features:
App blocker

Time blocker

Game blocker

Category blocker

Website blocker

Youtube content filtering

Safe search

Customization of timeout
Price: Free 14-day trial, Premium version at $6.95/month.
9. Mobicip Parental App
With the help of this application you can monitor your kid's activities online and keep him/her safe. The screen time can also be managed with the help of this application which keeps the phone addiction at bay. You can even track children's real-time location to know their whereabouts at all times so that in case of any emergency you can reach them at the earliest.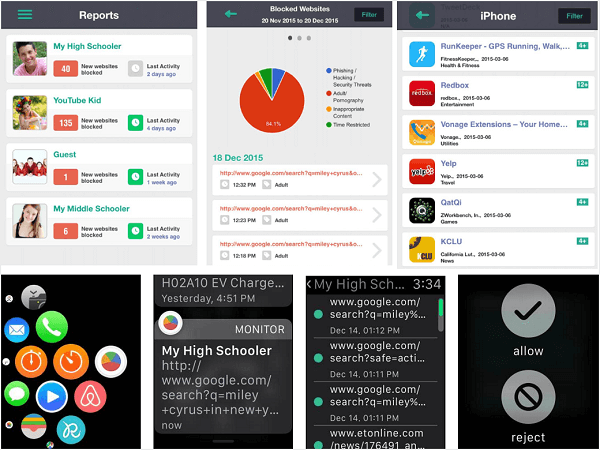 Features:
Limit screen time

Block websites

Manage games and mobile applications

Track real-time location

Supervise video streaming

Filter the content on internet

Check the browsing history

Invite a co-parent

Simple user interface
Price: Standard version at $39.99/year to protect 5 devices. The Enterprise version protects more than 20 devices and you will need to contact the customer support service group of this application for the quote of this.
10. OurPact Parental Control And Kid Tracker
Through this excellent iPhone parental monitoring application, the location of almost every family member and their device can be found out quickly. Parents can get the instant location of their kids through this application. It is easy to use and very effective as well.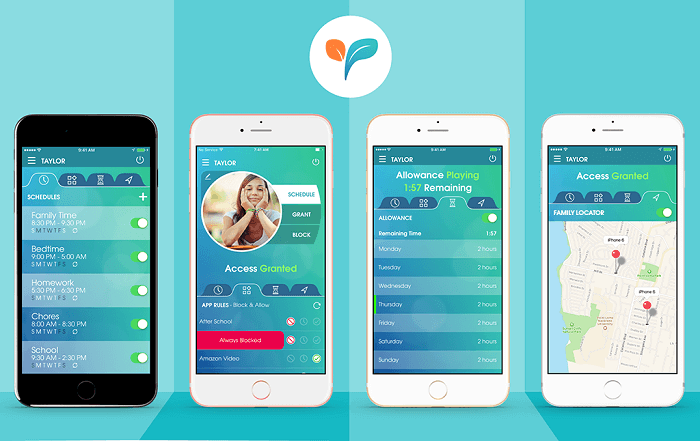 Features:
Blocking of application.

Blocking internet for inappropriate use.

Blocking texting feature.

Locates the family members.

Can schedule screen time restrictions and access.

Building and customizing the application rules.

Setting up allowances for certain cell phone functions.

Filtering out the web pages.
Price: Free for one schedule, Plus version at $1.99/month and Premium version at $6.99/month.