The world today offers an array of digital tools that have become an integral part of our children's lives. As a parent, it is our responsibility to guide them through the digital landscape, ensuring their safety while they explore and connect with others online. This article focuses on one such tool, the BeReal app, which has gained immense popularity among kids. By the end of this guide, you will have an understanding of the BeReal app and its safety for kids.
Part 1: What Is the BeReal?
BeReal is a unique social media platform that stands out for its innovative approach. Unlike other platforms, BeReal does not encourage users to share their perfectly curated moments. Instead, it nudges users to share a single, authentic snapshot of their day. The catch? You never know when the app will prompt you to do so. This randomness adds an element of surprise and authenticity to the user experience, making BeReal a favourite among kids and teenagers.

The BeReal app has several distinctive features that make it stand out among other social media platforms.
The app only allows you to take one picture a day, and you don't get to choose when.

The app sends a notification at a random time each day, and you have 15 minutes to respond and take a snapshot of whatever you are doing.

There are no filters, no retakes, and no captions. This spontaneity and authenticity are what make the BeReal app unique.

Another notable feature is the Karma score. Users gain karma points when they react to others' pictures, encouraging interaction and engagement within the community.

The app also features a map that shows photos from users around the world, promoting a global connection and understanding.
Part 2: How Does the BeReal App Work?
The BeReal app is straightforward to use. Once you download the app and create an account, the app will send you a notification saying "Time to BeReal" at a random time during the day. You then have 15 minutes to take your picture. If you miss it, you have to wait until the next day. Once you take your picture, it is shared with your friends on the app. They can then react to your photo with emojis, and you earn karma points for each interaction.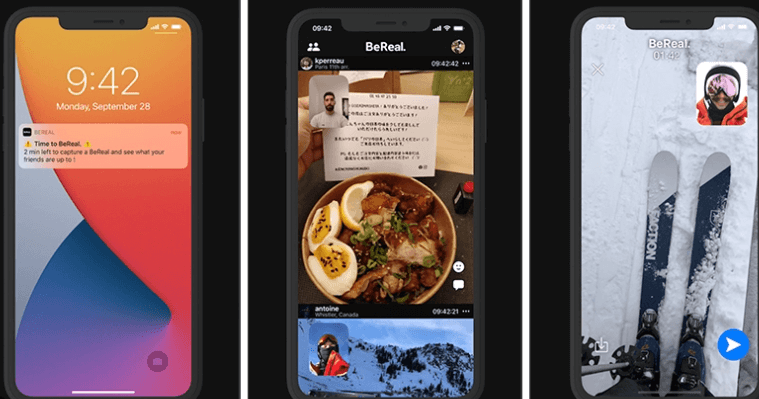 Part 3: Why Is the BeReal App Popular Among Kids?
The BeReal app has become quite popular among kids for several reasons. The element of surprise and the challenge to capture an authentic moment in their lives is exciting for them. Additionally, the simplicity of the app, without the pressure of likes, comments, or the need to curate perfect images, is appealing. The karma points system further incentivizes engagement and interaction, making the entire experience fun and enjoyable.
Part 4: Is BeReal App Safe?
Like any social media platform, the BeReal app does come with potential risks. The primary concern is privacy. Since the app encourages users to take spontaneous photos of their daily activities, there is a potential risk of oversharing, which can reveal too much information about a user's life.
Moreover, the app's map feature, which allows users to view photos from around the world, could potentially be exploited for inappropriate reasons.
Is BeReal safe for 12 year olds?
Given the potential risks mentioned above, the question arises if BeReal is safe for 12-year-olds. While the app's concept is fun and exciting, parents must guide their children on responsible usage. The app does have a minimum age requirement of 12 years, but it is crucial to discuss privacy settings, the importance of not revealing too much personal information, and the need to report any inappropriate behaviour.
Is BeReal safe for a 14 year old?
The same principles apply when considering if BeReal is safe for a 14-year-old. While they may have a better understanding of digital etiquette, it is still crucial to ensure they are using the app responsibly. The focus should be on sharing fun, innocent moments, and not revealing any personal information or engaging in inappropriate activity.
Part 5: Safety Tips: How to Ensure Your Child's Safety on the BeReal App
The Bereal app has benefits and risks just like other social media apps. To ensure your child's safety on the BeReal app, just follow these tips: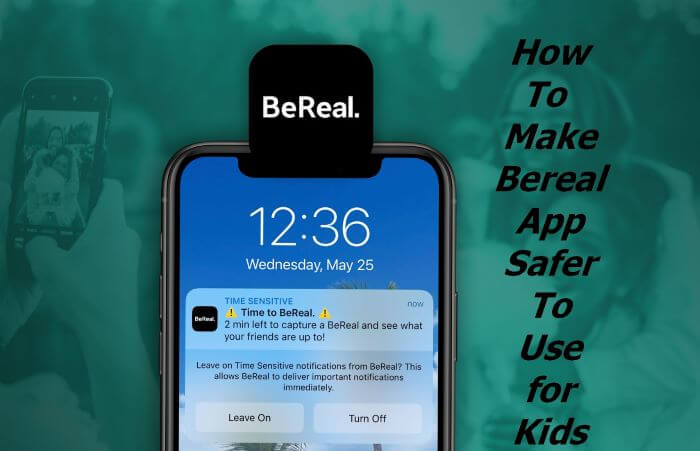 Talk with your kids: Have open conversations about responsible online behaviour. Teach your child about the importance of privacy settings, and make sure they understand not to share too much personal information. Encourage them to report any inappropriate behaviour and to only connect with people they know in real life.

Make BeReal private: There is a feature in the Bereal app called Discovery, which your children can share their picture in the timeline. Tell your kids never choose this option.

Turn off location settings: Tell your teens not share theit location when posting even share with their friends.

No personal information sharing: Never allow your children to share their personal information such as full name, phone number, address, or the school address.

Set family media plan: Teach the right concept of using Bereal social media app. Set boundaries and rules about using social media including the Bereal app at home. Set how often and how long they can use their mobile devices.
With proper guidance and supervision, the BeReal app can be a fun and safe platform for your child.
How Could Parental Control App Can Help Protect Your Kids
The most reliable parental control app, KidsGuard Pro, can help parents reduce their concerns for children by monitoring the kids' devices. It can
Keep kids safe by tracking real-time location and setting up geofence.

Set up a good online environment by seeing their phone activities like text messages, contacts, call logs and more.

Track various social media apps contents to ensure that they won't be addcited to them.
Conclusion
The BeReal app is an interesting addition to the world of social media, offering a unique and authentic approach. However, as with any online platform, it is essential to understand its features and potential risks to ensure our children's safety. With the right guidance and supervision, the BeReal app can be a positive and fun experience for your child. As parents, let us embrace the digital world and guide our children to navigate it safely and responsibly.