Being suspicious of a spouse or lover but have nothing definitive to go by? Looking for some answers regarding where, who, when, and why? WhatsApp is one of the most used instant messaging apps in the world. It's free, easy to use, and incredibly popular. But you're here because you want to hack WhatsApp messages.
Although breaking into another person's WhatsApp account is forbidden, there are genuine reasons why you would want to hack into another person's WhatsApp account.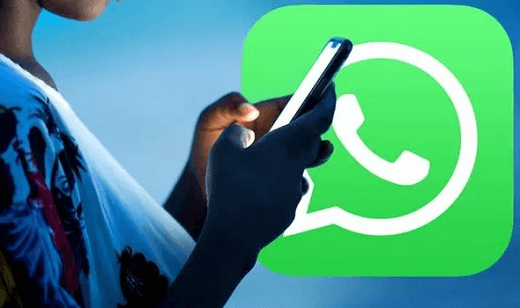 So, read till the end, and we'll look at various methods of how to hack someone's WhatsApp.
Part 1: Why You Need to Hack WhatsApp Messages?
It may look that hacking someone's phone without their knowledge is impossible, but it is not. People do it for many reasons. You can also try a WhatsApp monitoring app - KidsGuard for WhatsApp if you haven't any technique skill for hacking. It can monitor other's WhatsApp like you use it.
The following are the four main reasons:
1. For your partner:
A wife may be curious about how to read my husband's text messages without touching his phone, while a man may be curious about how to track my wife's phone.
2. For your kids:
With widespread Internet use and little control over the content and activities in this area, parents must take proactive measures to protect their children from hazardous cyber theft activities and secure their data from unsuitable material.
3. For your employees:
Some employees use WhatsApp to contact friends and relatives or steal company secrets at work. Some companies hack WhatsApp accounts to determine if their workers are working or spending time at work.
4. For yourself:
Hundreds of WhatsApp messages are sent to you. You may accidentally delete important messages and wish to recover them, or you may forget your account's password. Hacking the WhatsApp app at the time assist you in retrieving those communications.
Part 2: Best Choice to Hack Someone's WhatsApp Messages - KidsGuard for WhatsApp
If you are looking for the best WhatsApp hacking tool, look no further. KidsGuard for WhatsApp is considered the best choice to hack someone's WhatsApp messages. This smart tracking app allows you to monitor your loved one's WhatsApp account in real-time.
With this fantastic tool, you can access your target phone remotely and download their chat history on your PC. The application helps you view the targets' call logs and voice mails.
1. Steps of Using KidsGuard for WhatsApp to Hack WhatsApp Messages
You can hack someone's WhatsApp by following simple steps.
Step 1: Register and Create an Account
To register for a KidsGuard account, click the Register Now button and provide a valid email address. You must upgrade to a premium subscription to use all advanced features.
Step 2: Dowload and Set up KidsGuard for WhatsApp
When the  purchase is completed, you will be sent to a page named My Products and Orders Management. You may see your order here, click Setup Guide, and perform the necessary setup on the Android device in question. The procedure takes about three minutes and is completed following the app's instructions.
To download and install software on the target Android phone, go to installapk.net, then "slide right to download".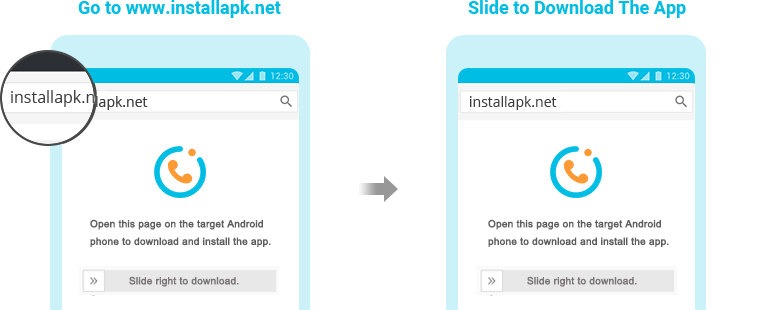 KidsGuard for WhatsApp will be installed on the target phone; launch it and sign in to your account. A list of permissions will be displayed. You must grant all of the following permissions.
Step 3: Go to Dashboard and Track WhatsApp Data
After installing the app on the target device, go to our website and sign in with your account. Then go to the KidsGuard dashboard. You may start monitoring and tracking the WhatsApp data gathered on your device.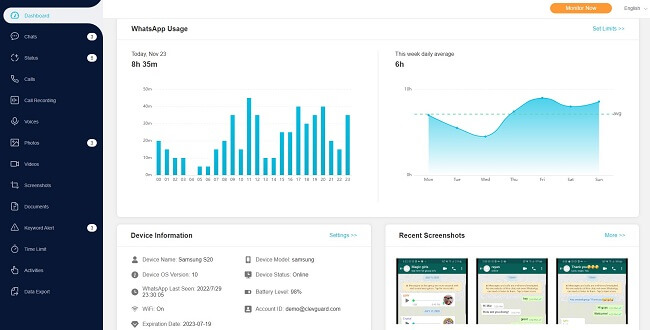 2. Advantages of Using KidsGuard for WhatsApp to Hack WhatsApp Messages
The reason we recommend this software is because of its features.
You may record all audio and video calls with KidsGuard for WhatsApp. You may track WhatsApp messages on the target phone, such as SMS, voice messages, emoji, and pictures.
You may check time limits for app usage, such as screen time consumption, frequency of use, and specific login date and time.
You have enough time to take screenshots and offer real-world proof if necessary. When WhatsApp is used, this software automatically takes screenshots, which you can view online or download to your local storage.
You can export three modules into a CSV file: WhatsApp Chats, WhatsApp Calls, and WhatsApp Activities, and then erase the exported data from the dashboard.
Part 3: Alternatives for Hacking Someone's WhatsApp Messages
If you don't want to use the software we recommended, there are other ways too. Let's explore.
1. Hack WhatsApp by Phone Number
You must have WhatsApp installed on your device for this way to function. You'll also need the verification code sent to the phone number you want to spy on.
Begin by opening WhatsApp on your phone and inputting the phone number of the target device.
To log into the account, the second step needs you to input a verification code. It may be taken immediately from the SMS from the target phone.
After entering the code, you'll have full access to someone else's WhatsApp account on your smartphone.
This is a little ineffective since the target user will be alerted instantly if a login attempt is made on a different device.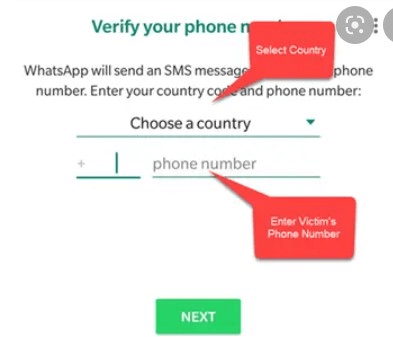 2. Hack WhatsApp Messages by Chrome
Another method for hacking a WhatsApp account is to use your Chrome.
To make this work, open your Chrome browser on your laptop or PC and navigate to web.WhatsApp.com.
Scan the target's WhatsApp for the QR code.
You can now see the WhatsApp conversion without downloading software on the victim's phone.
Every time the owner's WhatsApp account is opened in the Chrome browser, the owner will be alerted.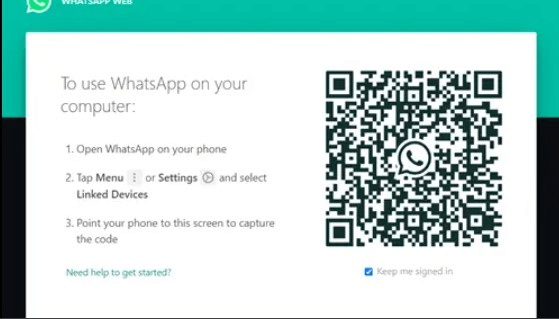 3. Hack WhatsApp Messages by Bluetooth
Using Bluetooth, the hacker may eavesdrop on WhatsApp communications in the same way as described before. Take the following steps:
The hacking apps helps to identify the target device and scan it.
Then they check the device's tenderness to avoid data tracking
After checking the tenderness, Messages or data from the target device transmits on monitoring device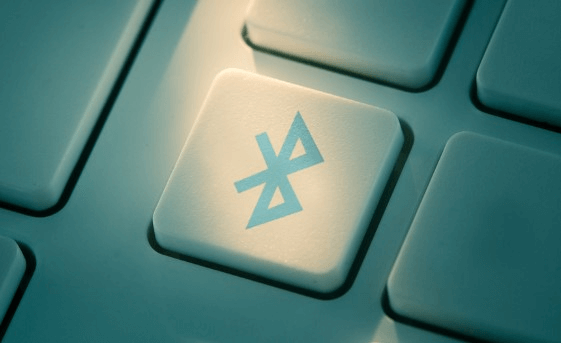 4. Hack WhatsApp Messages by Exporting Chat History
You can also hack WhatsApp messages by exporting chat history.
Open WhatsApp on the target's phone.
Open the chat you want to export.
Click on the three dots present in the upper left corner, and click on export chat.
A pop-up will appear with two options, Include Media or Without Media. Choose whichever you want.
After selecting, a new pop-up will appear asking you the export destination, like Gmail, messenger, etc.
Select Gmail and enter your email and click on export.
It's a safe method, but you need access to the target's phone.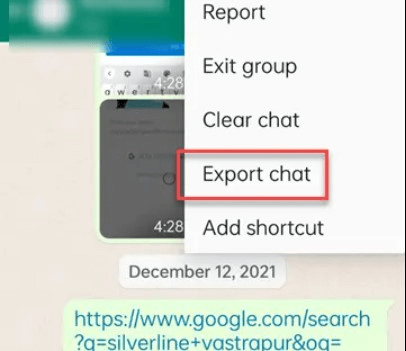 5. Hack WhatsApp Messages by Sending Spammy Link
We are all aware that we should never click on any link provided to us by an unknown person or account. But we don't think twice if it's sent by someone we know. Hackers will sometimes compromise a single device and then exploit it to breach the privacy of additional devices. They may transmit a malware-infected link from the hacked smartphone to everyone on its contact list.
FAQs about Hacking WhatsApp Messages
1. How to Know if Someone Hacks My WhatsApp?
If you think that someone has hacked your WhatsApp, you should use ClevGuard Anti-Spyware. It is designed to detect, remove, and keep your device free of spyware and adware problems. With only one tap, users of the app can delete harmful and spying applications and data. You can easily install this app from the Play store
2. Can WhatsApp Messages Be Hacked?
Yes, it's possible. You can use the ways mentioned above. If you want to use a third-party tool, look no further than KidsGuard for WhatsApp.  
3. How Can I Hack Someone's WhatsApp Messages on iPhone?
Hackers can access your WhatsApp data through various methods, including using WhatsApp online or registering your phone number on another device. WhatsApp cannot be used on two phones simultaneously, but hackers who register your phone number on another device may access all your messages, even confidential ones.
Conclusion
These methods are beneficial for you to read someone's WhatsApp messages without even knowing their phone. If you have been looking out for a way by which you can hack someone's WhatsApp messages, then we would recommend you to use KidsGuard for WhatsApp for this purpose.