Question:
How to find my lost Samsung phone? I can't find it anywhere. What should I do?
Did you ever wonder how to track a Samsung phone after you lose it? Or you want to track a Samsung phone just to track your boyfriend's phone location. Either way, you will need a Samsung GPS tracker to track Samsung phone.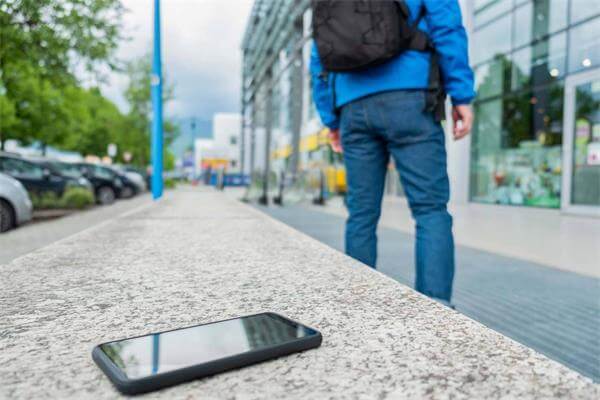 Tracking a Samsung phone isn't as hard as you think, whether it's finding a Galaxy or a Note. In this article, we will solve you the problem of "how to find my samsung phone".
Why to Track a Samsung Phone of Others
Keep Child Safe

In order to keep child safe, it is now likely that young children will make bad friends online, which can have a negative impact on them. Tracking them allows us to know what they are up to and if there is danger, we can also be the first to know.



Find Phone Quickly

When a mobile phone is missing, we can find it by using cell phone tracker to avoid leakage of information from the phone so that we find the lost Samsung phone back quickly.



Check Your Partner

When you think your partner is suspicious, tracking their phone can provide you with evidence to help you disarm your suspicions.



Check Your Employees

When your employees are disappearing from time to time at work hours, it makes you wonder where their whereabouts. This app could help you better find out what your employees have been gone to and create a better working enviroment.
Once you know the importance of tracking a Samsung, you might ask: how to track a samsung phone? Next, we will introduce four different solutions, which are KidsGuard Pro for Android, Find My Mobile and Find My Device on Samsung and IMEI number. Read on for more details!
Way 1: Find My Samsung Phone With A Phone Tracker App
The best way to track your Samsung phone is to use GPS tracker apps because the apps are well-designed, easy-to-use and user-friendly.
Do you wonder the answer of "What is the best tracking app to track my Samsung phone"? Here you go KidsGuard Pro for Android - the Best Sumsung Tracker.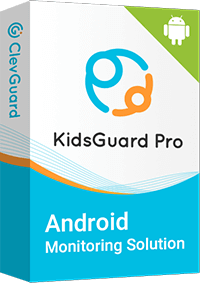 KidsGuard Pro for Android is a third-party location tracker app to track your Samsung device's location.
It allows a user to track or monitor all the activities of a trarget Samsung device including real-time location. Here are some features.
Features of KidsGuard Pro for Android for Samsung Tracking
Real-time & accurate location tracking

Track real-time location of the target phone with great accuracy by using GPS and Wi-Fi logger.

Track phone activities

View call logs, text messages, photos, videos, calendar, contacts, and notes stored on the target device remotely.

It is also possible to track social and instant messaging apps like TikTok, YouTube, WhatsApp, Facebook, Instagram, Snapchat, Tinder, etc.

Browser history

Using KidsGuard Pro for Android also can access to browse history, emails, and social media activities on target phone.

Download data from phone

You can also download message or photos and so on from the dashboard, in case you need in the future.

Record Calls

You can even record calls whether it's audio or video. And you are able to download it and export data for futher checking.
How to use the Samsung tracker?
Step 1. You will need to "Sign Up" and get hold of a plan. Then you will be able to activate the product.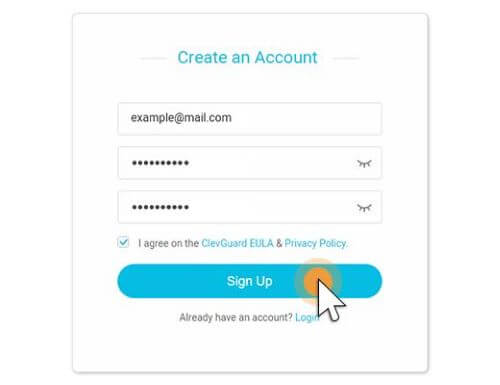 Step 2.Visit www.clevguard.net on a web browser of Samsung device you want to track. Then download and install KidsGuard Pro for Android on it.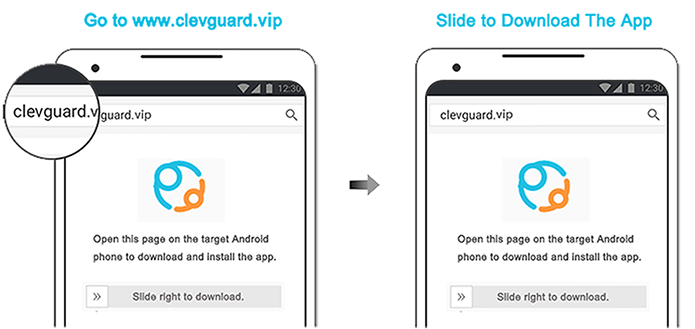 Step 3. Launch the KidsGuard Pro for Android upon installation and sign in with your account. Then, follow the Setup Instructions to set up it.

Step 4. Log in to your web portal and select "Location" option from the side panel to track the location of the Samsung device.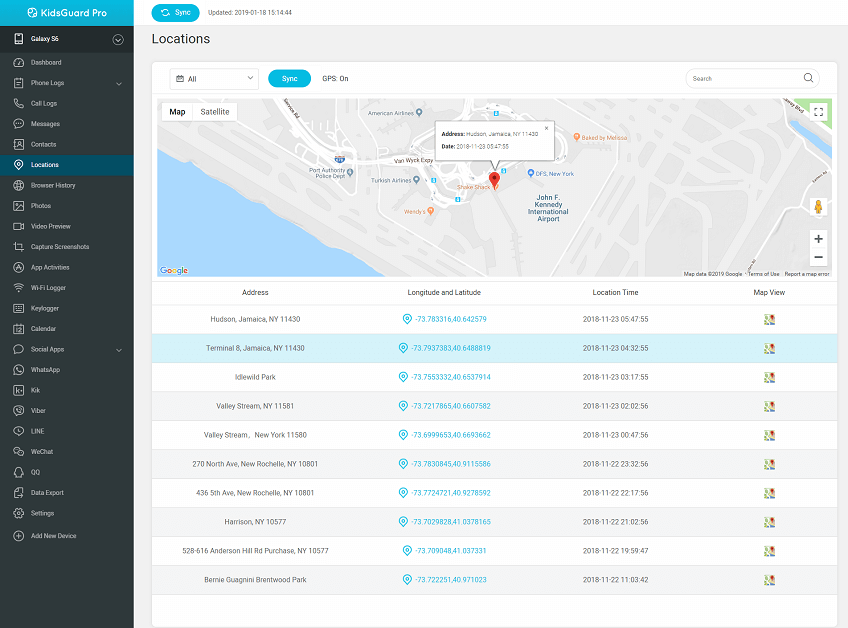 Reasons why we recommend KidsGuard Pro for Android to track a Samsung phone:
The GPS location of Samsung phone is displayed on the Google map in real time, so that you can track Samsung phone's current whereabouts and view location history in detail.

100% undetectable on the target Samsung phone, for it will disappear on the monitored device after the installation process, making the target hard to find and delete it.

All the tracked data is stored in a safe location and is inaccessible to others, including KidsGuard Pro support.
Way 2: Track Samsung Phone with Find My Mobile
To track a Samsung device, you can also use the Find My Mobile on Samsung.
Find My Mobile from Samsung allows users to track the location of their phone, as well as lock, reset, or backup their device remotely.
Below, we will tell you the requirements to use Find My Mobile as well as the steps for how to track a Samsung Galaxy S7/S8/S9/other.
Requirements before using Find My Mobile on Samsung:
Samsung device should be turned on.

It should have network connectivity.

You must be logged in to your Samsung account.

Find My Mobile must be enabled in advance.
How to enable and use Find My Mobile on Samsung to track lost phone?
Step 1. Enable Find My Mobile on the target Samsung device (It is turned off by default). For this, go to Settings > Lock Screen and Security >Find My Mobile > Add account >Sign in with your Samsung account.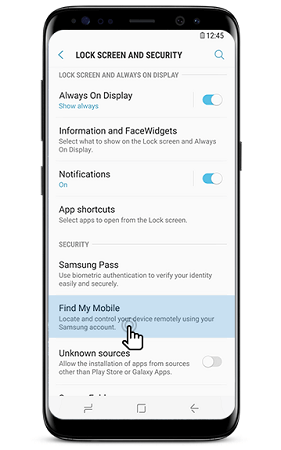 Step 2. Track its location by going to https://findmymobile.samsung.com and then sign in with your Samsung account.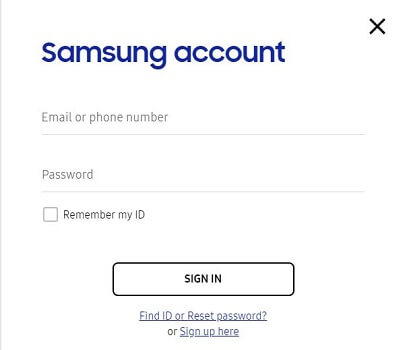 Step 3. Select the target Samsung device in the Find My Mobile online interface and track its location.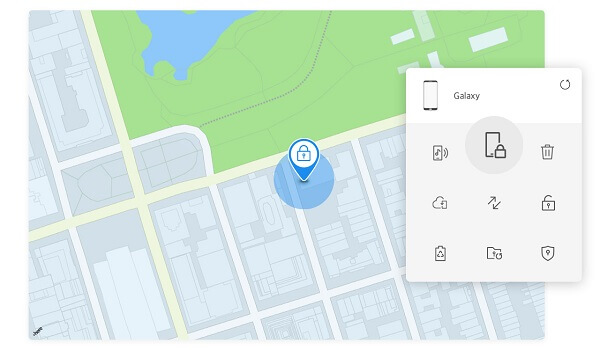 Limitations of using Find My Mobile:
The way can not offer an accurate location tracking solution. You can only see the approximate location of the target Samsung phone.
Way 3: Track Samsung Phone with Find My Device
Every Android has the feature of "Find My Device" including Samsung. Again, to use this feature, you have to make sure that the location access has been successfully enabled. The steps to track a lost Samsung with Find My Device are as follows:
Step 1. Get an Android device, then open the link https://www.google.com/android/find.
Step 2. Log in with the account that is currently on the Samsung phone that you want to track.
Step 3. Seclect the Samsung phone from the devices that are using the same account.
Limitations of using Find My Device:
To use Find My Device on Samsung, you need to know the account and the password logged in the target phone and you have to make sure that the location has been turned on.
Way 4: Track Samsung Phone with IMEI
The third way to track the location of a Smashing phone is by using its IMEI number to track the device.
IMEI is a 15-digit number that is unique to every mobile, and if you lost your device, and it's also one of the most useful Samsung trackers. To track the location of a Samsung phone, you must first find the Sumsung IMEI number, for which steps are given below:
Step 1. Tap on Settings on your Samsung phone, scroll down to the bottom and select about phone.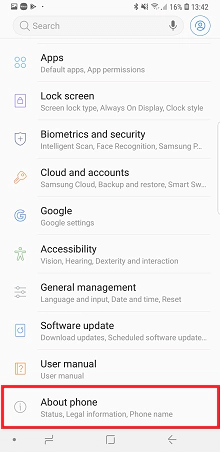 Step 2. Now, tap on the Status option and then IMEI information. Now, write down the IMEI number and model number of your device somewhere safe.
Limitations of using this way:
The facility to track the lost phone using its IMEI number is only available for certain agencies like police, investigation, etc. for aiding in the investigation of more serious crimes, and not for finding the lost phone.
Many fraudulent agencies and software companies that claim that they can track the location of a phone using its IMEI number takes a lot of money from people. So, we advise that if you find any agency or company advertising that they can find your lost phone using IMEI number, then it's best to keep your distance from them if you don't want to be ripped off.
Conclusion
Tracking apps have become a norm these days as people want to track their lost phones or track someone's location.
Every major mobile manufacturer or software company has released their own version of GPS tracking apps, including Samsung. Among these apps, there are some apps like Find My Mobile and Find My Device Samsung phone tracker app that are suited for finding a lost phone, while others like KidsGuard Pro for Android are better for tracking someone's real-time location as well as all the visited places.