If you are a guy in a relationship, then you must be well aware of this problem where your girlfriend keeps bugging you about giving them access to your phone. They want to see who you are talking to and what you are talking about.
It can get really annoying and irritating after some time and you start wonder, "Can I hide messages on iPhone?". If you are facing a similar situation where your girlfriend is skeptical about your female friends or wants to know what your friends say about her behind her back, then this article is going to make your life a lot easier.
Read on to find out how to hide text messages on iPhone from girlfriend.
Methods to Hide Messages on iPhone from Girlfriend
Can I Hide Messages On iPhone Without Deleting?
Yes, you can hide messages on your iPhone without deleting them. Although, deleting conversations is the safest option to hide particular messages from spying eyes. Sometimes, when we get notifications on phone, there is a high chance that others may have an eye on the preview or they just get a chance (intentionally or unintentionally) of going through your chatbox. When you are using android device,you can read stop someone from reading your text messages on android.
It may spoil a surprise that you have arranged for your partner or may expose details about a confidential project. In that case, we have some workarounds to hide messages on iPhone without deleting them. Let's discuss "How"?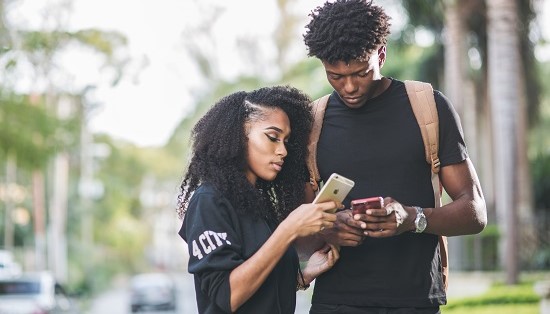 Hide Texts from Girlfriend with 3 Apps
Moving onto methods that are a little more foolproof and effective. There are apps designed for the purpose of hiding your text messages and are an ultimate solution to your query: Can you hide messages on iPhone?
You can use these apps to hide messages from your girlfriend. If you have one of these apps installed on your phone, you can even unlock your phone and hand it over to your girlfriend without any sort of worry. She will not be able to find your real text messages, no matter how hard she tries. Here are the three best apps you can use to hide messages on iPhone:
App 1. Private Message Box: Hide SMS
This is one of the best apps on the market that you can use to hide your text messages. It has a private message box that can save your MMS, SMS, and call logs. They will not be accessible to anyone else except you and will require a password to unlock. If you want texts from any number to go directly into your private message box, then just add them as a private contact.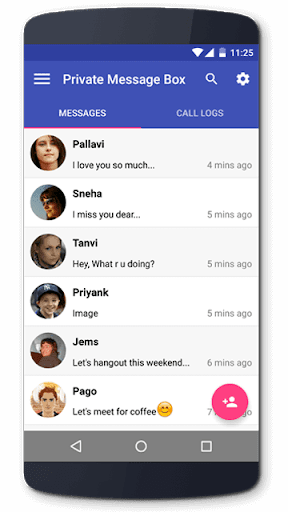 App 2. GO SMS Pro
This is one of the most popular apps on the play store. It has more than a hundred million downloads meaning that it is one of the most trusted apps to hide your text messages with. In addition to hiding the messages that you want from the reach of your girlfriend, this app also comes with many attractive themes. It is not only very effective but looks good too.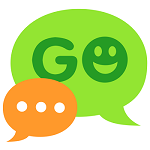 App 3. Calculator Pro+
On the outside, it looks like a normal calculator, and it even works like one. But what it really is, is a private inbox for your text messages. Never in a million years will your girlfriend be able to work out what it is and how she can access your messages from it. It is a great choice if you are looking to hide your text messages from your skeptical girlfriend.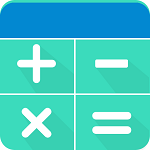 Extra Tip: How to Check My Girlfriend's Text Messages Freely
Now that we have discussed the tips and tricks of how you can keep your text messages private and hide messages on iPhone. Let's turn the heat up a notch and see how you can have complete remote access to your girlfriend's phone. It is time to turn the table and see what she has been up to and who she is talking to.
You can use KidsGuard Pro - the best online message tracker to check your girlfriend's text messages from your own phone freely. Not only that, you can check all of her social media activities as well as her DMs. Isn't that crazy? If you are interested in KidsGuard Pro, you can seize this chance to check your girlfriends text messages freely.
Here, its powerful features are showed:
Check all your girlfriend's outgoing, incoming and deleted messages with clear data and time.
App messages can also be tracked, like WhatsApp,Wechat, Line, and more.
All phone call records can be monitored with sender's name and duration time.
Access photos, videos, contacts, voice memos, notes and more files on your girlfriend's phone.
Check your girlfriend's location history.
KidsGuard Pro is available for both iPhone and Android Phones.
Setting up KidsGuard pro takes less than 5 minutes, and once it is done, it is completely undetectable your girlfriend will have no idea that she is being spied on. Here is how you can set up KidsGuard Pro to give you a clearer mind to make the monitoring even possible. Turn the tide on your girlfriend with KidsGuard Pro right now!
How To Set Up KidsGuard Pro to Read Messages on iPhone
Step 1: Create a valid KidsGuard Pro account and choose a plan of your choice.
Step 2: Install the KidsGuard Pro for iOS app on the PC according the detailed guide (prefer to set it up on a computer that you prepare to use to monitor).

Step 3: Connect the target iOS device with the computer using the USB connection to get the monitored data. Moreover, if you are nearby of the target device then you can also get the monitored data via the same Wi-Fi. (Note: First time synchronize data must use USB line.)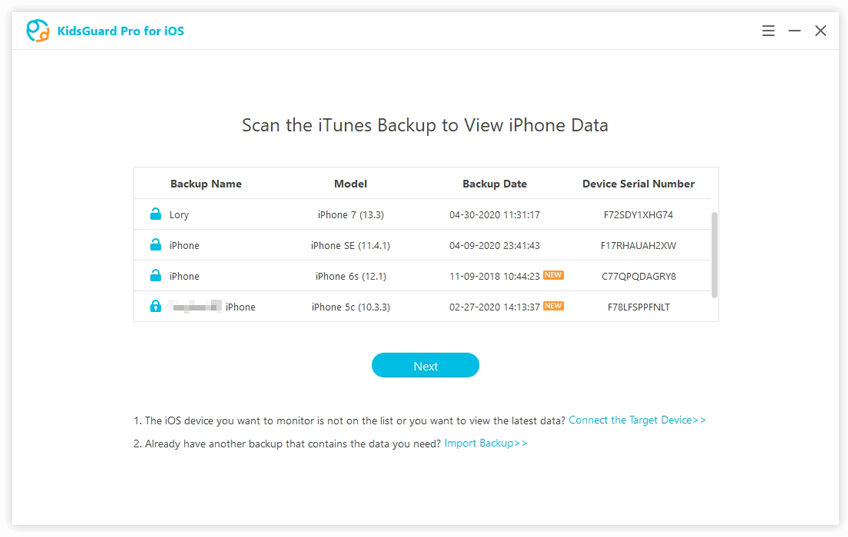 Step 4: If you want to monitor and download someone's iCoud data into the third device,you can click "View iCloud Data" and follow the on-screen installation. When you see apps and data on your phone, choose "Restore from iCloud Backup" and then key in the iCloud Apple ID whose you want to monitor. If you have this requiremnt,register and download it immediately.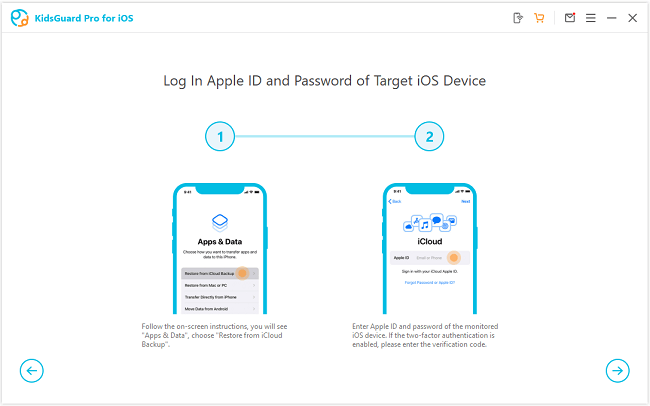 How To Hide Messages On iPhone Lock Screen?
In a world where our phones are always with us, it can be easy for messages to get overlooked. Nobody wants an embarrassing notification popping up when they're in the middle of something or worse-no one will see that important message you need them to read. In this section, you will learn two methods to make sure your precious alerts never go seen by others.
Way 1. Disable Lock Screen Message Preview
Turning off messages preview is an easy option to hide messages on iPhone lock screen. To do that, follow the given instruction.
Step 1: The first step is unlocking your iPhone and opening "Settings".
Step 2: You will see a long list of applications installed on your phone. Locate the "Messages section" in the Notification center.
Step 3: In the messages preview section, go to the "Show preview" section, which is set as "Always" by default.
Step 4: Tap on "Never" so now no matter what type of alert there is from texts or iMessage or Facebook etc. All previews will stay hidden until after you unlock your phone.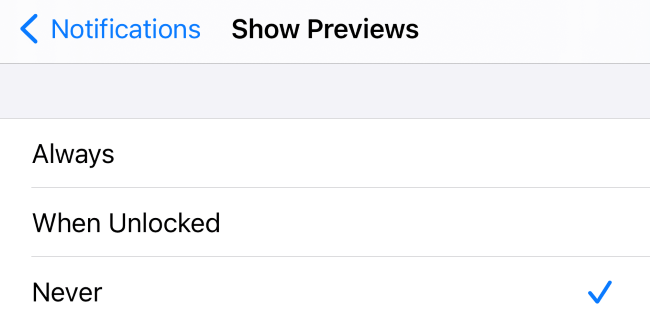 Way 2. Disable Lock Screen Message Notification
Another easy option to hide messages on iPhone lock screen is turning off notifications. In iOS, this can be done by following the instructions below.
Step 1: Unlock your phone and Tap on the "Settings icon".
Step 2: From your Home Screen, go to the "Notifications center".
Step 3: After opening, "Messages Alerts section", and tap on "allow notification" to disable every kind of message notification. Once the green button turns white, your message notification won't pop up on your mobile screen.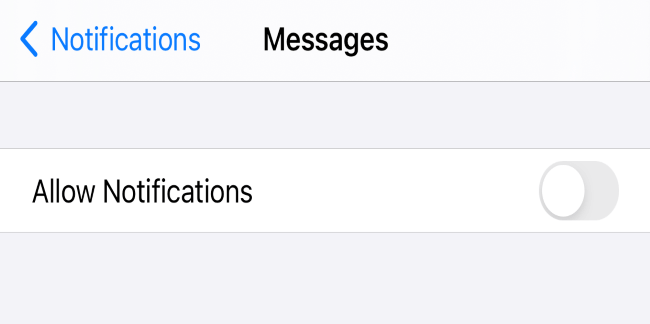 How To Hide Messages From Particular Person?
You want to keep up with all your notifications but you don't like the way a particular sender messages you. What can be done? There are two different ways in which one might hide specific text chains or stop a certain contact from sending them any type of message they may send. Let's discuss the step-by-step process.
Method 1: Filter Unknown Senders on iPhone Messages
In order to hide messages from a specific person, first, make sure you have their contact info written somewhere else. You'll want this information handy if they try contacting your phone again in the future with another number.
Step 1: Open the contact whose messages you need to hide and tap "Edit" in the top right corner.
Step 2: Scroll down until find "Delete Contact" at the bottom of this page.Tap "Delete contact" on the popup window that immediately pops up.
Step 3: Go back to your iPhone settings app (swipe left or click the home button), then scroll all way down.
Step 4: Select Messages on the left-hand side of your screen, scroll down until you see "Filter Unknown Senders" - tap it ! Toggle "On". After the setting is successful, messages of this sender will be assigned to another list.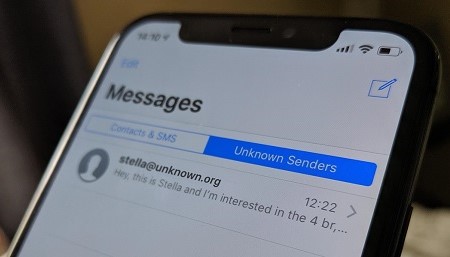 Method 2: Hide Message Alerts From A Specific Text Message Chain
Did you know that if your phone is starting to drive you nuts with notifications from a specific conversation, all the way back in 2014? There is an option for hiding alerts. You just need to follow these steps.
Step 1: Open the messages and scroll down until it takes up most of the screen on your device (not just part).
Step 2: Tap near the top of the screen (near where it says "Message" or at their picture).
Step 3: When that pops out, go into "info mode" and toggle off notifications for those threads only.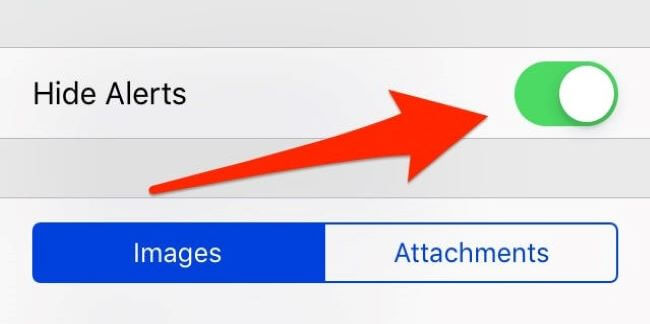 Can I Hide Messages Of Social Media Apps?
Social media applications are controllable. You can select which App can send you notifications and which one can't. This is the process.
Tip 1. Turn Off Notifications Of Social Media App
If you are fed up with notifications of any one or all of social media applications, you can turn off the notifications. To do that, you need to open your phone and go to the notification center. From there select that specific app to hide messages on iPhone (What's App, Instagram or Facebook, etc.) or tap on all applications to turn off notifications. You won't be notified any further when you get a new message.
Tip 2. Hiding Messages or Chat On Facebook Or Messenger
Every social media software has a separate procedure to hide messages. Similarly, Facebook or messenger has different procedures within its setting to hide messages.You can hide messages on Facebook Web in the following three ways:
Step 1: Open up your web browser and log into your account if you have not already done that.
Step 2: Then click on the Messenger icon from below the news feed, which will bring you down towards the left side panel, then find a person or group of messages (or any conversation).
Step 3: Finally select the "Hide option" under the "More" button or "Three-dots" menu options for hiding selected messages or conversations,as desired.
All conversations are archived automatically with this feature enabled. It means they are not deleted but tucked away until a user chooses to show them again by clicking "show" at the top right corner next to their profile photo.
Tip 3. Hide WhatsApp Chats on iPhone With the Archive Feature
What's app has an archive feature that lets you hide your chats. Instead of deleting a conversation, you can hide chat by achieving them. To archive a conversation on iPhone, swipe left that specific chat, you will get two options; "Archive" and "More" ,tap on the "archive" to hide your chat. Also can find the way to secure Whatsapp from being monitored.
Conclusion
If you want to hide text messages on iPhone from your girlfriend, the 5 ways mentioned above must be your great choices. Apart from helping you maintain your privacy, the added trick that come with KidsGuard Pro makes you check your girlfriends text messages even more easily.