When you want to open a channel on Telegram, does this phrase " The channel cannot be displayed on Telegram" ever come up? If yes, then you will definitely want to know how to fix this problem. It happens for a specific reason: when a Telegram channel contains critical information.
When you try to join a Telegram channel with sensitive content, you'll get this notice. Adult content is flagged on Telegram in the form of both videos and photos.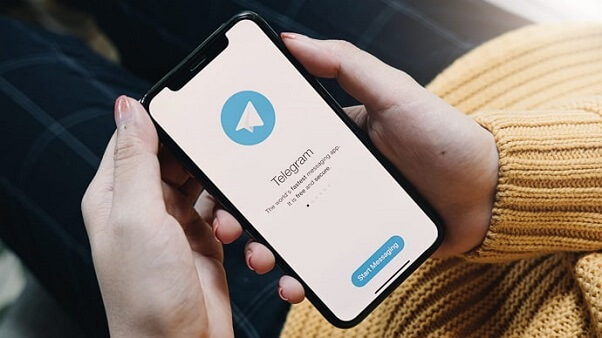 Don't worry. In this article, we will show you 5 ways to fix it. Just keep reading to find out!
Part 1: 5 Ways to Fix "This Channel Cannot Be Displayed on Telegram" Problem
With all these 5 ways, you can certainly solve "this Channel Cannot Be Dispplayed on Telegram" issues, just check it out!
1. Using Nicegram Bot
Using the Nicegram Bot inside the Telegram app is one approach to display information from an unreachable channel. You can begin a conversation with the chatbot by googling for "Nicegram bot" and selecting the bot with the username @Nicegram bot. You may also access this bot by visiting to t.me/Nicegram bot and clicking on Compose Message.
Just follow the steps to finsh unblocking sensitive content in Telegram:
Go to the Telegram app on your device and tap on the magnifyinf glass icon the the top-right coner.
Click Nicegram Bot > Start > I'm 18+ Years Old > Show sensitive content, finally click OK button.
Quit the Telegram app and reopen it again.
Now you can try visiting this Telegram channel.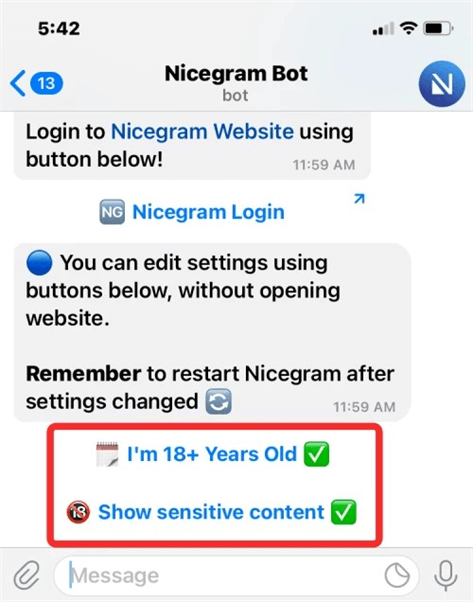 2. Enable Disable filtering on Telegram
If the preceding solution does not resolve the issue, you will need to utilise Telegram's web client or its desktop client to minimize web filtering from hurting your channel appearance. After opening the Telegram desktop software or web app, select the hamburger icon in the top left corner.
Step 1. Select Settings from the overflow bar that displays.
Step 2. When the Settings window displays, select Privacy and Security.
Step 3. You should now see a slew of alternatives. Turn on the Disable filtering toggle here.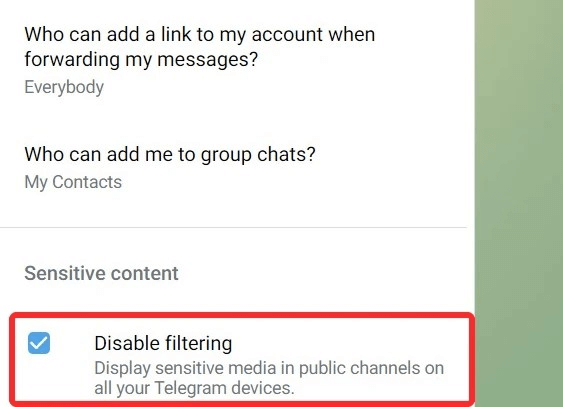 This should make the channel's material available to you. If it isn't, it implies that what you're attempting to watch is either limited in your region, fully forbidden, or has been deleted by the channel's author.
3. Use a VPN
In countries where content is severely limited, Telegram places restrictions on specific channels, barring users from accessing anything in those channels if they are from that region or if their account was created with that region's phone number. If you live in a country where Telegram limits certain types of content, you can get around this limitation by using a VPN service.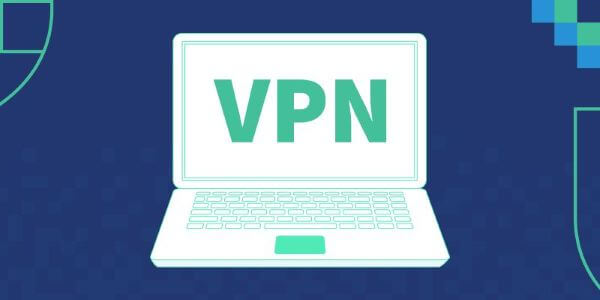 First, you need to know how to use VPN on iPhone or Android. Users can try to access the prohibited channel's content because most VPN apps allow them to change their location to anywhere in the world. While switching locations on a VPN app does not ensure that a channel will be available instantly, you can test whether this functions by leaving the VPN open for a few hours so that Telegram registers the new IP address you're using it from, which has worked for some users.
4. Create an Account of a Non-Restricted Country
Another approach to get around regional limits on Telegram channels is to create a new account with a phone number from a different region than your own. While this may appear to be a difficult task, you can easily register a new Telegram account by purchasing a new VOIP number from a variety of sites such as TextNow and TextFree.
Following the methods below, you can create a new Telegram account once you have a new phone number:
On Android, hit the hamburger icon, then select Add Account from the drop-down menu next to your name.
On iOS, go to the Settings tab, press Edit, and scroll down to Add Another Account.
Then, to establish a new Telegram profile, enter your new phone number and complete the on-screen prompts.
Telegram enables you to use up to three identities at once, so you can utilise numerous incidents of the messaging software to communicate your dear ones from one account while still accessing channels that are prohibited from another.
5. Be Careful about the Visited Channels
Telegram, like other digital sites, sustains user-generated content. Because not all channels are built with the same goals in mind, the chat app blocks channels that exchange pirated material, sexual content, offensive language, or engage in any other unlawful behaviour. We recommend that you avoid similar channels in the long term if the channel you like to visit has anything to do with such operations.
6. Install Nicegram App
Nicegram app can work for both iPhone and Android devices. The modified app uses Telegram API with unique features and code optimization.
You can use Nicegram to bypass and unblock sensitive content on your device, and access blocked Telegram channels.
Just install this Nicegram app from Apple Store on iPhone device or Google Play store on Android device.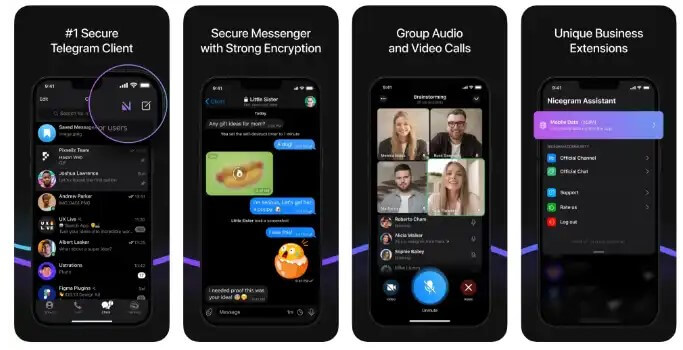 Part 2: Bonus: Wanting to Keep an Eye on Other's Telegram? - Using KidsGuard Pro
You do not need to back up while using the KidsGuard Pro. All you have to do is install the software on the target person's Android and iPhone phone, and from the KidsGuard Pro Dashboard, you can monitor all of their Telegram activities including complete and real-time information about calls, shared media and chats including individual and group conversations.
1. Steps of Using KidsGuard Pro for Android to Monitor Telegram
Step 1: Create your KidsGuard Pro account.
Choose the Monitor Now option and enter your valid email address to create a KidsGuard Pro account.
Step 2: Download and install KidsGuard Pro app.
You will be directed to the My Products and Orders Management page after successfully installing KidsGuard Pro for Android. Then, on the target Android smartphone, select the Setup Guide icon and carefully read the directions to finish certain essential setups.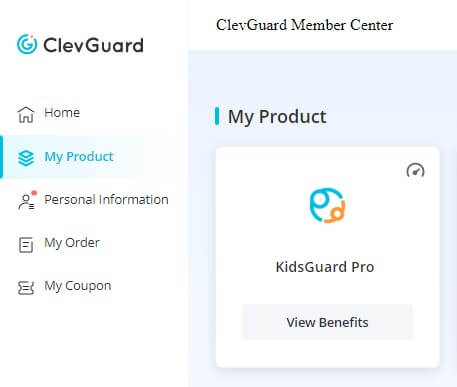 Step 3: Sign in and begin monitoring and backing up Telegram activity from the dashboard.
KidsGuard Pro dashboard allows you to review the history of Telegram video calls, chats, media sharing, and messages. You must first connect into your account on the official website. You may check the status of individual and group Telegram video calls from the dashboard.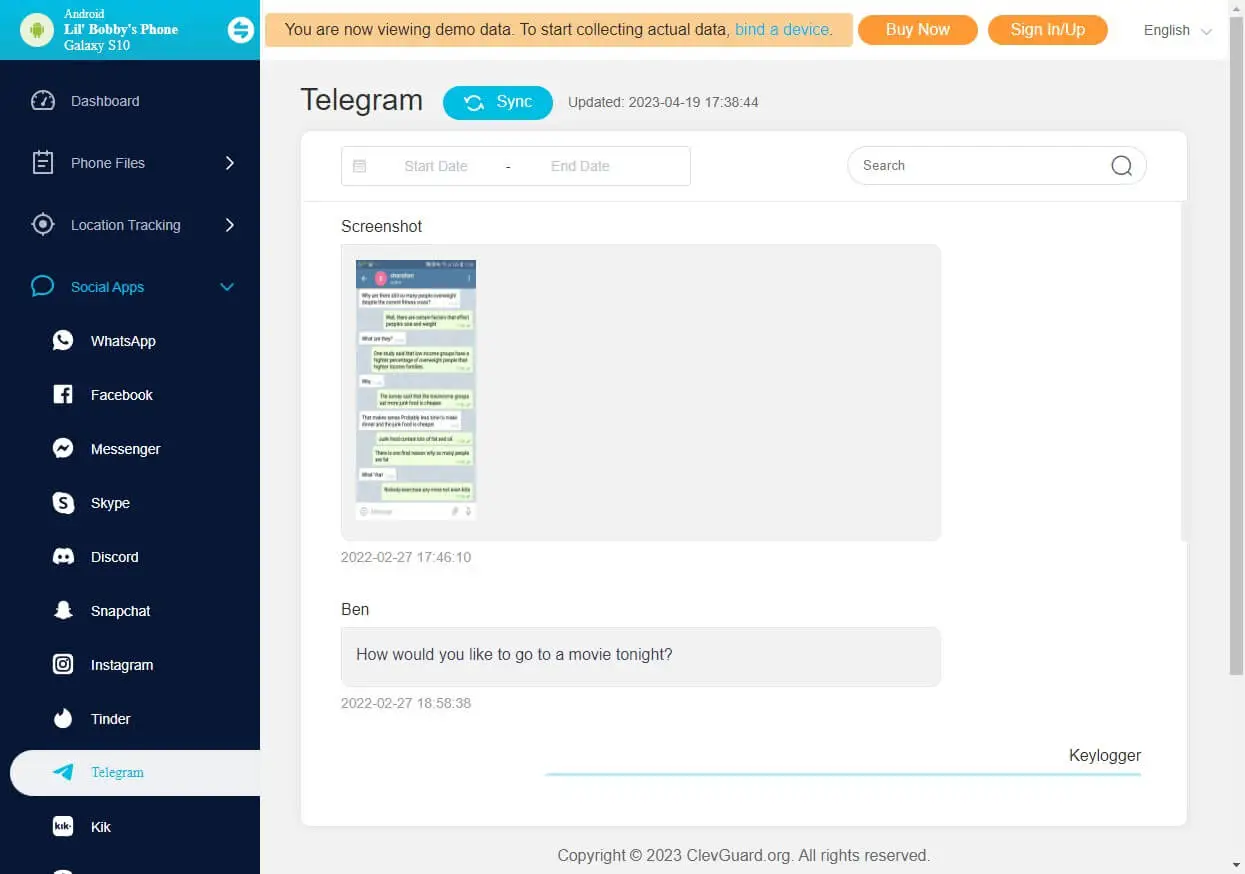 2. What Can KidsGuard Pro Do to Monitor Telegram?
Video and phone calls on Telegram can be viewed and recorded at any time.
Telegram activity and media tracking are still unnoticed to a 100% degree. It indicates that you can listen in on calls without their knowing.
The Android phone you're targeting doesn't have to be rooted.
You'll be up and running in less than 5 minutes.
You can record the screen of the target phone to see what content is being transmitted over video calls.
You can also use Telegram to set up sensitive phrases and receive real-time notifications.
3. What Else Can KidsGuard Pro Do?
KidsGuard Pro for Android has many unique and exclusive features that allow you to access Telegram or any other social media information remotely for any phone. With this tool, you are able to track someone's Telegram Messenger without knowing. Here are a few more possibilities.
View Telegram or any other similar social media apps: You may track the target person's Telegram activity, including how much time he spends on the app and whether he is becoming addicted to it.
Monitor Videos, Photos, and Chat Audios: You may keep track of all the media items shared on the phone's specific app, as well as back up discussions. Photographs, movies, and audio recordings that have been contributed can be found here.
Export All Data: The KidsGuard Pro for Android app allows you to download all of the target person's data, including chats and shared media files, for future use. Dashboard allows you to export all data.
Capture Screenshots: This feature allows you to spy on someone through their cameras. You can take screenshots of the Telegram app at any time to observe what the target individual is doing.
Part 3: How to Find Hidden Channels on Telegram?
Launch the app after it has finished installing; it will display a QR code. Take out your phone and look for the Telegram app.
Open the QR Scanner from the Telegram client. If you don't know where the QR Code Scanner option is on Telegram, follow the easy step-by-step procedure given below.
Step 1: Open the Telegram application.
Now select Settings from the menu. Then tap Devices (next to your profile image).
Step 2: Then select "Scan QR Code" from the drop-down menu.
You'll be brought to your dashboard after successfully logging in to your Telegram account.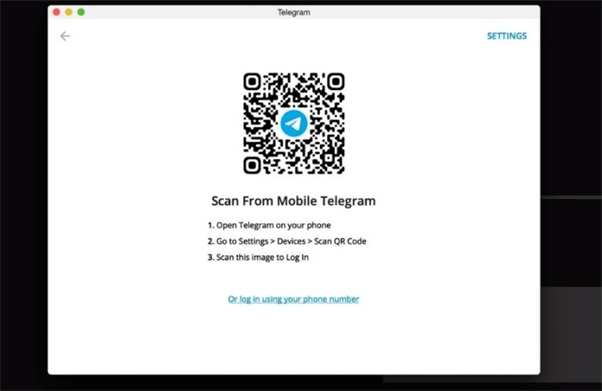 From the dashboard, you may access your whole message history and chat list.
The menu option is located in the top left corner of the screen. (Icon of a hamburger menu)
Step 3: To access the Telegram Menu, tap the three horizontal lines.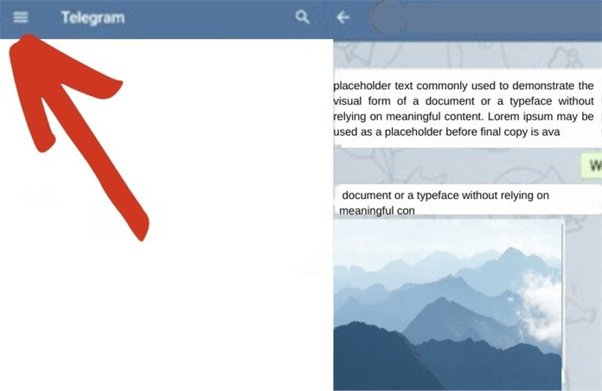 From the Main Menu window, you'll notice several options such as New Group, New Channel, Contacts, Settings, and Night Mode.
Step 4: Choose the choice for Settings. After you tap on the Settings option, you'll be presented with a number of different alternatives.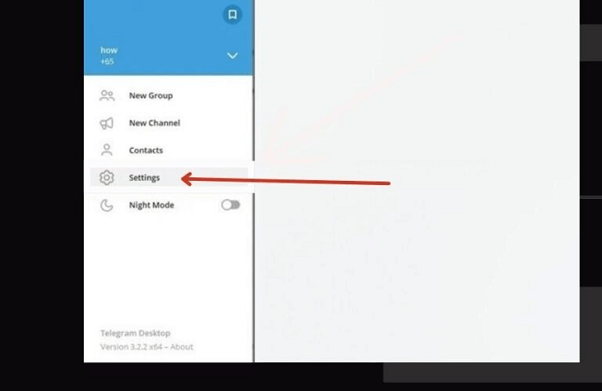 From the following box, choose Privacy & Settings.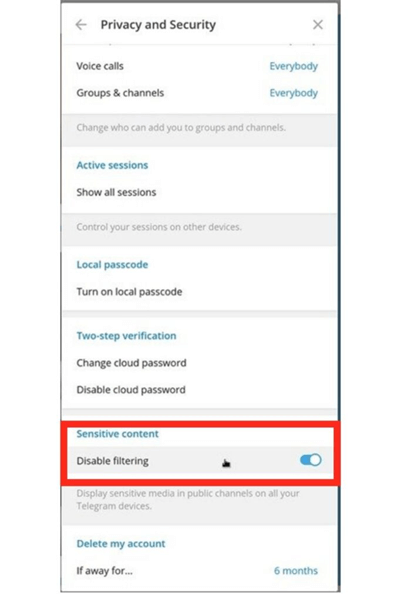 Step 5: The toggle option "Disable Filtering" is located under the Sensitive content header.
This functionality is activated by default. This means Telegram will search every channel (private channels, public channels) and group for sensitive content automatically. When it detects something suspicious, it disables your access to that Telegram group or channel.
Telegram will no longer prohibit your access to Telegram channels and groups if they contain adult content after you enable the "Disable Filtering" option.
Step 6: Now, on your phone, close the Telegram app. To apply the changes, you may need to force quit the programme.
FAQs about Fix Telegram Channel Problem
Q1. Why is my Telegram Channel link not working?
The link to the group or channel you're trying to access has been modified or revoked. If that group is deleted, you might see this as well. You won't be able to see it if the group or channel has prohibited or banned you!
Q2. How can I restore my Telegram channel?
Select the telegram channel you unintentionally deleted. Then, by tapping on the channel you wish to join, pick it. The option to "join" will show on the screen below after you've selected a telegram channel. To become a member of this Telegram channel, simply tap on it.
Q3. Are Telegram channels banned?
The Ministry of Communication and Information stepped forward to prevent Telegram groups and channels from releasing free movies in 2021. Since it may contain adult content, a Telegram channel is disabled. It may also be prohibited if the station broadcasts pirated films, television episodes, or music.
Q4. How can I open a Telegram channel?
Here's how to open a Telegram Channel if you use a desktop.
In the top-right corner, click the note icon.
From the menu, choose New Channel.
Give your Telegram Channel a name and a description in the channel description field.
Select an image for your channel's display photo by tapping the camera icon next to the Channel Name.
Your telegram channel is ready.
Conclusion
Now you know how to deal with the "This channel cannot be displayed on Telegram" problem, it is time to practically implement the fixes. Knowing the solution of such basic problems is important as it enables us to take maximum advantage of the telegram application that has various benefits from the marketing and business point of view.