Right now, many parents are concerned about what their children are watching on YouTube.  Because most of the videos uploaded on YouTube are not appropriate for kids. These videos contain abusive language, adult content, inappropriate song lyrics, and sexual content. So the parents are dying to know which are the most inappropriate channels on YouTube for kids and how to block the harmful and dangerous channels.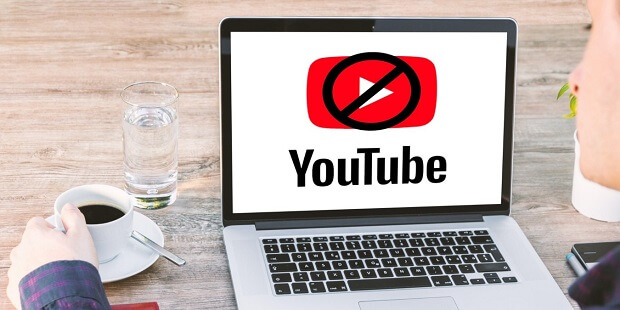 Keep reading. In this article, you will find the answers that you are looking for!
2 Types of Dangerous YouTube Channels to Children
YouTube has plenty of deeply disturbing channels which contain inappropriate content. Although you can set up YouTube parental control for your kids, there are limits which cannot fully prevent their kids from toxic contents. So parents should learn more about these sneaky, dangerous YouTube channels in order to keep an eye on their children.
Here are two types of dangerous YouTube channels:
Animated Adult Stories
Have you ever noticed what kind of animated video your kid is watching? If not, you are at a loss. Because multiple YouTube channels are uploading animated adult stories like "true stories," "good vibes," etc., these channels have millions of views, most popular among young children.
These animated adults' stories seem like cartoons, but they contain inappropriate stories, language, and actions. So if your kids are interested in YouTube animated videos, keep an eye on them when they are watching animated stories on these worst YouTube channels.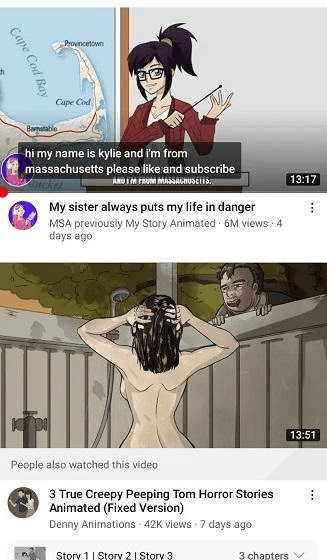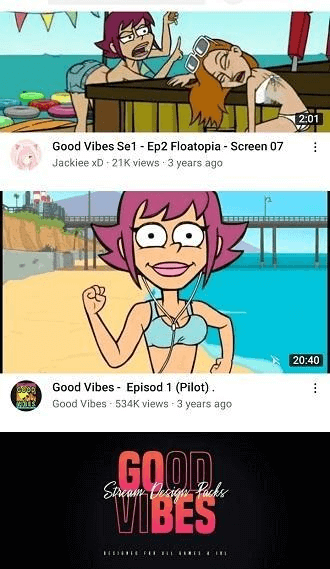 Disturbing YouTubers
Million of people create content on YouTube to become famous, so they create different kinds of content like pranks, funny videos, adult content, challenges, experiential videos, etc., but few Youtubers make content that is not appropriate for kids like "bobo ziki" and prank on. These two channels are in the list of the top 100 worst YouTube channels which create kissing prank videos. For kids, these sorts of videos are disturbing.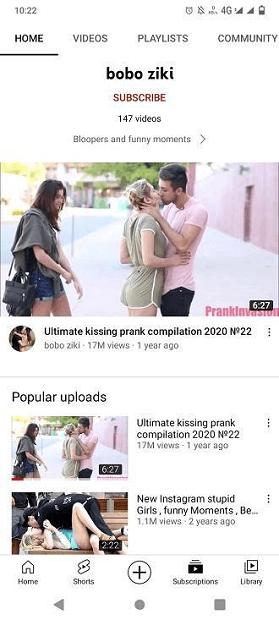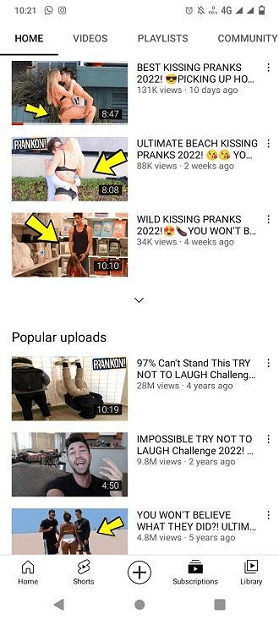 3 Ways to Block a YouTube Channel
Blocking a YouTube channel is not difficult anymore because technology made it easy by introducing different inbuilt software and third-party apps.
Way 1: Block a YouTube Channel from KidsGuard - a YouTube Parental Control App
The most trending and advanced parental control app is KidsGuard which works in stealth mode. This app includes all the advanced features for tracking kids' online activities.
How to Set Up KidsGuard to Keep Your Kids from Harmful YouTube Channels?
1. First of all, install the KidsGuard app on the parent's device.
2. Now create an account by adding your information, and do the basic setting of the account.

3. Open your app and Tap on "I'm ready."

4. Tap "Bind Now" to bind your devices with your kid's.

5. Copy the URL  or scan the QR code to install kidsGuard Jr on kid's device.

6. Now you can monitor kid's online activities.
What Can Parents do on KidsGuard to Protect their Kids?
KidsGuard contains all advanced monitoring features, and parents can utilize these features for tracking kids' daily activities. People can perform different actions with the help of a KidsGuard such as:
1. Block Harmful Websites

The KidsGuard allows the parents to block porn websites, dark websites and adult gaming sites, which are not safe for their kid.

2. Block Unnecessary Apps

KidsGuard gives authority to parents to block all kinds of apps like streaming apps, gaming apps, movie apps, cartons apps, etc.

3. Take Screenshots Remotely

Parents can monitor kids' real-time activities by capturing the screen of the targeted phone.

4. Lock Screen Remotely

Parents can lock the kid's phone screen at any time.

5. Generate Activity Report

The KidsGuard parental control app has the option to see and download daily, weekly, and monthly reports of the targeted phone.

Way 2: Block a YouTube Channel from Mobile Phones

Do you know how to block channels on the YouTube app from mobile? You can block any specific channel from YouTube easily by following a few steps:
Go to the YouTube app, sign in to your YouTube account;
Now type the name of the targeted YouTube channel in the search bar
Tap on the channel username;
Click on the upper right corner three dots;
You will see multiple options, tap on block users and permanently block the channel.
Way 3: Block a YouTube Channel from Computers
Is there a way to block YouTube channels from the computer? Blocking a specific YouTube channel from a computer is effortless if you already know the user name.
First of all, visit www.youtube.com, sign in to your account
Go to the search bar and find that Channel
When you find that Channel, click on the about option, you will see a few options here
Tap on the flag icon and block the Channel
Tips: The YouTubers that Kids Should Avoid
1. Logan Paul
Subscribers: 23 million
Paul is a famous YouTuber, but his channels are not suitable for kids because:
a. He creates disturbing videos, does live terrifying experiments;
b. Paul uploaded a video from Japan's suicide forest with a dead body. After that, he experienced a backlash;
c. He killed rats in his videos which isn't good for kids to see online.
2. Jake Paul
Subscribers: 15 million
Jake Paul makes vlogs along with his friends. But his Channel is not recommended for kids because:
a. He is involved in so many scandals;
b. In his vlogs, they do climb the cars, light fires in drained swimming pools, and proudly tell people that their neighbors hate them;
c. This is a very disturbing channel as it sets a poor standard of what is and what isn't.
3. Prank Invasion
Subscribers: 24.8k
Prank invasion is a famous YouTuber but blocks this Channel on the kid's phone because:
a. He creates prank videos and mostly kisses pranks on strangers' girls. It may be okay for adults, but this kind of content is disturbing for teenagers.
4. Joey Salads
Subscribers: 2.48 million
Joey Salads is a YouTube channel with millions of views. He is also known as a prank star, but his prank videos are the worst for kids.
a. He uploaded a video on child abduction;
b. His videos raise fears among people, especially kids;
c. This YouTube channel includes different experimental videos which provide wrong ideas to kids.
So stop your kids watching joey salads videos.
5. PewDiePie
Subscriber: 111 million
PewDiePie has a huge fan following; it has uploaded more than 2000 videos. His videos are not for kids because:
a. This Channel contains videos related to sex, rape, and other stuff;
b. Its videos are for adults because he cracks adult jokes, rape jokes, etc;
6. Onision
Subscribers: 2.03 million
Onision is well known, YouTuber but keep your kids away from this Channel because:
a. Onision is a very bold, controversial youtube personality;
b. He was involved in a scandal in 2016;
c. He also made a website and asked his female fans to send their photos for his critique. He says he will publicly watch their bodies and will tell them whether they need to lose their weight or not;
d. He also creates manipulating videos.
7. IDubbbz
Subscribers: 7.76 million
The YouTuber known as iDubbbz real name is LAN w. He creates funny videos on YouTube, but his videos are not recommended for kids under 16 years of age because:
a. He cracks offensive adult jokes in his videos;
b. He adds weird thumbnails and titles.
8. Dramaalert
Subscribers: 5.68 millions
This YouTube is equivalent to a celebrity magazine and the worst YouTube channel, which is not suitable for kids because:
a. This platform offers gossip, arguments, and titular drama;
b. The host of this Channel has been accused of using racial slurs on many occasions;
c. This platform cyberbullied many young players during online games;
d. Once falsely accused a man of being a pedophile and allowed his subscribers to attack him.
9. Leafy is Here
Subscribers: 4.4 millions
Leafy is a very famous YouTube channel that has mostly an adolescent audience
a. He bullies people in his videos. Cyberbullying is not good for anyone as it has a negative impact on people;
b. He makes fun of other people and passes inappropriate comments about them and their profession;
c. He mocked an autistic man in his video.
10. CORL
Subscribers: 1.2 million
CORL is a famous Youtuber with 881 videos uploaded so far, and the overall channel views are 226.7M.
a. He bullied his own fans and once bullied his fan named Tiffy. After that, he received backlash;
b. He gives severe insulting responses to his viewers.
FAQs About YouTube Channels
1. How to unblock a YouTube channel?
Go to the YouTube app, find the YouTube channel that you want to unblock;
Tap on it, and click on the three dots;
After clicking the three dots, it will show you multiple options;
Tap on the second option, unblock user;
Now the Channel is unblocked.
2. Where can I find blocked YouTube channels?
If you want to see the list of blocked YouTube channels, go to the YouTube app, tap on the profile, click on the settings, and now tap on the history and privacy, you will see a different option: click on blocked contacts; here you will see all blocked channels.
3. Will someone know if I block them on YouTube?
Yes, they can know that if you block them on YouTube. Basically, YouTube does not send the notification when you block them, but when they search your account, they will automatically learn that you have blocked them.
4. How do I get rid of 'Don't recommend' channels?
Go to your YouTube account, tap on the setting, and now click on the notifications; it will show you three options, turn off recommended videos. Now YouTube will not recommend any videos to you.
Conclusion
As you know, there are thousands of video uploading apps available on the internet, but they are not all safe for kids. Kids are more attracted to YouTube, but as a parent, it's your duty to keep your kids away from inappropriate channels such as Logan Paul, Prank Invasion, Joey Salads PewDiePie, Onision, iDubbbz, and CORL. There are different methods to keep kids away from these channels, but KidsGuard is the best option. The KidsGuard helps you to block all these kinds of channels. So install KidsGuard and keep your kids safe.