Question: How to lock phone remotely?
This need is felt because parents are very much conscious about their kid's future and have built high expectations from them. So, they want their kids to focus on their studies and spend very less time on the mobile phones.
Keeping this thing in mind that time of kids is very precious and spending a lot of time may badly affect the health of kids, in this article, we will discuss 2 ways on how to lock screen for kids.
Remotely Lock Child's Android Phone with KidsGuard
KidsGuard is the best choice to remotely lock child's Android phone, it can be done by using its screen time feature.
1. What is KidsGuard Parental Control App?
From the best parental apps, one is KidsGuard parental control app. This app is really beneficial and stress releasing for parents as it provides them online security for their kids no matter how far they are and how busy they are.
This app is highly acknowledged and recommended by parents because of its extra ordinary features that are not available by any other app in a single application. Parents can easily ensure the safety of their kids online by using a very simple Dashboard that is user friendly too.
Parents who are not aware of technology can also use it. This application enables you to find the real-time location of your kid, and also provides you all the activity report of what is being done on the phone by the kid.
2. How to Use KidsGuard to Remotely Lock Child's Phone?
It is really simple and easy to use KidsGuard. Just following few steps you will be able to remotely lock your child's phone:
Step 1.
Click the button below to download KidsGuard from Google Play Store or App Store.
Step 2.
Open KidsGuard and sign up an account,and then go to dashboard and click
Bind Now
button, copy the Url in setup guide and send it to your kids' device.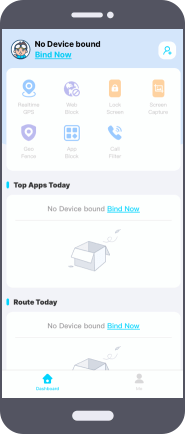 Step 3.
Open the Url in your child's phone to download KidsGuard Jr. After setting, you can manage your child's phone on your own device, including lock his/her screen.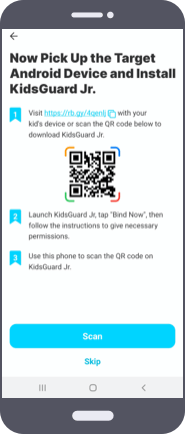 3. Other Features of KidsGuard
Restrict access to a single app/website
KidsGuard allows parents to restrict their kids what they want them to watch and block all the websites and applications.
Basically, kids need phones for their education and learning and sometimes for games that are also somehow important for leaning and fun. Parents cannot stop kids from this. So, using this app parents can restrict them to a single app or website parents want to.
Usually, organizations can also use this application for this feature to restrict their employees to a single app or website they need to work on. Mostly school and colleges need this feature in their computer labs and offices too sometimes.
Take a screenshot in real-time
KidsGuard allows you to take a screen shot in real-time whenever needed. Parents are enabled to watch activities of kids on their phone and can also take screenshot for future use and even to then discuss it with their kids about what they are doing.
Call filter
Another important and interesting feature of KidsGuard is the call filter feature. Using this feature, parents can set specific numbers to get connected to their kids on call and restrict other callers to access their kid.
Parents can block both the incoming and the outgoing calls by this feature. This is a very necessary feature to keep our kids safe from scammers and no one stranger can call them and disturb them.
How to Manage Your Child's Android Phone with Google Family Link?
Google family link is a very interesting feature introduced by Google for parental control. Though its features are limited but still it can be used for some specific purposes.
Google Family link allows you to create an account for your kid who is under 13 or the specific age identified for your country as it may vary sometimes.
It enables parents to set the screen time for kids to watch mobile phone. Screen time will be for each device you will set. Google Family Link also helps you finding your kid's location and move over concerning with searches, you can also block websites and applications on your kid's Android phone. Using this app, you can restrict the mature content on Google Play Store.
There are some important things that you must know before using it. It supports the latest version of Android. So, if you don't have it, kindly update it first with all its latest features. Google Family Link only supports Android and Chromebook.
It does not support iPhone, iPads etc. The Android version it supports must be 5.0 or more than it and Chromebook should be that which is supported by the application.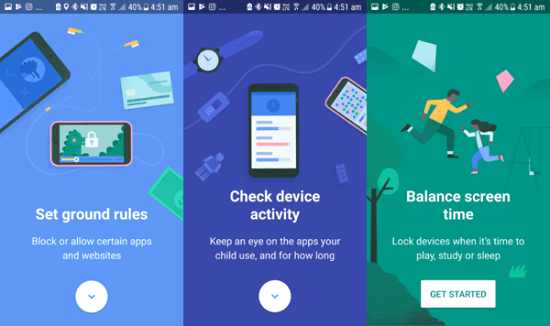 Using Steps
It is quite simple and easy to use Google Family Link to lockdown android phone for child. Here are few steps, following them you can easily manage your account on it with more benefits:
Step 1.
After ensuring you have the latest version of Android, you need to install the Family link app on your own device.
Step 2.
Also download and install the Family link Child / teen app. If your child already have an account, they will link you with it.
Step 3.
Create a new Google account if you don't have an old one and then if you are less than 13, then you may use the Family link to create it.
Step 4.
Once account created, connect both the devices and start using it.
Bonus: How Do I Lock My Childs iPhone?
Reading this article many to iPhone users must be thinking this is not of their use. So, let's make it interesting for iPhone users also. Just for an extra tip let me share you how you can lock your kid's iPhone also.
Parents can also lock kid's iPhone using screen-time feature in iPhone. In iPhone models with latest IOS software, this feature is available already.
So, you can simply go to Settings and set the screen time. Other than this iPhone of kids can also be blocked using several parental control apps like the one i.e. Famisafe parental app.
Setting screen time is really very important for parents so it has been provided not only for Android but for the iPhone users too.
FAQs about KidsGuard Parental Control
Q1. What is KidsGuard Jr?
We can call KidsGuard Jr and KidsGuard as companions of each other. KidsGuard need KidsGuard Jr to be installed in the kid's device and should be allowed all the necessary permissions it need to work.
Q2. Are kids able to uninstall KidsGuard on their own?
No, kids are not able to uninstall KidsGuard on their own, because allowing this will not make this app an authentic parental control app. Kids need to know the passcode that has been set by the parents.
Q3. Will kids be able to make emergency calls when their device get locked by KidsGuard?
Yes, definitely as we all know KidsGuard work for the security of kids. So, it is important for KidsGuard to allow kids to contact parents anytime they want even their device gets locked by it.
Final Thoughts
From all above discussion, it is very clear that why do we need to lock screen of our kid's mobile phones. And then we also discussed that how to lock screen for kids. Normally, it is not possible but there are certain applications you can use to lock screen even Google provides this feature through Google family Link app but it is not recommended due to some limitations. To save your time, we directly introduced you the best app for this that provides a number of features including setting the screen time. KidsGuard is that application that provides you a lot of benefits in a very little price.