Question: How does anonymous chat room work?
The anonymous chat room is a social media platform where you can chat with others just like you are sitting in a room but the interesting thing is that your identities are hidden.
Its working is very simple, you join a chat in a room with a specific topic like education, food, exercise, dating, etc.
All the people there will be talking to each other on that specific topic and everyone will be strangers here because of system-generated identities. Real identities can only be seen by the administrators for security purposes. There are top 10 dangerous anonymous chat room apps for kids and their potential risks. Let's read!
Top 5 anonymous chat room apps for Android
1. Omegle
An unidentified chat app that is most official is Omegle. Its website was launched in 2008. It allows you to chat with any random person from anywhere.
It also provides fast chatting options. You can talk with that person in an unidentified environment and enter your interest, so this app will try to find someone who has the same interest. It also gives video chatting options to only its users.
2. Nimbuzz
Nimbuzz, as you already know, has been all over for a while. It is a type of direct messenger that provides customary chats with people who you might know as well as people who are anonymous to you.
It also allows you to video chat with anyone for those courageous enough to do that. It is similar to Omegle.
3. PSST
PSST is a type of anonymous chat app which is also a private app. It does not hold on to chat logs, and it also doesn't keep a person's IDs or anything else.
It gives benefits to those who have a strict system or spying on family members and also to those that don't want their private chats to be revealed to anyone.
With this app, you can chat with strangers. It is connected with your Facebook account so that you can talk secretly. One of the features of this app is that it gives you an option for blocking people who might be disturbing you.
4. Firm
The firm is a free anonymous chatting app that has various rooms for chatting so you can join and start chatting with anyone. It also gives you an option for online dating.
5. AntiLand
If you look for a top rated anonymous app on play store, you will easily find Antiland as it is a very popular and favorite dating app not only liked by teenagers but also by the elders. This app is totally free to use and can easily be downloaded.
On this app you can create your secret identity and enjoy chatting with a large of people. Over more than 1,600,000 people are using this app from all over the world. Due to a large number of people you can have a lot of fun joining cool chat rooms randomly.
Related Read: How to Keep Your Kids' MTV Watching Safe?
Top 5 anonymous chat rooms app for iOS
1. ChatOften
Chatten is the most liked app by IOS users. It gives you benefits for efficiently meeting people everywhere around the world and chatting with them.
It provides you with a free option as well as a purchasing option so that you can enjoy various benefits of this app. You can share your private details with your friends as well as strangers. You can also make a profile and update your profile picture in it.
2. Connected2.me
C2 M advanced Connected2.me is an app for both IOS and Android users. It will give everyone an option in which they can chat with people and flirt with them easily and also you can meet new people anywhere from around the world.
The best feature this app provides is seeing the online person can chat. You can also reveal your secrets and gossip with anyone you want. It can be your new best friend or an unknown stranger.
3. Chatous
Chatous is an anonymous chatting app for IOS users that allows you to chat with people anywhere in the world.
The best feature this app provides is talking with strangers about the topic you selected. It also allows you to send videos, photos, and m, and other files.
4. Zooroom
Zooroom is an app that provides group video chat options to android and IOS users. It also acts as a battery saver app that allows you to use less battery, and with no registration, you can chat with strangers.
When you create chat rooms, you can also share their link with your friends to join the room with you.
5. Walkie
Walkie is an anonymous banana that allows you to talk with strangers easily. This app also allows you to ask strangers questions, and in return, you can get answers and suggestions for your questions.
You can also share emojis with the person you are chatting with. It allows you to start a discussion with a stranger to receive advice from them.
Related Read: [Parents' Guide] Is NetFlix Party Safe for Your Kids?
Are Anonymous Chat Rooms Really Anonymous?
Anonymous chatting is really a big topic but my personal experiences suggest that is just anonymous to some extent overall it is not. The reason behind it is that there are many situations where you just mistakenly show your identity like your picture or anything else and even you don't realize it.
Although chat rooms don't allow users to share things but others can take screenshots and sending something in private to 10 people can be viewed by 10 million people just with your little mistake.
Moreover, data for anonymous chats is somewhere still saved despite it is not shown to users. So, it can be breached and your identity can be shown.
Is It Safe for Kids to Chat Online?
Kids are innocent, they are not aware of the frauds of this evil world, chatting online with unknown person can trap them in big troubles.
The most common thing is they get engaged with unknown people in love and emotions due to which they share pictures and videos of their own.
What are the dangers of chat room apps?
Wastage of Time
Chat room apps make users addictive and it makes things too much curious that user thinks about it most of the time as things are anonymous. Mostly teenagers are involved in such activities and they are students. This badly effect their studies.
Breach of Privacy
Anonymous apps are anonymous until you keep them as you do a minor mistake all your privacy will be leaked and this can let others take advantage and then they can use it however they want and you can't do anything.
Depression and Suicide
Breaching of privacy like videos and pictures can the blackmailing of the scammer, threat of respect in society and parents cause depression for victims especially kids who are mostly trapped in it.
They start thinking about it all the time and too much thinking takes them to suicide as they see no other way to get rid of it.
Protect kids online with KidsGuard
KidsGuard is a best parental control tool that help the parents to safe their kids online. As already discussed in details what big mistakes kids do online due to their innocence, not only kids but parents and whole family even the friends of such child are affected by this big mistake.
Mostly teenagers think they are very clever and show pictures of their friend of any other family member that causes trouble for both of them.
Today parents are well aware of these things and want to safe their children from such things. KidsGuard is the best solution ever practiced. Its amazing features really help parents save child online.
Web Blocking and App Blocking
Using KidsGuard parents can block all dating applications and websites even other websites which parents think can harmful for their kids.
Call Filter
Call filter of KidsGuard helps parents to restrict kids to get calls from only some specific numbers they are concerned with.
Activity Report
KidsGuard provides complete activity report of kids what they are doing online and for how much time on daily, weekly and monthly basis.
How to set up KidsGuard parental control app?
Step 1.
Click download button below to download KidsGuard from Google Play Store or App Store.
Step 2.
Open KidsGuard and sign up an account, and then go to dashboard, press
Bind Now
button, copy the url in the setup guide and send it to your kid's phone.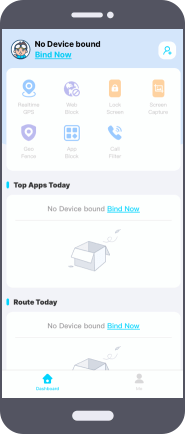 Step 3.
Open the Url in a browser of kid's phone to download and install KidsGuard Jr. After binding, you can start to manage your kids' device.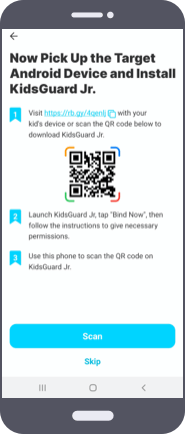 FAQs about Anonymous Chat Rooms
Q1. Can Chat Rooms be traced?
No, chat rooms cannot be traced and this is the reason they are called anonymous chat rooms. No one can get the information only the service providers are aware of this private information. There may be some possibility that are legal agencies can track them but it's a high-profile case. If we talk about normal users, then it is impossible.
Q2. Why are anonymous chat rooms popular for teens?
Anonymous chat rooms are popular for teens because this is the trend that mostly teens are involved in such activities although a little mid aged people are involved but the percentage of youngsters is more as they are well aware of new technologies and these kind of things are more discussed in educational institutes and offices.
Q3. What are the pros and cons of an anonymous chat room?
Like other things anonymous chats also have both the sides i.e. positive and negative. It has a number of benefits and in return it also causes troubles for people. Her we will discuss some pros and cons.
Pros
Stress releasing
Sometimes we need someone to share our feelings but found no one. Just to make mind relax we share them with unknown persons and release stress from our minds.
Good Advice
Sometimes joining a good chat room of mature people you learn a lot of things which you have never gone through.
Cons
It has a number of disadvantages as it badly distract teenagers from their studies and goals.
It may cause the breach of privacy and leakage of your pictures and videos that can damage your respect in society and make you depressed forever.
Final Thoughts
From all above discussion we are very clear that anonymous chats are very much beneficial as far as knowledge and mind relaxing is concerned. But in anonymous chat rooms some scammers are also available and we are totally unaware of them. The only we can conclude is that privacy is a very serious concern and we should not believe on any unknown person no matter how good he seems to be.
Parents should be very much conscious about their kids and as prescribed earlier, they must prefer to use parental control app especially the 'KidsGuard' as its features are up to the mark and incomparable with other applications for its uniqueness.