Question: Can I lock my child's iPhone remotely?
Parents are mostly worried about the cell phone usage of their kids. Social media and online games have made kids addictive to them and they are getting too far from their studies and learning.
Even using mobile phone consecutively for hours causes physical and mental health issue in kids also. Keeping this major problem of parents in mind, iPhone has also updated its feature in iOS 14 update and introduced parental control features.
You can remotely lock child's iPhone with the help of iPhone latest version and using the best parental control apps.
The Process to Remotely Lock Your Child's iPhone
Here is a very simple process to lock iPhone remotely in latest iPhone versions:
Step 1.
Go to settings and tap on Screen time menu to select it. Select any of the two options i.e. "This is My Device" or "This is my child's Device".
Step 2.
For "This is my device", click on use screen time passcode and set password and then confirm it.
Step 3.
Then go to settings on your child's phone and enter the same password you entered on your phone. Then re-enter the passcode to confirm it.
Step 4.
This will enable you to lock your kid's iPhone to save their precious time.
Step 5.
You will find an option "Downtime" in the settings page after selecting the "Screen time".
Step 6.
Enabling the downtime will let you select the start time and end time. When your downtime is on, your kid can use the iPhone or iPad.
Step 7.
If you want selective apps to not work in your kid's phone, you can simply go to screen time in settings page and remove the apps to stop them.
Step 8.
Following these steps you will not only be able to lock your kid's iPhone but also be able to lock specific applications you want to.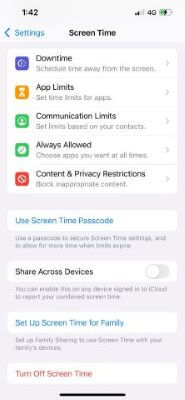 Same is the procedure to lock iPad remotely.
How to Change or Turn off the Passcode on Your Child's iPhone?
iPhone also provides you the facility to change or turn off the passcode from your kid's iPhone. It can be done simply from the "Settings" tab in your iPhone.
Kids are not able to do this until or unless parents provide them the passcode. Following a few simple steps you can change or turn off the passcode on your kid's iPhone:
Step 1.
Tap on any of the two options you want "Change Screen time passcode" or "Turn off Screen time Passcode".
Step 2.
Then you have to enter the specific id you have selected for it whether Face id, Apple id or a simple passcode.
Step 3.
After entering the required passcode, you will be able to change the passcode or turn off the passcode on your kid's phone.
Related Read: How to Find Someones Location on iPhone?
How to Reset the Screen Time Passcode If you Forget It?
Just like all other websites and applications, if you forgot the passcode, you have a chance to recover it. But it needs full proof that an authorized person is trying to recover the account or id.
Same is the case to reset the passcode if you just forgot it for the screen time you have entered o your child's iPhone. But the process involves a few steps that are important to know to save time and release the stress.
The most important thing to reset the passcode is to have a latest version to iPhone or iPad OS update. This will make you able to easily reset the passcode.
Another way for this is to erase it and set it up a new, by using this you will be allowed to remove the passcode and then you can easily set up a new passcode for your kid's iPhone or iPad. Restoring the device from backup is useless for resetting password, it will not work.
How to Lock Down Your Kid's iPhone with FamiSafe?
Famisafe is also the answer of question that can I shut off my child's iPhone? It is a parental control app to lockdown your kid's iPhone for some specific time.
As parents are not available all the time to take mobile phones from kids, so they can use it to set a schedule for phone's availability and unavailability time.
Famisafe allows you to even set some locations where kid's iPhone will be unavailable.
First of all, download the app in both the devices. App is available on the official page and the Apple Store too.
Install the app on parent's device first and create account to sign in.
Connect the devices and then use the features of Famisafe.
Extra Tips: How to Lock Your Child's Android Phone Remotely?
In addition to iPhone, Android phones can also be locked remotely and the best app used this purpose is KidsGuard. This application is very much popular due to its best and large number of parental control features.
It allows parents to block the phone using screen time feature. Other than this, its call filter, web and app blocking, real-time location tracking, GPS tracking, Geo-fencing, activity reports and many other such features have proved it to be the best application.
Using Steps of KidsGuard Parental Control App
KidsGuard assure its users that their privacy will never be breached and even they have proved it till now, and that is one of the main reason everyone uses it. KidsGuard parental control app involves three basis and easy steps:
Step 1.
First of all, click below button to install the application in your device from Google Play Store or App Store.
Step 2.
Then get registered with KidsGuard, click "bind now" button on dashboard after sign up your account. Copy the Url in the setup instruction and send it to kid's phone.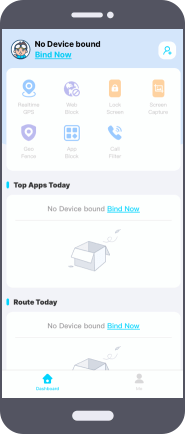 Step 3.
Finally, open the Url in kid's device to install kidsGuard Jr onto their phone. Then connect the devices with each other and start manage your kid's phone usage.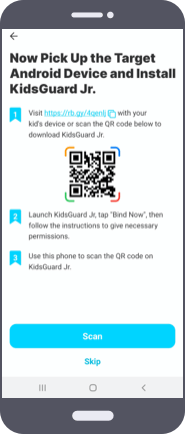 Why is it Necessary to Lock Your Child's iPhone?
No one is intelligent by birth, it's time that make us able to learn things. Kids are very innocent because they have not much experience of life. So, it is the duty of parents to make them learn things and realize them what is good for them and what is not.
One of the major factors involved in this is the mobile phone. It is the Era of technology we cannot make our kids successful without the technology but it depends because they need mobile phones and how much time they spend.
Parents are also too much busy in work that they can't company their kids much time and as a result they fail to guide the right way of life. Technology has eased the parents by providing them parental control apps.
Parents can remotely lock child's iPhone after a specific time. Mostly mothers are with kids and the kids do not obey mothers and scare from father instead. So, keep on using mobile phones even mother saying again and again to leave it.
In this case also, parents can set the screen time so that the phone will automatically get locked after the specific time parents have shared.
Final Words
In this article, we have gone through the need to lock the mobile phones of our kids remotely. Some parents who are not aware of technology will really be shocked while reading this article that is it really possible?
Their very first question will be how is it possible? How to lock iPhone screen? We have defined ways for this question in this article i.e. by using iPhone's latest version but it is very limited. Then we discussed about the "Famisafe" app. We then also provide parents the solution if they are using Android Phones and without wasting time told them about "KidsGuard" which is the best parental app for Android.