YouTube is one of the most trending site which has been used to watch videos. Anyone can make his own channel and upload videos whatever one wants to and even they got paid on.
Most of our teenagers are addicted to watching videos on it. YouTube also provides sexual material that can spoil the future of our kids badly.
In some cases, it is intentionally watched and sometimes unintentionally come in front of our screen as a recommendation because of its programming based on AI. So there is a need for parents to know how to block youtube on computer to save their kids watching such videos.
How to Block YouTube on Computer?
It is quite simple and more than one method are available to block YouTube on computer. The only complication is to view all the methods and analyze what is best for you. Each way has its own steps to follow and each one is unique from the other methods.
Way 1. With a Browser Extension
The simplest and easiest way to block YouTube is by using browser extension. You can download the following extension 'Block Site'. By using this extension not only YouTube but many other sites can also be blocked on the specific browser. Here are few simple steps to be followed:
Step 1.
Download the extension 'block site' on the browser you want to block the YouTube. For example, if you want to block it on Google Chrome just type "Download Block site extension for chrome", a screen will appear and you can easily download it by clicking on it.
Step 2.
Open YouTube on the browser you have downloaded the extension.
Step 3.
After opening YouTube, tap on the 'Block Site' extension seen on the top right corner of your screen and click 'Block this site' button. Right after clicking this button YouTube will be blocked on that specific browser.
Way 2. Using Host File
It is an easy technique to block websites on a computer. Using host file, YouTube can be blocked on whole device that using any browser cannot let you open YouTube on the system while other methods may block YouTube for only a specific browser.
In our PC having Windows 10, we have this file in System32 folder. To block YouTube, we simply need to open the host file and edit it so we can add YouTube we want to block in a special format that the machine can understand and block YouTube.
Here are few steps to block YouTube using Host File.
Step 1.
Open the Notepad as an administrator.
Step 2.
Then select the 'Open' tab and choose 'C:\Windows\System32\drivers' and here you will find the Host file.
Step 3.
Just enter the local host IP and then the Domain name you want to block. To block YouTube, you have to write 172.0.0.1 and then www.youtube.com. The most important thing is to give space between them. For space you need to press the 'tab' button.
Way 3. Using Third-party app
You can also use third-party apps to block YouTube. Such applications are not only to block YouTube but you can block any website using those applications. One application that is with nice reviews is "App Block – Block Websites and Apps: Productivity App".
Downloading this app, you can easily block YouTube on a specific device to be used. The interesting thing about such applications is that they do not demand any technical knowledge but even a simple person who has never gone through the nuts and bolts of technology and computer language.
That is why this way is preferred by those mostly who are not aware of technicalities. A number of other similar third-party apps are available in the market that helps you block YouTube on your device either on your computer, Android or iPhone etc.
There are a number of third-party applications available but we need to be aware of our need and must choose the one more beneficial and also having some additional benefits also.
How to Block YouTube Channels on Computer?
Parents most probably need to know that how to block YouTube channels on computer for their kids which are not good for them. It is very simple an easy to block YouTube channels on your computer.
Here a few steps by which you can block any channel you want to.
Login with your account on YouTube.
Open the channel you want to block.
Look for the 'About' tab on the top below the name of the channel.
Click on the flag icon found over there and select 'Block user'.
Finally click submit and that channel will be blocked.
Related Read: How to Block YouTube on Chromebook?
Related: How to Block YouTube on Android Phone?
There are several ways to block YouTube on Android but saving your precious time I will tell you the one experienced and found the best for this.
Block YouTube on Android with KidsGuard
KidsGuard is a parental control app that helps parents to keep an eye on their kids all the time. YouTube is an addictive website so parents want to keep it block on their kid's Android phone to safe their time and prevent them from wrong things.
The web filtering feature allow parents to block YouTube on their kid's phone and even the App blocking can enable parents to block the YouTube app on their kid's phone.
How to set up KidsGuard parental control app?
Step 1.
Press button below to download KidsGuard from Google Play Store or App Store. And then sign up an account.
Step 2.
Login to your account, go to dashboard and click on
Bind Now
, follow the instruction and send the Url to kid's device.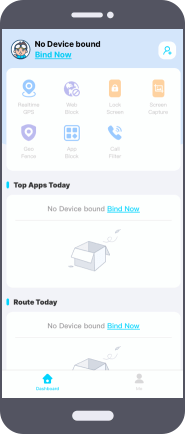 Step 3.
Open the url in a browser of kid's Android phone to install KidsGuard Jr. After setting, you can start to manage kid's phone on your own device, such as app/website blocking, call filter,etc.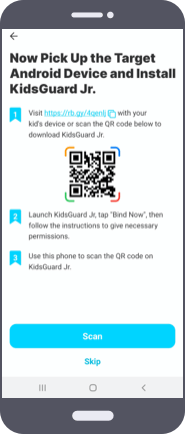 What KidsGuard Can Do to Protect Kid's Online Safe?
KidsGuard is a best parental control app that helps parents in keep their kids safe online. Here are some important features KidsGuard provides to keep kids safe:
Social Media Applications
KidsGuard keep the record of all activities of kids on their social media accounts like WhatsApp. In this way, parents can easily know to whom their kids are talking to and what.
Browsing History
KidsGuard also enable parents to see the browsing history of their kids so that they may know what their kids search and can realize them if they are doing something wrong.
Real Time Location
Parents can get real time location of their kids anytime wherever they are using KidsGuard. Even to keep kids safe parents can use Geo-fencing feature and add some locations where they have restricted their kids to go and if still they went there the app will notify the parents about it.
How to Block YouTube Channels on Mobile Phone?
Parents are really fond of some ways they can safe their kids form watching videos on YouTube. They really want to know that how to block YouTube channels on mobile phones?
Here are few simple and very easy steps to follow by which parents can easily block YouTube channels from their kid's mobile phones:
Log in to your account.
Open the YouTube channel you want to block.
Click on the 3-dots available at the top-right corner of the channel and select 'block user' and then tap 'Block'. At the spot that specific channel will be blocked from that account.
Conclusion
In this article we have discussed that why someone needs to block YouTube on several devices just like parents, offices, educational institutes etc. They all need to block YouTube for some specific reasons. Then this article is really helpful for those who really want to block YouTube because in this article we have described all the possible best solutions and methods to block YouTube on different devices.
We must prefer such applications that are not single featured instead we should select such apps that can provide you a number of features in a single application as we have described KidsGuard and its numerous features.