Video games are more popular than ever. People love playing video games and spending quality time. However, kids go beyond that and convert their likening to video games into an actual addiction. It is also important to understand that a kid has to take care of a lot of stuff growing up including his health as well as his academics.
Therefore, it is time to break child's video game addiction once and for all.  
What is a Video Game addiction?
The point where one feels that he needs to play games in order to achieve mental peace, and cannot spend much time without playing games is a point where he is actually addicted.
Kids these days should spend more time building their physical health and their careers. However, excessive gaming not only turns them into addicts but also damages their physical health.
How To Break your Child's Video Game Addiction
By now, we know what video game addiction is but how to avoid the harm. Let's talk about the solution now.  
1.Put restrictions on video games.
The most efficient way is that you can use apps to block their access to video games, we would recommend you to use KidsGuard.  
KidsGuard is one of the highest related apps when it comes to keeping an eye on your kids, monitoring their activities, and working towards their better counseling. This application is becoming popular day by day and because of the right reasons. Having KidsGuard allows you to have following things: 
Feauture of KidsGuard
A full eye on what your kids are up to or how much time they spend doing whatever on your PC/ Mobile Phone;  
The ability to be able to scan up to 30+ files including WhatsApp, Snapchat, and even text messages;  
You can also check the call history of every device;
Track calls either incoming or outgoing;  
Spy and control phones remotely. The parents can lock the child's screen, monitor apps the kid uses, and much more.
How to Break Video Game Addiction by KidsGuard
With so many features in KidsGuard, how do you use it? The next three steps will be described.
Step 1. Install KidsGuard App on Parents Devices. 
Click the button below to download KidsGuard to your phone and use a valid email address to register an account.
Step 2. Log into Account on Parents' Phones. 
Once you have logged into your account, click on the "Bind Now" button, copy the URL from the setup instructions and send it to your children's mobile phones. Or scan the QR code with your child's mobile phone.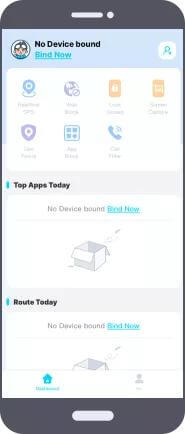 Step 3. Download KidsGuard Jr on Kids Devices. 
Open Url in your child's phone or scanning the code. Then download KidsGuard Jr on his/her phone.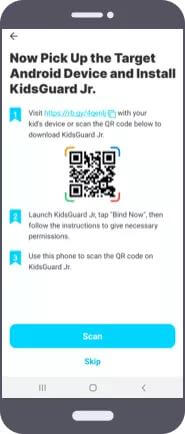 Step 4. Start to Set up Restriction for Specific App. 
Once installed, you can connect your device and manage your account from the KidsGuard Dashboard and you can create restrictions for several apps, including blocking the user from viewing apps.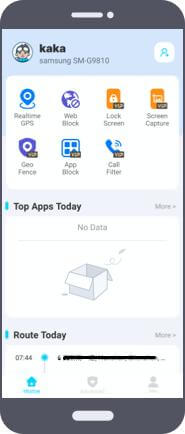 2.Set a limit on the time.
Moreover, you can also set time on screen. KidsGuard also can do it. Besides, you can set the limit time on your phone, so that phone will auto close page.
3.Seek a doctor for help.
If you think your child is actually addicted to playing video games and you can not control him. You can take your child to a psychiatrist as this may also be an illness and seeing a doctor can be more effective in helping.
4. Not to have any gaming devices within their rooms.
Many children get addicted to gaming because they stay up late playing games, so you can take their phones out of the room before bedtime and let them sleep well.
5. Work together with your kids.
 Lastly, you have to work together with your kids in order to build a better routine and for them to adopt a healthier lifestyle because it is also your duty to get this done being parents.
Signs and Symptoms of Video Games Addiction
The word addiction is often associated with drugs or alcohol only. However, what we do not know is anything that we feel we cannot live or function without has actually got us addicted.
In this case, how can you tell if your kid is addicted to games or not? The answers are simple;  
Can't control the time of playing games.
Notice how much time your child is putting into playing video games. Is this the only thing that he wants to do? What if you ask him to leave the games and do something else? What is going to be his reaction? That alone will let you know whether or not your kid is addicted to games or not.
Neglect studies, family, or even other hobbies they used to enjoy.
Do video games distract him/her from focusing on their academics? Are video games destroying their physical health? If yes, then yes, your child is addicted to playing video games
Want to play games all the time.
Another sign of video game addiction is if your child does not want to do anything else and just wants to play games all day and not meet any person in real life.  
Negative effects of Gaming Addiction
Video games addiction does more harm than benefits.
Starting off, not only your eyesight becomes weak, but excessive video game playing might also slow down your brain functionality in the longer run.
On top of that, playing video games results in decreased interaction between your kids and other family members or even his friends. This is absolutely not good for his social life and your kid might end up losing connections.
Moving forward, video game addiction keeps your child up the entire night. This results in a lack of sleep hence, turning him lazy and unresponsive to the tasks that he should be accomplishing.
Moreover, parents respond to their kid's bad grades by restricting them from playing video games. They either take the devices away or do something that prevents them from having access to games and this results in an extended bad behavior and further aggravates the addiction.
FAQs  
Q1. How do you end your child's video addiction?
The basic steps of ending your child's video game addiction are general counseling. You cannot start off by imposing restrictions or grounding your kids as this might result in negative behavior from them.
Q2. Are there any quicker methods?
Nope, there are not. It is a gradual process and you have to make sure that your child's gaming addiction ends up ruining him. Installing an app to restrict their gaming time is most efficient, this way is also more quicky than others.
Q3. How do I stop gaming, even if my friends force me to do so?
Tell your friend that you are quitting the game and you can play together for an hour or so, setting a time that you cannot exceed or there will be a penalty. You can play outdoor games together, such as playing ball.
Conclusion  
In a nutshell, video gaming addiction is a real thing and a lot of kids are addicted to playing video games. However, the best part is that this is actually reversible and you can actually help your child get over this addiction by using KidsGuard.