Apart from smartwatches that enable you to monitor your sleeping, certain apps have been introduced in the market and are very helpful in tracking sleep.
These best free sleep tracker apps will benefit you in different ways, including noticing unusual behavior (extra tossing) while sleeping, tracking in which hours you were awake or asleep, and many more.
There are many sleep tracking apps available, and 5 Best Sleep Tracking Apps are listed below:
What is the Best Sleep App for Android?
1. Sleep Cycle
The sleep cycle is one of the best free sleep tracking apps for both Android and iPhone devices. It will ensure that you get enough sleep for the day and not let you take extra sleep that may take your health down.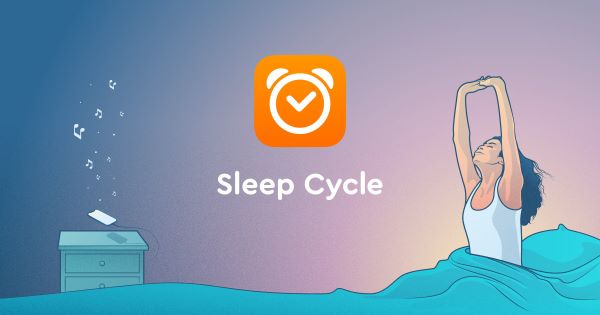 Features
It contains vibrations movements scanning so that it will know in which position you are sleeping. Is it bad for your health or good?
If you are unaware of your sleeping habits, like snoring, it will also guide you about this. You will get a proper chart of your data about your sleep.
Pros
This app has various pros, including that it will tell you about heart rate and the activities while sleeping (that includes sleepwalking, snoring, etc.).
It will provide you with details about how much sleep you get every day/week/month? How much time did you spend in your bed? Etc.
How does it Work?
This best sleep tracker app Android focuses on every Android and iPhone vibration and has a free-fall sensor to know the movements you take during sleep.
When a person is in a deep sleep, it will start to count his sleep timing, and when you start to make movements, it will monitor it as a waking up sign of a person.
2. Pillow
This sleep detecting app was launched when many monitoring apps were already working in the market.
This app uses past searches about sleep durations and disturbances of a person and uses a person's locomotion's, and figures sound to check the person's insights.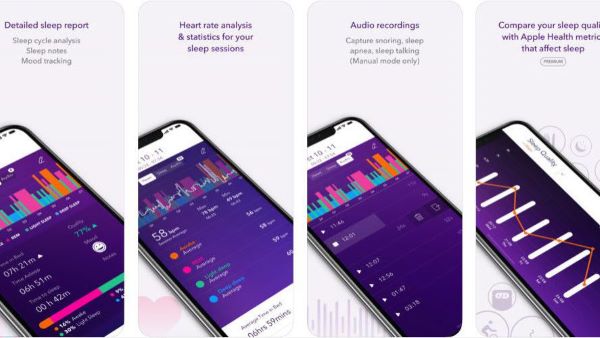 Features
This app uses different factors like a heartbeat, blood pressure, alcohol, or drink consumption to know and provide exact reasons causing problems during your sleep.
It will provide you with facts and charts about your sleeping patterns. Also, it can provide you with audio recordings of your sleeping every night.
Pros
This best sleep tracker is not available free for Android users, although iPhone users can use this app free of cost.
For Android users before subscription, you can use their 7-day free trial. This app has no complex interference. Mostly recommended for iPhone users as it is attached to Apple's default health app.
How does it work?
As mentioned before, there is no complex structure of this app. Open the app and place it near your pillow.
And if you want to record audio of your night, you can always turn that on in the dashboard.
Related Read: Baby Tracker Apps that Every Smart Parent Should Have
3. Relax and Sleep Well App
This is not only the best sleep tracker app Android but will also give you some self-care and relaxing tips and tricks while maintaining your sleeping routine.
So, if you are feeling stressed, you can listen to any audio recordings before going to bed, and this relax and sleep well app will do its work for you while you are asleep.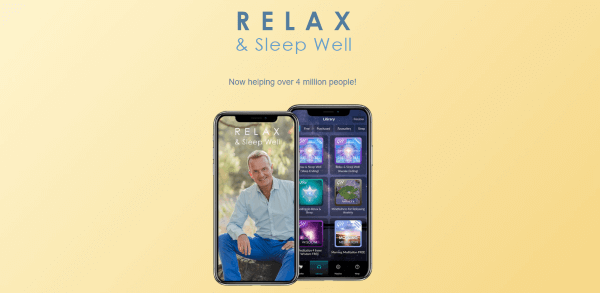 Features
This app also has a paid version that helps a person listen to the problems, including sleep disturbances, stress fullness, confidence, postures problems, etc.
You can easily get it from its name " relax and sleep well," which shows that it will provide you with facilities not only when you are sleeping but also when you are awake.
Pros
Except for the sleeping schedule, it will also give you some tutorials about breathing exercises to make you feel calm and is best when used for meditation.
Also, this app doesn't require the use of this feature after the subscription. By using this app, you can easily maintain your sleep timings and mind relaxation.
How does it work?
The Relax and Sleep well app is also known as the best sleep tracker for Android. Because before sleeping, you will have to follow simple steps on the Android version that includes going on to the app.
It will give you some choices to select a melody to reduce your stress. And click on the play; after 30 minutes, it will calm your mind and make you ready to sleep. You can also set the alarm on it to ensure full sleep.
4. SleepScore
SleepScore uses mobile phones speakers and will let you know how many hours you have slept and how much your body has moved during the night.
It is the best free sleep tracker app but to use all its features and recommendations, you will have to buy this app.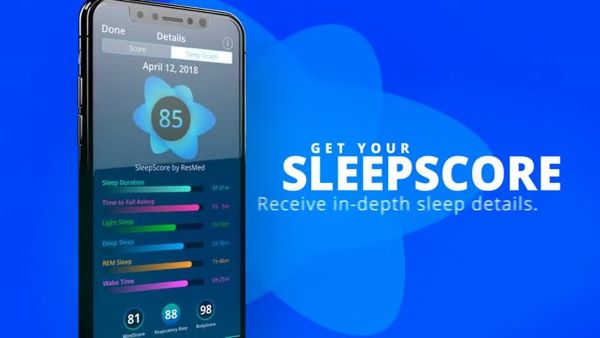 Features
It will tell you your everyday sleep score that ranges from 0-100. There are very few people who have to get their sleep score above 90.
The alarm feature is very cool. It will not start to ring violently in your ears. Rather, the alarm will start to ring from a sweet melody then goes higher.
Pros
It will give you some recommendations that are based on your sleep schedule. This app is best when used for the long term and is compatible with iPhone 6 also.
How does it work?
After installing, it will ask you certain questions about your everyday night sleeping routines like atmosphere or sleeping or drinking habits.
In short, it doesn't have any complex interference. After that, you will have to place it near your chest (Almost 6 inches) and click on the recording button.
5. SleepStation
SleepStation app is a bit the same as relax and sleep well app because, in both apps, you will easily get rid of your insomnia problems.
But SleepStation works a bit faster, and it is also the best sleep tracker app as it ensures that you will get rid of your sleeping problems within four sessions.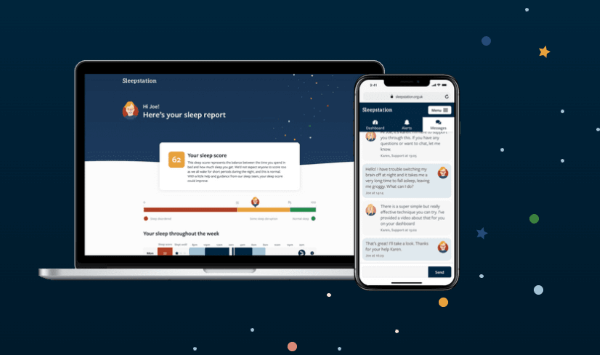 Feature
Using this app, there will be no need to consult any sleep specialist because your favorite specialist will be in your hands in the name of SleepStation.
Pros
It has very easy interference, and you can talk to a person in confidentiality and take advice for your health.
How does it Work?
After installing, a person will have to fill out the form related to your sleep patterns so that the app can easily know your problems.
After that, you can personally message them and ask about any problem related to your sleeping and every problem regarding staying asleep. This app will be the best free sleep tracker available for you.
Related Read: Best 10 GPS Tracking Apps & Tracking Devices for Kids
Frequently Asked Questions
Q1: How do we choose the best sleep app?
We choose the best sleep tracker app by seeing our needs and asking about the app's features.
If you have some sleep difficulty problem, then SleepStation is best for you, but if you want to know every part of your body during the night, then the pillow and other apps are good.
Q2: Do Android sleep trackers work?
Of course, every Android sleep tracker app works without a subscription option, but for some apps, you'll have to pay for it to get the best features.
Q3: What is the best fFree app?
The best free sleep tracker app helps you resolve your night issues, whatever they may be, i.e., restlessness, snoring, or sleepwalking problems.
If the free sleep tracker covers all these problems; then, it can be called the best sleep tracker app.
Extra Tips: Schedule App for Parental Control
KidsGuard is a parental control app that can be used to change the habits of children at bedtime. Your children cannot watch mobiles because you can set a specific time when the phone's apps and websites will be blocked. So, control your children's screen time and sleep peacefully by using this app.
How to Set up KidsGuard Parental Control App?
Step 1.
Click button below to download KidsGuard from Google Play Store or App store. And then sign up an account.
Step 2.
Open the dashboard and click on
Bind Now
button, copy the url in the setup instruction and send it to Kids' device.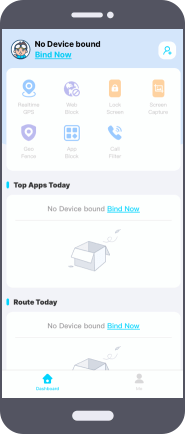 Step 3.
Open the url in a browser of kids' phone and finish download and install KidsGuard Jr. After setting, you can start to manage kids' phone on your own device. Including block unwanted websites,apps,set screen limit time,block spam calls,etc.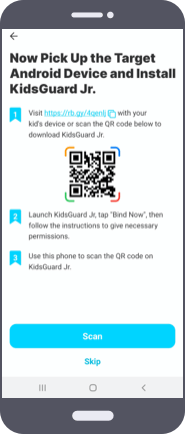 Final Thoughts
There comes a time when our sleep is out of control, and we do not know what to do. In that case, the problems may include excessive sleeping, restlessness, anxiety, depression, or indulging any child in wrong activities that may be active on mobile at night.
So, if any of these types of problems arise then, you do not need to worry about that because there are many of the best sleep tracker apps available not only in paid versions but there are also the best free sleep tracker apps. Some of them are mentioned in this article.