If you are looking for some help when you accidentally delete some of your important messages, this is not a big problem as many solutions are preset nowadays.
This article will answer your question asking can I retrieve deleted text messages on phone. The answer to this question is big yes; one can recover his deleted messages easily by following the methods below.
How to Retrieve Deleted Text Messages on an Android Phone?
Retrieving important messages after deleting them from android phones is a bit challenging for some users.
A phone does not have any trash bin and deleted messages folder, there are some difficulties in recovering. However, some simple methods are there to recover accidentally deleted text messages using your android.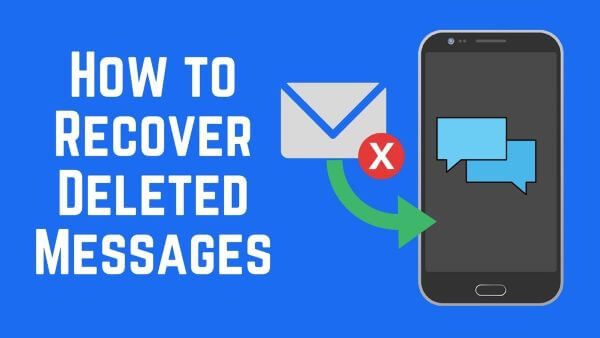 Method 1: Reset your phone to recover deleted text messages
Deleted messages can be recovered after performing the factory reset method in your android. After this, you can restore your lost data from backup on Google drive.
Options visibility can be different for different android versions but the operation is the same.
Open your phone settings from the settings bar.
Go to the reset option and here click on the factory reset bar.
After resetting your phone, open Google Drive and connect to your account following the instructions that appear on the mobile phone screen.
Method 2: Use recovery software to recover deleted text message
There are several recovery software available to recover the text messages. You can even download applications from play store for data recovery. You can also use software to recover the text messages.
One mostly used software is "Tenorshare UltData for Android". This software is used to recover deleted text messages on Android without root. It is a desktop software and easy to use.
It includes few easy to use and understand steps to recover deleted text messages. Here are the steps to use this software.
First of all you need to download and install the software.
Then plug-in the device to your computer using a data cable and select the option "Recover lost software".
Then turn-on the USB debugging option on your device.
Tap the "Allow" option and then hit the Start button to start scanning.
Then select the messages you want to recover and you will finally get the messages recovered.
Method 3: Get in touch with your phone carrier to recover deleted messages
This option can be used only if you need messages to show in court proof or some other major reasons, your carrier store your message for some time after you have deleted them and they can be recovered easily.
If the reason is not so the big carrier cannot retrieve your messages.
If you are deleting extensive messages from your iPhone, you can see them and retrieve them easily.
But if you are not doing this and want to recover one or two messages you can do this by using the backup method or can also retrieve them by using different software on your device.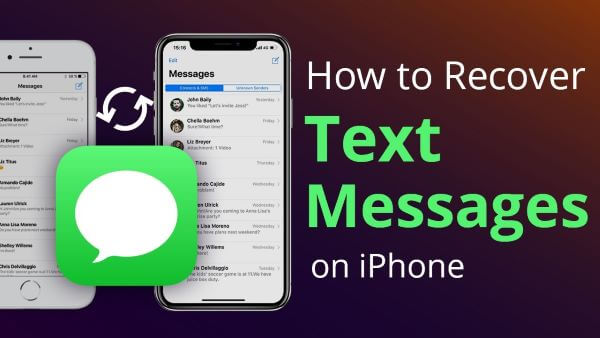 Method 1: Backup via iCloud
Step 1: When you delete a message its space is marked as unallocated. This space can be taken up by other messages that you delete, to avoid this stop sending messages.
Step 2: Your deleted text messages can be easily recovered if you have a backup via iCloud. To check this follows these steps:
Go to settings and click on your name on your mobile phone.
Then go to iCloud and click on iCloud backup.
Here you will see backup is present or not. If the backup is present go to setting and erase all your data from the phone. After erasing click on the iCloud backup and restore all the messages.
Method 2: Using Finder on your Mac
Backup of deleted text messages can be available on your Mac; one can get access to this by using a finder. But backup must be present before the deletion of the message otherwise your text will not be recovered.
Use USB or other connecting sources to connect your iPhone with Mac.
Open the finder and then select iPhone on the left column.
Look for the message you want to back up and click on it. After clicking wait for synchronization between both these devices and then click on restore.
This will retrieve your deleted text message but only if the backup mode is already enabled.
Method 3: Use recovery software tool
A number of software recovery tools are available online to recover deleted text messages on iPhone but some failed to recover and some are fake. One mostly used software for iPhone messages recovery is "dr.fone".
By this software you are able to not only recover deleted text messages but you can also recover photos and files from your iPhone easily.
This software is supported by iPhone 6, iPhone 7, iPhone 8, iPhone XR, iPhone XS, iPhone 11, iPhone 12, iPad, iPad Touch and much more models.
Working of this software is very easily and is based on 3 simple steps:
Download and install the software in your PC and connect our iPhone to the computer.
Select the type of files you want to recover and start scanning process.
Finally, once preview it and then recover the data you want to.
This is a very easy answer to the question that can I retrieve deleted text messages?
How to Retrieve Deleted Text Messages from Another Phone?
For security reasons and to keep an eye on family members this is essential to keep an eye on text messages.
Retrieving deleted text messages is possible and both android and iPhone users can use different third-party applications to do this.
The most common and easy-to-use application for this purpose is KidsGuard Pro for Android.
Check Someone's Deleted Text Messages with KidsGuard Pro for Android
Step 1.
Click
Monitor Now
button below to sign up a KidsGuard Pro account.
Step 2.
After registration, log into your account and go to
My Products
page, click
Setup Guide
button and follow the instruction to download and install KidsGuard Pro onto target phone. This step only needs to take 3-5 minutes.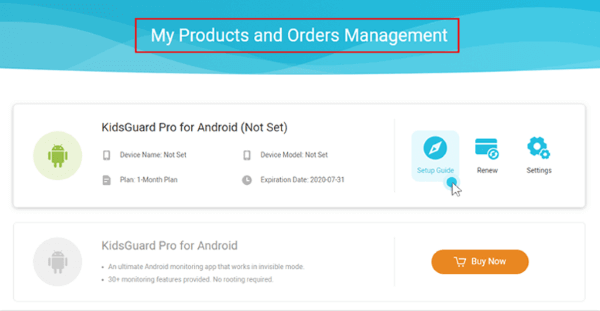 Step 3.
When setting is finish, the icon of this app will disappear. It's 100% undetectable. Now you can start to monitor target phone's activities, including text messages, social media apps,etc. Even target user deleting their text messages, you still can check and export them on the dashboard.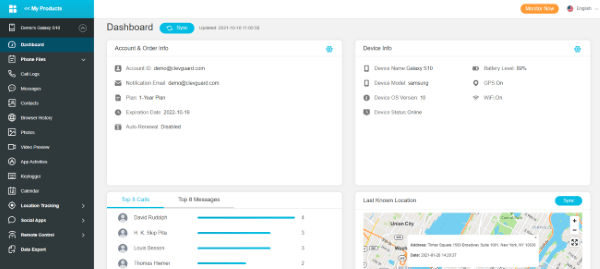 NOTE:
If your target user is a iOS user, you also can download KidsGuard Pro for iOS for monitoring.
If you are concerned about your children's activity or want to know whether he/she has been under some social harassment or not. In all these concerns KidsGuard Pro helps a lot because of its unlimited features and easy-to-use process.
This application not only helps in tracking messages and calls of the person but also helps in retrieving deleted text messages. For all these features KidsGuard Pro must be installed on his phone and then all this background spy can be done without his knowledge.
Conclusion
How to retrieve deleted text messages is no longer a problem for iPhone and Android users. Different third-party applications are there that can help in recovering the messages. But one problem with these applications is that they are expensive and they cannot assure you that work will be done or not.
One can save himself from all this mess by creating a local backup in case of android and iCloud back for android users. You can do this for yourself and can connect with your children account for his social security.