During the COVID pandemic outbreak, it is always advisable to stay at home and avoid human contact as much as possible. This has affected children significantly as schools closed due to COVID and they cannot go out to play with their friends.
They spend maximum time online attending online classes, watching education videos, group studying with friends, and even playing games and being active on social media platforms.
However, experts have pointed out several negative aspects of spending so much time online on kids.
We will discuss all those negative points and suggest effective ways for parents to protect their kids in the online world.
Part 1. Negative Aspects of Studying Online Due to School Closure During COVID Period
Schools closing due to COVID 2021 have forced children to be active in the online world. However, being active for so long every day is harmful to kids, and the online world itself is not a safe place to the in without parental control.
Here are all the negative aspects of studying online that parents should be aware of.
Screen Time Might Be Out of Control:
Screen time refers to the duration your kid spends in front of the phone screen or computer screen. Depending on the age of a kid, a certain screen time is recommended by experts.
If daily screen time starts crossing the limit regularly, there could be stress on the eyes, loss of social skills, irregular sleep patterns, behavioral issues, and even obesity.
Hard to Focus on Their Studies:
Other than online studying, kids spend a lot of time on social apps, playing online games, and watching non-educational videos. When they keep doing that regularly, such activities become addictions.
When playing online games and watching videos become an addiction for kids, it becomes very difficult to focus their minds on their studies during this school closures COVID period.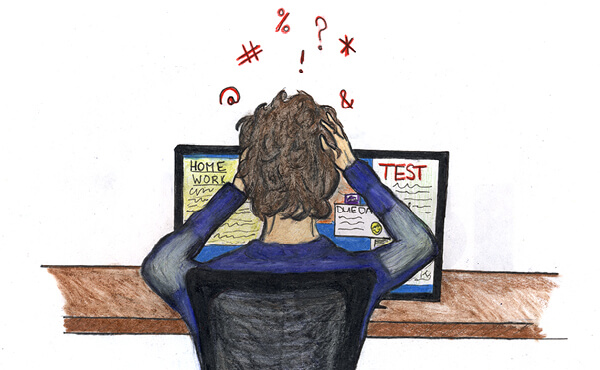 Potential Harmful Content:
Keeping kids safe online is difficult for parents because the online world is full of inappropriate content for kids. There are no proper regulations and restrictions on online content for kids unless parents take certain measures on their side.
Therefore, there is a high chance that your kids come across potentially harmful content, and such content can have harmful effects on the mental state of the kids.
Privacy Might Be At Risk:
Kids are not aware of the online dangers where hackers and scammers set traps for kids to fall into. These traps are set to collect account usernames and passwords, inappropriate photos and videos, and the financial details of their parents.
Once the privacy gets compromised, this could lead to account hacking, phone hacking, online harassment, blackmailing, and whatnot.
Cyberbullying:
When your kid is present on instant messaging and social media platforms, especially the adult social media platform, they may come across strangers in different groups. It is possible that your kid could be a subject of cyberbullying.
Even their posts could be trolled, and this leads to mental stress, isolation, depression, and even suicidal thoughts.
Part 2. How to Keep Your Kid Safe When Study Online During COVID-19 Season?
During the school closed due to COVID, the biggest concern for parents is how to keep their kids safe when they are online. Parents have to take several important steps starting from using a parental control app to implementing strict rules.
Here are the steps to follow to ensure the complete protection of your kids while studying online.
1. Protect Your Kid with Parental Control App
You cannot leave your kid alone when he is studying online. However, it is not always possible for you to sit along with your kid all the time. That is where a parental control app can be highly useful.
You can deploy the app on your kid's smartphone and monitor all his phone activities. Based on his activities, you can block apps, set filters, and take necessary actions as appropriate.
We recommend you opt for KidsGuard parental control app as it has all the necessary features and functionalities.
Why KidsGuard is Necessary During the Pandemic?
KidsGuard is a parental control and monitoring app. It is an absolute necessity for parents to monitor their kid's online activities and take necessary controlling actions promptly.
KidsGuard app has all the necessary features for remote monitoring and controlling your kid's phone. Here is the list of everything you can do with KidsGuard for keeping kids safe online.
Monitoring Kid's Online Activity

KidsGuard lets you monitor your kid's online activities by generating online activity reports on a daily, weekly, and monthly basis. Parents can review the reports regularly and take necessary steps accordingly.

Moreover, parents can check the browsing history on their kid's phone to understand what their kid was searching and surfing online.

Filter Inappropriate Webs

After reviewing the online activity reports and browsing history, you can block inappropriate websites that your kid is regularly visiting. Similarly, you can block certain online games that your kid is becoming addicted to.

Moreover, you can set certain filters so that websites having drugs, violence, adult content, and phishing activities are blocked automatically when your kid tries to visit them.

Block Apps

Not just blocking websites and online games, you can block any app whichever you feel is inappropriate for your kid. If your kid is getting addicted to some games and social media apps, you can block them completely.

Otherwise, you can set a timer for selected apps so that your kid can access them in a fixed time interval only.

Track Kid's Real-Time Location

When your kid is outside, and he has the phone with him, you can track your kid's real-time location using KidsGuard parental control app.

The app tracks the location of the phone using the location service as well as GPS, whichever is available. You can also check location history to see where he has been in the recent past.

Geo-Fencing

When kids will be returning to school after COVID, it will not be possible for parents to keep track of their kid's location in real-time all the time.

Instead, parents can set a virtual Geofence on KidsGuard. Whenever your kid leaves the virtual Geofence, you will get instant Geofence alerts on your phone so that you can take necessary actions promptly.

Capture/Lock Screen

Apart from checking activity report daily, you can check what your kid is doing on his phone in real-time by taking a screenshot instantly.

In fact, you can lock your kid's phone screen remotely so that your kid stops using the phone and starts concentrating on studying.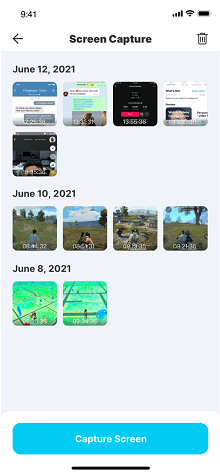 How to Protect Your Kid with KidsGuard?
Here are the steps on how to keep kids safe online using KidsGuard parental control app.
Step 1. Install KidsGuard App On Parent's Device
Click the "Google Play" button to download KidsGuard, if your device is an Android device. Similarly, click "App Store" button to install KidsGuard if your device is an iOS device.
Step 2. Register A KidsGuard Account
Open the app and register an account on KidsGuard platform. You will need a valid email address, username and password.
After registration is complete, log into your KidsGuard account.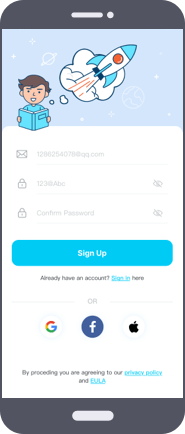 Step 3. Install KidsGuard App on Kid's Device
Following the instruction and then install KidsGuard Jr app on the child's device. After installing the app, log in with your KidsGuard account credentials.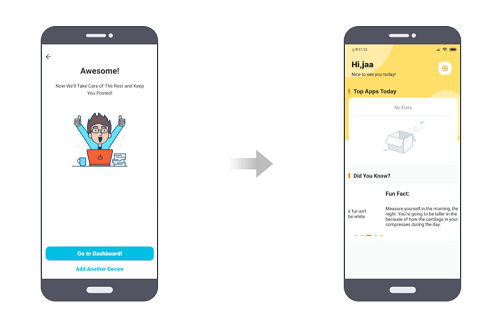 Note: For now, KidsGuard Jr app only supports Android devices on kid's side.
Step 4. Start Monitoring and Controlling
Come back to the parent's device. Assuming you are already logged in, go to the Dashboard and you will see your kid's device name.
Now, you can block inappropriate websites and apps, set screen time, check location, lock screen, check activity reports, and much more to keep your kid safe online.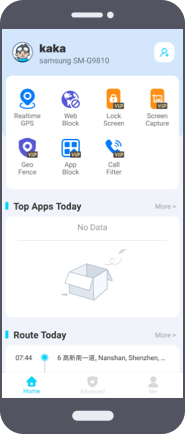 2. Useful Tips to Safeguard Your Kid When Studying Online
Apart from monitoring through KidsGuard parental control app, you have to take the following steps during this period of school closings due to COVID so that you can safeguard your kid in the online world.
1. Set Rules for Screen Time
Have a discussion with your kid and reach a mutual decision on the screen time that you will allow your kid to use the phone for attending online classes, watching videos for studying purposes, interacting with friends, and playing games.
Once there is a proper balance regarding screen time, there will be no question of misusing the phone for secret online activities or getting addicted to social media and gaming apps.
2. Encourage Healthy Online Habits
Parents should spend some time with their kids when they are online so that they can show their kids what is appropriate and inappropriate. They should also show them what to do when they come across inappropriate content such as blocking the website and reporting to the concerned team.
Similarly, parents should help the kids develop healthy online habits such as being kind and respectful to classmates, dressing properly in video calls, not to talk to strangers, or sending personal details and inappropriate photos or videos.
Always be friendly with your kids so that they can open up to you when they face any issue online such as online harassment and cyberbullying.
3. Speak to Kids about Online Safety
Make your kid aware of the online dangers and their consequences. They should know about child predators on social media platforms, hackers and scammers active to fetch personal details, account credentials and financial details, phishing pages, spyware apps, online harassment, cyberbullying, and such serious issues.
Suggest them all the safety steps to ensure online safety like never sharing username and password, never trusting anyone online, avoiding chatting and video calling strangers, never clicking random links received through messages and emails, and likewise.
4. Create Non-Screen Options for Your Kid
Since you are going to restrict the screen time for your kid, you should create non-screen options and activities for them. Buy them educational toolkits as per the age of your kid. Give them fun activities to do in their leisure time so that they do not feel the need to access their phones.
If you are working from home, arrange time to play with your kids and let your kids say whatever they have done throughout the day. That way, you can understand their mental state and take appropriate steps.
Part 3. What is the Recommended Screen Time for Kids?
Ideally speaking, any kid under the age of 8 years should have screen time of less than 4 hours. If your kid is in between 8 and 12 years of age, you can allow screen time up to 6 hours.
Above 12 years, they can have up to 8 hours of screen time. This includes the time for educational and non-educational purposes.
Most importantly, your kid must not be in front of the screen for more than an hour continuously. Ask them to take breaks in between long sessions in front of the screen.
Conclusion
We have stated the negative impacts on your kids for studying online and spending hours in front of the phone or computer screen. Apart from mental, physical, emotional, and behavioral impacts, there are online dangers that could lead them to serious trouble.
That is why we recommend KidsGuard parental control app for remote monitoring and taking timely actions as appropriate. Keeping your safe online should be your first priority in this pandemic time where kids have to study from home.