The need to track someone else's device can arise for different reasons. It can be the device of your kid, whose location you want to track all the time, due to safety reasons. It can also be a cheating partner like girlfriend or boyfriend, whom you want to catch red-handed.
No matter what our reasons for tracking the location of a device are, our primary appeal is not to be detected. Fortunately, we found some great hidden phone trackers out there to help us do that.
Top 5 Hidden Phone Tracker Apps You Can't Miss
1. KidsGuard Pro Tracker
Ratings:
Compatibility: Compatible with Android & iOS devices.
Price: A yearly plan costs an average of $8.32 a month.
Root/Jailbreak Necessary or Not: No need to root or jailbreak.
Installation Time: Within 5 minutes.
If you are looking for an app that has superior location tracking capabilities but stays hidden from the owner of the target device, then KidsGuard Pro tracker is one of the best hidden GPS tracker for phone. It supports Android - KidsGuard Pro for Android and iOS devices - KidsGuard Pro for iOS.
The built-in GPS tracker hidden feature and remote tracking of KidsGuard Pro are very effective and accurate. The real-time location of the target device can be accessed at any time of the day. Keeping the past location history recorded also makes KidsGuard Pro outstanding. It also has other properties as well, that effectively extend its tracking capabilities.
Pros

The app icon disappeared automatically after installation.

The location tracking is in real time. All the location history will be synced to dashboard automatically.

Even if the GPS is off, you can track location with the help of Wi-Fi logger on KidsGuard Pro.

Geofencing is also available to mark fences on a map. These fences get activated if the target device is attempting to breach it.

Support both map view and satellite view.
Cons

All location history markers are not displayed together.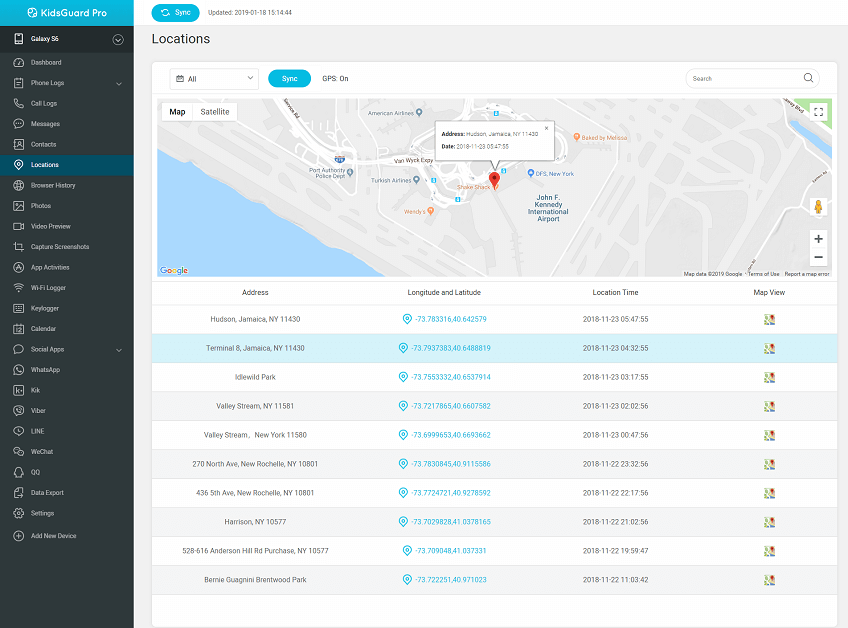 2. FoneMonitor
Ratings:
Compatibility: Compatible with both Android and iOS devices.
Price: $99.99 for ultimate edition.
Root/Jailbreak Necessary or Not: No root or jailbreak is needed
Installation Time: The installation is much easy within 10 minutes.
FoneMonitor is a web-based tracking app with extensive device monitoring capabilities. It was designed for Android and iOS devices and it has a specific set of features, which makes it one of the best secret phone location trackers on the market.
These features are excellent and very effective. It tracks phone without them knowing. As a phone tracker, it is extremely useful, the presence of this app stays completely hidden but locates the target device effectively using its GPS tracking capabilities.
Pros

It is a light app and works perfectly.

Jailbreaking or rooting is not required for the installation of this app.

Extensive phone tracking capability.

This tool is completely undetectable, as it is designed with a special algorithm.
Cons

Unfortunately, this app clashed with Google Play. In order to get stable performance, you have to disable Google Play.

Features are limited on iOS devices. And it doesn't work for iOS 12 device which has been enabled two-factor authorization.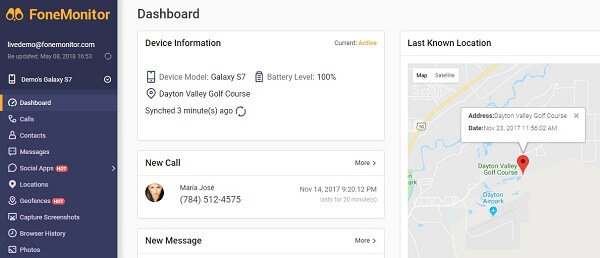 3. mSpy
Ratings:
Compatibility: Compatible with all Android OS above 4.0, iOS 7 - 9.1 for jailbroken devices.
Price: It costs $199.99 for a yearly plan.
Root/Jailbreak Necessary or Not: Root and jailbreak are necessary for advanced features.
Installation Time: About 5-10 minutes. It will take more if you root or jailbreak the device.
mSpy is one of the most popular secret GPS tracker apps. It has an attractive user interface and extensive monitoring capabilities. Just install the app on the target device and activate using the provided license code. Once you have done all this stuff, the app will be activated via its online portal.
It can also check the location history with the details of time and address. After the activation then this secret tracking app hides completely, the app icon disappears from the Home screen and the app starts tracking in the background of the device.
Pros

Purchase and download of the app are very easy.

Support location history view.

you can see the current whereabouts on the detailed map.

GPS tracking is available, as well as Geo-Fencing.
Cons

Jailbreak is required in order to install this app.

Price is a bit on the higher side.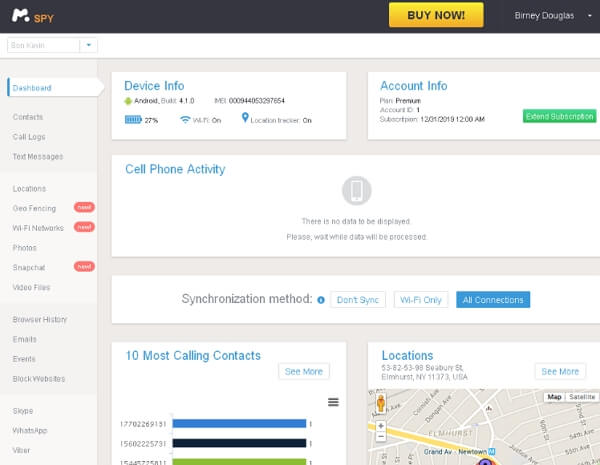 4. Hoverwatch
Ratings:
Compatibility: Compatible with all Android devices.
Price: It costs $99.95 for a yearly plan.
Root/Jailbreak Necessary or Not: Root is necessary for every feature.
Installation Time: It will take 15 minutes or more.
Another one of our favorite hidden cell phone tracker apps is Hoverwatch. This is quite an excellent app that records all the phone location history. Both the GPS system and the signals from Wi-Fi spots closest to the target device can be used as sources of data to track phone location. But the accuracy of Wi-Fi tracking is not very high. If a user has been noticed in a certain spot many times, the color of the dot gradually changes from blue to red.
Pros

Stays hidden on the target device.

All the locations are map viewed.

It gives real-time location data.

You can easily access it through a control panel.
Cons

The location tracking feature is not as accurate as the other apps.

No iOS support.

It's optional for you to choose hidden the app or not. So, it has the possibility of being detected.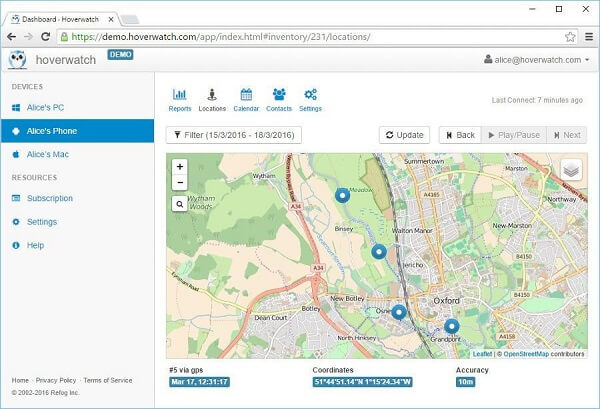 5. Highster Mobile
Ratings:
Compatibility: Compatible with both Android (2.0 +)and iOS (iOS 6 – 10.1).
Price: One edition for $69.99.
Root/Jailbreak Necessary or Not: Root for Android is optional but jailbreak for iOS is necessary.
Installation Time: About 5-10 minutes.
If you want a secret cell phone tracker app, Highster Mobile can be also a good option. It is an effective app that makes device tracking very effective and easy for users. Just download and install the app and type the provided license key, then you can begin the tracking.
No customization is required, just log into your account and that's it. It is an affordable secret phone tracker app available for Android devices. It is true that it is not equipped with a long list of features like the others but it effectively tracks the target device all the while staying completely hidden.
Pros

This app is completely undetectable.

Available at an affordable price.

The installation is relatively simple.

Features are pretty basic but they work effectively.

Support Live Control Panel.
Cons

The customer support is pretty bad.

Most of the advanced features are absent.

The GPS positions are uploaded periodically.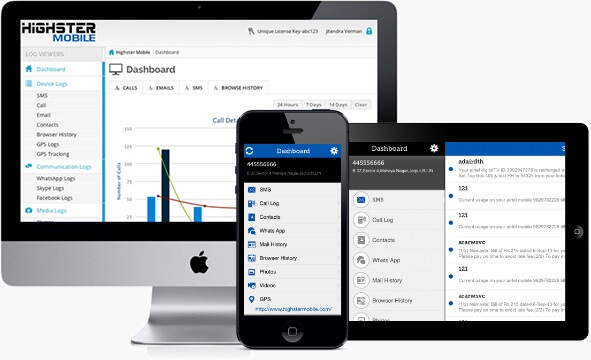 Conclusion
The demand for tracking apps has increased in recent years significantly. Mostly the parents are using it to keep track of their children. As time changed and the technology advanced, our society changed significantly, our kids got introduced to social media apps, games, etc. well before they reached the proper age. So, parents just want to know where they are or if they are doing okay.
Another aspect is to track the spouse, this is quite a general reason. Not all relationships are made equally and suspicion of cheating is one of the main reasons for them not working. But now these apps enable you to track your wife or partner and all their device activities from your living room remotely.
So, whatever your reason is for using these apps, staying anonymous is important. So, we have provided a few effective tracking apps in the article and provided the necessary details. But we really are very much satisfied with the performance of KidsGuard Pro, it is really effective and undetectable. Highly recommended!