Being one of the most popular apps among all the youngsters, Snapchat is widely used by teenagers and young children as well. The unique feature of this app wherein the messages and pictures shared by the user gets deleted once read, has become a nightmare for several parents, as it becomes a hassle to monitor snapchat and check what is being shared, especially when the kid is using Apple device. Knowing how to monitor Snapchat on iPhone without jailbreak is helpful in many situations. Read further and we have discussed several ways.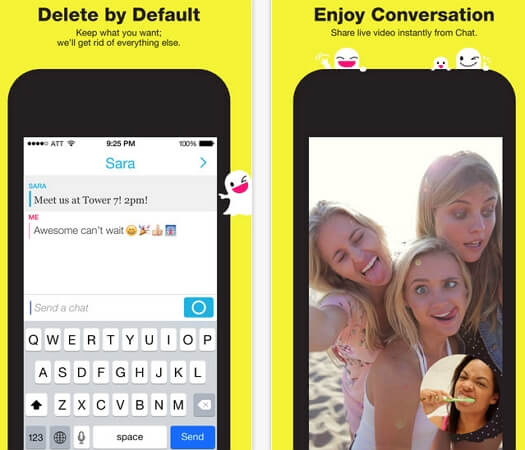 Way 1: By Restoring Snapchat Backup Files with iCloud
If in case your child's iPhone is updated regularly on iCloud or iTunes, you can restore the iCloud backup or iTunes backup to check the Snapchat chat history. This way is very simple and you can monitor Snapchat without jailbreak or any cost.
How to Restore Snapchat Backup from iCloud
Requirement: You need to know iCloud ID and password of the target you want to monitor and Snapchat backup is already enabled in iCloud.
Here's how to do:
Head to the "Settings" app, scroll down to find "General".

Swipe down and choose "Reset", and select "Erase All Content and Settings".

Restart the iPhone, and you will be led to the initial set up interface, where you should login to the Apple ID and password of the one you want to monitor. Remember to tap on "Restore from iCloud Backup" from the "Apps and Data" screen.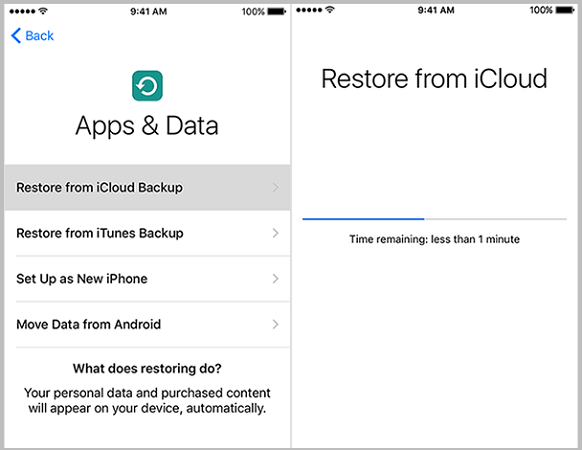 How to Restore Snapchat Backup from iTunes
Requirement: You need to access target computer and it should contacin an iTunes backup of target iPhone.
Here's how to do:
Access target computer and connect your iPhone to iTunes with a Data Cable.

Click on the phone icon at the top and go to "Summary", then click "Restore Backup" button.

You have to choose a backup file that contains Snapchat files and click "Restore" button. Then you will see Snapchat backup on your iPhone.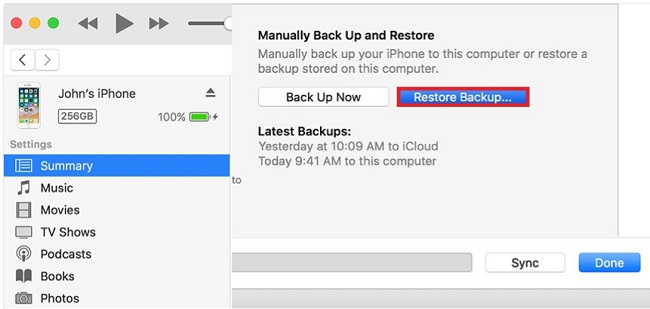 Limitations:
Both devices should be running iOS.

It is time consuming and not effective. You are not able to check the real-time Snapchat data.

It is necessary to know the Apple account or have access to the target's computer.

You may lose a lot of pre-existing data on your phone as iCloud/iTunes backup would replace the currently stored files.
If you can't overcome these circumstances or are not satisfied with the results by this way, there are still other solutions online which can do the job more effective.
Requirement: You have to jailbreak the target iPhone
One of the best ways on how to monitor Snapchat on iPhone is by making use of the several iPhone monitoring apps which are available online. All you need is install this kind of monitoring apps on target iPhone, then you can monitor Snapchat or any kind of activity remotely through a web panel. The most recommended one of those apps is given below.
Mspy Snapchat Spy App
This app serves as a boon for digital parents. You can view the Snapchat activities of your kids when you are at home, at office, during shopping etc. Effective monitoring on your child's iPhone is possible anytime and anywhere if you have Mspy in your gadget. It is specifically designed to check on the data being exchanged on Snapchat by your child. It also offers monitoring access to several other social media apps as well.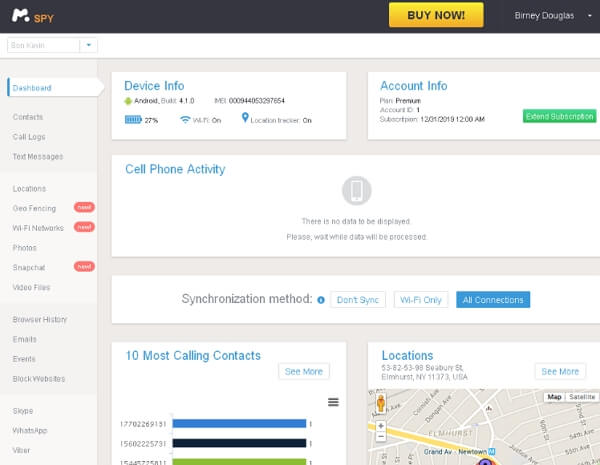 What Can Mspy Do on Snapchat monitoring for iPhone:
View each sent and received messages on Snapchat.

Trace all multimedia data (photos, videos and pictures) shared on Snapchat.

Get date & time of the exchanged media files and messages within the Snapchat app.
How to Monitor Snapchat on iPhone with mSpy:
You have to jailbreak the target iPhone first.

Access the Cydia app and install it on the device.

Open Cydia and select Mtechnology LTD repository. Then Select All Packages > iPhoneInternalService > Install > Confirm.

Select Restart SpringBoard. Next, open Cydia and choose Sources followed by Mtechnology LTD repository to delete it. Enter you registration code to monitor Snapchat on iPhone.
Limitations:
Jailbreak is complex and posts threats of data leak and malware attack on target iPhone.

It is not free to use and cost you much money each month.

The installation process is complex and takes time for those without any tech knowledge.
Don't Miss! The Best iPhone Monitoring App without Jailbreak
An undeniable fact is that, if you really want to monitor someone's iPhone without jailbreak it, you will not able to enjoy some advanced features, like social media monitoring or call recording.
But these apps without jailbreak will also give you certain access to the files on the target iPhone. If you don't want to risk bricking the target iPhone or letting the owner discover it, it is recommended that you use KidsGuard Pro iOS monitoring without jailbreak. It is a legit app and have been vetted by the larget user base around 190+ countries.

This program has also been featured in numerous media outlets. Though it does not have Snapchat monitoring on iPhone, you can be sure you are using a very powerful phone monitoring solution. You can:
Monitor popular social media apps like WhatsApp, LINE and more. Photos, videos, voice messages are available too.

Check text messages and iMessages even deleted.

Keep track of each call going through and find out who is chatting with the target.

View media files stored on target phone like photos, videos, notes, voice memos, etc.

Get the search history and bookmarks on target phone.
This program is 100% hidden and is impossible for the target user to know you are monitoring the iPhone device. What's more, it is a very cost-effective solution. With other monitoring apps on the market, you have to pay several times as much.
This company offers their valuable customers with 30% discount on license cost. You'd better to avail for this discount right now before it expires! For a comprehensive guide on the features that KidsGuard Pro provides, check its live demo below.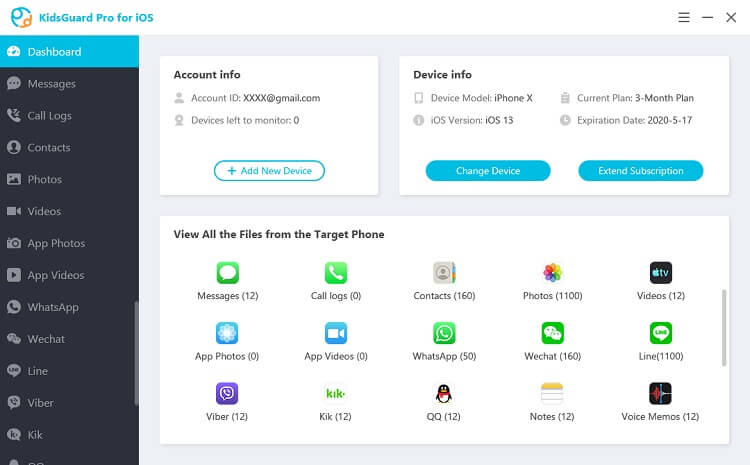 How to Monitor iPhone without Jailbreak via KidsGuard Pro?
To install KidsGuard Pro, follow these simple steps mentioned below:
Create a KidsGuard Pro account and subscribe to iOS monitoring plan. Then you will receive a confirmation email within 48 hours.

Download the app from the website link sent to your email account but on the target computer and not yours. Follow along the instructions to complete the setup.

This app will scan the existing backup of target iPhone or you can connect it with computer if there is no backup on the computer. Finally, you can view the data you want.
Conclusion
Can you monitor snapchat on iPhone? We have discussed main two ways on how to monitor Snapchat for free on iOS along with their pros and cons repestively. To monitor Snapchat on iPhone you can make use of restoring iCloud backup or iTunes backup and the best app which is recommended above. So it is you to make your choice.
Not just Snapchat but the other popular social media platforms are widely used by the kids these days. Other social media platforms (WhatsApp, Line, Kik...) have users of all age groups and their young minds are not mature enough to judge who is a potentially dangerous person. This is why the practice of monitoring apps for iPhone without jailbreaking has become an absolute necessity. If you are on the lookout for the best iPhone monitoring app, you should opt for KidsGuard Pro. It's secure, versatile, and discreet. Best of all, it is available at a pocket-friendly price.