Do you understand the use of mSpy WhatsApp? As a parent, you can find yourself in a position where you need to check WhatsApp messages from afar. By keeping an eye on their messages, you can rest assured that kids are safe even as you give them independence. Since you probably don't want your employees disclosing trade secrets, keeping tabs on their WhatsApp communications might be a boon to your company's secrecy.
Checking on their communications will prevent your ideas from being copied and used to steal your company's revenue. When it comes to monitor someone's WhatsApp without the target phone, most of you will use WhatsApp monitor tool like mSpy WhatsApp. But do you really know about mSpy WhatsApp monitor tool? This article will give you full guide about mspy review and the best alternative to mSpy WhatsApp cracker.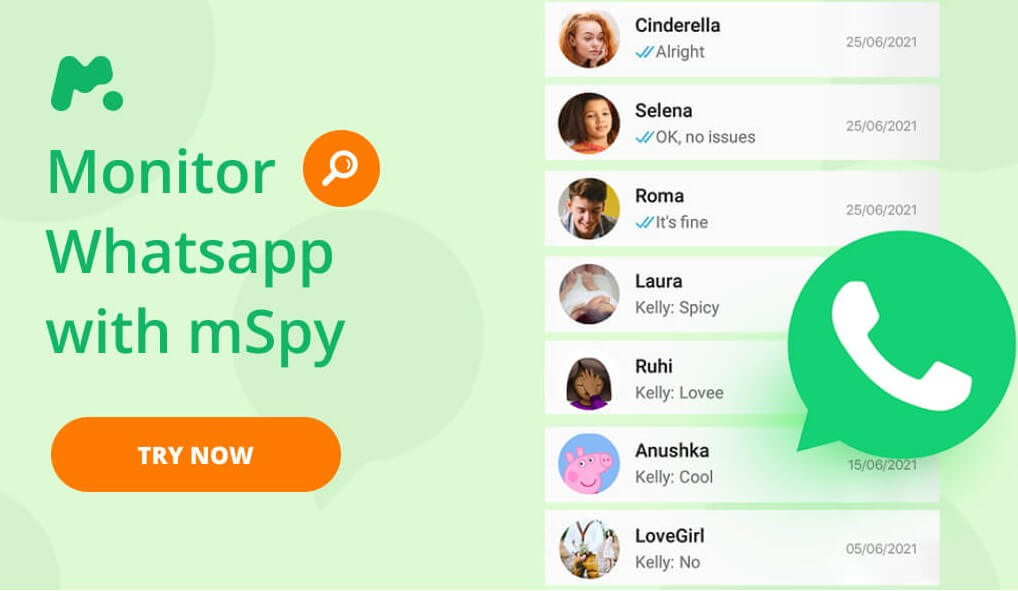 Part 1. What's mSpy WhatsApp?
You can effortlessly keep tabs on your kid's or spouse's WhatsApp activity with the help of mSpy, a powerful and user-friendly WhatsApp spy tool. A lot of users like this software, and for a good reason. mSpy's compatibility with other operating systems, including Android and iOS, is arguably one of its most outstanding features.
Regardless of your target's device, you can effortlessly monitor their texts and activities. Specifically, mSpy lets you do the following: :
Discover the contents of another user's WhatsApp chats online.
Determine the date and time of each interaction.
Use your smartphone to get to the monitored information.
Keeping tabs on WhatsApp activity on your iPhone or Android device.
Features of mSpy:
Processing audio and video content.
Browser history tracking.
Eliminating potential contacts.
Filtering out offensive material.
Maintaining a GPS tracker.
Keeping an eye on one's IM conversations.
Following on people's social networking app usage.
Part 2. Is mSpy WhatsApp Free?
No, mSpy WhatsApp is not a free WhatsApp spy tool. If you need to use mSpy WhatsApp to monitor someone's WhatsApp data, you should pay for it. And it's a little expensive. Currently, you will spend around $1 a day to use mSpy.
Part 3. How to Use mSpy WhatsApp?
Do you want to start monitoring your target WhatsApp activity using the mSpy WhatsApp tracker? Here are the simple steps to follow;
Step 1. You should check out www.mspy.com. Type in your email address and select a plan to purchase. The login information will be sent to you through email.
Step 2. If you want to track WhatsApp messages on a specific cell phone, you can select that option (Android or iOS device).
Step 3. You can now set up mSpy by following the on-screen prompts. You must have direct physical access to the device you wish to monitor. One-time access during setup is all that is needed.
Step 4. Let the mSpy tool take a few hours to collect data from the target phone and upload it to the server.
Step 5. You can replicate the target phone's WhatsApp history using the online control panel.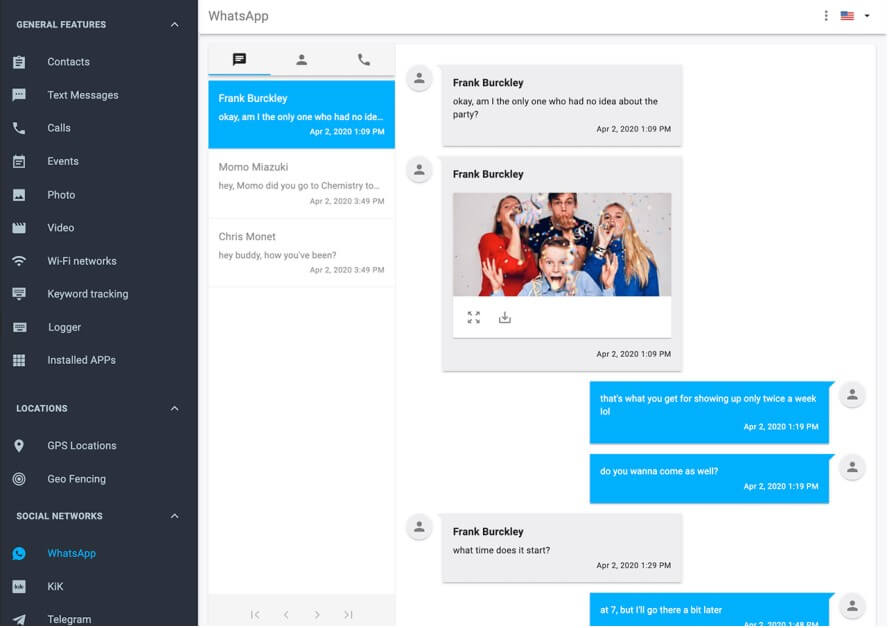 Step 6. Choose a chat on WhatsApp to read the entire message thread.
Part 4. Is mSpy WhatsApp Secure?
This is secure in some degree. However, there are some limitations to using mSpy, such as data loss risks; if the target device is erased, all data stored in mSpy will also be deleted. Additionally, mSpy can be expensive to use; in the future, there is a possibility of a price increase since designers may add new functions or modify the already present functionalities.
Part 5. Is There A Better Alternative to mSpy?
Yes. That's KidsGuard for WhatsApp. You can 100% trust KidsGuard for WhatsApp, one of the most smartest WhatsApp spy apps. This program can help to monitor others' WhatsApp chats, status, photos, videos and other data without rooting or jailbreaking the target device.
Moreover, KidsGuard for WhatsApp is all a great parental app, which allow parents to better protect their kids to communicate with others in a safer environment. Parents can limit the WhatsApp use time, track WhatsApp activities, call history and call recording. The app's combination of powerful yet reasonably priced surveillance tools will make your life as a spy a lot simpler.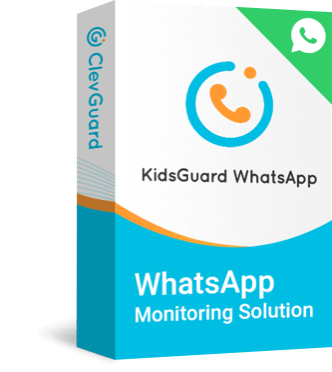 Features of KidsGuard for WhatsApp-- the Best WhatsApp Monitoring Tool
100% Hidden WhatsApp Monitoring Tool: You can spy all the WhatsApp messages on your computer in real time without them knowing.
Check Deleted WhatsApp Chats:: KidsGuard for WhatsApp allows users to check all kinds of WhatsApp data which have been deleted by the target person.
See WhatsApp Status: This tool supports users to see all WhatsApp status whether is private or public.
Capture Screenshorts:  You can cut the screen shorts when WhatsApp is in use without them knowing.
Easy to Use: There is no technical instructions, you can handle this tool simply.
100% Secure: KidsGuard for WhatsApp protect all your phone data from loss.
How to Use KidsGuard for WhatsApp to Monitor Someone's WhatsApp:
Step 1. Click Try it Now button, and log in KidsGuard for WhatsApp. Make an secure payment to get a license of kidsGuard for WhatsApp.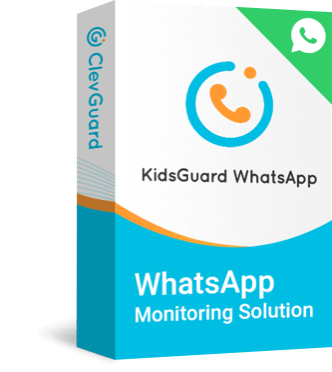 KidsGuard for WhatsApp
The Ultimate WhatsApp Monitoring App for Kids.
Step 2. Install this app from www.installapk.net on the target phone. Then follow instructions to log in the KidsGuard for WhatsApp and finish the setup steps.

Step 3. Then the this app will be hidden to be an icon of WIFI, so that the target persone won't know his/her WhatsApp is monitored.

Step 4. Go back yo KidsGuard for WhatsApp website, connect the target device. Then go to the dashboad. Just click the feature tab on the left menu, you can check all kinds of WhatsApp chats without him/her knowing.

Conclusion

Early detection of the threat is essential for taking corrective action before it's too late. Your friend or family member will never consent to share their WhatsApp communications. When you need information but don't want to invade someone else's privacy, an nice WhatsApp monitor tool can help.

Well, we highly recommend to use an excellent WhatsApp monitoring tool, like KidsGuard for WhatsApp, much better than mSpy WhatsApp. This is a pretty great tool to help you spy others' WhatsApp in real-time without them knowing. Just try it!

KidsGuard Pro for WhatsApp

The Ultimate WhatsApp Monitoring App for Parents