As we all know WhatsApp has published 'Export Chat' feature officially, but many people still search export WhatsApp chat on Google. Based on this information, it is necessary to search for the easiest way to export WhatsApp chat and acknowledge what is export chat on WhatsApp. In this article, we will therefore assume responsibility for explaining everything to you.
Part 1. Export WhatsApp chat on Your Phone
Take your Android phone or iPhone up. There are several ways to export WhatsApp conversations. Here are answers to your question about 'how to export WhatsApp chat on my phone':
Use WhatsApp 'Export Chat' feature
Set up a Backup WhatsApp chat
1.1 Export WhatsApp Chat by App in One Click
Compare to the official WhatsApp 'Export Chat' feature and backup WhatsApp data in Google Drive or iCloud, using KidsGuard for WhatsApp as a tool to export WhatsApp chat is easier and quicker. What's more, this kind of app is set to run in stealth mode so that others will not know when you export WhatsApp chats.
With only a few clicks, you can resolve this problem with KidsGuard for WhatsApp. It is a dedicated program for managing WhatsApp data that enables you to move, back up, recover, and export WhatsApp. It guarantees a 100% success rate and is legal to use.
You can use it to export WhatsApp contacts, call logs, status, and chats within your computer.
It can read WhatsApp messages that have been exported to HTML, PDF, CVS, or XLS formats.
Supports capturing screenshots when WhatsApp is open, in case to miss any important disappearing messages or view once messages.
It may assist you in exporting WhatsApp chats once you have installed it.
Additionally, you may use it to transfer and backup WhatsApp and to recover different backups.
How to export WhatsApp Chats with KidsGuard for WhatsApp?
Step 1. Click the 'Buy Now' button below to activate KidsGuard for WhatsApp of your account. You can also try the free trial demo first.
Step 2. Download KidsGuard for WhatsApp apk files on the target's phone. And don't forget to set it in stealth mode. You can follow the on-screen instruction which appears when you install the app.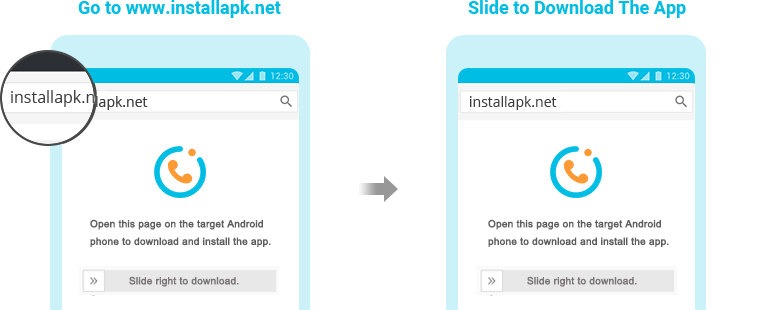 Step 3. Now open KidsGuard's website on your device to view all WhatsApp usage conditions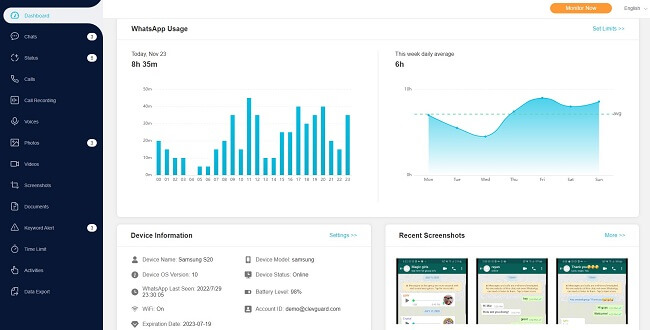 Step 4. View WhatsApp chat by clicking 'Chat' on the right bar.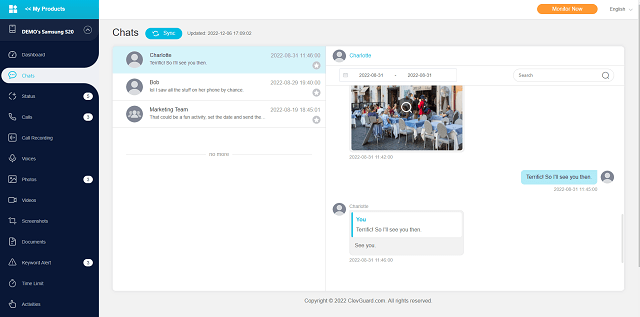 Step 5. Finally, click 'Data export'. You can export WhatsApp chat without the other know.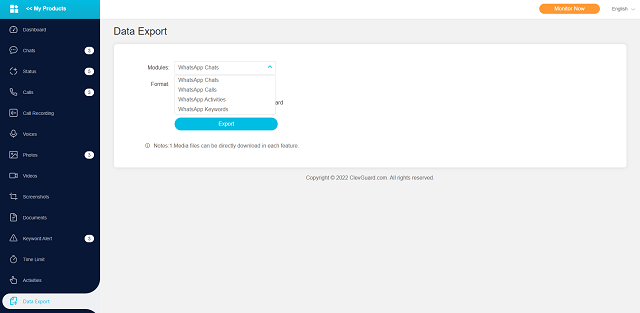 Once installed, there is no need to log in to WhatsApp over and over again. KidsGuard for WhatsApp will let you export and view WhatsApp chats and secure your information privacy. But this only works for Android 6.0- Android 13.0.
1.2 Export WhatsApp by Using WhatsApp 'Export Chat' Feature
Through this WhatsApp 'Export Chat' Function, you can export chats for free. It is the easiest way. But they can only be exported as TXT files or by email.
Step 1. On your phone, launch WhatsApp. The three dots at the top of your screen should be clicked. Then, choosing 'Setting'.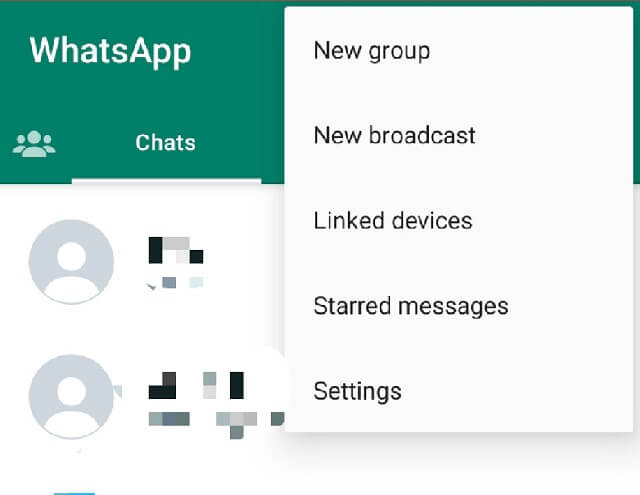 Step 2.After jumping to WhatsApp setting page, click 'Chat'.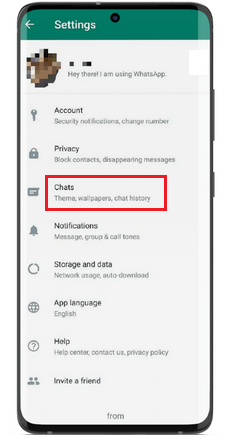 Step 3. Then Click 'Chat history'. There will now be a variety of choices available for exporting the conversations as TXT files.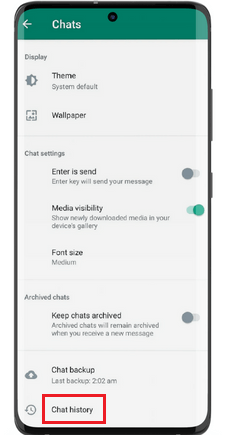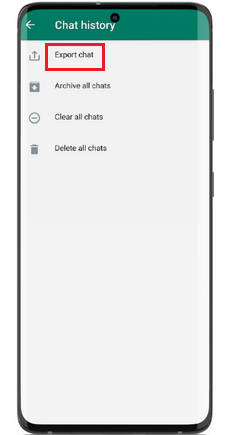 Or you can choose whether you want to attach the media files or not.
1.3 Set up Backup of WhatsApp Chats
Before using iCloud Backup to view WhatsApp messages, a few steps must be taken.
iCloud backup must be linked with the intended device.
All necessary Google Play services must be installed on the target device.
You can export the iCloud backup of WhatsApp by following the methods below.
Step 1. The first step is to touch the iCloud option in the Settings app on your iPhone.
Step 2. After that, click "Back Up Now" to start a fresh iCloud backup.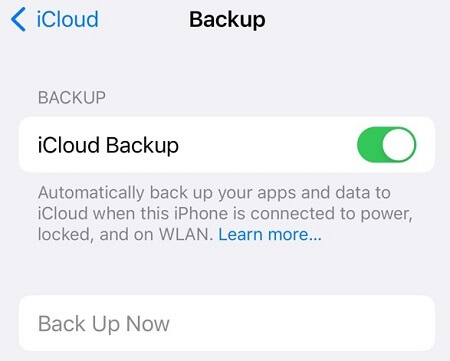 Step 3. You may recover all of your WhatsApp messages by restoring the backup to your smartphone when it has been finished.
Once this is finished, you can view all WhatsApp chats, including messages that you have written and received, on the screen.
Part 2. What does export mean on WhatsApp?
People now need a more dependable way to save crucial chat history. You may accomplish that by using the export chat feature. WhatsApp chat may be exported into various formats and stored on a third-party service like iCloud or Google Drive.
The most powerful way is to use apps like KidsGuard for WhatsApp, which can save and export even disappearing WhatsApp messages or view once messages. But is it safe to export WhatsApp chats?
Your chat history with WhatsApp is immediately saved to the device's memory. It is also replicated on WhatsApp's cloud network, but not in a form that can be viewed at any time. Additionally, several people claim to have completely lost their chat history. However, it might be challenging to confirm the veracity of such assertions.
Nowadays, it's important to exercise some prudence from time to time. Uncertainties can arise if a WhatsApp chat is exported, yes.
Mark Zuckerberg asserts that WhatsApp chats are end-to-end encrypted. In other words, nothing in the chat is accessible to anyone save you and the other person. Once exported, the file must adhere to the platform's privacy policies.
In a words, exporting WhatsApp chats means your chat history will not be protected by WhatsApp's end-to-end encryption system so WhatsApp company will not responsible for any loss on you.
Part 3. Conclusion – The Easy and Safe Way to Export WhatsApp Chat
We hope that this essay has clarified what WhatsApp export conversation means to you. We also go through 3 practical techniques to export WhatsApp chats. Compares to using the official feature, you shall use KidsGuard for WhatsApp to export WhatsApp chat, as this app not only secures your WhatsApp data privacy but also sync WhatsApp data once you install it.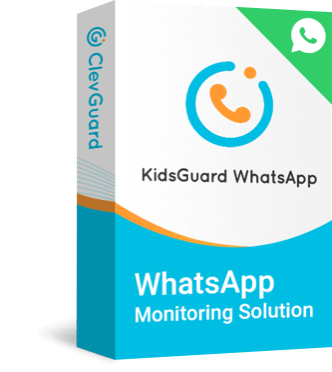 KidsGuard for WhatsApp
The Ultimate WhatsApp Monitoring App for You.