Nowadays people of different fields need to have a proper call record of their phone as they are concerned with several kind of people.
In normal life even if you are engaged in any kind of business and talk to someone and you want that conversation as a proof, you can use a call recorder to record that call and use it when required.
So, everyone today is in search and need of call recorder. In this article we will discuss that how to record a phone call on Android.
How to record a phone call on Android?
Way 1: Use the Phone app to record calls on Android
Can you record a phone call on Android? Definitely yes, you can record the calls by following few requirements and a few steps without even installing any application.
Requirements
To record phone call Android, there are some requirements which must be fulfilled to record calls without any other app. Few of these common requirements are discussed below:
The device must be running Android 9 or above it.
Your phone app must be updated with the latest version.
Must be using official phone app by Google which can be downloaded from Play Store.
How to start recording within a call?
Open your phone app and then hit the 3-dot menu button you will see on the screen.
Go to Settings and select the tab Call Recording. Here you will find a number of options that what kind of calls you want to record e.g. all calls, selected contacts, unknown calls etc. After choosing the suitable option press the Always Record button.
Using Android phone, you can also record a call during call. It's quite simple and easy just make a call or receive incoming call and see the screen.
You will find an option of Record on the mobile screen. Just click on it and the phone will start recording the call and after pressing the Stop recording button the recording will stop.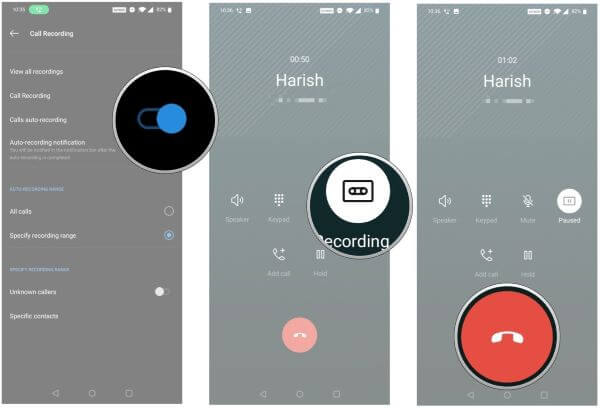 How to listen to your recorded calls?
After recording the phone call either automatically by allowing through settings or during call, you need to listen the calls you have recorded.
The easiest way to find out where your calls are saved is just by opening the phone app. Here you will find the Recent button, click on it.
Here you will find the calls you have recorded. If it's an old call then it may be found under the History.
By clicking on the relevant call, you need to listen, you will see a screen showing a play button and other details of that call like the name or number of the person whose call is being recorded and the time period of that call. Just hit on the Play button to play the recording.
Way 2: Use third-party app to record calls Android
The other way to record phone calls is by using third-party apps which you can easily download from Google Play Store.
There are a number of apps available on Google Play Store, you just have to write call recorder and a large list will appear on the screen and you can select the one you wish to.
Google Voice
Google Voice is also helpful to record phone call on Android. It is a very simple method and just with a single click it can take control of your call. The only problem with it is that it can only record incoming calls.
Step 1.
Simply access your Google Voice account and go to the settings. The methods to open settings is totally different for both the Android app and the website.
Step 2.
Go to calls and turn the toggle on for incoming calls. You need to press the number 4 button to start the recording and to stop again press the same number or just simply drop the call.
Cube Call Recorder
Another easy way is to use the app to record the phone calls on Android named as "Cube Call Recorder".
It is available on Google Play Store and can be downloaded within a minute. It is very easy to install and use.
Step 1.
After downloading Cube call recorder, it will ask for some specific permissions and just click on
allow
to let it access some data and start working.
Step 2.
Then allow permission from phone settings. It also allows you record voice and all the recordings are saved in the application which you can easily access and play. Moreover, it also allows you to record calls on Skype, Viber, WhatsApp etc.
Way 3: Use voice recorder to record calls on Android
Voice Recorder is one of the easiest and the old method to record phone calls on Android. Using third-party apps is sometimes much risky and not safe.
Sometimes your data is being breached by hackers and can lead to loss and leaked privacy. As, it is critical for some people, so to avoid this type of problem they can use the oldest but a secure method to record phone calls.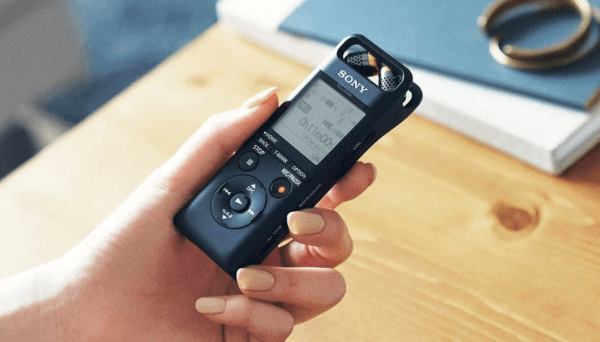 Requirements
Here are some important requirements you will need to use voice recorder to record calls:
The top most requirement to record phone calls is to have a voice recorder device or any other mobile phone having voice recorder.
The device used as a voice recorder must be placed near to the speaker of the phone whose call is being recorded.
The quality of voice recorder must be good, although overall it is not a good method to get the best voice quality.
How to use voice recorder?
Several devices are available in markets as a voice recorder with not so high prices. If you don't even want to spend a single money then you can simply use voice recorder of any mobile phone easily accessible to you.
Just open the voice recorder on one Android phone and make a call from the other one. After dialing the number start recording the voice and make sure the microphone of recording device is close to the speaker of the calling phone.
In this way you can easily get the call recording without using any third-party app.
Bonus: Can You Record Someone's Phone Calls Secretly?
Parents, businessman, couples and all other people sometimes want to record the calls of their concerned person secretly.
So, they just look for the answer to a question that is there any Android app to record phone calls secretly?
Yes, it is possible to record calls on someone's phone secretly with the help of an application named KidsGuard Pro for Android.
Record target user's phone calls with KidsGuard Pro for Android
KidsGuard Pro for Android is also a phone call recording app for Android, you only need to download the application on the target device and secretly listen all the incoming and outgoing calls from the web dashboard control panel.
How to listen to someone's phone calls on KidsGuard Pro's dashboard?
Step 1.
Click Monitor Now button and skip to the website of KidsGuard Pro. Using a valid e-mail address to create your own account.
Step 2.
After registration, log in your account and go to
My Product
page, tap on
Setup Guide
of KidsGuard Pro for Android and follow the instruction to finish download and installation.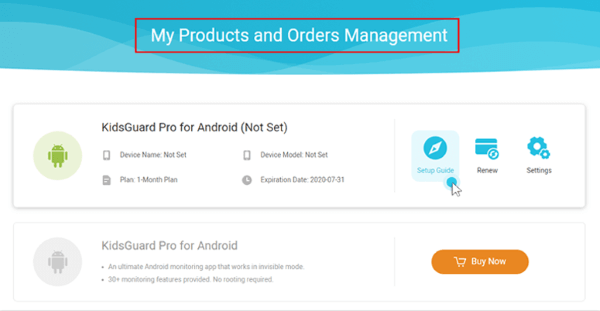 Step 3.
When you finish correct setting, the icon of the app will be hidden in target phone's screen. Now you can easily track each and everything of the target phone in dashboard.
To listen all the incoming and outgoing calls just open the dashboard.
Here on the left side,you will find the option of "Remote Control".
Clicking on that button a list will appear and you will find the option "record calls". Just click on it and a screen will open.
Here you can see the record of all the calls including the contact names, phone numbers, call type, call time and duration. You can play and download the call also.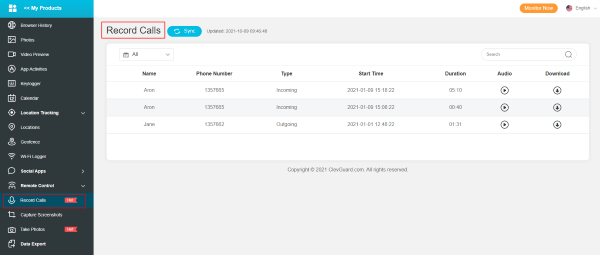 Conclusion
From all the above discussion, it is very clear that how to record a phone call on Android. There are several methods available to record a phone call.
Latest Android phones are already having their own call recorder app. In those Android phones which lack this feature, user can use third party apps available on Google Play Store.
Some people having security issue in using third-party apps may even use a voice recorder but it's not possible with the same phone. However, there are several apps such as KidsGuard Pro which allows you to track other's phone calls.