We are always concerned about our family members, especially the little ones. The well-being of our kids is our first priority. You may be able to know where they are from their friends, teachers or even by calling them but with a GPS Tracker for Kids, you will get to know the location beforehand to prevent any situation or danger.
Almost every day we read something bad on the news, kids are disappearing, kids are abducted and frankly, we are doing nothing. Their safety is of utmost importance, so, if a tracking app is installed on their smartphones or if you buy them a good GPS tracking device, you will be able to keep track of their movements, all the time. Some of the best GPS tracking apps and devices are listed below.
Part 1: Top 5 GPS Tracking Apps for Kids
These days the tracker apps are more suitable for kids, as everyone owns a smartphone and it will be easier to install the app there and turn the smartphone into a tracking device. You also don't have to spend any money on additional gadgets, they are very expensive. Here we have listed 5 best GPS tracking apps for mobile phones.
Hands down, KidsGuard is the best kid tracker app you will ever use. It has a very simple but effective interface. The installation is very easy and once it is done, you will be able to track your kid's location very easily. You will also be able to perform other stuff like; data managing, monitoring etc. In terms of tracking your kid; you have GPS tracking available and Wi-Fi logger tracking is also available. Some of its features are listed below;
Real-time location tracking by GPS and Wi-Fi logger.

You can get a detailed report on your kid's smartphone usage from the dashboard.

Monitor all apps, messages, contacts, call logs, photos and more.

Easy installation and the interface is very user-friendly.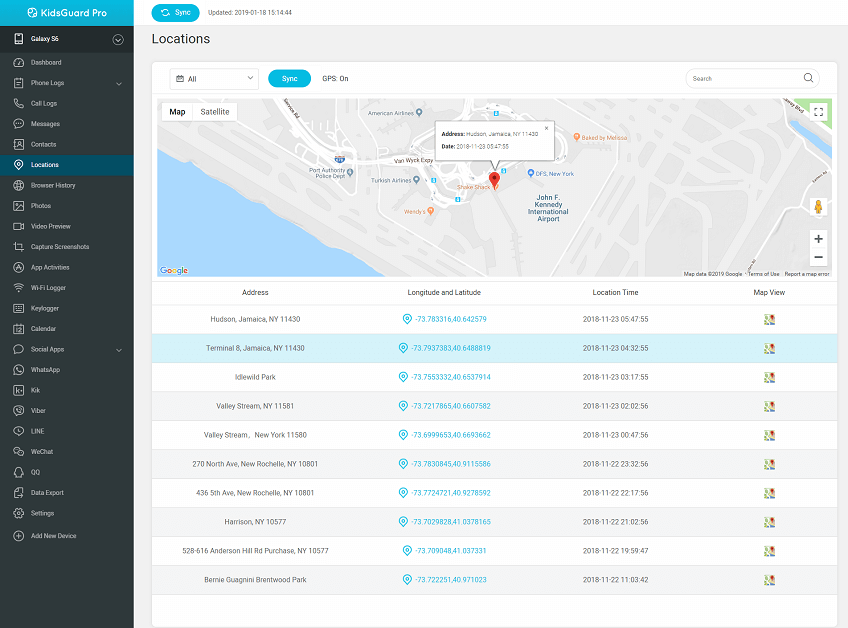 Pros
The app is very user-friendly and easy to operate.

After the app is launched, the icon gets hidden and works for the background of the device.

From the Dashboard, you will be able to control every aspect of your kid's smartphone usage.
Cons
No alert function available.
Price
Of course you will have a 3 day trial period at the beginning. Then you have to select a plan. You have to pay $29.95 for one month and for a yearly plan it is $99.95 which will be cheaper at $8.32 per month only.
2. Spyzie
Spyzie is also one of the efficient and effective kid tracker apps available on the internet. Once you install this app on your kid's smartphone, you will be able to track their location in real time. You will also have access toanother type of data like photos, messages etc. Some of its features are listed below;
Real-time location of your kid's device.

You will be able to visit the dashboard from any device of your choice and get the information.

You will also have access to Call History, Browsing Data, Notes, Messages and more.

The interface is very simple and the dashboard is user-friendly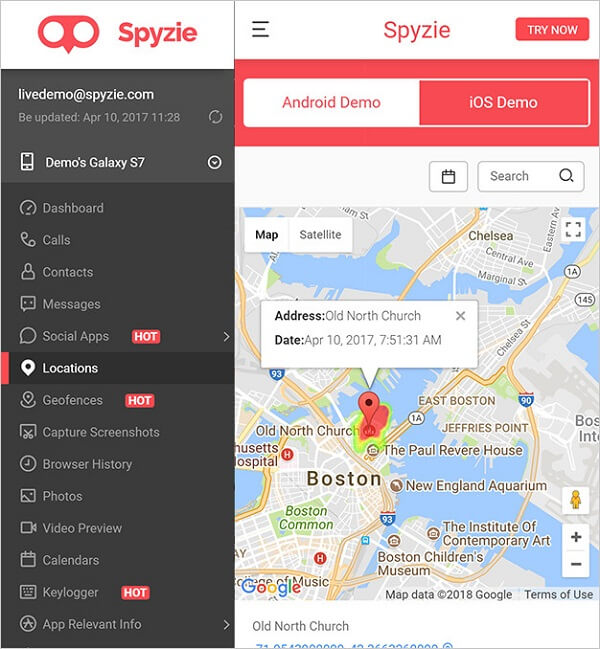 Pros
Easy to use

Real time location monitoring
Cons
This app is not available for Windows
Price
There is no free trial. The Premium version is available for $29.99 and the Ultimate Edition for $ 39.99 per month.
3. Norton Family Premium
Everybody knows about Norton, it is a pretty famous Web Security Application but it also has a tracker app called Norton Family premium. It is a decent app; you will be able to track your kid's device from the provided interface. It comes with parental control features too, you can limit the time your kids spend on the internet, remotely.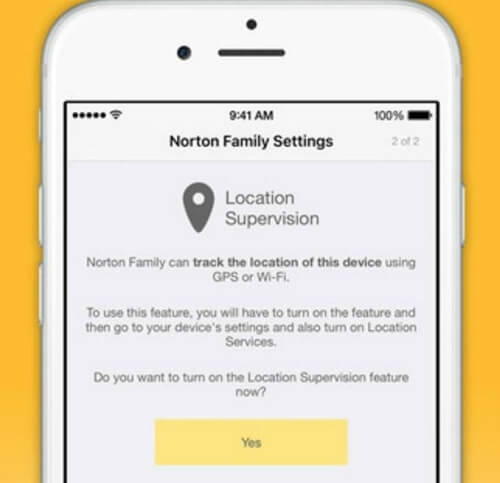 Pros
You will have access to your kid's locations.

The web filter feature will help you to stop your kid from accessing indecent content and other stuff.

You will be able to limit their access to the internet and get a proper preview of their usage data from the interface.

A 30 day trial period is also available.
Cons
Mostly focused on internet. It will not provide you any support to view or filter the content or the message on your kid's device.

This app does not support the real time location tracking. So, you will only be able to view where your kid has been.
Price
There are two types of subscription available. It is $18 per year for 1 device and the plans can go upto $42 for covering 10 devices.
4. ESET Parental Control
This child GPS tracker comes with a lot of features to control your kid's online activity. Aside from tracking your kids in real time, ESET Parental Control app also comes with parental control that will manage their online usage and filter any inappropriate content.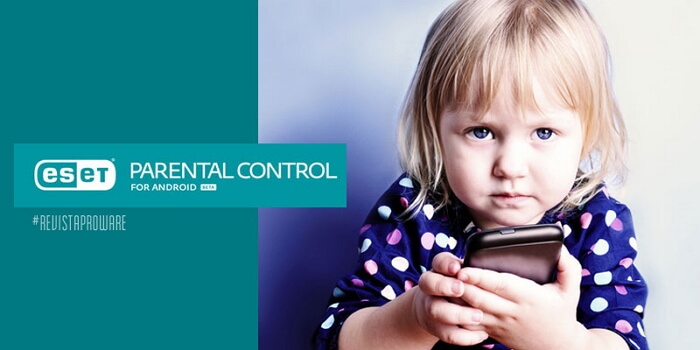 Pros
Provides a real-time location of your kid's device.

Using the web filtering feature, you will be able to block any type of content you want.

You can also control your kid's smartphone usage.
Cons
The details on location history are very limited.

It only works with Android devices.

The free version of the app does not support the child tracker feature, you will find it only on the Premium version.
Price
The premium version of the app starts from $29.99 every year for a single device you monitor.
5. FamiSafe Kid Tracker
Another, very capable children tracker! As the name suggests, it will track your kid and you will have constant supervision. The app supports both Android and iOS devices. Basically, this app turns the smartphones into a capable tracker devices.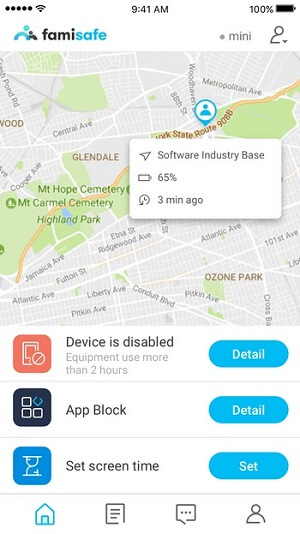 Pros
It is easy to use.

You won't have to reboot or jailbreak the target the device to install it.

Remote location tracker is available.
Cons
The free version comes with very limited tracking features.

The location info update is not so timely.
Price
A 3-day free trial is available. It has several plans, the popular one is $59.99 for a year.
All of these tracking apps are great and effective but the best out of all of them is KidsGuard. As you can see, it has excellent features, meets all the requirements and the price is moderate.
Part 2: Top 5 Tracking Devices for Kids
Without a doubt, you will get a lot of facilities from the tracking apps but there are certain features that are only available with the tracking devices. These devices are specifically designed for tracking; you will get options like real-time GPS tracking and SOS alerts etc. A lot of different tracking devices are available but GPS tracking bracelet or watch will be best fitted for kids. So, some of the best GPS tracking devices are detailed below.
1. Wonbo GPS Tracker Watch
Wonbo GPS Tracker Watch is one of the best GPS tracker devices for kids available at a reasonable price. The model you would be buying is called Wonbo Q50. The watch is fashionable and your kid will look good wearing it. It also has an emergency call function for any unexpected situations.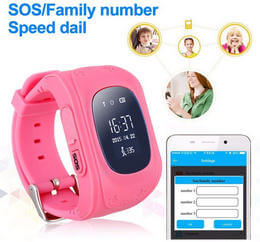 Features
Very high-quality device.

A kid-friendly device, anyone can use it.

It has a location tracker; it sends an alert via SMS or an app.

Remote voice control is also available.
Pros
It has an emergency call button.

The battery backup is very reliable.
Cons
It's a modern watch but only supports 2G network.
2. WJPILIS Touch Screen Bluetooth Smartwatch Phone
This is also a very fashionable tracking watch for your child. So, you don't have to worry about your kid anymore, as long as they are wearing this watch you will be able to know their location all the time. The watch uses a specific algorithm to send the real-time location of your kid.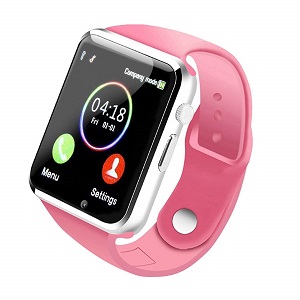 Features
It is an activity tracker; it will monitor sleep, works as a pedometer, record sound etc.

Two-way communication is available if you are using an Android device.

Also compatible with iOS.
Pros
It is a wearable tracking device that helps you to locate your kid.

You will be able to listen through the device as well.
Cons
The battery life is not that good.
3. LG GizmoPal 2
LG GizmoPal 2 is the most amazing kid tracker. It comes with a two-way calling feature. The build quality is really good. It looks funky and the colours pop out as well! You kid will surely like it. Other than that, it has superior tracking capability and perfect for the job!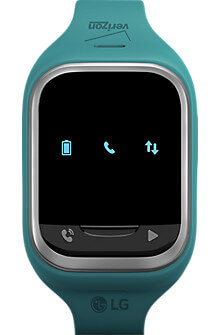 Features
Several ringtones, sounds and voice prompts are available.

It has a simple but effective calling feature.

Provides location updates all day.

It also supports Geo-fencing.
Pros
It is an affordable device.The monthly subscription is also available.

Two-way calling feature is available.

Good battery life.

Very comfortable on the wrist.
Cons
The automatic location update is not available.

No SOS alert.
4. Verizon GizmoWatch
You have to do all you can to protect the little ones! The solution may be a bit expensive but their lives are more important. So, to keep track of them, buy them a Verizon GizmoWatch. It will be on their wrist all the time and you will be able to keep track everywhere.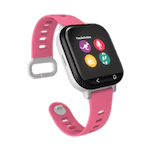 Features
It is also an activity tracker.

Two-way communication is also available.

Very fashionable, kids like it.

It providesaprecise location of your kid.
Pros
Affordable tracker device.

Two-way communication is very effective.

You can set GPS boundaries, if your kid goes outside of that, you will receive an alert.
Cons
Comes with a 2-year contract attached to it as it runs on Verizon network.
5. AmmbyGear Smartwatch
This is another great addition to the tracking devices list. It is overall a good device with potent tracking capabilities. It looks and feels nice too!

Features
The activity is good and fun for kids.

It also has a Calendar app.

It comes with learning activities.
Pros
The Reward system is fun for kids.

There are also other learning activities in the watch.
Cons
The watch is filled with fun stuff, and it kind of loses its priorities.
Conclusion
These days a tracking device is needed, the outside world is just too unsafe for the child. So, you can choose anyone from the list. But if you need a good tracking app with lots of features, there is nothing better than the KidsGuard Pro app, it's excellent. Go for the free trial now!