What is Phone Hacking? Any action or activity that leads to force access or unauthenticated access to your phone without your permission or without your knowledge will be considered phone hacking.
Phone hacking is a dangerous thing that can badly affect your identity and privacy even without you knowing.
Hacking techniques and methods are continuously developed by hackers and fraudsters because cybersecurity experts are always looking for ways on how to get rid of a hacker on your phone.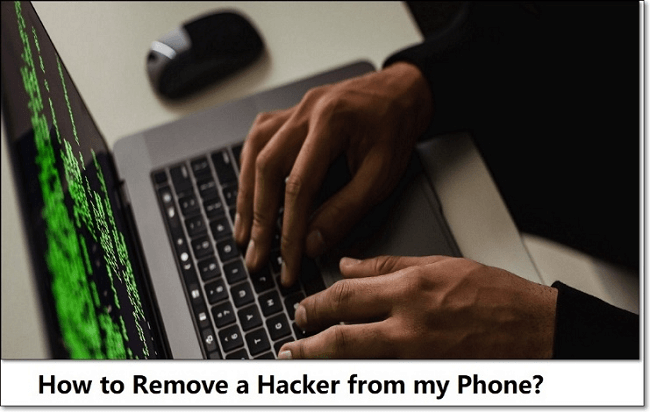 If you are looking for ways how to remove hacker from phone and make your phone impossible to track, then read this complete guideline.
Signs for Your Phone is Being Hacked
Charges losses quickly
Malicious and hacking apps often use codes and services that run in the background even if your phone's screen is off and this results in draining the battery power of your phone.
Phone runs abnormally slowly
A hacked phone allows malicious apps to use all the resources such as RAM and internet traffic. This can result in getting your phone slowed down. Even sometimes it requires restarting your phone to use it again.
Strange activity on your other online accounts
A hacker or any other person who's having illegal access to your phone possesses negative things and bad intentions. You can easily realize if your phone is hacked if you are receiving unlimited password reset requests on your email or if you see anything posted on your social media that wasn't done by you.
Something you don't recognize on your phone
Hackers may install apps you don't know about their functionality and what they are doing on your phone. Sometimes these apps are hidden from the main screen but you will be able to see them in the installed app's settings.
Related Read: How to trace a phone hacker?
Useful Method to Remove Phone Hacker from Your Android Phone
Now, you can detect whether your phone is hacked or not. But how to remove hacker from your phone? If it's hacked. In this part, you will learn 3 ways on how to remove a hacker from android. Let's start with the first method.
Method 1: Use ClevGuard to Check your Phone
The best and reliable method to remove hacker from your phone is using ClevGuard anti-spyware. If you don't know about ClevGuard, here is a short introduction to it.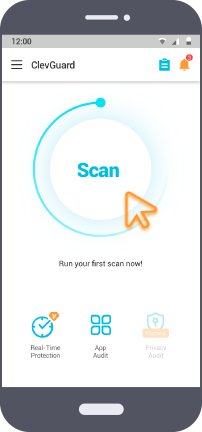 ClevGuard has spyware and file scanning features that can detect apps which are a threat to your privacy and data security. It can detect the risk level such as if the app is doing something that's hitting your phone's security it will start showing warnings.
With the help of this Anti-spy app you can view the permission and access privileges of all the system applications and third-party applications as well.
If anything happens, you will be immediately notified. You can also set automatic scans for each day and you phone will be scanned automatically on your specified time. This can help a lot to remove hacker from your phone in case if it was hacked.
It's very easy to use and it almost supports all the latest android versions as well. In any case, if you ever want to check your phone you can use ClevGuard to make sure your privacy isn't at risk.
NOTE: How to Set up ClevGuard Anti-spyware on your Androird phone?
Click "Get it on Googel Play" button as below to finish download and installation. After complete setting,you can tap on "Scan" button to begin scaning spyware.Within few minitues,ClevGuard will show you the scaning results.
Method 2: Restoring your Android phone to its factory settings
If you want to know how to get rid of a hacker on your phone, this method can help you as well. If you are sure that someone entered into your phone illegally and they have access to the data stored on your phone, you can get rid of them by restoring your android phone to its factory settings. Here are the steps on how to do it.
Open Setting on your phone.
Go to Additional settings and scroll down at the end you will see the Backup and reset option tap it.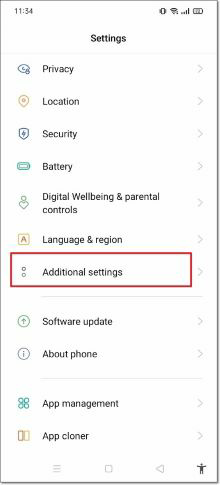 Now tap no Erase all data (factory reset) and further again tap on Erase all data.
It will ask you to enter a security pin and all the data will be removed from your phone.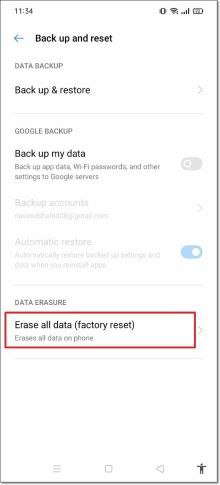 Method 3: Delete suspicious apps
If you want to know how to remove a hacker from your phone quickly without erasing all your data, then that's an easy and reliable solution. In this method, you have to detect the suspicious app that causing trouble with the security of your phone. After finding that app you have to remove it from your phone if it's not getting uninstalled.
you can use an option that's force uninstalls the app. Even if it doesn't work, you can simply remove all the setting files and folders from your phone's memory that are linked with a suspicious app.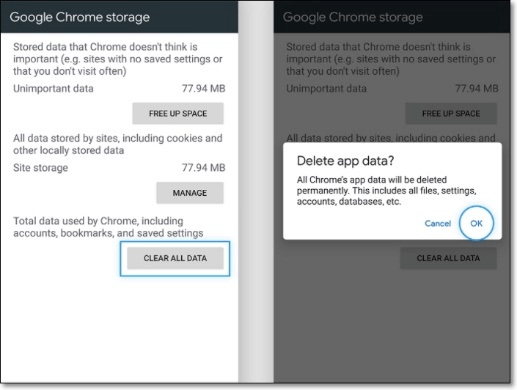 Tips for Protecting Your Phone From Being Hacked
Data is an important and valuable asset and no one can risk their data. Data stored on devices can only be secured by practicing security protocols. Here, you will get to know some of the tips that you can use to maximize the privacy and security of your data.
Turn Off Bluetooth When Not in Use
Never connect your device with open and unsecured Bluetooth networks. If you keep your Bluetooth turned on hackers can see the list of networks, you were connected to before and they can spoil them. Never leave your Bluetooth turned on after using.
Keep your phone with you
Always keep your phone along with you while you are sitting in a café, office, or in a classroom. Because anyone can reach your phone easily if you are not around it.
Clear your internet history frequently
Always clear your browsing history as this will not let the hacker get access to the websites you frequently visit such as your online banking websites, social media profiles, and another website that may contain your personal information.
Use Official Apps Only
Always use official releases of applications as some people don't want to pay for the app and they prefer to use cracked and pirated versions of the app that is available on untrusted websites and app stores. These pirated versions of apps usually contain malicious codes that steal your data and personal information and even they can get access to your phone completely. So, you should always use official apps only.
Final Words
Hacking is a serious thing and it can badly affect a user both socially and financially. It's recommended to keep your phone safe and never install any apps that are not trusted nor visit websites that contain malicious ads and programs. If you want to know about your phone's hacking status, you can use ClevGuard.