New messaging applications have made communication easy and faster, but there is always a doubt about using new technology for communication.
Privacy in digital life is as important as it is crucial in physical life. Different messaging apps have made a question mark for messaging app security.
In this article, we will talk about different messaging apps' security and see how these applications help to protect our data from any other person.
Part 1. Top 5 Secure Messaging Apps
1. Threema
Threema is the safest chat app that allows data to share between only two parties with end-to-end encryption. You can use this app on any device as it does not need your sim card number to log in.
Not only messaging this app allows you to share pictures and have also audio and video call options with no compromise on privacy.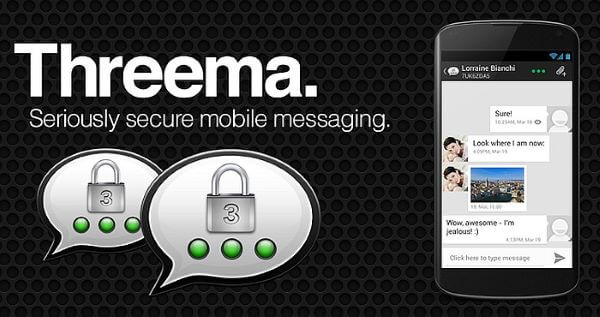 Cost
To keep chats safe and free from other interference Threema app charges $2.99 for this.
For secure messaging, this is not a big amount, and people with more crucial information prefer to use the Threema app for secure messaging.
Security features
Threema does not only have end-to-end encryption, but data shared and received from the threema network is AES-256 encrypted, which means additional security.
This app is different from other messaging apps as it stores data, contacts in a decentralized way.
Security risks
Two-factor authentication (2FA) is important and adds some extra security to privacy.
With 2FA you will be provided with 6 digital codes by application for every time you log in. With so many features this 2FA is unavailable for the threema app.
2. Apple iMessages
Apple iMessages is an application for apple phone users to add some extra security and protect their data from hacking.
This message application is not only for messaging but you can send and receives SM, MMS, and also share your location as well as different videos. One can easily use this application on different devices with the same email and phone number.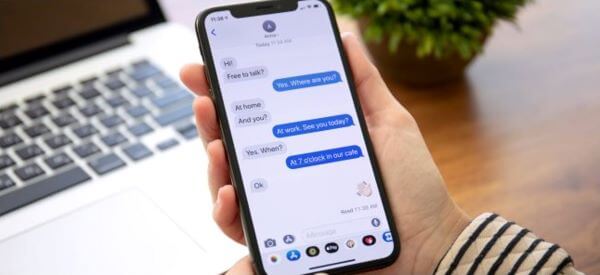 Cost
Apple iMessages can be used over Wi-Fi and mobile data. Its usage is free if you use it on Wi-Fi, but on a mobile phone or cellular data, one will be charged according to the data plan.
Messaging is free for most data plans but for other services, one will be charged by 10 pesos for this secure messaging.
Security features
For security reasons, apple iMessages are with face time conversations and end-to-end encryption that does not allow the access of your data to anyone without your passcode.
You can easily select automatically delete data after thirty days to avoid interference in security.
Security risks
Apple iMessages has a security risk but it can be disabled.
If you are unable to send iMessages to a user then your message will be delivered through SMS, without encryption. This can be a security risk for some users.
3. Viber
Viber is the most secure messaging app with the same features as other messaging apps have with some additional security.
You can use Viber for different purposes in terms of sharing videos with messages as well. This app does not need a name and password, your mobile number is enough for making you a Viber user.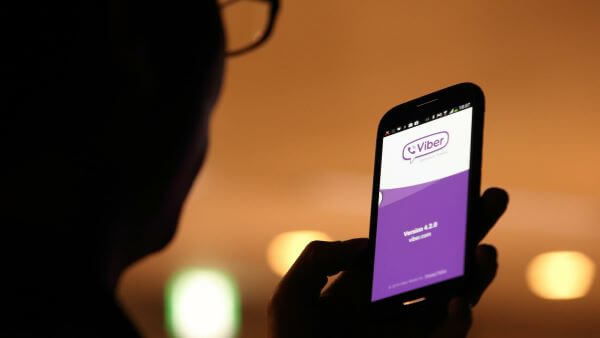 Cost
Viber does not charge any money for installation like other apps, but you can buy a different cellular data plan.
One has to pay $5.99 per month that allows a Viber user to make Viber call to people who are not Viber users.
Security features
This application is best for Android secure texting with end-to-end encryption that denies access of a third person to your personal space.
Disappearing of message feature is also present that add some extra security in making secure messaging.
Security risks
Sending private images and videos have some security risk and can be accessed by other user or hackers because these are sent without end-to-end encryption.
4. Signal private messenger
Signal private messenger can be the best secure text message app for Android for people who have security and privacy issue.
This application allows you to send messages and videos with many other features that are unavailable in other messaging apps. New features are always been adding from time to time for better and convenient communication.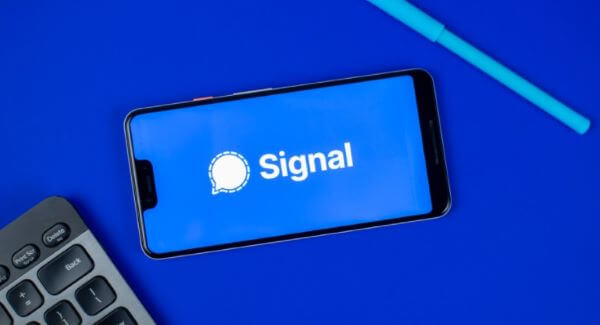 Cost
This application is free for everyone and can be used by Android as well as iPhone users with no extra money.
One can easily install this from the app store, but data will be charged as in other messaging applications.
Security features
As far as security is concerned for signal messenger, this application has end-to-end encryption and one-time view data.
Once your message or video is viewed by the receiver it will automatically disappear from his device. Not only are messages sent but data stored in signal app messenger is encrypted.
Security risks
Sending an encrypted message is important for secure messaging, but security risk arises when your message is received by the person who is not using the encrypted application for safer messaging.
5. Wickr Me
Wicker me can be the safest chat app with free installation and no ads for convenient and easy messaging. Messaging appears the same in wicker as in other messaging apps.
But with time one discovers different features like encrypted videos and audio sharing. The best feature of this application is the quick response that you can make to save time.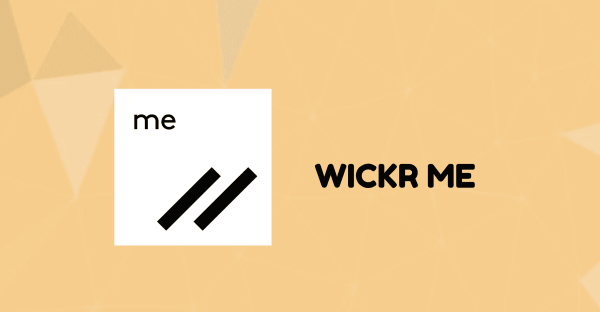 Cost
Wickr Me does not charge any installation price. This application can be installed by the play store, and now this is also owned by Amazon.
Security features
Wicker Me has made communication easy and secure messaging accessible at the same time. There is an expiry time of every message, after this time message is automatically deleted from both sender and receiver account.
For extra security, your data is also encrypted and is available only for a limited time.
Security risks
Wicker me have stood out in terms of security but criticism is there for keeping its code close source. This has been resolved after publishing its cryptographic protocol.
Related Read: Stop Someone from Reading Your Text Messages on Android
Part 2. How to Protect Your Text Messages Security?
Protect your phone from spyware with ClevGuard
In order to make your messages stay safe, avoiding attacking by spyware is an important step. ClevGuard is an app to protect your device free from spy. This also helps you to get notified when some unusual activity happens with your account.
ClevGuard has following features for secure messaging:
Your microphone and camera are protected by notifying you when someone tried to use them without your consent.
Detect and notify insecure applications in your device.
Scan within minutes and provide real-time protection.
Usage of ClevGuard is easy, and consists of the following simple steps:
Step 1. Download install ClevGuard by click Get it on Google Play button below.
Step 2. Opening ClevGuard and click on the Scan button to detect whether there is spyware on your device. After this step you can know if someone install spyware on your phone to view your text messages.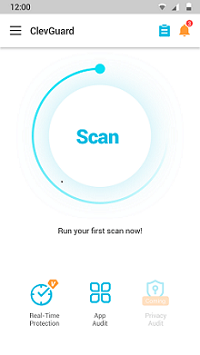 Step 3. After few seconds you can view the scan results. Then you can click Resolve All to remove spyware.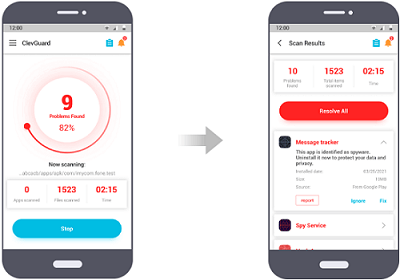 Be cautious while clicking links on chatting
To protect yourself from viruses or any scam never click on the link from a person that is unknown to you. This will affect the efficiency of your device, or in some cases.
There can be a question mark on the security of your data. If you want to check the legitimacy of the link, type by yourself on your browser.
Stop using public Wi-Fi
Hackers can easily hack public Wi-Fi and if you are using such Wi-Fi on your device your data, information and pictures are in danger.
Not only your data is at risk of getting hacked, but your device may also face serious problems like viruses and ads. For secure messaging always use an encrypted network connection or for more security use your cellular data.
Avoid sending personal information through messaging apps
To protect your privacy from the access of any person always send private information only through end-to-end encryption.
If you send your information without encryption, it can be read by any other person. Make sure you and the receiver both have encrypted applications to keep your personal information private.
Part 3. People Also Ask about Secure Messaging Apps
1. What makes a messaging app secure?
Multi-mode messaging End-to-end encryption is the feature that will keep your information and personal data private and secure.
An application with video, audio, and message encryption makes that app secure. But someone still can install spyware on your phone to see your messages, you can use ClevGuard to check whether there is spyware on your device.
2. What are the best encrypted messaging apps?
Wicker Me, Viber, Threema are some applications with end-to-end encryption. These applications keep data safe by blocking the access of the third party to your message or any other information.
3. What should I look for in secure features?
Always use your application with two factor-authentications. Use passcode and unique password for login. Share your private messages only through secure messaging apps.
Part 4. Conclusion
In the online world, there are hundreds of breaking news that are about data theft and security breakdown by hackers.
So, we have to be more secure while using an application for secure messaging. Therefore, you have to choose most secure messaging app for communication with your business partners as well as friends.
However, choose a professional anti-spyware can also decrease security risk, ClevGuard is the best choice for you.