Question:
Is WhatsApp safe to use?
With the increasing recent reports of sensitive information falling prey to hackers, there are growing privacy concerns of online users.
For example, WhatsApp users have expressed concerns about the app's security. WhatsApp boldly claims on its website that its app comes with end-to-end encryption regardless of the platform you use.
Yet, despite this reassurance to its users, many users still question about is WhatsApp safe. If you want to find out the answer as well as the best way to protect your privacy, just keep reading.
Part 1: Is WhatsApp Safe?
WhatsApp is arguably the world's most popular messaging platform, thanks to over 1 billion users, exchanging over 65 billion daily messages. However, with the increasing reports of malware and spam attacks, more and more users have doubts about WhatsApp security.
Therefore, is using WhatsApp safe? Let's find the answer below: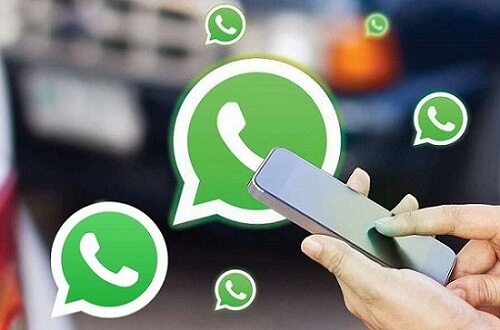 1. WhatsApp Expose You to Malware
Due of its large user base and vulnerability, cybercriminals see WhatsApp as an easy target. In some circumstances, hackers were able to install WhatsApp malware/spyware on your device.
Moreover, some phishing websites might trick you into providing your personal information. If your personal information is accessed by the cybercriminals, this is totally a disaster.
2. End-to-End Encryption Does Not Apply to Your Data Backups
The asking of is using WhatsApp safe is unclear on the protection of their backups. As it stands, end-to-end encryption only applies to the transfer of messages between users. Once you receive the message, it is available to all in its unencrypted state.
Therefore, WhatsApp's limitation of backup location means your data's safety depends on the provider's cloud security tools.
3. Your WhatsApp Data is Sharing with Others
In February 2014, WhatsApp was acquired by Facebook. In 2016, WhatsApp Privacy Policy update fuels public outrage.
However, Facebook announced a new data sharing policy for WhatsApp in January 2021, requiring the exchange of users' data between the messaging service and the social network.
Therefore, is your data can be really protected in the data sharing?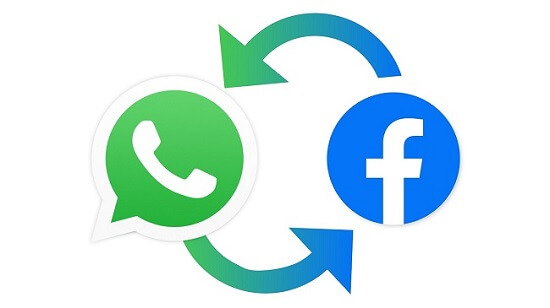 4. WhatsApp Status
WhatsApp Status allows you to broadcast your current situation to other users. Unfortunately, in its default settings, your WhatsApp status is visible to all your in-app contacts.
So, hackers can make your way to your contacts and access the information you share through the feature. For example, there are multiple reports of cyberstalking and bullying from the app's users.
5. The Fake News You Received from WhatsApp
Finally, the questioning is using WhatsApp safe is unsure of the legitimacy of the information they can access. Recently, Facebook is under fire for its negligence to users spreading hoaxes and fake news across WhatsApp.
For example, most public condemns the company for its facilitation of misinformation during the 2018 election campaigns in Brazil and the 2020 U.S. Presidential Elections.
Part 2: What Should I Do to Keep My WhatsApp Safe?
The above only raise your doubts on is WhatsApp safe? However, ClevGuard presents you with an easy solution to keep your WhatsApp safe. If you are not using ClevGuard, here is what you are missing.
1. ClevGuard – Best Choice to Protect Your WhatsApp Privacy
ClevGuard is your final answer to how safe is WhatsApp. It offers you holistic data security on your handheld device. For example, ClevGuard provides you an extra security layer to your WhatsApp, making it near inaccessible to criminals.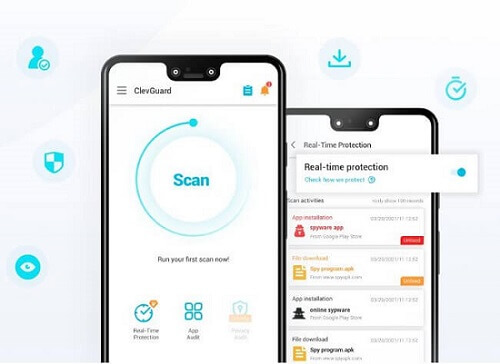 How Can ClevGuard Protect Your WhatsApp?
If you are still wondering about WhatsApp security, exploring ClevGuard advanced features should be enough to convince you.
Check and Remove Spyware Completely

ClevGuard can check all your phone files to see if there is any spyware on your phone in a short time.

If WhatsApp or spyware is taking your privacy data, ClevGuard will report it to you. Moreover, you can permanently remove these threats on your phone to protect your WhatsApp and phone privacy.

Real-Time Phone Protection

ClevGuard ensures you never worry is WhatsApp safe or not. It comes with a real-time spyware detector that scans all data you access with your device.

For example, the tool scan and monitors all your WhatsApp files continuously. If there is any threat to your WhatsApp and other phone data, ClevGuard will inform you immediately, and then you can take action to protect your privacy in time.

Phone Microphone and Camera Protection

WhatsApp Video uses your phone microphone and camera to send live messages to your contacts. But, the feature also increases your vulnerability to hackers. Typically, they use malicious software to control your device's hardware.

Fortunately, ClevGuard audits your device's apps, including their access permissions. Then, you will receive alerts every time once there is app which is listening to you and taking pictures of your phone.

Check Email Breach

You can now access your work and personal email through your device. Unfortunately, this functionality increases your vulnerability to cybercriminals. They use fake emails to breach your email and use the access to engage in their illegal activities.

To protect your email, you can use the email breach checking funtion of ClevGuard to check if your email leaked.

Junk Files Clear

Finally, it is common for you to receive duplicate files from your WhatsApp contacts. However, as these files pile up, your device's performance begins to decline. For example, WhatsApp is noticeably sluggish on smartphones with low storage capacity.

ClevGuard has a one-click junk files clear function to recover your device's storage capacity and speed up your phone.
How to Safeguard Your WhatsApp With ClevGuard?
The above features evidence ClevGuard's effectiveness to ensure how secure is WhatsApp. Therefore, follow these steps to protect your WhatsApp data.
Step 1. Install ClevGuard on Your Phone
First, tap on the "Google Play" button below to download and install ClevGuard on your phone.
Step 2. Scan Your Phone With ClevGuard
Then, launch the app and click the "Scan" button on the home screen and wait for the scanning procedure to complete. The scanning period depends on your phone's internal capacity, but it usually finishes in a few seconds.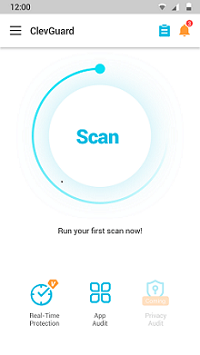 Step 3. Start Protecting WhatsApp with ClevGuard
ClevGuard will provide a report of your phone after the scanning is completed. You can use it to see if your WhatsApp and phone are under attack. If yes, you can use the "Fix All" option to completely eliminate the dangers on your phone.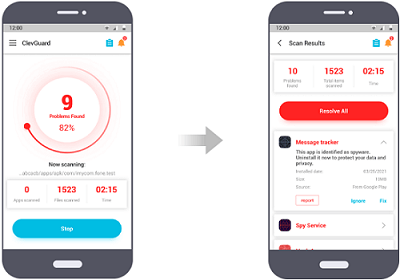 2. Other Tips to Make WhatsApp More Private
Maybe you still want to explore other options before deciding on ClevGuard. Here are other tips to make your WhatsApp more private. However, if you want to 100% ensure your WhatsApp privacy, we highly recommend ClevGuard.
Tip 1: Verify Your Message's Encryption
Proceed to your active chat window and click the contact's name.
Then, press the Encryption tab to expose your chat's 40-digit security code and QR.
Finally, verify if the codes match by asking your contact to scan the QR code. The chat will activate if the codes match.
Tip 2: Enable Your Security Notifications
Alternatively, you can configure your WhatsApp to issue you security notifications whenever there are attempts to access your chats illegally.
Launch your WhatsApp and proceed to the Settings menu.
Then, under Account, select Security and activate the Show Security Notifications option.
Tip 3: Activate the Two-Step Verification Feature
Under the Account menu, you will find the Two-Step Verification option.
Then, toggle the switch to enable the feature and follow the on-screen prompts.
Now, anyone attempting to access your WhatsApp data will require a six-digit PIN code to authorize the action.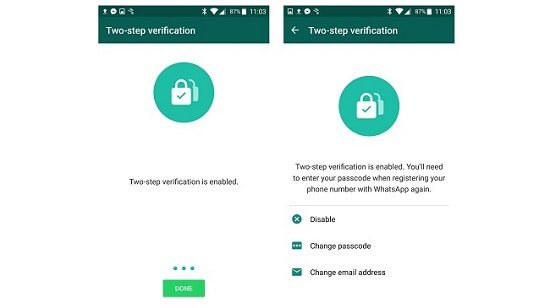 Tip 4: Deactivate Data Back-Ups on the Cloud
Data Back-Ups are essential to the continuity of your device's operations. Similarly, WhatsApp allows you to back up your data to your platform's cloud storage. Unfortunately, the current security measures on iOS and Android are inadequate against evolving hacker methods.
Therefore, disabling cloud backups is the only way to ensure total data security. Do this by accessing your WhatsApp Chat Backup menu and turn off the backup feature.
Tip 5: Familiarize Yourself with Common Scams
Hackers often send fraudulent messages prompting users to share sensitive information or illegally access your device.
For example, a common scam involves a message asking users to renew their subscription by paying a one-time fee and verifying their information on a phishing website. Therefore, be aware of the common scams and avoid clicking unknown links.
FAQs about WhatsApp Security
1. Can Anyone Read My WhatsApp Messages?
Yes. Message access is available to everyone who has your device's passwords. If your WhatsApp is hacked, the hacker can read your WhatsApp messages as well.
2. Is WhatsApp Safe to Send Pictures?
No. End-to-end encryption only applies to the messages on the platform. Any data the app stores on your device is at risk by hackers.
3. How Do I Know My WhatsApp is Hacked?
Are you suddenly getting angry calls from your WhatsApp contacts? If so, you are a WhatsApp Hack victim. Typically, hackers gain access by flooding official app stores with their compromised programs.
Therefore, always download official WhatsApp clients from relevant and secure sources.
Additionally, apps like ClevGuard continually monitor your web activity and alert you of any suspicious software attempting to install on your device.
4. Should I be Worried about WhatsApp?
Yes. Although the developers of WhatsApp continue to introduce new features and amend their Privacy Policy with each new update. However, there still are the risks that WhatsApp is being hacked.
Therefore, you should pay attention to your WhatsApp privacy from time to time.
5. Can I Permanently Delete WhatsApp Messages?
No. WhatsApp retains a data log of all your chats regardless of whether you delete in-app messages or uninstall the app.
Therefore, data miners can still access your personal information, provided they can breach your device. Additionally, the inadequate security tools that cloud storage uses only compound the problem.
Conclusion
So, is WhatsApp safe to use? Given all the vulnerabilities above, we believe that you have already had your own answer. However, protecting your personal information is more vital. How Safeguard your privacy with the third-party tools like ClevGuard. Protect your privacy immediately by downloading ClevGuard!