Before We Start
Do you know that there are several third-party keyboard and emoji-creating apps that secretly record all your keystrokes?
Are you aware that they sent the recorded keystrokes to the hacker's server to extract your personal details and login credentials?
Bitmoji is one of the popular emoji creating apps that you can design your personalized and customized emojis. The app integrates with the default keyboard app on your phone. Hence, it becomes available for all messaging apps starting from Messenger to Snapchat.
However, a regular smartphone user hardly knows about the dark side of the fun apps they use regularly.
In this connection, we will address the growing concern of privacy risks associated with Bitmoji and answer is Bitmoji safe? More importantly, you will learn the ways to protect your privacy while using apps like Bitmoji.
Is Bitmoji Safe?
Unlike other third-party emoji-creating apps, Bitmoji is used by millions of users, and it is owned by Snapchat is a leading messaging app company.
However, just like Snapchat, there are various privacy risks involved with Bitmoji, and we have explained them below.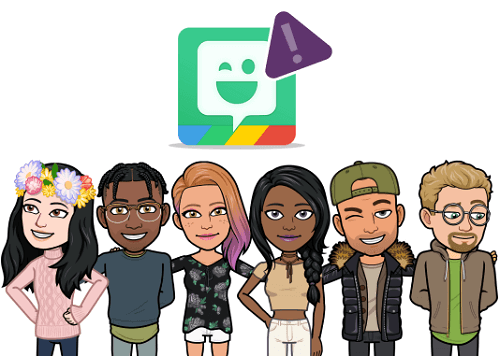 1. Bitmoji Ask for a Full Access to iPhone Keyboard
Even though the main purpose of Bitmoji is creating personalized emojis, it asks for full access to your iPhone keyboard.
Is Bitmoji's full access safe?
Apple has clearly stated that when you give any app full access to your keyboard, the app can record and transmit everything you type. This includes your passwords, bank, and personal details, intimate messages, and more.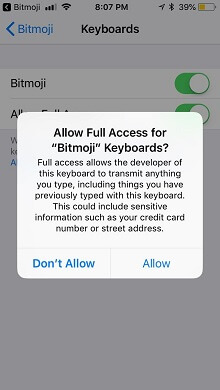 2. Android Permission for Bitmoji
When you download the Bitmoji app from Play Store, the app asks for certain access permission that will raise your eyebrows immediately. The app wants permission to access your phone's camera and microphone, contacts as well as the device ID.
In fact, the app will also have access to a phone gallery if you install the app. These permissions seem to be a violation of your phone's privacy, and Android users are naturally concerned.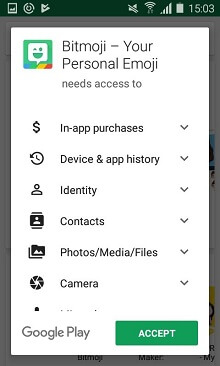 3. Bitmoji Collects Your Data
There is no separate privacy policy of Bitmoji, and the same policy of Snapchat applies to the app. According to that policy, Bitmoji collects your sensitive data quite unnecessarily. Here is the list of all the data Bitmoji collects from you.
Personal Data
Bitmoji asks for your personal data, and hence, the data you supply the app explicitly are collected. These data include your name, age, email address, phone number, gender, date of birth, and login credentials. 
Bitmoji app security is strong but hackers always find a loophole to hack big companies' servers to get access to user data.
Service Usage Data
Service usage refers to how you interact with the app. However, Bitmoji has access to collect your device location, cookies, photos, contacts, content shared and received, as well as your camera.
Even though it is quite natural for apps o have service usage information, but any app can also misuse them and thereby, raising privacy concerns.
Data from Third-Parties
It is a common practice among app companies to collect your data from third parties so that they can offer a better user experience by analyzing the data received from third parties regarding your past app behavior. Bitmoji also collects such behavioral and personal data of yours from third parties.
What Happens with the Collected Data?
On the surface, all apps collect user data for two main purposes. First, they want to use the data to understand your preferences and improve your user experience. Second, they sell them to third parties who use those data for targeted advertisement.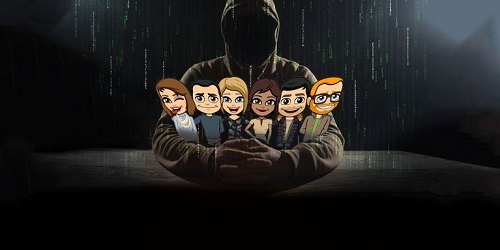 As for Bitmoji, their policy states that the data are used to create more relatable emojis. Besides, it provides the data to third parties for targeted Ads. This is a huge revenue source for Snapchat, the owner of the free app, Bitmoji.
However, Bitmoji or Snapchat is in no way responsible for what happens with the collected data when they sell it to third parties. This means, if there is a data breach incident in any of the third party's server, Snapchat or Bitmoji will not be held responsible for your data getting exposed to the public.
From this, you can understand why Bitmoji privacy is a real concern for any user.
How to Protect Your Data When Use the App like Bitmoji?
When you use any third-party app like Bitmoji that has some privacy issues, you have to use a security app that can eliminate privacy risks. We recommend the ClevGuard anti-spy for complete security while accessing any app on your phone.
ClevGuard app detects spyware, prevents apps from spying on your activities, and provides real-time protection.
Steps to Protect Your Bitmoji Privacy Data
Here are the steps to install the ClevGuard app and protect your phone privacy when using an app like Bitmoji.
Step 1. Install ClevGuard on Your Phone
You can search and download ClevGuard on Google Play Store. For your ease, you can click "Google Play" button below to directly download ClevGuard on your phone.
Step 2. Detect Any Privacy Threat on Your Phone
Open the ClevGuard app, tap on "Scan" option and wait for the scanning to get over to see if Bitmoji or other privacy threats on your phone.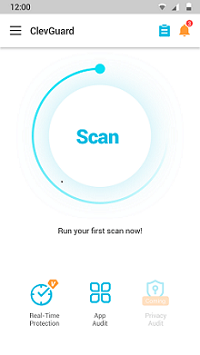 Step 3. Keep Your Privacy Data Safe with ClevGuard
ClevGuard lists all the malicious apps and files after scanning your phone. You can review the list and tap on "Resolve All" button to delete privacy threats on your phone.
Then is Bitmoji safe or not should no more be your concern with ClevGuard app installed on your phone.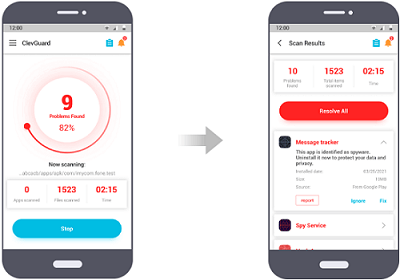 Key Features of ClevGuard
Here are all the features ClevGuard app offers you in order to safeguard your privacy while using app like Bitmoji.
Phone Microphone and Camera Protection:
ClevGuard Anti-Spy app notifies you if Bitmoji or any other app uses your phone camera or microphone secretly.
There are various spy apps available to turn on your cell phone camera and mic to hackers for real-time monitoring. Once you get the notification from ClevGuard, you can force stop or even remove that particular app.
Detect and Remove Privacy Threats:
There are always some apps you install on your phone that possess privacy threats. They spy on your phone activities and give hackers remote access to your phone.
ClevGuard Anti-Spy app detects such spyware apps and files by scanning your phone thoroughly. You can review the list and delete them instantly with a single tap.
Real-Time Privacy Protection:
ClevGuard app offers real-time protection through which it monitors your phone downloads constantly. As soon as it detects any malicious file or app, it alerts you immediately for prompt action.
Thereby, it prevents spyware from accessing your phone data and doing any damage to your privacy and security. With real-time protection turned on, Bitmoji privacy should not be worrisome anymore.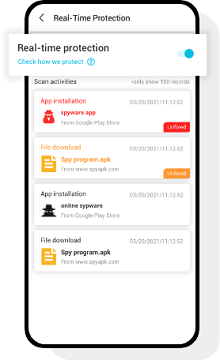 Check Email Breach:
Data breach incidents have become quite common among small and big apps. Hackers find a loophole to get access to the app's database and make all the personal data of users public.
ClevGuard app lets you check email breach, after that, you can see if your email address and password were exposed in any data breach. Besides, it suggests the security steps which can protect your email account.
Clear Junk Files:
Junks files need to be removed from your phone regularly so that they do not waste your storage space and slow down the speed of your phone.
ClevGuard allows you to delete junk files with a single tap. You can also review the junk files from different apps and delete them as per your requirements.
FAQ about Bitmoji
Q1. Does Bitmoji Have Access to Your Texts?
Bitmoji claims that it does not access your texts. But it takes full access permission to your phone keyboard, especially iPhone. Apple has stated that if any app has full access to the iPhone keyboard, the app can record and transmit your texts.
Q2. Why does Bitmoji Need Full Access?
Bitmoji has given a vague official statement that it needs full access so that the app can download custom-made emojis and images from its server. Such an illogical answer has raised doubt on how safe is Bitmoji.
Q3. Can Bitmoji Access Your Credit Card Info?
If you have made any payment via Bitmoji app for buying any of its premium features, then the app can store your credit card info. Otherwise, it cannot access your credit card info if stored via any other app.
Final Words
Hopefully, you have found the answer to your question 'Is the Bitmoji app safe?' No matter what app you use, there are always some privacy issues in today's app world.
That is why we recommend you install ClevGuard Anti-Spy app on your phone for complete protection against all privacy risks. With real-time protection, the app monitoring your phone constantly and prevents any spying activity by any app.