Unlike a few years back, instant messaging apps are in trend these days. Users generally prefer to use third-party messaging app, due to their flexibility, attractive interface and other amazing features like photo and video sharing etc. Kik is one of the top names among these online messaging services.
Kik is a closed messaging platform that completely preserves a person's anonymity. Users can register just by name and username even without telephone numbers. On this terms, it shows that it is a relatively private way to communicate with people. So it's important to know how to spy Kik messages in life, whether parent want to monitor child's safety or who want to monitor the fidelity among spouses. This post tells that what you should spy about Kik and how you can do.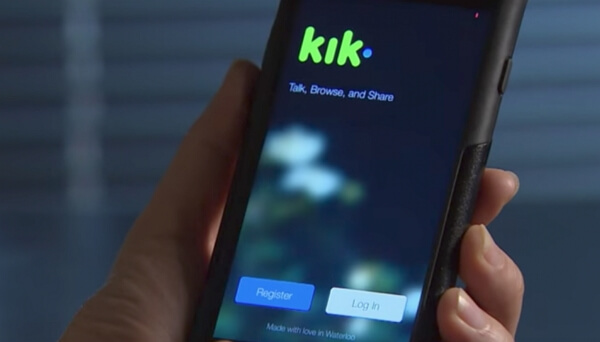 How to Choose the Best Way to Spy Kik
We certainly know how Kik works. It's an instant messaging app indeed. So the main thing is to read Kik's text messages to realize the aim of Kik spy. But how should we do or what methods should wwe choose to spy Kik?
1. Hiring A Hacker
Many people suggest to hire a professional hacker to achieve the purpose of monitoring, but we know that it has huge risks. Because hackers have professional technology and they may also install some virus software on the target device or hack into their bank account to steal their money.
Another is that hackers often gain information by breaking into the Kik account on the target device to get Kik messages. But in this way, the target device owner can't log in to their own Kik account and become suspicious.
In addition to the technical risks, hackers can be expensive to hire. They often charged on the basis of hour. They may disappear after you paid them with large amount of money. So you may not only miss your goal of spying on others with KiK, but also lose a lot of money.
2. Spying Kik Using Advanced Technology
Maybe you've heard about some high-end hacking techniques, like Stingray or IMSI catcher. Take IMSI catcher for example, it sometimes known under the brand name Stingray, is a piece of tech that pretends to be a cell phone tower, forcing local phones to connect to it. This allows the oft-suitcase sized device to grab SIM cards' unique IMSI codes, geolocate devices, and provide other surveillance capabilities. Typically law enforcement or other government bodies use such tech and their sale is often regulated, but it's perfectly possible to make your own with available hardware and open source software.
But I don't think this is what an ordinary person can do. It's too professional. And not everyone has the ability or resources to use these technologies just to monitor contents on a device.
3. Monitor Kik Message Using Professional Spying App
After we understand the first two methods, we believe you will understand the importance of choosing the third method. Currently in the market, there are a lot of monitoring apps available. They all can do the job of monitoring Kik message, they are simpler and more affordable to do than the 2 above. But among the apps, we recommend KidsGuard Pro. Let's know why it is recommended.
It can view all incoming and outgoing Kik messages, as well as the app notifications.

It can spy Kik without logging the account out. So the target device will not receive any notifications.

It can monitor all the Kik accounts on target device.

The installation of KidsGuard Pro can be finished within about 5 minutes.

The app icon will disappear after the finishing of the installation.
Monitor Kik Messages
Now, monitoring Kik messaging would mean that this app is capable of showing all the conversations of the target device. You will be able to view both sides of the chats.
You can read Kik messages along with all the emoticons, doodles and stickers sent and received.

You will get proper time and date stamps on each and everything.

You can even search for a specific keyword inside the chat history to prevent your children/partner/employee from engaging in any form of bad chatting behaviour.

Even the deleted messages of target device can be tracked because KidsGuard Pro records every keystrokes.
You will be everything inside the "Dashboard". From here, you will be able to monitor the chats.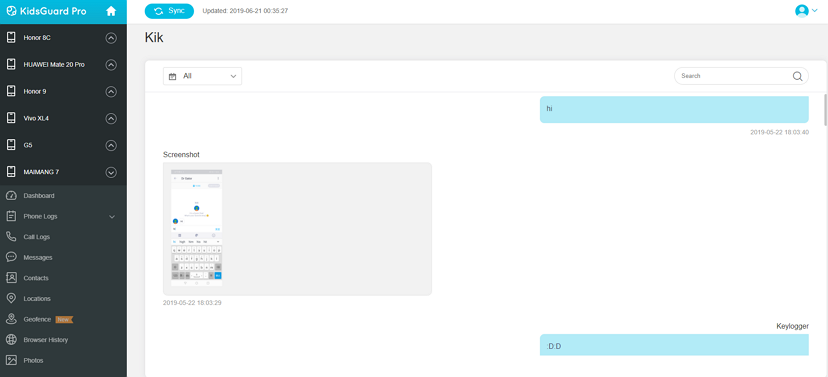 Check Kik App Activity
Checking the app activity is more or less the same. You can also see the date when the Kik app was installed. If you want more control you can even know the frequency and screen time for Kik. This will help you to have a talk to the kids to cut back on Kik in a healthy manner. This will help a lot in parental control.
You can find everything on "App Activity" option. All the app activity during the last day or month or year will be visible on the screen.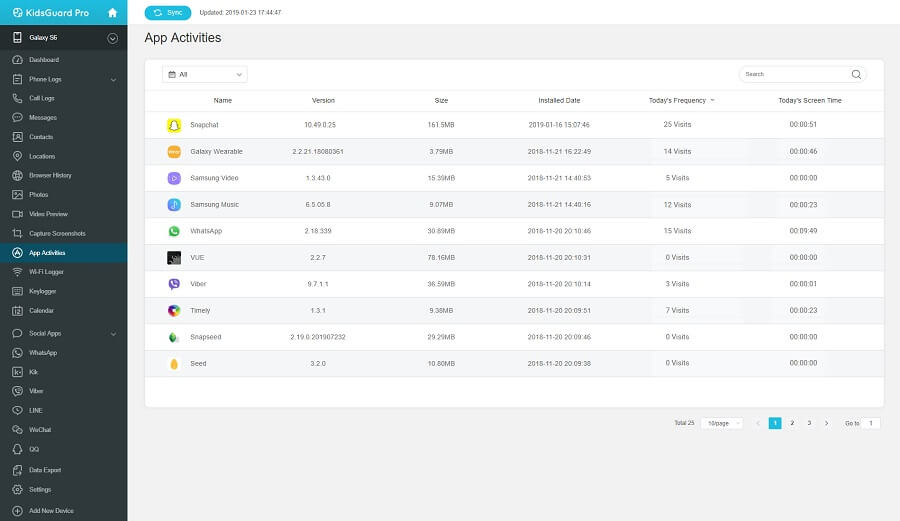 Other Features Introduction
Besides monitoring Kik messages and other activities on the said messaging platform, KidsGuard Pro has a few other features too:
This program is capable of tracking location effectively. The GPS algorithm is excellent, provided real-time location of the target devicethroughout the day.

Device monitoring capabilities are very effective. It lets you view all the other device activity and even lets you take screenshots.

You can monitor browser history, videos, photos, calendar, notes etc. Also the keylogger feature is extremely helpful.

Besides Kik monitoring, this monitoring program is capable of monitoring other instant messaging apps. Such as WhatsApp, WeChat, QQ, Line, Viber etc.
Guide to Monitor Kik Messages and Activities of Others
As you have come to know, KidsGuard Pro is an exceptional program and its significant monitoring capabilities and simple but attractive interface have made third-party messaging apps monitoring much easier. So, here's how to monitor Kik messages and activities of others via KidsGuard Pro.
 Step 1: First, click the Try It Now button to register for your KidsGuard Pro account using your genuine email ID. And buy a plan suit your need to enjoy the features of Kik spy.
 Step 2: Afterward, you have to get hold of the target device and download KidsGuard Pro assistant from www.clevguard.net. Now, click on the downloaded APK file to install KidsGuard Pro Assistant. Sign in via your account and follow the procedures prompted on the screen.

 Step 3: After configuration, the app icon will disappear from the Home page. KidsGuard Pro works in stealth mode. Then you can visit the web control panel to view the collected Kik data and monitor all the activities made on the target device.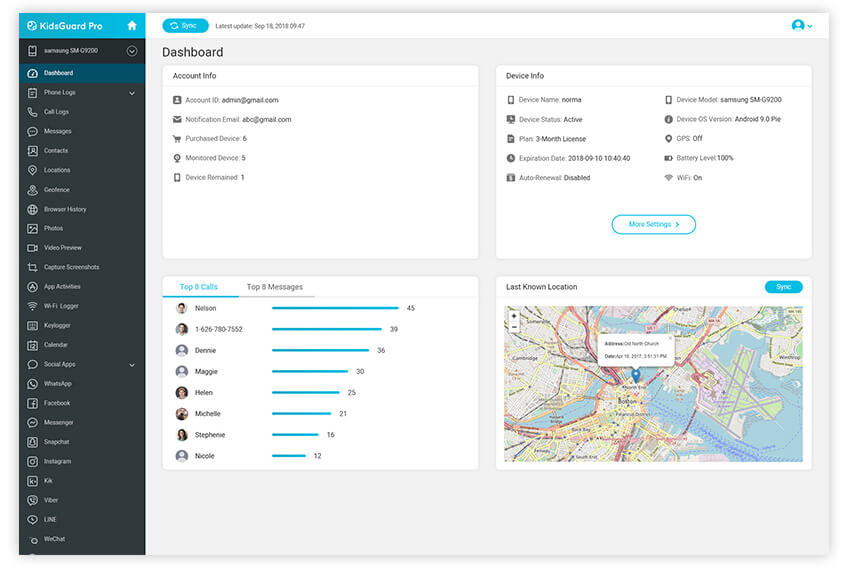 As you can see, it is very simple to operate KidsGuard Pro in order to monitor Kik messages and other activities on the target device.
Conclusion
Hopefully, you have a clear idea of how to spy on someone's Kik messages. The procedure is very simple. Just download a Kik spy app and use it to monitor the conversations or activities. Considering all the factors we have decided to choose KidsGuard Pro, it is a fast and effective app that shows flawless monitoring capabilities. You can avail the 3-day free trial right now if you want to use all of the features of KidsGuard Pro. Go for it!