As a concerned parent, I always wanted to keep an eye on my child's phone activities without invading their privacy. That's when I came across Spylix, a phone monitoring app that claimed to be the best in the market. I decided to give it a try and here's my honest Spylix review. Later, I found a better phone monitoring app alternative -- KidsGuard Pro, which has more features.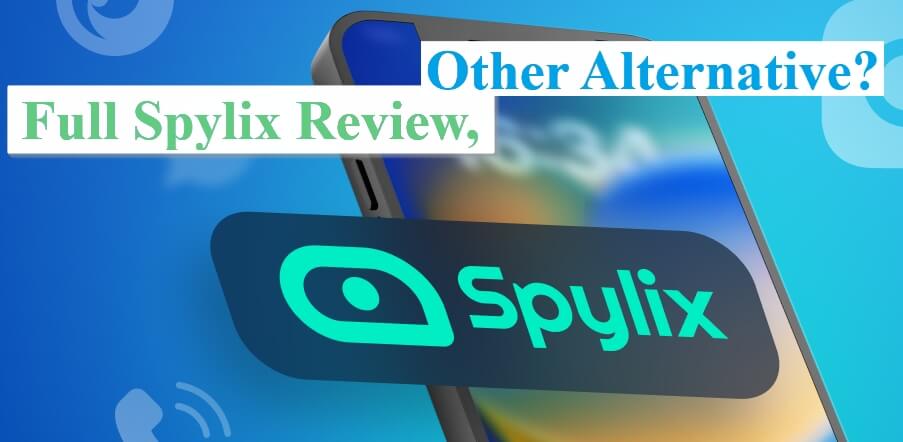 Part 1: Overview of Spylix and Its Development Process
Spylix is a phone monitoring app developed by a team of professionals who wanted to provide a solution for parents to monitor their children's phone activities. The app is designed to monitor activities on the target phone, including call logs, text messages, social media, browsing history, and GPS location.
The development process of Spylix involved extensive research and testing to ensure that the app is user-friendly and meets the needs of its users. The app is regularly updated to provide the latest features and fix any bugs.
1. Key Features of Spylix Phone Tracker
Spylix offers a wide range of features that make it an ideal choice for parents who want to monitor their children's phone activities. Some of the key features of Spylix include:
Call Monitoring: With Spylix, you can monitor all the incoming and outgoing calls on the target phone. You can see the caller ID, duration of the call, and even record the call if needed.
Text Message Monitoring: Spylix allows you to monitor all the text messages on the target phone, including deleted messages. You can see the sender and recipient of the message, as well as the date and time.
Social Media Monitoring: Spylix can monitor all the popular social media platforms, including Facebook, Snapchat, WhatsApp, and Instagram. You can see all the messages, photos, and videos shared on these platforms.
GPS Location Tracking: Spylix allows you to track the GPS location of the target phone in real-time. You can see the location history and set up geofencing to get alerts when the target phone enters or exits a specific location.
Browsing History Monitoring: Spylix can monitor the browsing history on the target phone, including the websites visited and bookmarks.
2. How to Use Spylix for Phone Monitoring
Using Spylix is easy and straightforward. All you need to do is follow these simple steps:
Purchase a separate Spylix subscription for different devices and create an account.
Download and install the Spylix app on the target phone.
Log in to your Spylix account and start monitoring the target phone.
3. Does Spylix Actually Work?
Yes, Spylix is an effective cell phone monitoring app. It offers a wide range of features that allow you to keep tabs on your child's digital activities, and its user-friendly interface makes it easy to use.
However, it's worth noting that Spylix is not a perfect solution. Based on some user experience of Spylix online, it has its limitations and some have reported minor technical issues.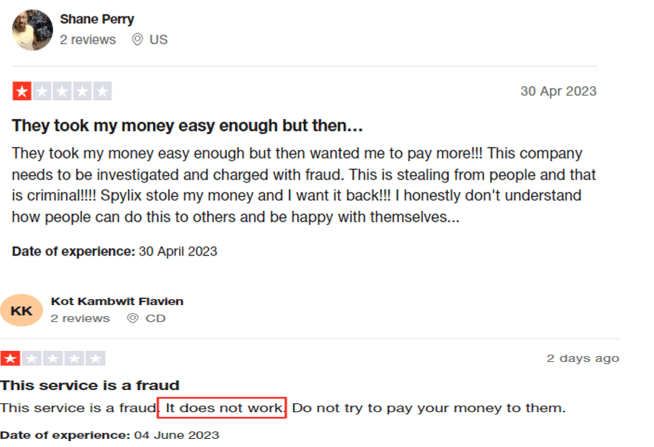 4. Pros and Cons of Spylix
Pros

Easy to use and install.
Offers a wide range of features.
Cons

Expensive compared to other phone monitoring apps.
Sometimes it doesn't work.
Its iOS version can hardly monitor data.
You have to get separate subscriptions for different Android&iOS devices, which may cost you a lot and hard for you to switch devices.
Part 2: The Best Alternative to Spylix -- KidsGuard Pro
The above is almost all about Spylix reviews. While Spylix is a great phone monitoring app, it's not the only one in the market. KidsGuard Pro is another phone monitoring app that offers more features and is a greater alternative to Spylix.
KidsGuard Pro is a popular cell phone tracker that is compatible with both Android and iOS devices. It allows everyone to monitor their child's and loved ones' phone activities. A team of experienced developers developed the app, and it is constantly updating its versions to benefit customers with the newest features.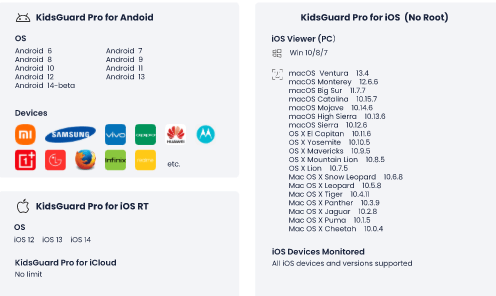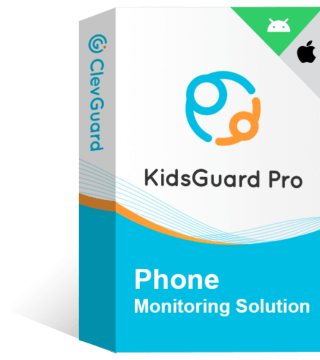 KidsGuard Pro: Powerful Cell Phone Tracking and Monitoring
Support Android monitoring, iOS monitoring and iCloud monitoring without root or jailbreaking, as well as iOS real-time monitoring (jailbroken) using one software.
Monitor all data on cell phones including contacts, messages, call logs, photos, videos, browser history, calendar, app activities, etc.
Check data on various social media apps like WhatsApp, Facebook, Messenger, Instagram, Snapchat, Telegram, Skype, Discord, Tinder and more undetectably.
Track mobile locations and check their location history with detailed addresses and time shown.
The app runs in stealth mode and its icon will disappear from the phone of monitored side. So you won't be discovered and you can achieve remote control such as screenshot and photos-taking.
Head-to-Head Comparison of Spylix and KidsGuard Pro
To help you make an informed decision, here's a head-to-head features comparison of Spylix and KidsGuard Pro:
| Features | KidsGuard Pro | Spylix |
| --- | --- | --- |
| Compatibility | Android/iOS/Win/Mac | iOS/Android |
| Price | $39.99 | $49.95 |
| Phone Files | | (iOS Not Supported) |
| Real-time Location | | (iOS Not Supported) |
| App Activities | | |
| WhatsApp Monitoring | | (Messages, contacts and calls only) |
| YouTube Tracking | | |
| Messenger Monitoring | | |
| Discord Monitoring | | |
| Snapchat Monitoring | | (Messages and contacts only) |
| Instagram Monitoring | | (Messages and contacts only) |
| Tinder/Telegram/Kik/Viber/Skype Monitoring | | (Messages and contacts only) |
| Record Surround | | |
| Record Calls | | |
| Remote Control | | |
| Notes/Voice Memos | | |
| Call Logs | | (iOS Not Supported) |
| Messages | | (iOS Not Supported) |
| Contacts | | (iOS Not Supported) |
| Data Export | | |
| Rate | | |
Steps of Using KidsGuard Pro to Monitor Android/iPhone/iCloud:
Unlike Spylix, KidsGuard Pro allows you to switch between different devices and you can achieve Android and iOS monitoring at the same time with only 1 subscription.
Step 1. Sign up/in with your email to create a KidsGuard Pro account and purchase a subscription plan.
Step 2. Download and install KidsGuard Pro from www.clevguard.net on the target Android device or from www.useapp.net on your computer and connect the targeted devices for iOS monitoring.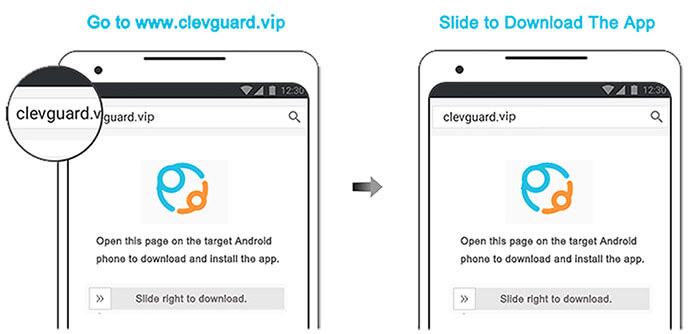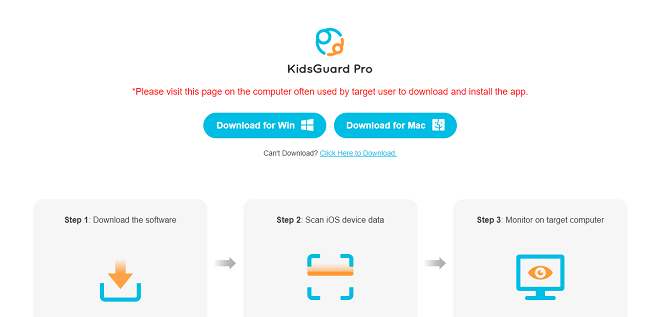 Step 3. Log into your KidsGuard Pro account and start remotely monitor cell phone data and activities on the dashboard.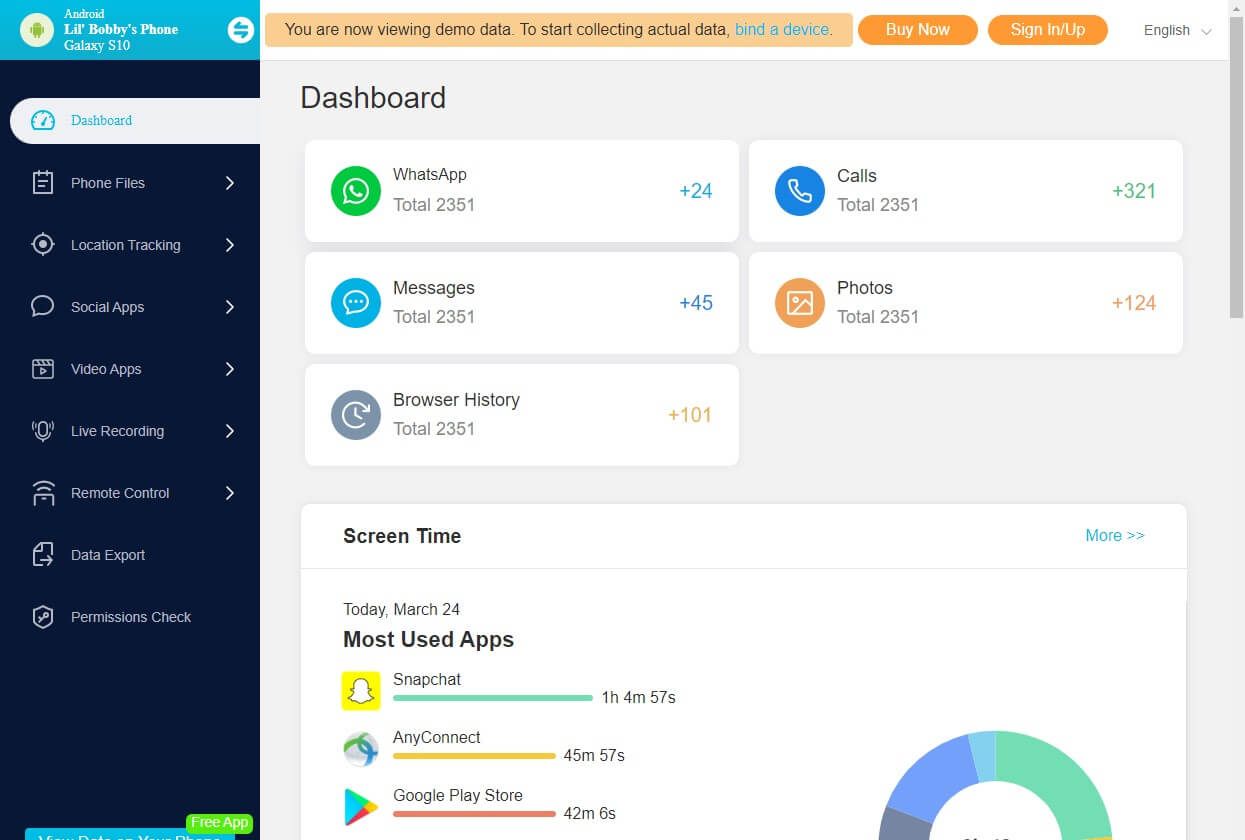 Conclusion
In conclusion, if you're looking for a reliable phone monitoring app, both Spylix and KidsGuard Pro are great options. However, KidsGuard Pro offers more monitoring features with a lower price. And it is best for your family or partner needs. So just give it a try and protect your loved ones now!