In this fast-paced life and with a busy workload, getting into a relationship is easy, but maintaining it requires plenty of time and a bit of mutual effort. If you want to strengthen the bond with your partner and push your relationship to the next level, just grab your phone and start with some best apps for couples.
Well, we have taken the privilege of choosing the best 10 relationship tracker apps for you that will help you in every perspective to build a strong relationship. They offer a large variety of features, like creating a private zone for you two, recording memorable moments, sharing calendars, keeping track of your relationship and loved ones, preparing anniversary gifts, etc.
These apps are of great help to prevent cheating, keep connected and strengthen love, let's have a look!
Best 10 Relationship Tracker Apps for Couples
1. KidsGuard Pro
KidsGuard Pro – one of the best love tracker apps which is typically designed to bring transparency to a relationship. In other words, KidsGuard Pro is an answer to the questions: Wondering what your partner is doing every day or who they are chatting with? Being doubtful may cause suspicions so you should find out the truth.
KidsGuard Pro supports Android devices - KidsGuard Pro for Android and iOS devices - KidsGuard Pro for iOS. It is introduced as a cell phone monitoring app and loaded with a lot of tracking features including location tracking, activities tracking, file checking, messages monitoring, etc.
Basically, its potentiality reaches way beyond which nothing can escape and the best part is you can observe anything atypical on your partner's phone without them knowing. The installation is very easy and as soon as it is complete, it will disappear from the home screen, work in incognito mode and upload all data to an online panel where you can check remotely on your own device.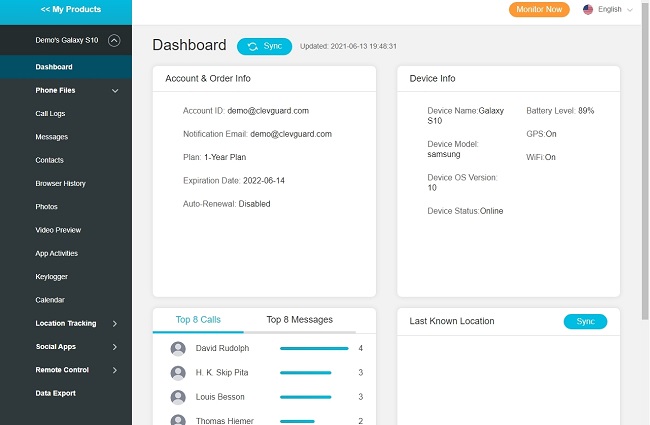 Let's see what you can access via KidsGuard Pro:
Call History: KidsGuard Pro allows you to check all incoming and outgoing calls. You are even able to see the contact details like contact name, contact number, call time and call duration, etc.
Messages and Social Media Monitoring: It enables you to completely read messages including sent messages, received messages, and deleted messages. Besides text messages, it even allows you to keep an eye on popular social media apps including WhatsApp, Instagram, Viber, Facebook, Snapchat, and others without requiring any password. You can view the conversation content, shared photos, emojis and app notifications, etc.
Real-time Location Tracking: Real-time Location tracking is another exceptional feature of KidsGuard Pro. Besides the whereabouts of your partner, you are allowed to check the location history on an intuitive map and accurate address.
Photos and Videos: Other files stored on the target device including all the images, videos etc can be viewed and you can save them on your own device.
Browser History: Another remarkable feature of KidsGuard Pro is, it allows you to view searches made on the target device and through this you can learn what exactly your partner is up to. It can even track the browsing history of incognito mode.
Notice
Now you can have a 30% off discount to enjoy all the premium features. Quickly to enjoy the best price for your need.
2. Raft
Raft is considered a great dating tracker app. The application plays a significant role to bring the couples closer and help to achieve the perfect couple goals. You can fix a date by managing your timings, surprise your spouse by sending images and gifs related to the event you both are planning.
You can also track your partner's schedule and calendars, send and receive comments and likes, count down the time remaining for the date, wedding, or ceremony where you both are going.
Features:
Sync schedules with your partner, friends as well and see their plans in the upcoming days.

Countdown the meet time through a time counter.

You can make use of images, gifs, and emojis to open conversations (both can read) as well as private notes.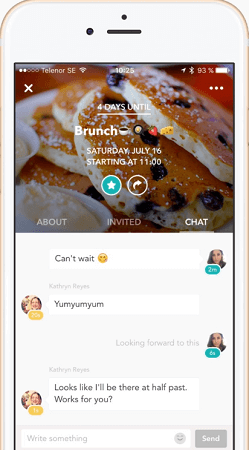 3. Sesame
Sesame is one of the best apps for couples that helps to choose extraordinary and creative gifts for your loved ones. In other words, the app is an extremely good source to bring couples closer. You can send amazing gift hampers to your partner at very cheap rates.
Features:
It offers thousands of creative gift ideas.

Deliver gifts to your spouse or partners at cheap rates.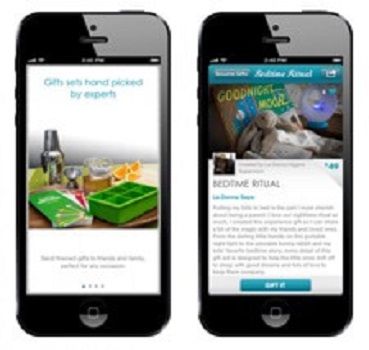 4. Honeydue
Honeydue would be the best choice for those couples who believe in one family and prefer to manage their whole expenses and savings in a single place. You are also looking for it? Get the Honeydue app right now. The app is a great source to build trust among couples and both know how much they are spending and how much are the savings and thus prevent any kind of misunderstanding between them.
Features:
It provides different outstanding categories to manage spendings.

A single place to manage and spend.

A combined account or place to save income.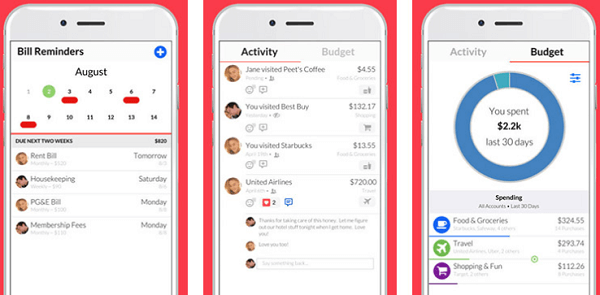 5. Between
Between is an amazing love tracker application for those who prefer their private life rather than anything. The app comes with a list of handy features that especially provide you with an intimate space where you can share photos, voice messages, beautiful stickers, and animated gifs.
Features:
An all-in-one private place to exchange and manage events.

It allows you to define special days, specific events, set reminders, etc.

It comes with an attractive GUI and many colorful themes.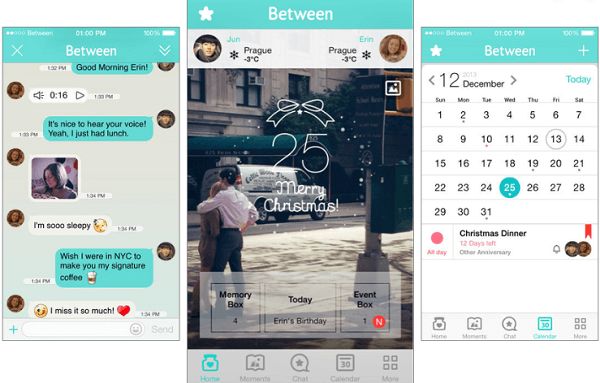 6. The IceBreak
TheIceBreak is an outstanding relationship tracker app to create affection and communication between couples. People are supposed to break the ice and start communicating through TheIceBreak by giving answers to the questions and sharing their lives or best moments of the day. You can choose either an ice breaker or put a question option. Start today, break your ice and find your soulmate.
Features:
Find your like-minded partner by answering a series of questions.

Keep all the communication with your partners privately and block out the rest of the world.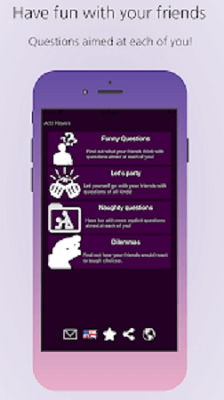 7. Simply Us
Simply Us is designed for couples and it rightfully helps them to organize their lives. There are couples who like to stay organized and try to preserve each and every moment along with a date and time stamp. These couples are very particular about their special moments and this app helps them to keep their relationship blooming.
Features:
The app allows you to share the same calendar where you and your spouse can add and manage events. Even you can integrate the app calendar with your device's calendar to make things clear and organized.

It also provides the shared listing feature through which you can make a list of important and general events (daily routine).

The app also provides you with a private messaging feature.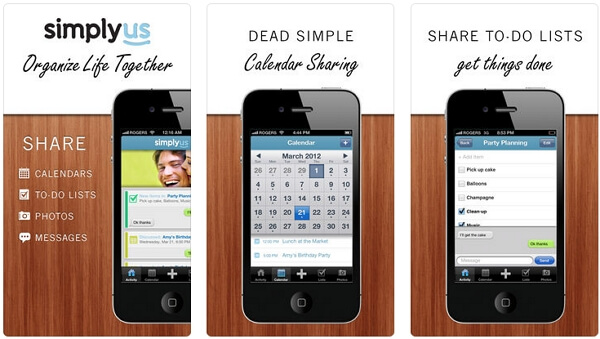 8. Kindu
Kindu is an exceptional application that fills your way of romance with more energy and pleasure. The app offers unlimited ways how to have sexual intercourse with your partner to know more about each other and bring more closeness. It aims to build a strong relationship between couples.
Features:
Thousands of ways including different games, exercises, and tasks to improve the relationship.

It allows you to reveal mysteries about your partners.

An excellent source to improve communication between couples.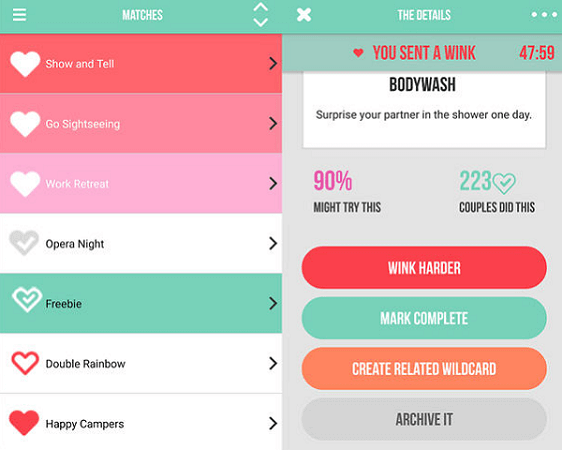 9. Happy Couple
Happy Couple application is one of the greatest dating tracker apps for couples that allow people to find out more and more about each other by giving the answers to easy yet deep questions. It saves people to prevent scams and truly finding out about each other.
Features:
Its quiz-style layout makes it easier for people to better understand each other.

The app sends effective tips on a daily basis to improve your relationship.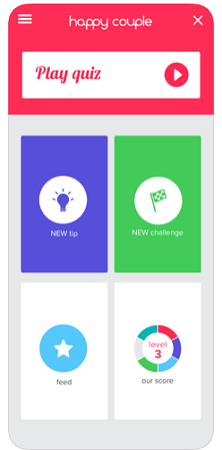 10. Bliss
The Bliss relationship application diversifies the way of love and brings more close to each other. The application would be the best choice because it really more focuses on how to live a happy life instead of teaching sexuality.
Features:
The app can keep track of everything looking at your preferences including what you like in music, what you love to wear, etc.

It focuses more on romance and helps better share your interests with your partner.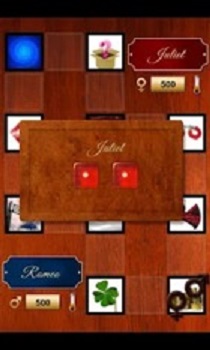 Conclusion
We have detailed the best 10 relationship tracker apps for couples in this article for your convenience. Overall, these apps are designed to build a healthy relationship and to keep it special for years to come. But in case, you want to keep an eye on your loved ones and know their whereabouts or if you just want to monitor your partner's phone usage, we do think that KidsGuard Pro is an all-in-one application that does everything in a single place. Go for it right now!