Misplacing an iPhone is a very costly mistake, and it may result in permanent loss of that expensive device. So, the moment you lost sight of your iPhone, you should immediately work to locate it. But it is not possible for you to always have access to a spare iOS or even a Mac, making the iPhone even more difficult.
Thankfully, you can easily track an iPhone via an Android device. So, in order to know the answer on how to track an iPhone from an Android, you need to thoroughly read the article below.
How to Track an iPhone with An Android to Find Lost Phone
There are different ways available to find iPhone on Android, and these methods we are discussing in this part of the article require the consent of the user of the said iPhone. So you may encounter some troubles if you want to track someone's iPhone from Android without them knowing. In case you really need the current location of others, we have also covered this method in this article.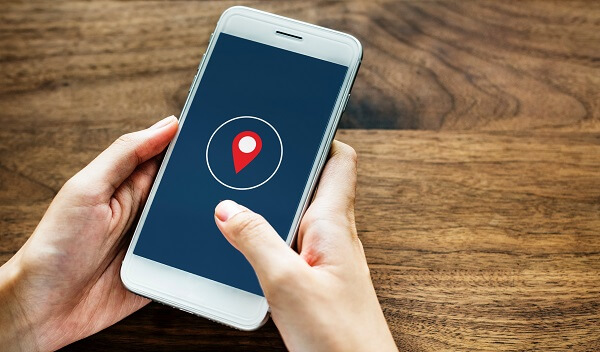 Way 1: Take Advantage of Apple's Find My iPhone
Well, for this first part, we are going to talk about Apple's Find My iPhone feature (in iOS 13 and later versions, it's called Find My), which is familiar to the majority of iOS users. The idea is pretty simple. When you get the Apple product, it will ask you to enable the location tracking facility so that to find the device if lost. You can generally use this feature via other iOS devices or a Mac.
But for this procedure, we are going to use an Android device. Detailed steps on how to track another iPhone with Android are discussed below.
Step 1: Simply, open the Android mobile and launch any browser and type in icloud.com.
Step 2: Then, you need to login to your iCloud account. If the two-factor authentication is enabled, you should manage to get the verification code.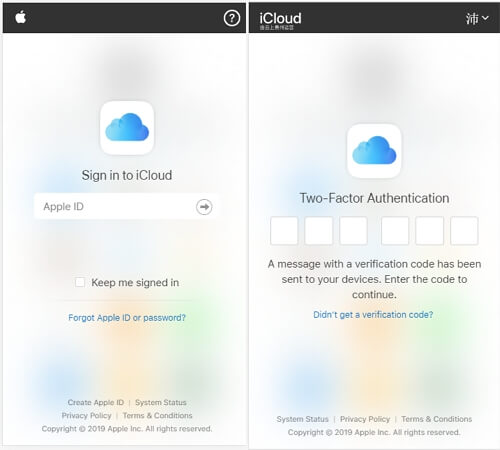 Step 3: After a successful login, tap on the Find My or Find My iPhone icon. This will start locating your iPhone. Then a map showing the last known location of your iPhone will appear. If you own multiple devices, tap on the dropdown icon and select the proper device.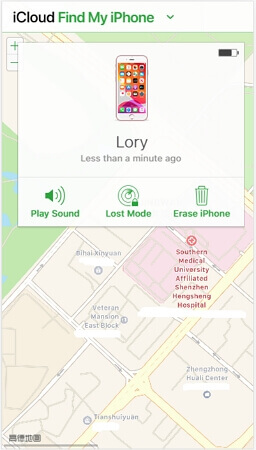 Verdict
Find My iPhone is a good feature, it is not very accurate, but it points you to the general direction. This method is not perfect, and it has certain limitations. If the Find My iPhone feature is not enabled in advance, it will fail to work. Most of the users don't have the knowledge that the said feature needs to be manually activated for it to become useful in future.
Way 2: Track iPhone Location with Google Maps
Google has removed the barriers to tracking location across platforms, so there is another chance you can find iPhone on Android via Google Maps Timeline. This feature will keep tracking the places you have gone with the device and save them in your Google account. You can check the location history on any other devices that are signed in with the same Google account.
Step 1: Open the Google Maps app on your iPhone, then tap the Menu and Settings.
Step 2: Tap Personal content and scroll down to select Location settings. Make sure the location service is on.
Step 3: On another Android device, sign in with the same ID and go to Menu > Timeline. This will present all the location history.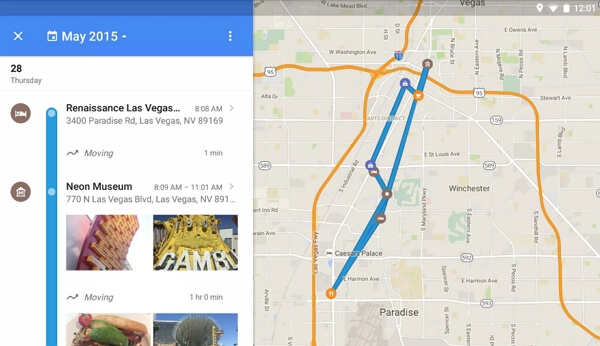 Verdict
This method requires you to enable the location services on the iPhone, and it may not be effective if you want to track the lost device as it only displays the travel route. There will be delay if you want to check the latest location.
How to Track iPhone from Android without Knowing?
Tracking a static location is easy, but to know the dynamic location changes is not. If your appeal is to track iPhone location from any platforms and in real-time and without knowing, then some creative measures, like 3rd party app assistance, are needed and required.
The previous ways of tracking an iPhone via an Android mobile were very effective but the use of them requires the permission of the iPhone user. What if you need to track the iPhone without the permission of the said user?
With the help of the right tools, anything is possible, including anonymous tracking of an iPhone. And by proper instruments, we mean professional software designed for tracking devices in stealth mode. One such professional program is KidsGuard Pro.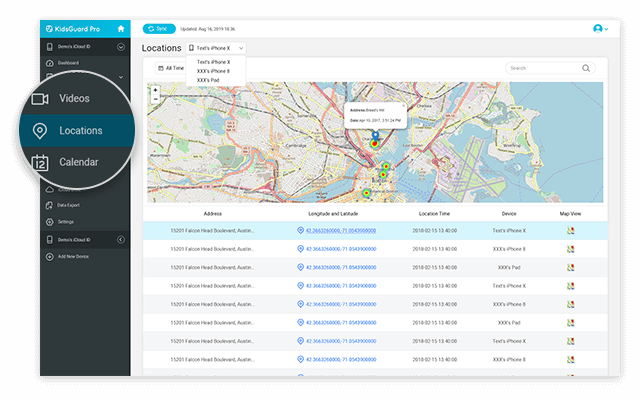 This is a very available program that comes with state of the art algorithm to effectively track target iOS or Android devices with ease. The advanced tracking features of KidsGuard Pro will be of great help.
The program can track the target iPhone in real-time, providing you with all the details, like address, longitude and latitude, timestamps, etc.
It is stealth tracking without installing app or touching the iPhone. So you can track iPhone from your Android without them knowing, hidden and undetectable.
Devices running iOS 9 and higher versions can also be available for. Support latest iOS 16.
Other tracking features include: access files in the iCloud drive; checking photos, videos, contacts, calendar and more on the iPhone.
You can operate KidsGuard Pro on any platforms, like another Android device or your computer.
Besides to check online, all data can be downloaded on your own phone for storage.
How to Track iPhone From Android without Knowing with KidsGuard Pro?
Using KidsGuard Pro, tracking is very effective and easy as well. So, let's look at the app's operating procedure.
Step 1: Register an account and purchase the premium version of KidsGuard Pro to access the advanced features. Then, select the operating system of the target device to proceed.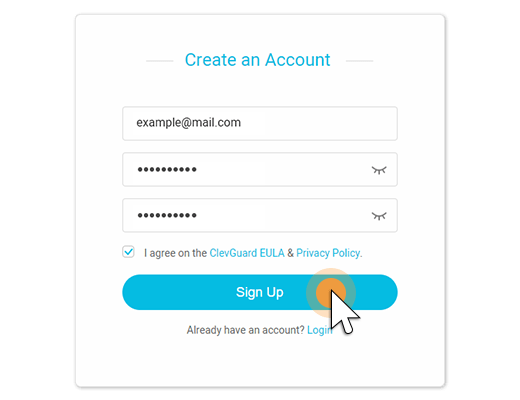 Step 2: After that, you will be asked for the iCloud ID of the target iPhone. Type the required ID and click 'Continue' to proceed. Now, KidsGuard Pro will verify the provided iCloud account details; then you will be led to the web control panel of the app.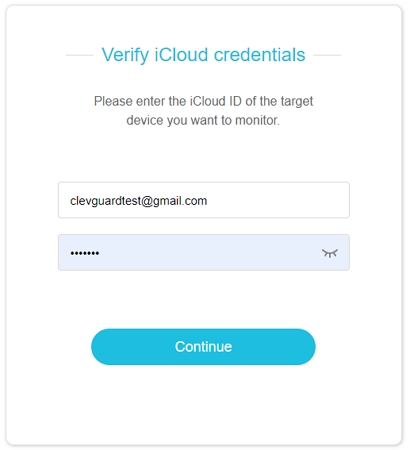 Step 3: After you got access to the web control panel of KidsGuard Pro, you will be able to start tracking the iPhone location This web control panel can be opened on any other devices including your Android phone.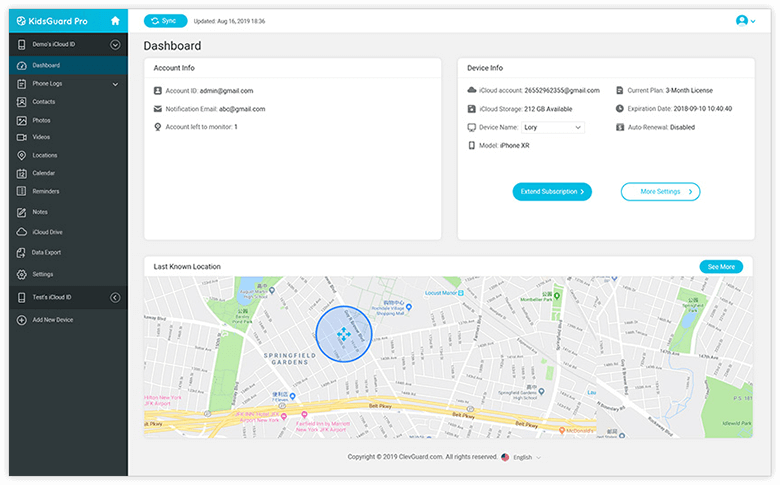 Verdict
KidsGuard Pro doesn't have obvious weaknesses in terms of tracking or monitoring iPhone, but the only downside or difficulty you will face is that you have to figure out the iCloud account ID and password associated with the target iPhone. This could become a bigger hurdle for the most. This app also works to track Android device location, and the monitoring features are more wonderful.
Write in the End
So, can an Android phone track an iPhone? Yes, an Android device is capable of tracking an iPhone effectively. The methods we have detailed in the article above are all effective, but for specific situations only. Like if you want to track the lost iPhone then using Find My iPhone feature of Google Maps will be effective.
But if you want to track iPhone from Android secretly, to give peace of mind to yourself as a suspicious husband or wife or a worried parent trying to look after children, then you should definitely try KidsGuard Pro.