There could be many reasons to bug a phone covertly to track someone's online activities. It could be your spouse, child, staff member or any other individual you want to keep tabs on. For example, if you are doubtful about your partner or want to know if your staff members are leaking secret information to outsiders, bugging their phone is the right way to go. So how to bug a phone secretly without them knowing?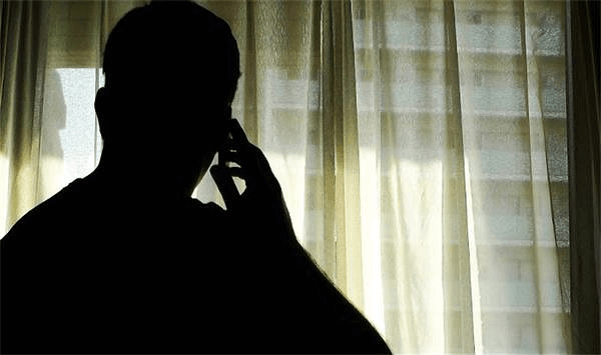 This article will discuss all the methods and techniques to bug a phone secretly.
What is Bugging?
Bugging a phone is a sophisticated way to track and monitor a targeted phone without them knowing. By doing so, one can easily hack, track and monitor someone's location, phone calls, messages, browsing history, and other things remotely. Usually, it is done by installing a third-party software like KidsGuard Pro for Android on their smartphone to extract data to get the desired results. Bugging a phone is employed to track partner, spouse, child, staff members, or other persons' activities without their consent.
In the following section, we will take a look at how to bug someone's phone using KidsGard Pro for Android.
Best Way to Bug a Phone - with KidsGuard Pro for Android
Various ways and software can assist you in bugging a targeted individual's phone to track them. However, KidsGuard Pro for Android is the best way to go when it comes to bugging. Its easy operations, stealth technology, and tremendous features make it undeniably the most reliable and durable tool to monitor someone.
Features to Bug a Cell Phone with KidsGuard Pro
Here are some of KidsGuard Pro for Android's features that related to bugging a phone. Let's check them out!
Check Call Logs
By using KidsGuard Pro for Android, you will be able to check someone's call history. It enables you to see to whom that particular individual interacts and for how long they communicate. You will get a precise call duration and the frequency of their calls. It puts you in such a commanding position to monitor an individual's online activities from your device's screen.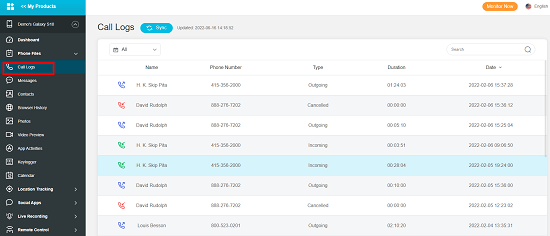 Record Calls
KidsGuard Pro for Android not only enables you to track their call logs, but you will also be able to record their calls. In case you want to crosscheck, relisten or save it as proof, KidsGuard Pro for Android provides you the luxury to record all those calls without their knowledge.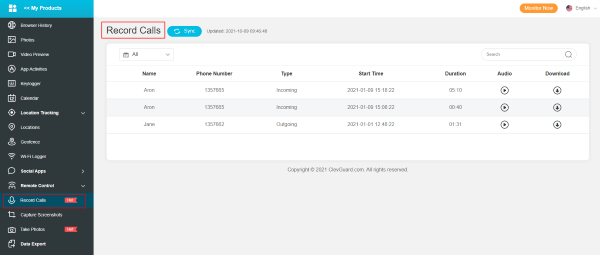 Record Surrounding Sounds
Another striking feature that KidsGuard Pro for Android offers is the ability to record the surrounding sounds of the targeted individual. Doing so can confirm the kind of company they have or with whom they are spending time. You will also know whom they are meeting and what they are talking about. Indeed! This is a powerful feature and a great luxury to have.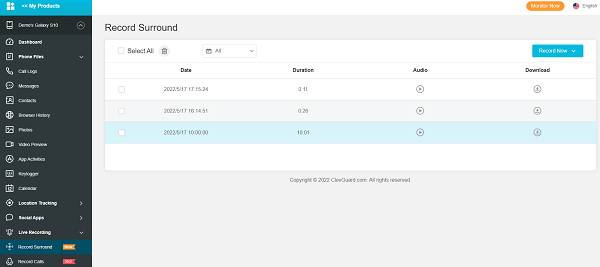 Record Screen
The screen recording is yet another excellent feature provided by KidsGuard Pro for Android to its users. It empowers to record the screen of the targeted individual in real-time. As a result, you will know their online activities, conversation, phone usage, etc.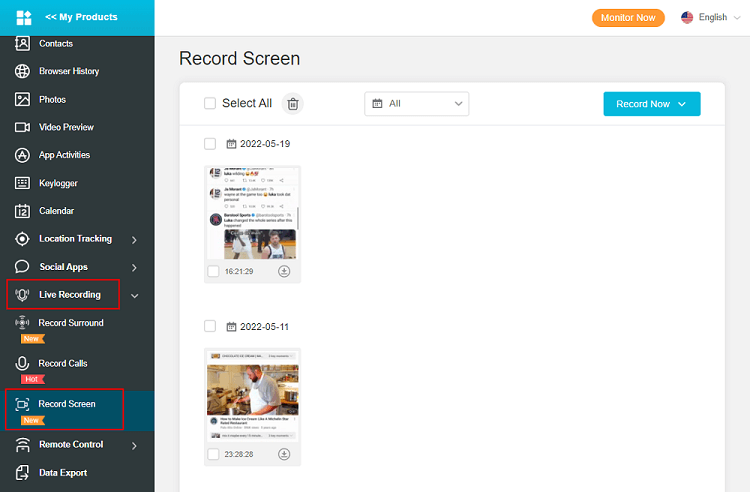 Steps of Bugging a Phone with KidsGuard Pro Android
KidsGuard Pro for Android is an extremely user-friendly application that can be employed to start bugging someone. You don't need to be technology savvy to start using KidsGuard Pro for Android. You can easily install and start bugging a phone with great ease and comfort in a few simple steps.
Step 1. Create your account for KidsGuard Pro for Android
Click Monitor Now below and create an account using your email on our website.
Step 2. Download and install the KidsGuard Pro for Android App
Visit the My Products and Orders Management Page on our website and follow those instructions in the Setup Guide section to complete the installation process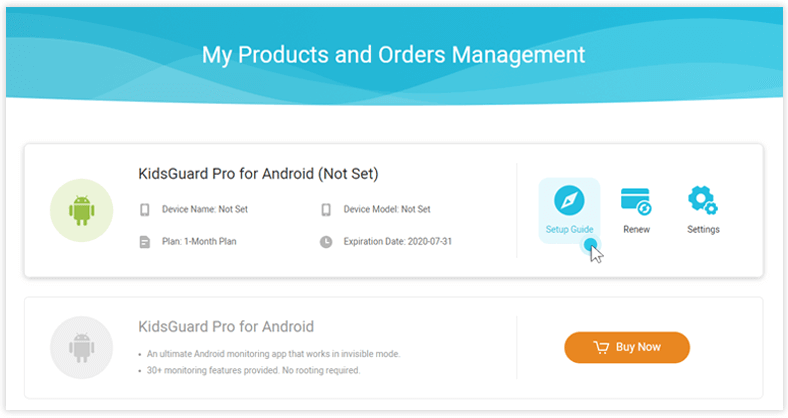 Step 3. Start bugging the target phone. 
Once the app has been installed, go to the app's web control panel. You can now access the dashboard to monitor the target phone.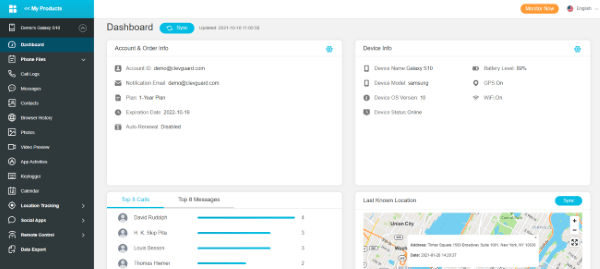 What Else KidsGuard Pro Can Also Do
KidsGuard Pro for Android is a versatile application with a plethora of different features and functionalities. You can check call logs, record calls, record surrounding sound, and record screen; however, KidsGuard Pro for Android has more stunning features. Some of those features are listed below.
Location: KidsGuard Pro for Android has the ability to tell you the precise GPS and WiFi location with amazing accuracy. You can easily find out the whereabouts of an individual from the tap your screen in no time.
Browsing History: With the help of KidsGuard Pro for Android, you will be able to monitor an individual's browsing history, you could even view deleted browsing history of the target phone. The good thing is that KidsGuard Pro for Android is compatible with all major browsers, and you will get their history in real-time.
Photos & Videos: KidsGuard Pro for Android gives you exclusive access to the photos and videos of the targeted individual. You will be able to see their photos and videos in their storage. The best part is that KidsGuard Pro for Android is undetectable, and you will enjoy all these features without any problem.
Taking Screenshots: Another amazing feature of KidsGuard Pro for Android is that you can take an unlimited number of screenshots of the targeted device screen. If you want to save a picture or any other activities of the targeted individual, taking a secret screenshot is the best way to go.
Why You Should Bug a Phone?
We are living in a technology-driven world. It makes it essential for us to keep tracking our beloved ones for their safety. One might also opt to bug a staff member's phone to know if they are leaking sensitive information. Parents have their own reasons to know their children's day-to-day activities to safeguard them from online risks and toxicity. A partner may be sure about their cheating spouse but just need proof to verify that they are really cheating. In all those situations, it becomes vital to bug someone's phone to track and monitor them to know their online activities.
How to Tell If Your Phone is Bugged?
There are several ways to know if your phone is bugged by someone to monitor you. One of the best ways to find out if your phone is bugged is to use a phone bug detector. These bug detectors let you know if any hidden apps, malware, spyware, or other third-party apps are installed on your phone to monitor your online activities. Besides, if your phone performance downs dramatically, battery health decreases abnormally, restarts your phone automatically, uses abnormally extra internet data, and receives unusual messages and popup, your phone might be bugged.
Using Phone Bug Detector - ClevGuard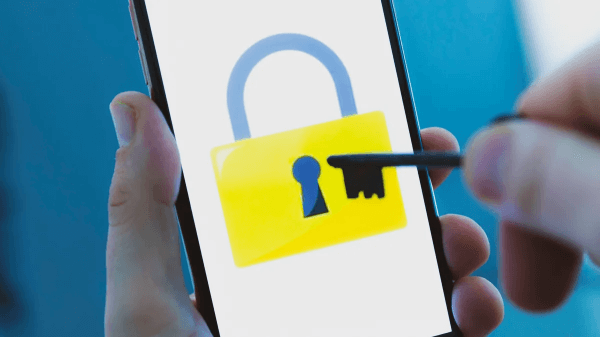 ClevGuard has been designed as a specialized bug detector that lets you know if there is anything wrong with your phone. ClevGuard AntiSpyware is a multi-functional and expertly crafted application, designed to detect any bug, virus, hidden app or any other such thing that could be exploited to extract your data. Using ClevGuard AntiSpyware, you can easily detect any bug and prevent your device from being used against you.
How to Use ClevGuard to Detect Phone Bugger?
ClevGuard AntiSpyware is easy-to-use and effective software that can be downloaded from the play store. Here are the steps of using it to detect if your phone is bugged.
Step 1. Download the app from Google Play Store.
Step 2. Scan for spyware.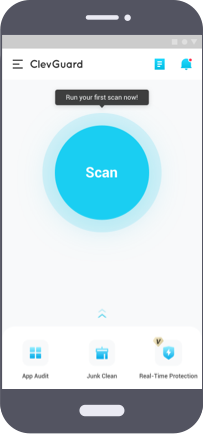 Step 3. Remove all the malicious app that may be bugging your phone if find any.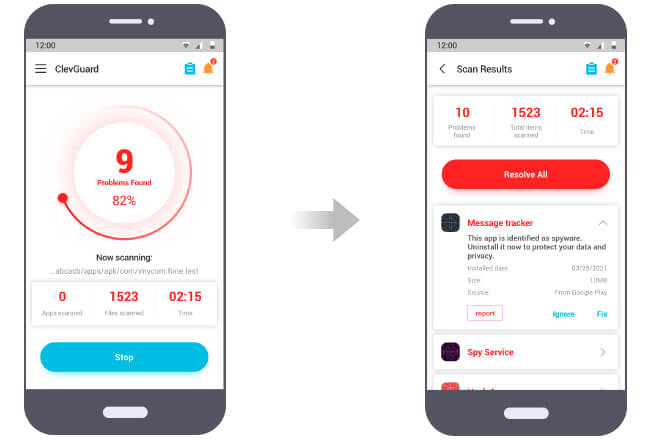 What Can ClevGuard Do to Protect Your Phone from Being Bugged?
ClevGuard is a multipurpose tool offering numerous protective features to prevent your phone from being bugged. If you are doubtful your phone is being bugged; you can use the Scan Spyware feature to detect the hazardous application. Once you complete the identification, you can easily remove that application from your device. Also, ClevGuard helps you to protect your phone's camera and microphone and runs an app audit to make your phone safe and secure. Following are some of the many features that you can use to detect a bug in your smartphone device:
Scan Spyware
Detect Hidden Apps
Remove Spyware
Remove Applications
Remove Files
Microphone Protection
Camera Protection
Clean Phone Junk
Real-Time Protection
App Audit
FAQs About Bugging a Phone
Can I bug a phone for free?
Bugging a phone is not a difficult task to do; however, most of the tools which are used for bugging are paid. Some apps offer a free trial of 7 or 3 days, while KidsGuard Pro for Android provides a free demo to know their features and how they work.
What to do if my phone is bugged?
If you are suspicious that someone might have bugged your phone, the best way is to download ClevGuard to identify and remove that specific application from your device. It will not only remove the app but will also make sure to prevent such buggings in the future.
Can you bug an iPhone?
The security features of the iPhone may be a little more sophisticated; however, it is not impossible to bug an iPhone. KidsGuard Pro for iOS is a great app that makes it quite easier for you to bug an iPhone and monitor their day-to-day activities with utmost ease and comfort.
Conclusion
Bugging someone is a growing phenomenon, becoming increasingly common as technology progresses. If you want to bug someone, KidsGuard Pro for Android is a premium software to do that. It works secretly and sends you back all the information about the targeted device in real-time.