When browsing different websites on the internet, you might experience that some websites will not let you open the web pages and access the data because of your area or location. However, some methods can easily handle this issue without using a VPN. To perform this job, make use of some third-party application or tool. There are different locations for faking applications and tools available in the market today. Read the article below to find out how to change the location on your iPhone without VPN.
How to Change iPhone Location without VPN
Part 1: How Does A VPN Works?
One of the simplest solutions that help people in changing the location on their iPhone is through VPN. This approach helps people in hiding their iPhone IP address and changes it with a new one. It encrypts your communications on the device you are using such as a laptop, phone, or tablet. It makes you look like you are in some other place. In addition to this, it provides a layer of safety around your location to stop people from seeing where you are surfing.
Part 2: How to Change Location without VPN?
Is it possible to change the location on iPhone without using a VPN? Well, the answer is yes. To perform this job, make use of some third-party application or tool. Here in this section, you will learn about how you can change the location of your iPhone without using a VPN.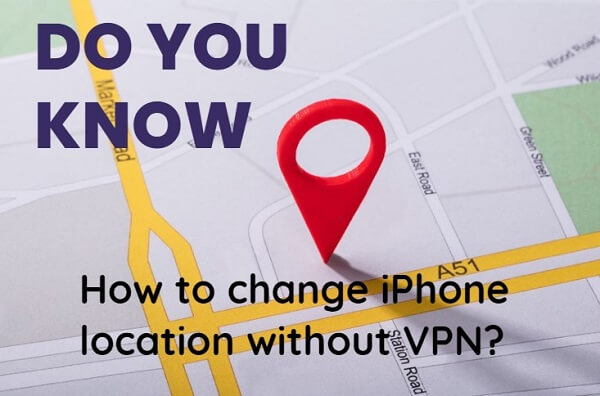 1. Fake Location with ClevGo Location Changer
ClevGuard is one of the most innovative and trustworthy GPS spoofing and fake GPS solution. This amazing paid tool comes with a variety of other functions to help mask an Android or iOS device's GPS position. All you need to do is, download the tool on your PC and connect it to your smartphone. With that, you can easily break into their GPS hardware and transmit fake GPS coordinates to trick people by picking the coordinates according to their choice.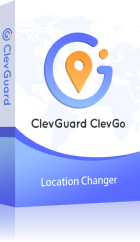 Highlight features of ClevGo
Easily change the GPS location on their smartphone.
Helps its users to customize their route and GPS movement.
Works on every location-based application.
Make the location simulation more realistic by using Realistic Mode.
4.Does not require any rooting or jailbreaking.
Steps to Change Location on iPhone with ClevGo
Step 1: Get the "ClevGo" and install it on PC.
First of all, download and install the tool on your laptop or PC. To perform this job, visit the website www.clevguard.com and click on download.
Step 2: Run the App and connect iPhone/Android to PC.
After this, click on "Get Started" option and connect your smartphone to your system with the help of a USB cable.
Step 3: Choose the preferred mode to fake location.
Now the next step is to load the map to find your current location on it. You can select the Teleport mode, Multi-spot, or Two-spot mode option for faking the location. All you need to do is, select the method and enter the fake coordinates.
A: Teleport Mode--"Fluctuation Mode" can be supported in this mode.
In this mode, your device's location can be changed quickly in globally anywhere. Also, you can check "Fkuctuation", your location on the map will fluctuate back and forth inside the range of 5m. You can easily pick this option from the application's dashboard without any difficulty.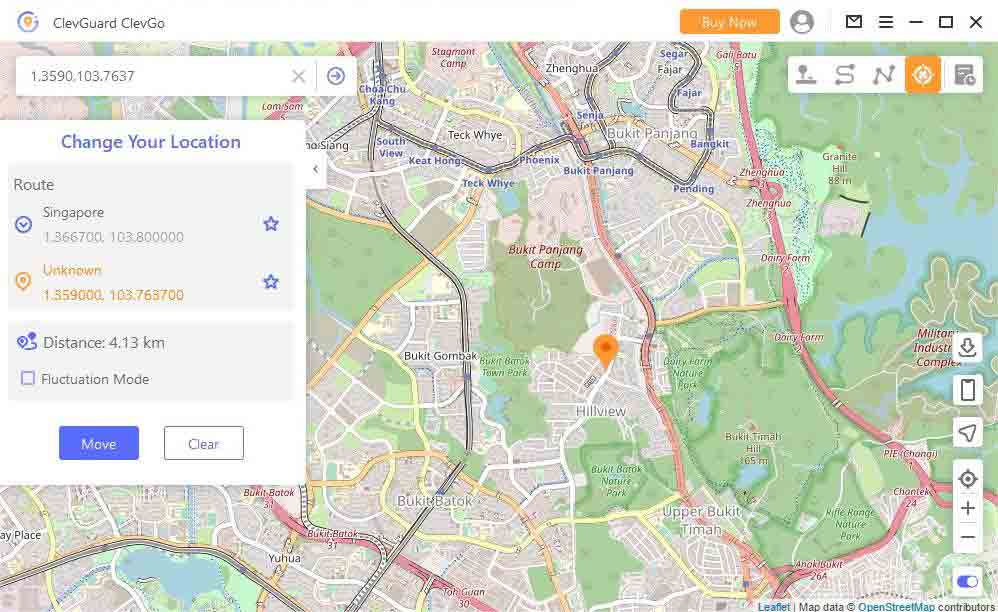 B: Two-Spot Mode--"Realistic Mode" and "Returns or Loops" can be supported in this mode.
In this mode, a user can set the initial and the final coordinate or spot while setting up a route. The amazing ClevGo tool allows its users to change the flexibility and speed flexibly according to the real situation so that it can look more convincing.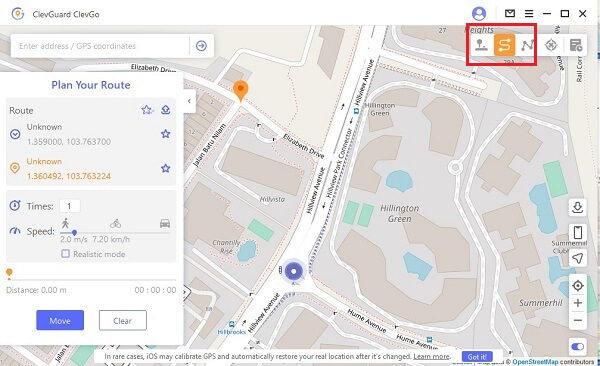 C. Multi-Spot--"Realistic Mode" and "Returns or Loops" can be supported in this mode.
In this mode, user can set more than two spots on the map without any difficulty. The mode allows its users to pin several spots on the map according to their choice. The ClevGo tool will then start the route based on the positions.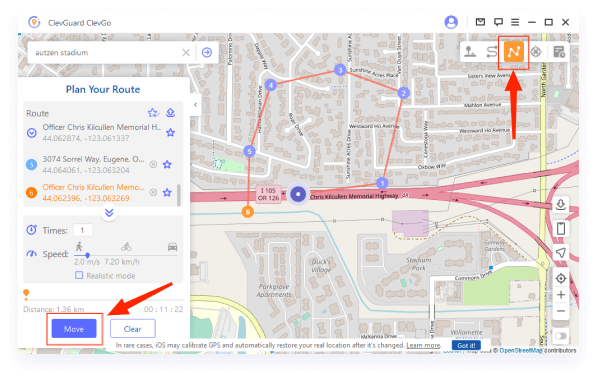 D. Joystick Mode
To select this mode, navigate towards the upper right corner of the dashboard and pick the option. After this, select the location and Click on "Move". Then you can control your movement direction with Joystick, keyboard or mouse. It would be helpful when you are playing AR Games such as Pokemon Go.
2. Spoof Location with a Cydia App
Cydia is basically a third-party store for downloading apps on iPhones. However, the only downside of using the Cydia Play Store is that it is available for jailbroken iPhones only. By jailbreaking your phone, you can easily download and install the apps. However, make sure your phone is fully protected before you download this application on your device. Anywhere, here I also provide the steps for your reference.
Steps to Spoof Location by Cydia App
Here in this section, you will learn about how to spoof location by using Cydia App. Check the points below for a detail insight.
Step 1: Download Jailbreak tool
First of all, download the jailbreak tool on your device to install this application successfully.
Step 2: Jailbreak iPhone and download "Location faker"
Once jailbroken the iPhone. Open Cydis and search location faker application to install on your phone. Once you download the app, launch it to set fake coordinates.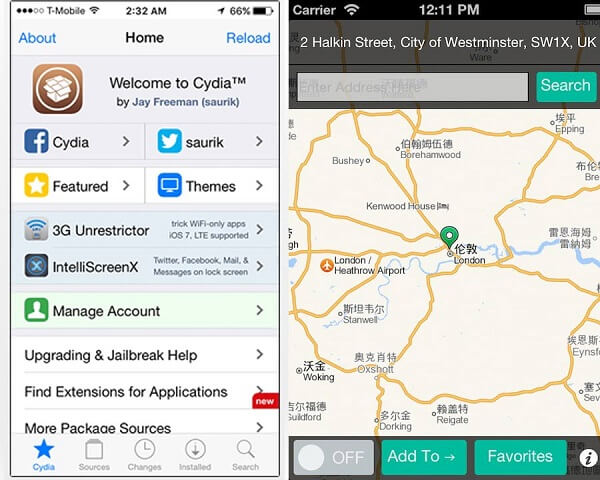 Step 3: Run "Location Faker" and start to change location (Enter coordinates.)
Pick the fake coordinates from the map according to your choice to trick people by showing them your fake location. To set the coordinates, drag and drop the green pin on the map and pick the points.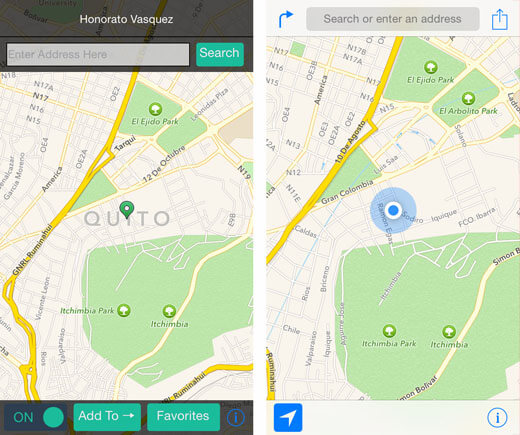 3. Using Proxy Server
Using a proxy server is much like a VPN. This approach helps people in changing GPS Locations on iPhones. In this method, the destination where you want to change to depends entirely To perform this job, one needs to pick a reliable Proxy Server. You can search the Proxy Server list and find that there are so many to choose whether it is paid or free. But keep caution and identify it's security, especially for those free as they may not encrypt your data and cause data leaking.
Steps to use Proxy Server to change location
Step 1:Pick a reliable Proxy Server and Copy it.
Step 2:Open your setting on Android or iOS phone, then Click WiFi and choose your current network.
Step 3:Scroll drown on your network setting, and find IPV4 section. Tap on your configure IP and use "Manual" mode. Then Enter the Proxy Server and save.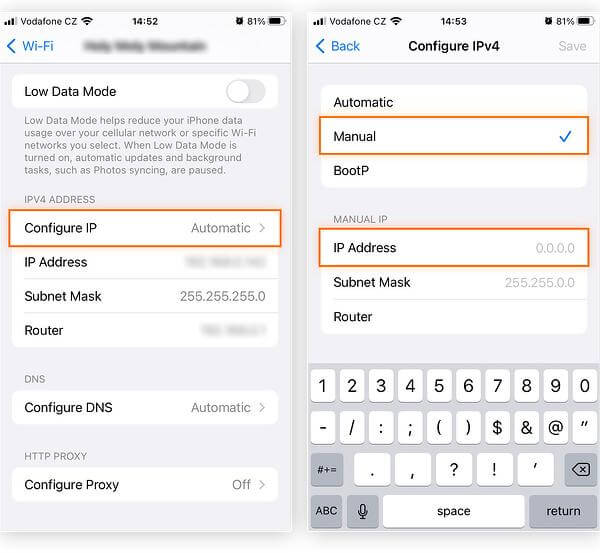 Step 4:Now, you have found that your IP address and location have been faked.
NOTE:
Remember that always choose the secure server even though it is paid for. Otherwise, the cache data proxies can retain all personal information, including passwords, which can cause problems if someone from outside tries to access the information. Similarly, this approach may not encrypt phone data, exposing it to hackers or data collection. In addition to this, it has no control over the DNS traffic.
Also, if you are trying to spoof Pokemon Go Location, I do not recommend this method. The Proxy Server does not support GPS simulation so it may be detected.
4. Use Tor Browser
Tor Browser is a web browser that enables you to hide your IP address and redirects your web traffic through a set of routes. In this way, you can use the different IP Addresses provided by Tor Browser to change your device to an IP Address and other people will fail to see your real IP.
How to Change Location by Tor Browser
Step 1:Find the Tor Browser in your windows start and connect to it.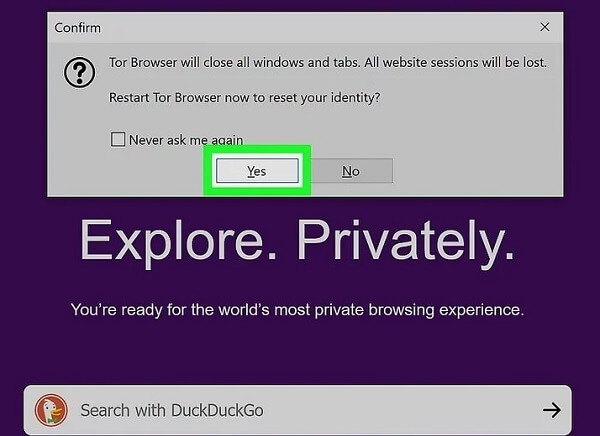 Step 2:Click the menu in the top right corner, and select "New Identity", or use the shortcut "control+shift+U".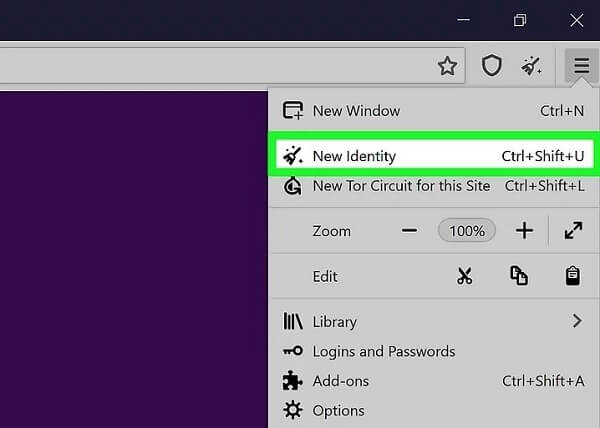 Step 3:Waiting for a Pop-Ups to request if you need to restart your Browser to reset a new identity. Then Click "Yes". Now, it has been done.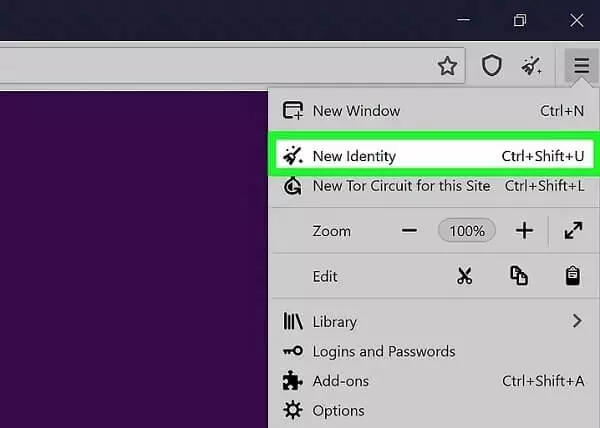 Extra Tip: Tutorial for Android App
1. Download the Tor Browser from Google Play and launch it.
2. Choose the option "Connect to TOR" and wait for several minutes. Then, follow the on-screen instruction and set up Tor Browser.
3. When the TOR connection has been completed successfully, open a new tab and enter the address you want to visit and surf the web as usual in this browsing app. Then you will find you are visit it with a new address.
NOTE:
Browsing through the Tor browser may be a little slow as it involves redirecting through at least three nodes. Moreover, this browser takes some startup time, and the user needs help to upload and download bigger files through this network.
5. Use Smart DNS Services
A smart DNS service is a speedy way of accessing unblocked content worldwide. It is comparatively faster and less expensive as compared to VPN. Moreover, configuring the Smart DNS Service is a lot simpler and easier to configure as it does not involve any software to set up.
Guide to Fake GPS Location with Smart DNS Services
Step 1:Activate the Smart DNS Services by registering your current IP Address.
Step 2:Get the new IP Address provided by Smart DNS Services, and configure DNS.
Step 3:Enter the IP Address manually and restart your device.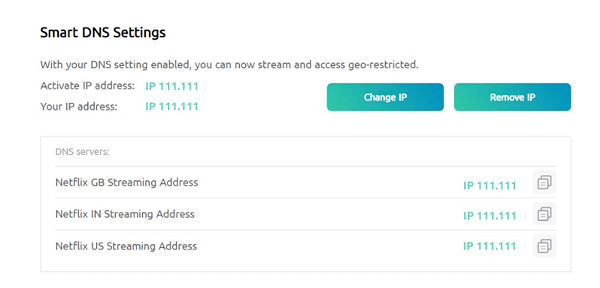 NOTE:
This service may not use encryption which makes the online connections not secure. This approach can't hide your IP address which leads to security issues.
Bonus Tip: What is the Best VPN to Change Location?
Here I also provide the introduction if you prefer to fake GPS with VPN. Different VPN options are available in the market, allowing people to change their location without difficulty. In this article, I picked ExpressVPN to make an example. ExpressVPN is one of the best VPNs used for changing locations. It acts as a proxy that allows you to surf the web anonymously from your preferred location.
Steps to Change Location by ExpressVPN
Step 1:Download Express VPN app on your computer or smartphone and select the plan of your choice.
Step 2:Launch the App and follow all the on-screen instructions one by one.
Step 3:Click "Connect" on your VPN App and enjoy the internet service with complete security and privacy.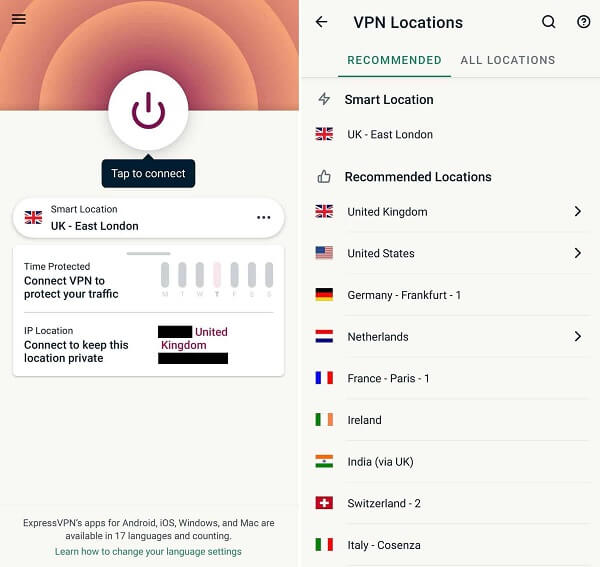 Conclusion
There are different ways to change your Phone's live location without installing the VPN. This article contains a complete guide about how one can change the location on their iPhone and trick people by showing them a fake location. But personally, the best approach among all the above-listed ones is ClevGo. It is one of the simplest, safest, and easiest ways of changing the location with a fake one. So what are you waiting for? Download the application now, and surf all the websites blocked in your area.