A lot of times we often find it important to change our actual location with a virtual location. This can be because of privacy as well as security reasons, or something else. But is it possible to do so? Well, it is possible with the help of various amazing tools. These are considered to be the best location spoofer tools. But what are these, and what pros and cons are attached to them? Let's find out.
Best 8 iTools Virtual Location Alternatives
Part 1 An Overview of iTools Virtual Location
1. Introduction of iTools Virtual Location
iTools is certainly considered to be powerful in terms of iPhone location spoofing and providing a virtual location. It functions by replacing the actual GPS location, which is active on your device, with another virtual location. So, what does that mean? This means that all the apps that use your GPS location will get the virtual location thanks to the iTools location spoof.
But is it really that effective? Well, that's not the case. There are various disadvantages of using iTools Virtual Location as well.
1. Disadvantages of iTools
It is only for iOS users and not for Android devices.
Doesn't support every iOS version.
Limited services available with the free version.
The paid version is extremely expensive.
Many other issues, such as its incompatibility with various antivirus programs.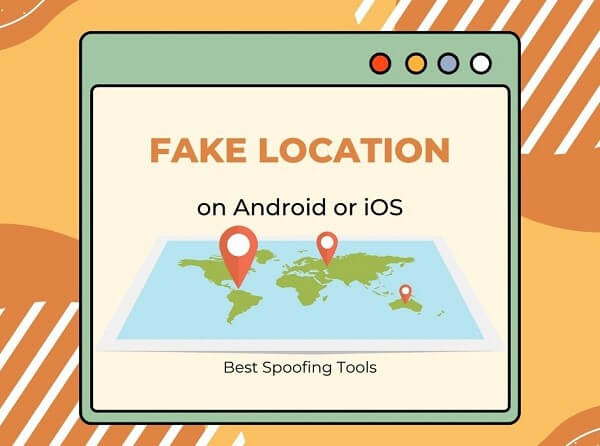 As we can see, there are a number of disadvantages associated with iTools Virtual Location. Therefore, in this article, we will discuss the top 8 best alternatives to iTools that you can use instead of it.
Part 2 The Best 8 iTools Virtual Location Alternatives to Fake Location
So how to fake location on iPhone or an Android device? Well, use the tools and apps mentioned below.
| Tools | compatibility | Recommended Star | Safe | Jailbreak/Root |
| --- | --- | --- | --- | --- |
| ClevGo | Up to Android 13 & iOS 16 | 4.8 | Yes | No |
| iLocation:Here! | iOS 13.0 or later | 4.3 | Yes | No |
| 3uTools | iOS 13.0 or later | 4.0 | Somehow | No |
| Location Handle | iOS 9 and 10 | 2.0 | No | Yes |
| iTeleporter | iOS 9 to iOS 13 | 4.2 | Yes | No |
| Mock Location | Android 4.4 and up | 2.7 | Somehow | No |
| Fake GPS 360 | Android 4.4 and up | 3.2 | Somehow | No |
| VPNa | Android 4.4 and up | 3.1 | No | No |
1. ClevGo Location Spoofer
Number one on our list is ClevGo.
It is a wonderful tool that can help you fake your location by providing a virtual location. No matter where you are, with the help of this amazing tool, you can easily change your location. This is the best tool out there in terms of security as well as maintaining the privacy you desire for. No doubt, it is an ideal alternative to iTools virtual location as it works not only in iPhone location spoofing but also for android.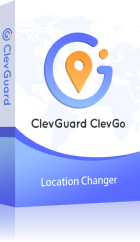 What makes ClevGo stand out?
All support AR games such as Pokemon and other location-based apps such as Instagram, Facebook, etc..
Change to anywhere you want whether it is a country or a precise positioning.
Works perfectly with both iPhone users and Android users.
GPS movement can be stimulated naturally.
No bugs or glitches while using the tool.
Jailbreak and rooting are not required.
Provides a free trial.
Within several Steps to mock location by ClevGo
Step 1: Get ClevGo on your computer and connect your Android or iPhone to your PC.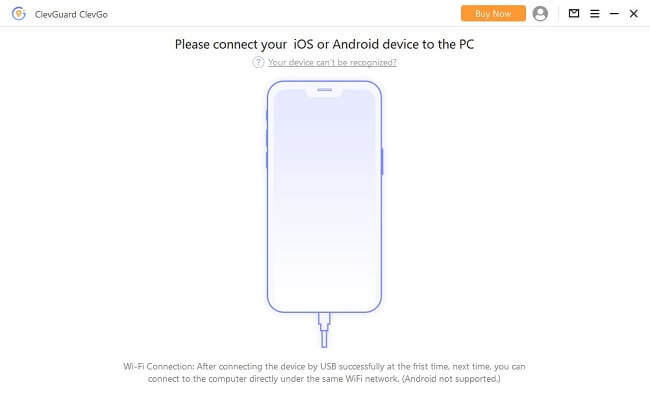 Step 2: Choose Your preferred mode (Teleport mode, Two-spot mode, Multi-Spot mode and Joystick Mode) and enter your destination.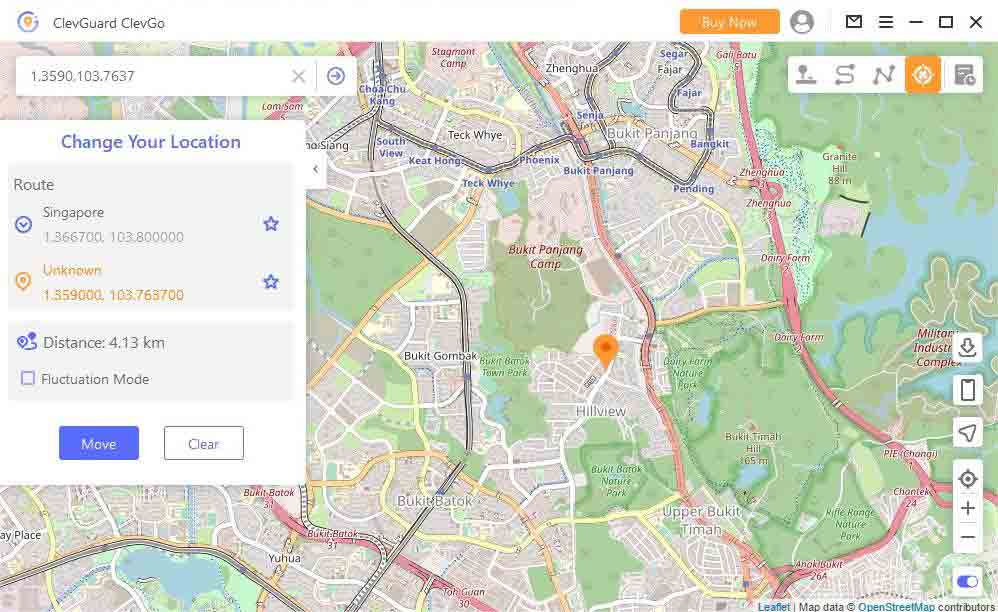 Step 3: Click "move", and you will find that your new destination is displayed on your device.
Step 4: If you wanna get the real location back, restart the phone, it will be done.
2. iLocation:Here!
Similar to other tools, iLocation is also a great proxy site to spoof location. It is used to search as well as share the location in the most convenient way. Changing the format of the map is also very easy with the help of iLocation. It is deemed great for those wanting to send their exact location to someone without wasting any time. Moreover, the coordinates can also be specified once they are entered.
Steps to use iLocation: Here!
Step 1: Download it from the App store.
Step 2: Find the specific address or coordinates of the destination that you wanna change to.
Step 3: Entering the coordinates or address, then click done.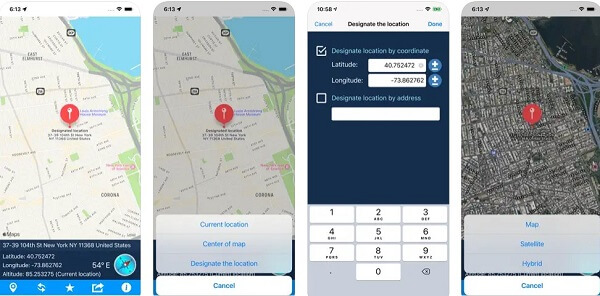 Pros

Shows the address of the location and compass bearing.
The map can be saved in the clipboard as well as in the camera roll.
Once the location has been saved, it can be reused again quite easily.
Location information can be saved
Cons

May encounter glitches while using the app.
Only for iOS 13 or later version
Do not support simulating GPS movement and speed
Limitation to the duration of modifying the position.
3. 3uTools
3uTools is another phenomenal app or tool that can help you manage your device and assist you in iPhone location spoofing. No matter which Device you have, you can use this app for virtual location on all of your devices. If you face the issue of location restriction in your region, 3uTools can certainly be a good tool for you. You can use this tool for spoofing Pokemon Go as well, particularly where the issue of regional restriction is common.
Steps to modify location with 3uTools
Step 1: Download it on your computer.
Step 2: Click Toolbox in the upper menu. Then choose "Virtual location".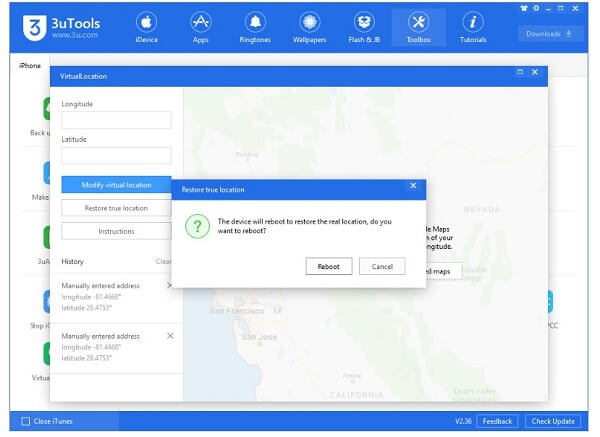 Step 3: Input longitude and latitude and click modify.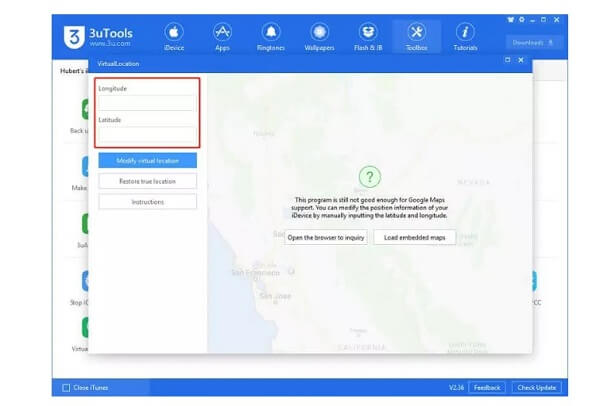 Step 4: For iOS 16 users, the "developer mode" has to be opened.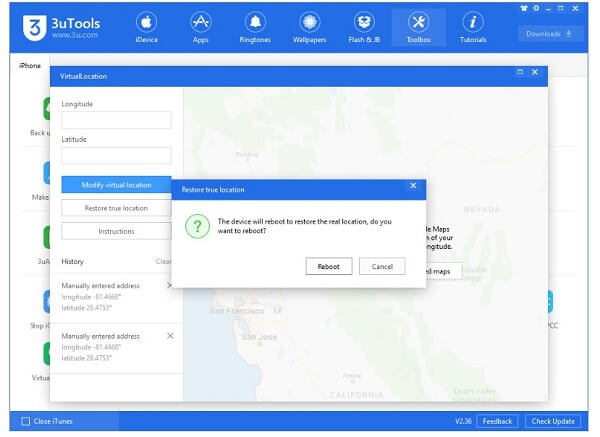 Pros

Helps break the location restriction.
It can assist in manipulating the GPS position of your device.
Jailbreaking is not needed.
Have many functions.
Cons

Private information can be at risk.
Problems can arise with regard to servers.
Sometines the map failed to be loaded.
Limitation to the duration of modifying the position.
4. Location Handle
Location Handle is also a tool that you can use as an alternative to iTools. With this app, you can change your location and set a fake location for the purpose of safety and security. In addition to this, this tool offers four different types of modes. These include normal mode, Offset mode, Automatic mode, and Manual mode. But note that the tool is compatible with Jailbreak iPhone. If your iPhone is not, we do not recommend this way and you can skip this part to the next one.
Here we also provide the Steps to use Location Handle
Step 1: For Jailbreak iPhone, they is a Cydia App on the home screen. Launch it and search Location Handle to download. ($4.99 needed)
Step 2: Waiting for the load of the current location.
Step 3: Identify your destination and added it to the favorites. Wait a moment, you can open your Google Maps and find you are in a new position.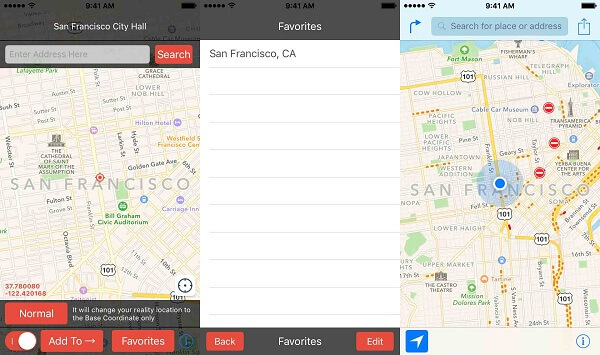 Pros

Easily change the location.
Offers various types of modes that can be enabled whenever needed.
Simple to use.
Cons

Need to Jailbreak.
Have to pay some amount before using it.
Only compatible with iOS 9 and 10.
Lack of updates.
5. iTeleporter
Another fantastic iPhone location spoofing app on our list is the iTeleporter. Users can enable the virtual location and hide their original location without a computer. You can use it on your iPhone to change the location to anywhere in the world you want. Moreover, this app can be used for iOS 9 and above as well. The highlight is that it allows headphones, charging and GPS spoofing at the same time.
How to spoof location with iTeleporter?
Step 1: Download the app on your iPhone. Run it and choose the teleport mode.
Step 2: Search the address.
Step 3: Click "Move here".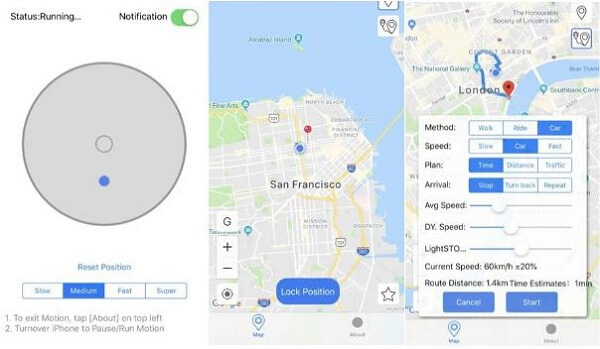 Pros

You don't need a computer to install this app.
Jailbreak is not required.
Simple and user-friendly.
Considered as 3-in-1 dongle devices.
Cons

The most expensive of all the methods mentioned in this article and without a free trial. ($299 to $399).
Android users can not use it.
Lack of updates.
6. Mock Location
The mock location app is deemed a wonderful app in terms of faking the GPS location information on Android. This is particularly true for those apps on your device that make use of the GPS to function well. You will have to decide the starting and ending points on the map, and then eventually, as you will travel through that route, the GPS coordinates will start to change.
Using Moke Location within 3 easy steps
Step 1: Download it on your Android.
Step 2: Choose the mode by clicking the first icon in the bottom line of the app.
Step 3: Select the spot by dragging the map, then click the green check table on the left.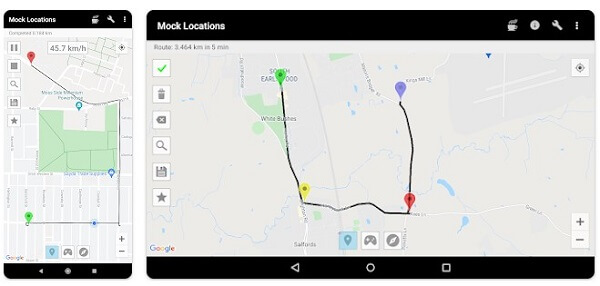 Pros

Provides the joystick mode.
Available with the GPX file playback mode.
Automatically create route and speed.
No need a computer.
Cons

Might experience some technical issues while using the app.
Speed can fluctuate a lot.
Only available for Android.
Auto-create route instead of customizing it by users.
7. Fake GPS 360
Want to teleport your phone to any other location anywhere in the world? Fake GPS 360 can be an excellent option in this regard. While using this app, you can change your original location and set it to somewhere else. This is perfect for those people who simply want to hide or trick their location while interacting with their friends. Not just the cities, you can change the entire country as well.
Easy steps to use Fake GPS 360
Step 1: Download it from Google Play.
Step 2: Enter coordinates and confirm, then begin to search.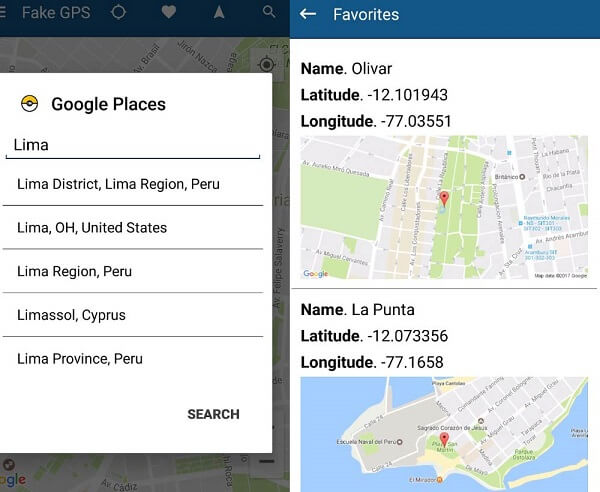 Pros

Simple and easy to use.
More accurate than other free apps.
You can use it for freed.
No need a computer.
Cons

Not many reviews are available and therefore isn't much common among people.
No support for Joystick and unfriendly to Game location spoofing.
Not support iOS device.
8. VPNa-Fake GPS Location Go
Last but not least on our list is the VPNa. It is a phenomenal app and tool to show a fake location. Perfect for those who want to prank their friends and family members by showing they are at a different location. The best thing about this app is that you can save your location and use it later when you need it. This is great in situations where the internet connection is very weak.
Steps to use VPNa to change location
Step 1: Download the VPNa on Google play.
Step 2: Run it and wait for loading the current Map. Then search for a location .
Step 3: When appearing "Do you want to change GPS Location", click "Yes".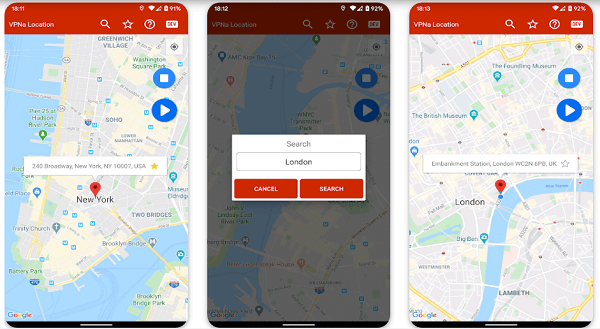 Pros

Root is not needed.
Choose whatever location you like anywhere in the world.
Saving the location is quite easy.
Simple and user-friendly app.
Cons

Your gaming profile may get banned as a result of using this app.
May encounter minor bugs.
Have to pay in order to use more features.
Conclusion
Changing your actual location to another location can surely be a great way of enhancing your security as well as privacy. This is particularly very important in these times when tracking and stealing information has become quite common. In this regard, using the best tools can be the right option. No matter if you have an iPhone or an Android, ClevGo can be the perfect app for you. Still, if you are looking for something else, you can explore the other apps we have discussed above. Although the rest of the apps may not be able to provide you with the same benefits as ClevGo can, they can still prove to be helpful.