The top WhatsApp spy tools allow you to remotely track target devices, monitoring their location, messages, calls, and social networking apps. These apps are great for monitoring your child online, keeping track of a spouse, or spying on your staff while they are at work. You can even gain remote access to target devices to restrict the use of specific apps.
However, with so many WhatsApp spy tools available today, choosing one that is safe to use might be challenging. Don't worry, we've made it simple for you. We discovered and tested the top 5 WhatsApp spy tools you can use to spy on WhatsApp based on factors such as cost, security, free trials, and tracking. Let's see them right away.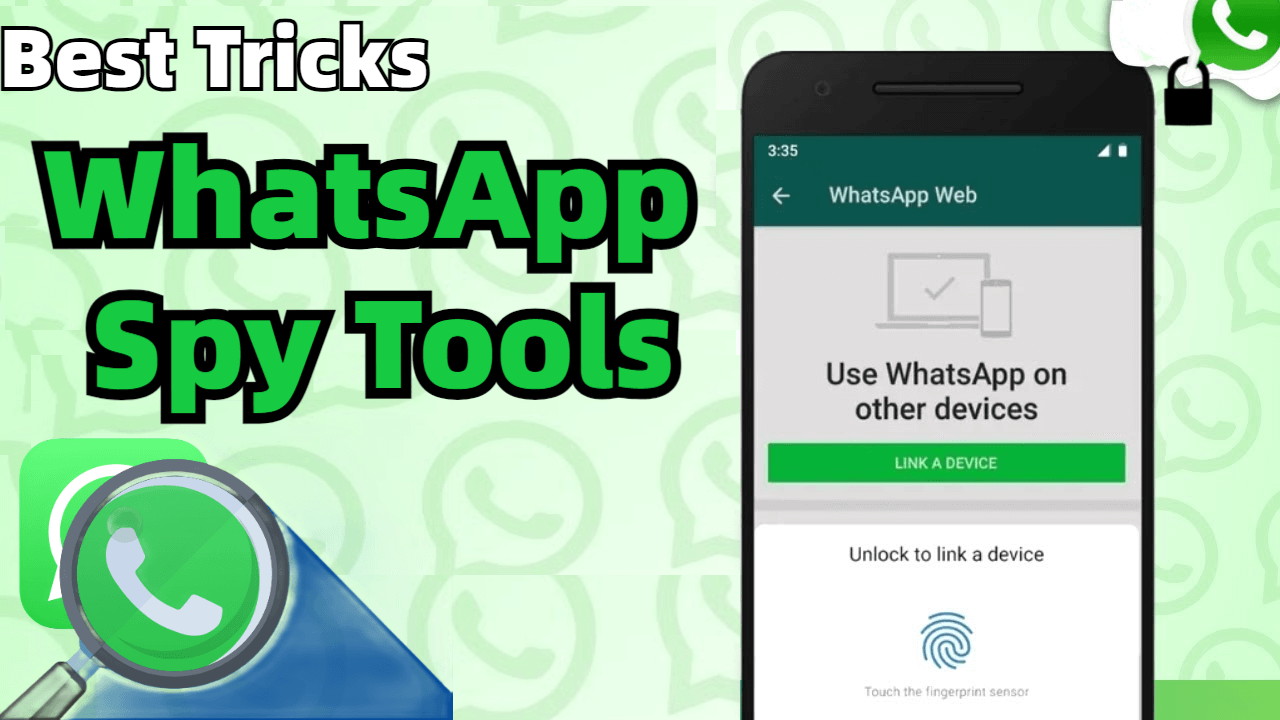 Top 5 WhatsApp Spy Tools Online
Here's a sneak glimpse at what the following top WhatsApp spy tool has to offer. These WhatsApp spy apps have emerged as a great solutions to parents, families and business owners needs.
1. KidsGuard for WhatsApp (Our Fave)
KidsGuard for WhatsApp allows you to spy on WhatsApp activities on your child's or partner's device, including WhatsApp chats, status/last seen, call history, call recordings, and more, as well as take WhatsApp screenshots of others. KidsGuard is also smart hidden and real-time WhatsApp monitoring tool, which call help monitor someone's WhatsApp messages in real-time without being detected.
KidsGuard for WhatsApp, as a great WhatsApp parental control, can be a great helper for parents to protect kid's online safety. Parents can use KidsGuard for WhatsApp to limit kid's WhatsApp use time remotely, and receive notifications if kids trigger the alerting words on WhatsApp.
Here are 5 eye-catching features of KidsGuard for WhatsApp that will assist you in spying on your child or partner's WhatsApp:
Read WhatsApp Messages: With KidsGuard for WhatsApp, you can spy on WhatsApp conversations and access their shared media files anonymously.
View WhatsApp Call History: It also allows you to view WhatsApp call history and automatically record WhatsApp calls.
Export WhatsApp contacts to Excel with online numbers: KidsGuard for WhatsApp allows you to export the targeted WhatsApp contact to an Excel file format with your online number.
Decrypt and Read Encrypted Media and Messages: It enables you to read encrypted WhatsApp messages on Android/iPhone without the need for a passcode.
Track WhatsApp communications of All Types: It also allows you to track WhatsApp, WhatsApp Business, GBWhatsApp, WhatsApp Plus communications, and shared media files.
How to Use KidsGuardfor W hatsApp to Spy on WhatsApp on Android and iOS:
Step 1. Obtain the Desired Plan First and foremost, you can select and purchase a WhatsApp tracking package and activate it.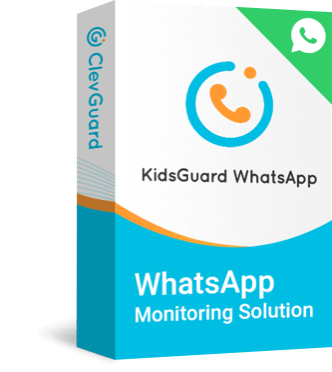 KidsGuard for WhatsApp
Best WhatsApp Spy Tool to Track All WhatsApp Messages
Step 2. Click Start Monitoring button, you will be navigate to the product use guide of KidsGuard for WhatsApp. Then choose Android or iOS.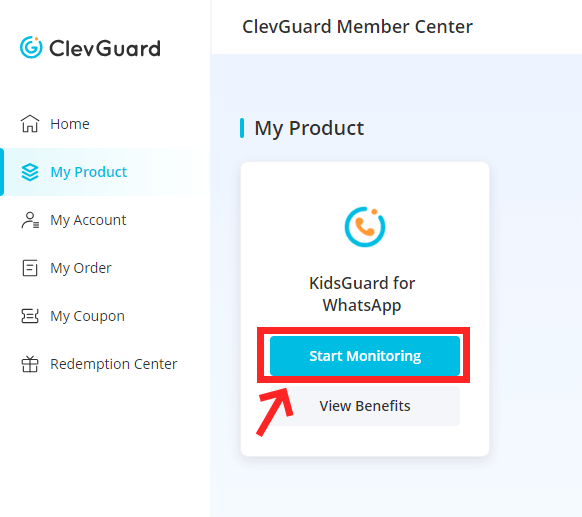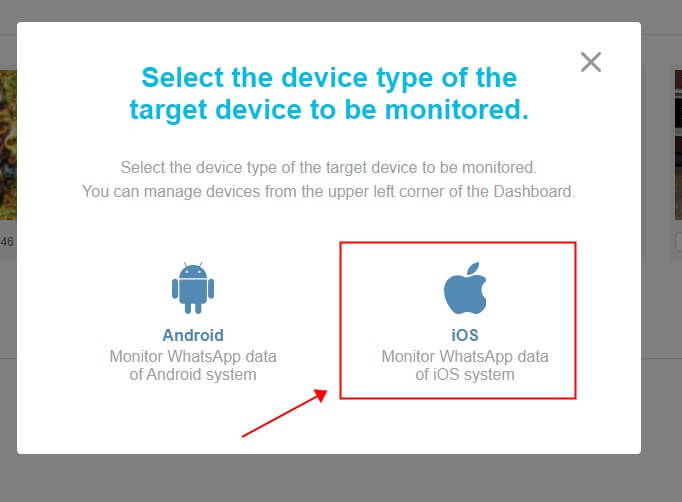 Step 3. Access KidsGuard for WhatsApp. Install the KidsGuard for WhatsApp monitoring software from installapk.net on the target device. Then, simply follow the on-screen instructions to log in to this parental control program on the target device.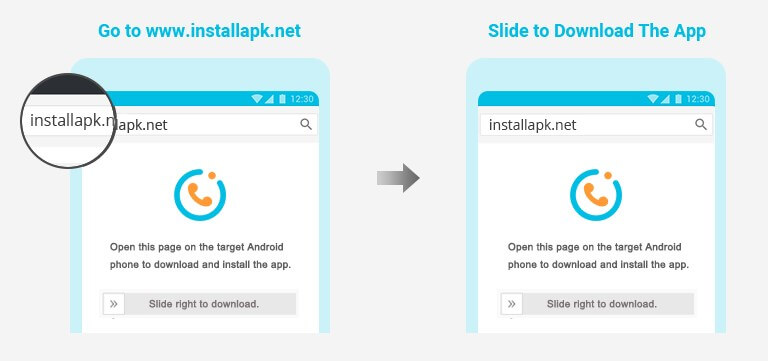 Step 4. Begin Monitoring WhatsApp Messages You can spy on WhatsApp from the target WhatsApp account, including conversations, status, voice, call log, images, and so on.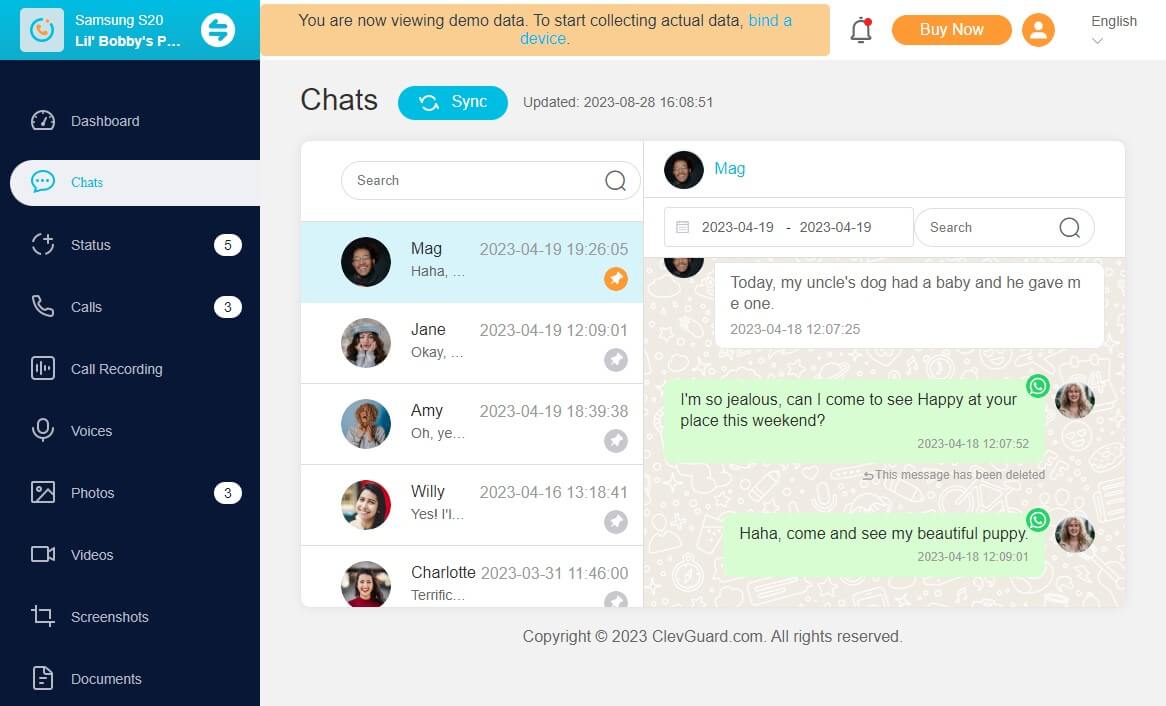 2. mSpy
Without a doubt, mSpy is by far the best WhatsApp spy tool available, second only to KidsGuard for WhatsApp. With good reason. You'd be hard-pressed to find another software that allows you to see every bit of WhatsApp information at a reasonable fee, works on iOS and Android, and provides the same degree of customer assistance.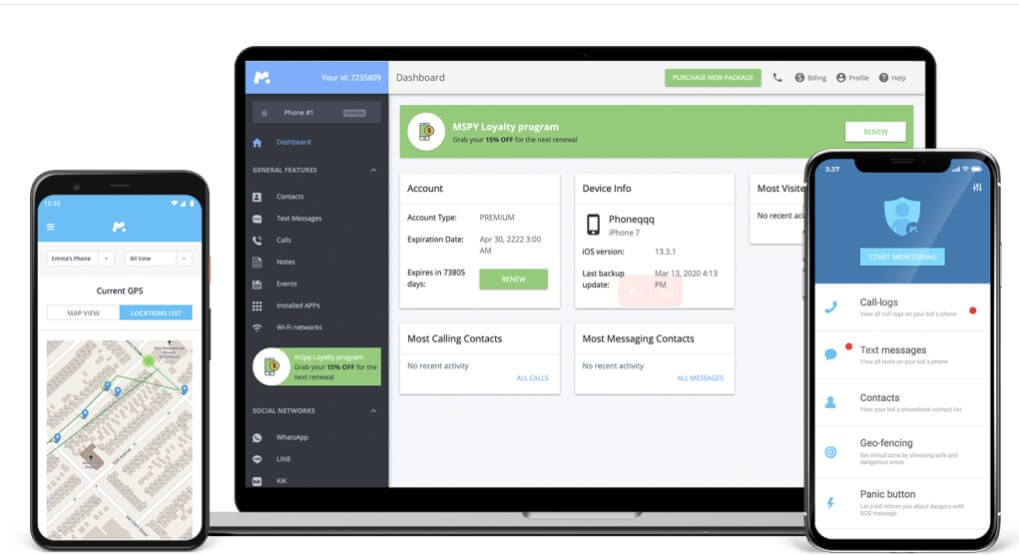 Features of mSpy

You can access all SMS and text messages received, sent, or even deleted from any contact.
View incoming and outgoing call records, as well as the contact list.
View GPS location history and routes and receive notifications about certain locations.
Pros

It is easy to use.
The app has an anonymous GPS tracker
Cons

The application often has a glitch.
The charge is a little expensive.
3. FamiSafe
FamiSafe is an excellent tool for monitoring teenagers. Teens do not appreciate anyone invading their personal space, unlike babies and pre-teens, who are fine with giving up some control over their electronics. However, as a parent, if you want to ensure their safety, FamiSafe has the tools you need.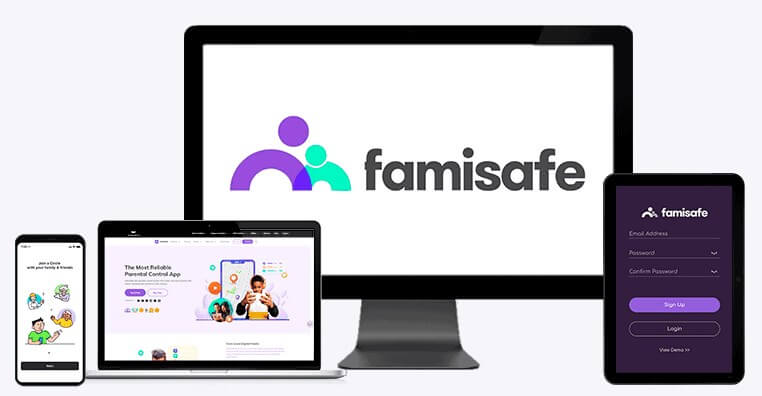 Feature of FamiSafe

Web filtering entails categorizing search results and web pages and adding exclusions.
Limits the amount of time your child can spend on their device and select apps.
App management allows you to block apps and exclude specific apps from all limitations.
Pros

Available in over 190 countries。
Allows you to enable the Safe Search limited browsing option for your children.
Gives you a complete driving report for the intended user.
Cons

Unlike other WhatsApp spy tools, it does not allow your children to request access to prohibited websites.
4. FamiGuard for WhatsApp
FamiGuard provides expert solutions for parental control, phone activity monitoring, Android device tracking, accessing WhatsApp chats, and more.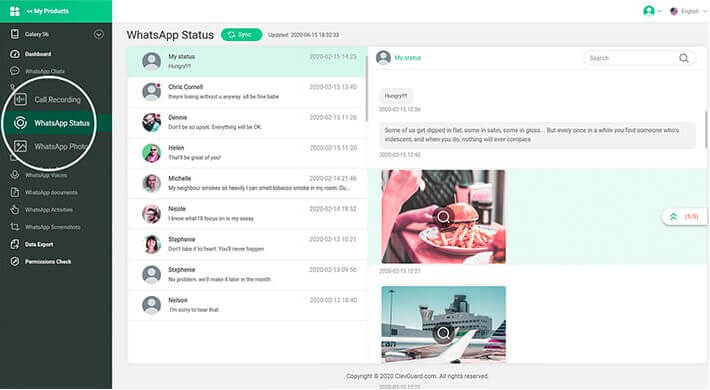 Features of FamiGuard for WhatsApp

Track and control 10+ WhatsApp data as if it were real, including chats, calls, voice messages, status, files, and so on.
Deleted conversations and data can be recovered and tracked.
Sync data and live calls in real-time; record audio and video calls; no WhatsApp account or login required.
Pros

It is easy to use.
The app has an anonymous GPS tracker.
Cons

The photos can only sync only with a WiFi connection turned on。
You'll have to use a pricing package for the use of more devices.
5. XNSpy
XNSPY allows you to remotely spy on WhatsApp chats. You can read WhatsApp messages and see multimedia saved in the target device's gallery in secret using this WhatsApp spy tool.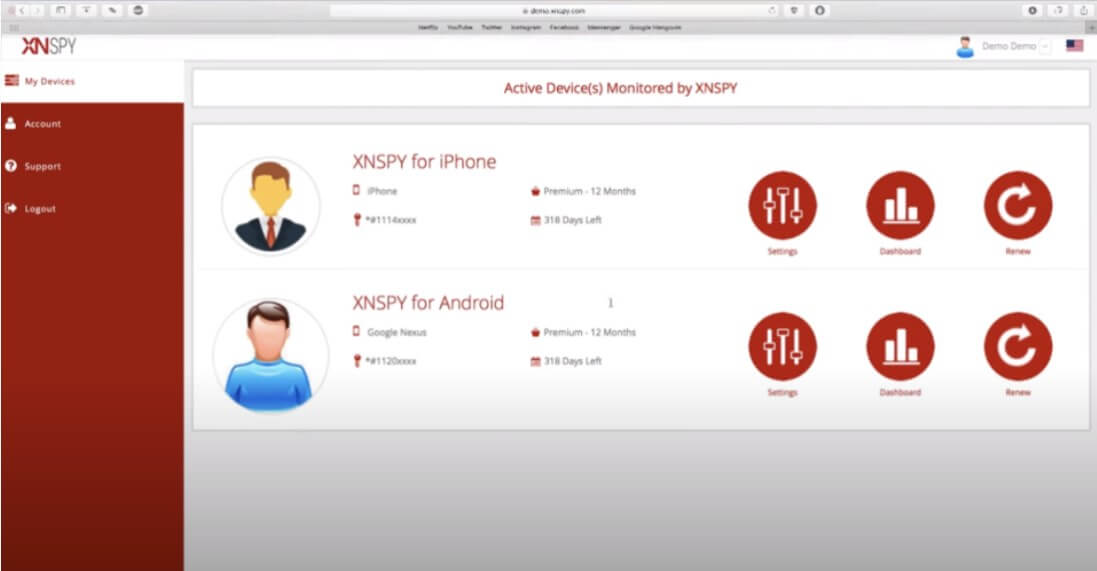 Features of the XNSpy tracking tool:

Access WhatsApp call logs.
Go through all of the chat threads.
Use WhatsApp photo tagging to view all photos.
Examine time and date stamps.
Pros

The tool is simple to use Also, it has advanced features for pros.
It has an alert system that notifies you when either a target or messenger sends an illicit message.
Cons

It doesn't sync data.
Data analysis in many cases is incomplete and inaccurate.
Comparison Table of the Top 5 Best WhatsApp Spy Tool
To better understand which of these WhatsApp spy tools is the best, let us compare them to common factors that a user will consider before using:
| Name | KidsGuard for WhatsApp | mSpy | FamiSafe | FamiGuard for WhatsApp | XNSpy |
| --- | --- | --- | --- | --- | --- |
| Compatibility | Android/iOS | Android | Android | iOS/Android | iOS/Android |
| Price | $24.99 | $49.95 | $39.95 | $39.95 | $29.99 |
| Hidden WhatsApp tracking | Yes | Yes | No | No | No |
| Real-time location | Yes | No | Yes | Yes | No |
| Rate | | | | | |
Conclusion
Finally, everything you need is included in our list of the best WhatsApp spy tools. You can select from location trackers to extensive free trials and inexpensive pricing that allow you to test out all of the premium features that a WhatsApp spy tool has to offer.
Overall, after careful consideration, we recommend that you use KidsGuard for WhatsApp as it is the finest software for tracking your children, spouse, and employees on WhatsApp as it lets you detect if they are in danger or are with the wrong people online.