WhatsApp is a commonly used messaging tool for quick and convenient personal communication. It allows you to share photographs, videos, documents, and voice messages with your family, loved ones and business partners. It does, however, have negative sides, such as children engaging with strangers or viewing harmful content, as well as employees misusing it during work hours.
A WhatsApp Spy App can let you monitor these activities. It assists in tracking critical communications among family members and employees, preventing misuse, and identifying frequent messengers and potential scams. In today's post, we'll go over how to use a WhatsApp Spy tool to effectively monitor and spy on WhatsApp activities. With that been said, let's get started straight away.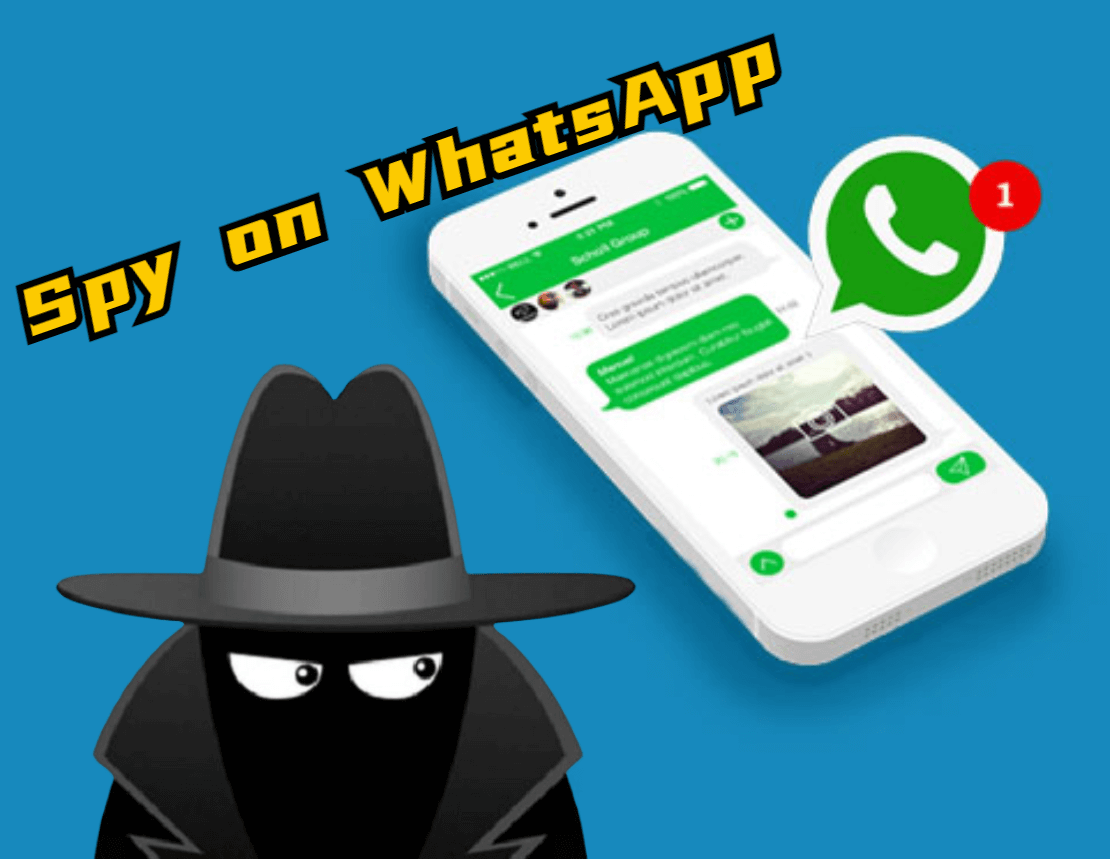 Part1. Is it Possible to Spy on Others' WhatsApp Messages?
WhatsApp has grown to be one of the most popular messaging platforms in the world, connecting billions of users and allowing for seamless communication. WhatsApp focuses on user privacy and security with end-to-end encryption and two-step verification.
However, one might frequently think: Can WhatsApp conversations be traced? Or "how to spy on others WhatsApp messages without installing the app on the target phone?" Although WhatsApp's privacy policies are strict enough that users cannot track communications, but we'll talk about an ideal solution in the coming section.
Part 2. How to Spy on Others WhatsApp Messages?
While tracking messages to spy on others WhatsApp communications can be difficult, some characteristics of tracking software make it easier and possible. Along with the WhatsApp features that gives you access to spy on WhatsApp messages, several third-party spy programs allow you to do so as well. This section describes the features and steps of these four methods below. So let's have a look at them right away:
Method 1: Use KidsGuard for WhatsApp to Spy on WhatsApp
KidsGuard for WhatsApp is the best WhatsApp tracking app for monitoring any WhatsApp activities. This tool is appropriate for all users of all ages, primarily parents who want to spy and monitor their beloved children's WhatsApp activities, partners who want to monitor the activities of their loved ones to see if they're faithful and not cheating, and employers who want to spy on WhatsApp activities of their employees.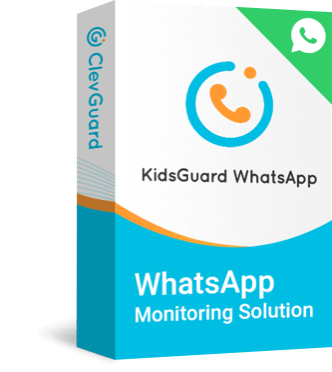 How to Spy on WhatsApp Using KidsGuard for WhatsApp:
Follow these brief simple steps below to use KidsGuard for WhatsApp to spy on others WhatsApp:
Step 1. First and foremost, click the Try It Now button and buy a suitable WhatsApp spy tool, you can use KidsGuard for WhatsApp to spy someone's WhatsApp.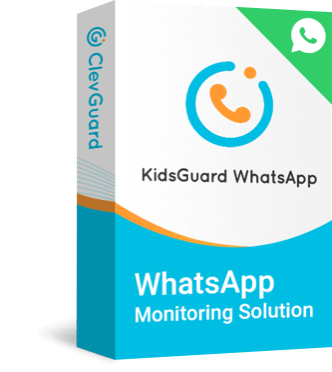 KidsGuard for WhatsApp
Best tool to spy on WhatsApp on Someone's Device.
Step 2. Click Start Monitoring button, you will be navigate to the product use guide of KidsGuard for WhatsApp. Then choose Android or iOS.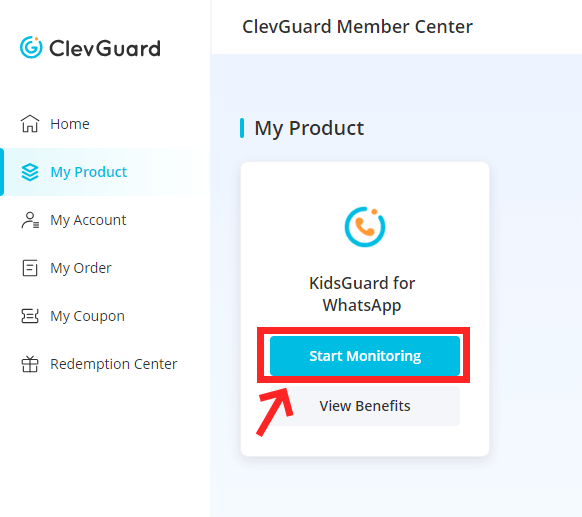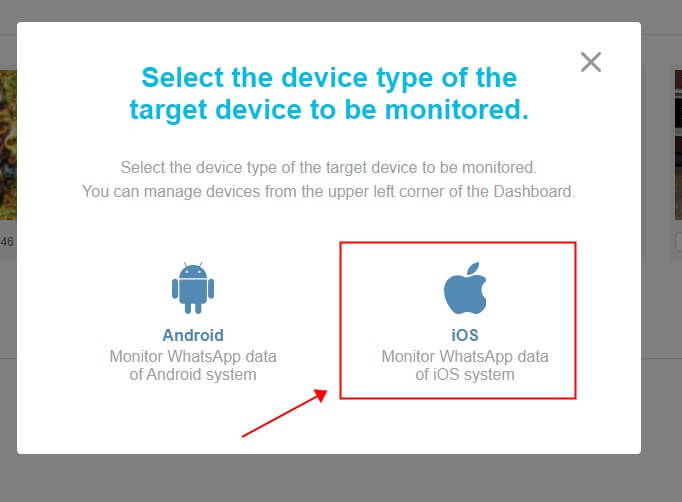 Step 3. Follow the instruction, install KidsGuard for WhatsApp from www.installapk.net on the target monitored device, and log in the tool with your email and password.

Step 4. Now you can bind the target device successfully. Click the feature tab on the left, you can spy all the WhatsApp messages on the target WhatsApp account. KidsGuard for WhatsApp is a hidden WhatsApp spy tool, the target person won't know he is monitored.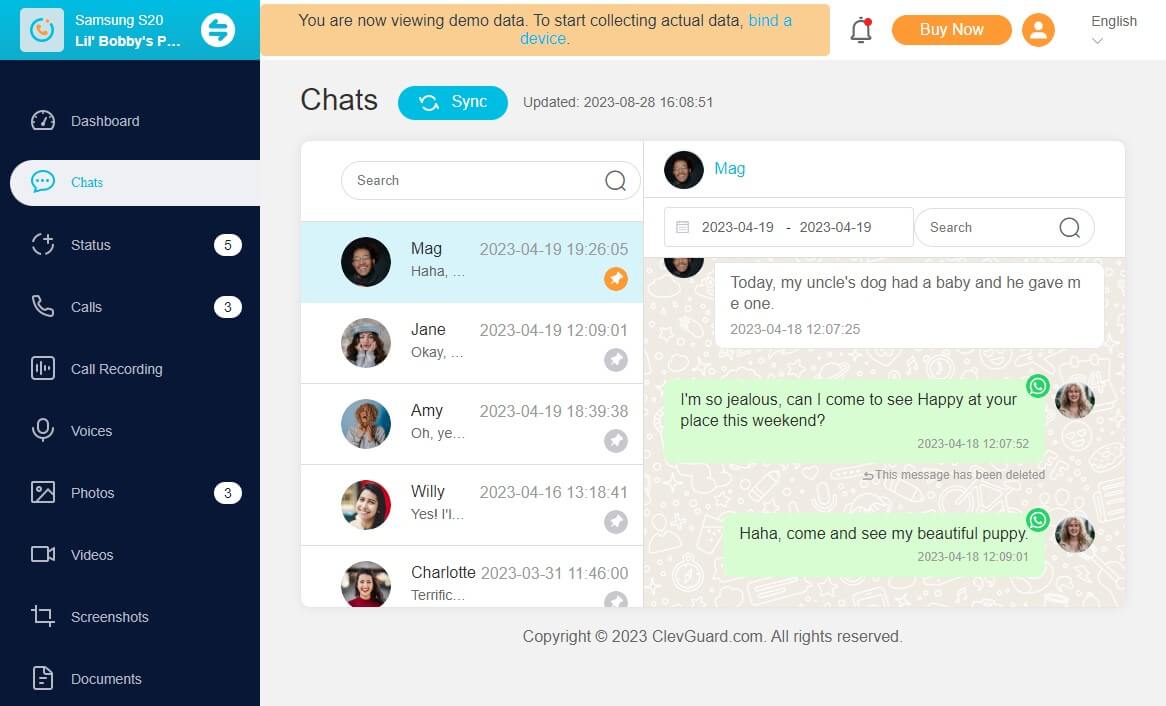 Method 2. Use WhatsApp Web to Spy on Others' WhatsApp
WhatsApp web is one of the most popular online apps for sharing WhatsApp messages from smartphones. You can use it to spy on others WhatsApp messages, send messages, and download media like images, videos, voice notes, and other files to your computer.
However, you can only use WhatsApp web on a PC, and you will need smartphone access by scanning the code with your phone.
Method 3. Check Others' WhatsApp Backup to Spy on WhatsApp
Messages are backed up depending on your WhatsApp settings. You can restore the backup as readable messages on your PC or a mobile device such as an Android or iPhone by accessing it. Your WhatsApp communications can be saved to Google Drive or iCloud. To keep your WhatsApp messages backed up to the cloud, make sure your account has both cloud and local backups.
To validate that the cloud backup option is enabled on your account, go to "WhatsApp" > "Settings" > "Chats" > "Chat Backup" > "BACK UP".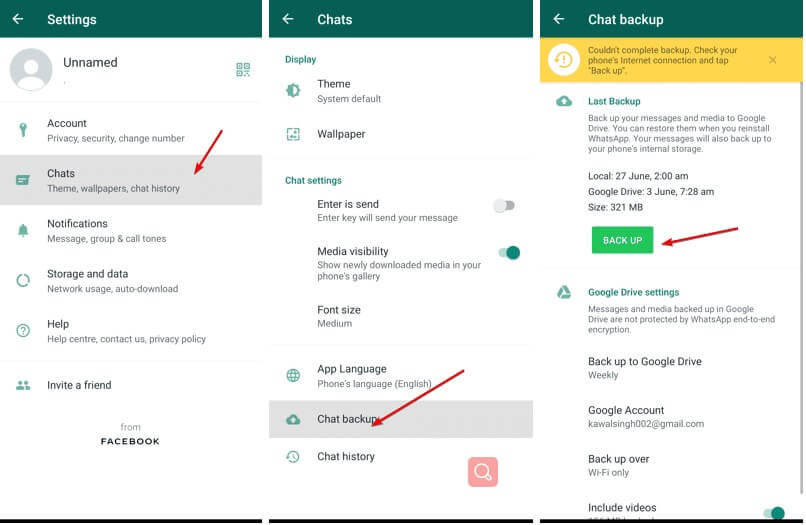 Once you have a backup, you must install WhatsApp on another device using the account's phone number. WhatsApp will automatically restore that account's messages from cloud storage.
You can also restore the backup of your WhatsApp messages using Google Drive or iCloud to spy on others WhatsApp messages.
If you have an Android phone, you can replicate the local backup to the new phone if you don't have a cloud backup. WhatsApp will then restore the messages from the local backup automatically.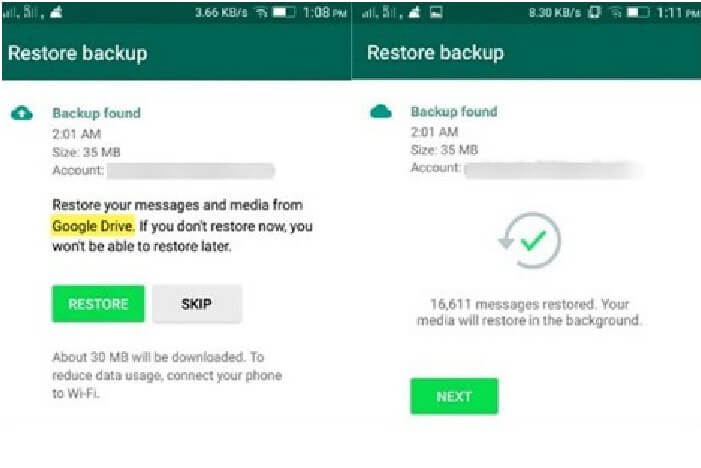 Method 4. Read on Their Phone Directly to Spy on WhatsApp
If you want to know what the target is doing on WhatsApp, you may simply read their WhatsApp chats and shared media on their smartphone. However, this may be more difficult because you would need their WhatsApp password if they have a passcode on their mobile device.
You'll also have to spy on WhatsApp chats just while he or she isn't present, which is rather fishy because it reveals you're invading the person's privacy.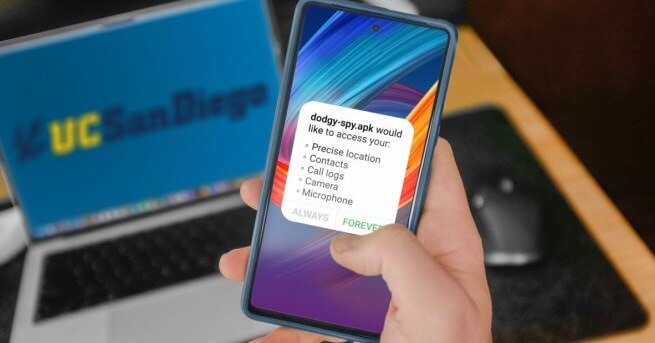 Part 3: Why People Want to Spy on Others WhatsApp Messages?
Using a WhatsApp tracking app can be a delicate and contentious decision, and it's critical to have clear and acceptable reasons for doing so. Here are some common instances in which a WhatsApp monitoring app may be required:
Parental Control: To safeguard their children's safety and well-being in the digital era, parents may consider employing a WhatsApp spying app. With the development of cell phones, children are becoming more vulnerable to online dangers such as cyberbullying, improper content, and communication with potential scams.
Employee Monitoring: Business owners and employers may find WhatsApp spy software useful for assuring organizational productivity, security, and compliance.
Catching a cheater: Catching a cheater by using WhatsApp tracking applications is one of the contentious but frequently emotional instances in which such tools are discussed. When there are suspicions of infidelity in a relationship, people may turn to these applications to gather proof and corroborate their suspicions. WhatsApp, being a popular messaging app, can be a source of incriminating chats and evidence of dishonesty.
Conclusion
The best WhatsApp spy applications do far more than simply allowing you spy on WhatsApp conversations shared on the software. If you want to keep your children safe both online and offline, and you also want screen recording, keyloggers, keyword alerts, and GPS monitoring, KidsGuard for WhatsApp is the best option for you.
It's simple to install and use, and it allows you to view everything your child, partner, or employee does on their phone, as well as record their screen and WhatsApp video and audio chats.
What more could you want? KidsGaurd's for WhatsApp spy software contains everything you'll need. You should go check it out for yourself right now.