Geofence can be defined as a boundary that can be virtually demarcated around a geographical area. It uses GPS or RFID technology. Once you install a Geofencing app on the target's device you will be able to set up a Geofence around a physical space and this will trigger Geofence alert in the form of push notification whenever the target enters or leaves the particular area. This feature enables you to know about the whereabouts of your loved ones and this can be extremely helpful in day to day lives.
Part 1: What are Geofence Alerts?
Geofence alerts are push notifications or emails which you receive after you set up a Geofence around a physical area that will let you know whenever your loved ones entered or left that particular area. First you have to simply identify an area where you want to create an imaginary fence which will in turn trigger alerts, giving you updates of whatever or whoever you are tracking.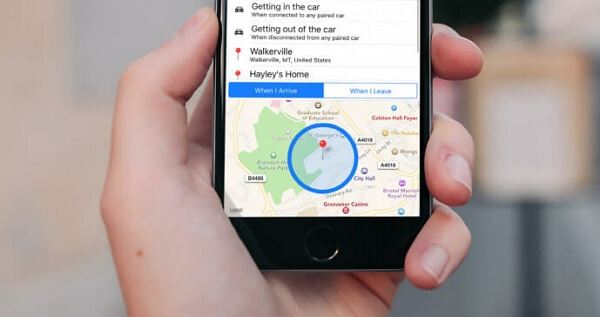 Part 2: How to Receive Geofence Alerts on Android
Android phones do not have a default Geofence feature so in order to enable Geofence setup and receive notifications, you will needs a third-party Geofencing app.
After careful test, we find KidsGuard Pro Android Geofencing is the best app to use for Android devices. This app allows you to designate an area on the digital map and receive notifications whenever the target enters or leaves that specified area. The reasons we recommend using KidsGuard Pro for Android are:
You can customize the radius of Geofecne circle.

You can decide the date and time for Geofence to work.

Timely Geofence notification without any delay.

You can check all the Geofence enter/exit events on the dashboard.

This app adopts very accurate GPS tracking technology.

You can also use KidsGuard Pro to track the real-time location and view the location history.
The app needs to be installed in the target's device, and once you set it up, it will work in stealth mode without letting people know. Now let's have look into the procedure to set up Geofence alerts with KidsGuard Pro Android tracker.
Step 1: First of all, sign up an account with KidsGuard Pro using your email ID.
Step 2: After completing the registration, you need to access the target device, for example, your child's phone. Go to www.clevguard.net and download KidsGuard Pro Assistant there.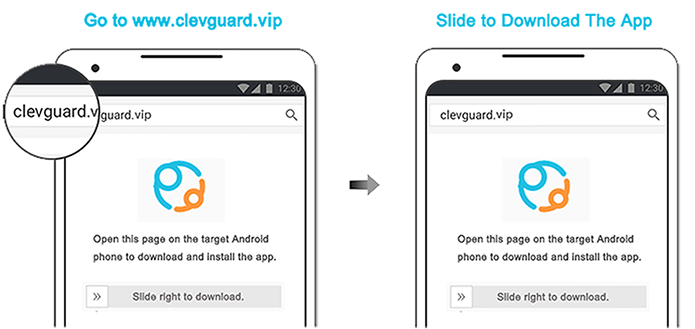 Step 3: When the APK file is ready, tap it and complete the installation by following the on-screen instructions. You will be asked to allow some permission. Don't worry; this is necessary in order to track the whereabouts.

Step 4: After installation, the app icon will disappear from the target device. Now, go to the web portal of the app and select Geofence from the left panel. Pick an address and decide the radius, as well as the guard time. Then it will start working.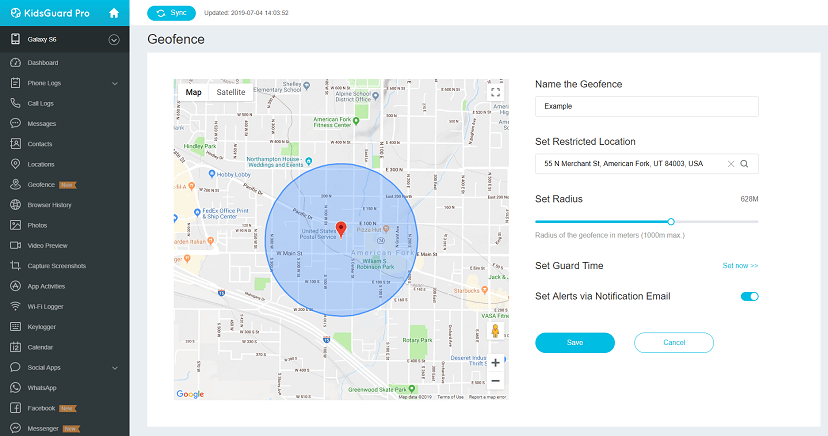 So, if you are using KidsGuard Pro Android Geofencing, you will be able to see the locations of the target device. You can expect the app to even show Geofence alerts whenever you check the dashboard of the app. Even when you are not actively tracking, the app will send you Geofencing push notifications via email.
In Android devices, you need to first request the necessary permission. Then you need to create and add Geofences using API, the location set up for Geofencing activity. As the user has completed the following processes, they will start receiving alerts notifications in the form of emails, push notifications, and messages.
Part 3: How to Get Geofence Notifications on iOS devices?
On the other hand, unlike Android, there is a default app in iOS devices that is commonly known as Find My Friends. It can send you notifications whenever they enter or leave a Geofence. There are certain settings in order to receive notifications and they are discussed below:
Step 1: Unlock the device and visit the Home Screen.
Step 2: Go to "Settings" and then tap on "Notifications", followed by a tap on "Find Friends".
From here you will be able to change the settings of Find My Friends service.
Now, as for setting the service for Geofence notification, you need to do the following;
Step 1: First, tap on "Me" and then tap "Everyone or Only My Friends" on Geofence option.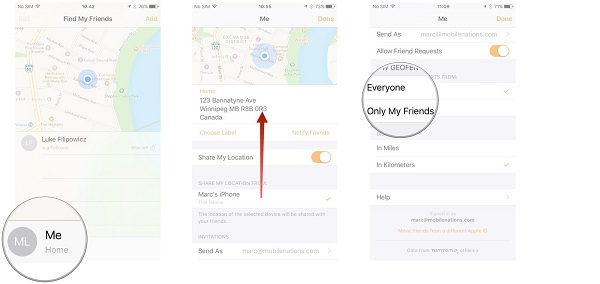 Step 2: After that, go to the field and you have to enter the name and email ID of the contact. You need to tap "Enter".
Step 3: Then, you have to select between "Right Now", "When I Leave" and "When I Arrive".
Step 4: If you want to change the location, you need to tap on "Other" after that you need to do any of the following;
You need to tap in the search field, and choose a location.

After that tap and hold the map until the drop pinsign appears.

Now, you have to drag that drop pin to a new location.

If you wish to increase or reduce the radius circle, you have to drag the dot on the circle.

If you have a large radius, you will have an advantage. You will be notified when your friends are nearby to your location. Even if they are not at the right location, you will be notified still.

But if you see the Refresh button, tap on it, to refresh the location options on the map.
Step 5: Lastly, tap "Done".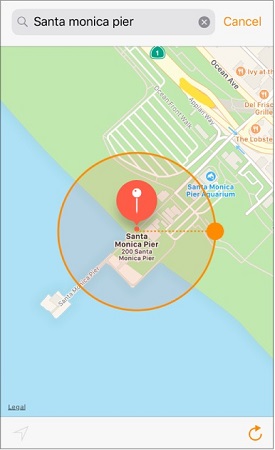 Conclusion
Geofence apps are doing great with all the enhanced features they are providing for both Android and iOS devices but comparing all the apps we have shortlisted the best ones for you.
For iOS devices, Find My Friends app is great as it provides a wide range of option when comes to be a location tracking app, Geofencing alerts which can be received by enabling the option of Find My Friend Geofence alert where the user can select which of the friends to share, how much to share and when to share.
In Android devices, KidsGuard Pro Android tracker is the best with many features of parental control, such as location tracking, Geofence alert, monitoring social media on target's device monitoring. You can even take screenshots of any messages or pictures and can download videos from any social media handles. It is simply the best!
Parents care a lot about the safety of kids, physically and mentally. Geofence setting could help them to know where their kids are, which may release some of worry. But how to take care of kids' metal health? How to build their kids a safe online environment? Here comes KidsGuard, best parental control app.