A Geofence is a virtual geographical area that can trigger an alert as soon as the compatible device enters or exits the fence. A GPS Geofence app is a necessity for companies to keep a check on their sales representatives. Even companies and apps use Geofencing for location-based marketing.
On a personal level, parents want to ensure that their kids are within the safe premises of their set virtual fence. Here is the list of the 10 best Geofence tracker apps you can choose for accurate tracking and timely alerts.
Table of Contents
Why People Need Geofence?
Different people have different needs for tracking the live location of the target person. When you want to track someone's location regularly, Geofence is a must-have feature.
Parents:
When their kids go out alone, parents are always worried. If parents set a Geofence and if their kids stay within the safe Geofence, there is nothing to worry. However, when they cross the Geofence, parents can track their kid's live location and reach out if any help is needed.
Partners:
Suspicion in a relationship is quite natural, and that is when people want to monitor their partner's whereabouts. You can set a safe Geofence covering the home and office area, but you're your partner crosses the safe zone, you should be worried and track location in real-time to check where he is going.
Employers:
Geofence is extremely important for employers to track their sales representatives in the field and ensure that they are not visiting the forbidden area. Besides, companies set Geofence feature for Geofencing to show relevant ads to users based on their location area.
Now that you have understood the usefulness of Geofence, we will now explain how to Geofence a location and get Geofence alerts using Geofencing tracker apps.
10 Best Geofencing Software
If you want to set Geofence and get instant alerts when the target phone's device enters or exits your set Geofence, you will need a GPS Geofence app. Here is the list of the top 10 best Geofence apps to choose from.
1. KidsGuard Pro for Android
KidsGuard Pro for Android is the best Android Geofence tracker from all perspectives. This is because the app offers a versatile range of features of tracking the target person's physical movement, virtual interactions, and phone activities.
Here are all the features of KidsGuard Pro for Android that make it stand out.
Features:
Geofencing: Set a safe zone as Geofence, and you will get instant alerts as soon as the target person leaves or enters your Geofence.
Location Tracking: You can track the location of the target device in real-time. This is useful when you get alerts that your target is leaving Geofence, and you can track where exactly he is going.
Location History: You can also check the places the target person has visited in the recent past plotted on the map with complete details.
Capture Photo: When your target person leaves your safe Geofence, you can take a photo through his device directly from KidsGuard Pro Dashboard to check his surroundings and understand who he is with.
Social Media: You get to check all the conversations the target person has had on the installed social media apps. This also included exchanged media files and deleted messages. Besides, you can also check the text messages sent and received.
Capture Screenshot: KidsGuard Pro for Android lets you capture live screenshots of the target phone instantly from your Dashboard.
Record Call: You can check out the call logs on the target device with full details. Besides, you can record phone conversations in real-time and listen to the recordings whenever you have time.
Browser History: You can find out the websites he has visited and the searches he has made through his web browser on the target device.
More Features: Besides, you can check all the photos and videos on the target phone as well as calendar and app activities.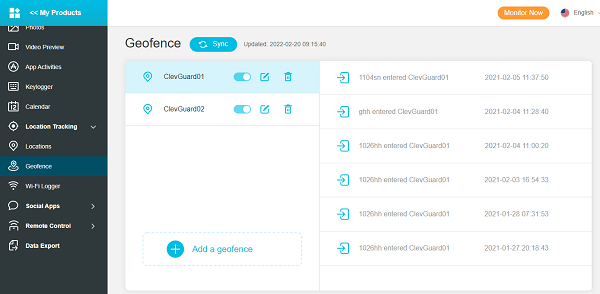 2. KidsGuard
KidsGuard is a parental control tool with real-time location tracking and Geofence setting features. While KidsGuard Pro is designed for tracking device activities, KidsGuard is more for tracking as well as controlling certain device activities. Here are all the features KidsGuard has to offer.
Features:
Geofence: The GPS Geofence app lets you set a perimeter, and when the target person crosses the fence, you will receive instant alerts.

Real-Time Location: The GPS Geofence app lets you set a perimeter, and when the target person crosses the fence, you will receive instant alerts.

Geofence: You can check the target device's location in real-time on the map. Besides, you can also check out location history details.

Block Websites: You can block certain websites explicitly by mentioning their URLs so that the target device cannot open them. Besides, you can turn on the ready-made web filters to block websites with inappropriate content automatically.

Limit Apps: You can block certain apps from getting installed. Besides, you can limit the access time of the installed apps so that the target person cannot overuse them.

Capture and Lock Screen: The GPS Geofence app lets you set a perimeter, and when the target person crosses the fence, you will receive instant alerts.

Geofence: You can capture the screenshots of the target device from anywhere through KidsGuard app on your device. Besides, you can lock the target device from your device instantly.

Call Filter: You can allow only certain contacts to call or get calls from the target phone. This eliminates outside disturbance.

Activity Report: KidsGuard app shows you the complete activity report of the target phone on a daily, weekly and monthly basis to track progress towards digital wellness.

3. EgiGeoZone Geofence (Android)

EgiGeoZone Geofence is a perfect Geofence app that allows you to set multiple geofences at a time. It is widely used in the corporate world as the employer can monitor sales representatives all at once.

The app uses different methods to determine the locations of the target persons. It triggers different actions based on their locations and movements as per pre-set geofences. Here are the key features of EgiGeoZone Geofence app.

Manage up to 100 geofences simultaneously
Trigger different actions on Geofence crossing
Live location tracking and remote controlling automation
Check everyone's current location in a summary

4. Checkmark 2 (iOS)

Checkmark 2 is a unique app on how to geofence a location and get reminders. Basically, you create a Geofence to get reminders whenever you arrive in the area you have set. You can set multiple reminders for different locations and there are options to set date-specific and time-specific Geofence-based reminders. You can also reschedule them instantly. Here are the key features of Checkmark 2.

Set geofences to get recurring reminders
Set date-based and time-based geofences
Customize alerts and reminders and use widget
Check everyone's current location in a summary
Organize and prioritize your list in different categories

5. Buddy Punch (Android & iOS)

Buddy Punch is another popular geofencing software that is particularly popular among employers. Buddy Punch utilizes the geofence feature so that employers can check the clock-in time of the employees.

It is easy to use and you will only have to set a specified radius. Not just geofencing, it also utilizes Bluetooth and Wi-Fi and can pair directly to SIM cards. Here are the key features of Buddy Punch.

Geofencing to get alerts and approval notifications
Complete movement tracking with timestamps
Proper punch option with facial recognition
Simplify payroll with employee time tracking

6. Geofency (iOS)

Geofency comes with fully automatic time recording according to the location. It can record the arrival and departure time automatically when the target person happens to leave or enter your set Geofence.

The app serves great for monitoring client visits, working hours, and lunch breaks. It comes with graphical visualization and you can even export the recordings in an Excel-friendly format. Here are the key features of Geofency Time Tracking app.

Geofence-based time tracking and recording
Great graphical visualizations and statistics
Control home automation and auto-recognition features
Does not consume battery too much while running in the background

7. Spyic (Android & iOS)

Spyic has features quite similar to KidsGuard Pro. You can create Geofence for the target device and receive alerts based on the target device crossing the Geofence. You can also check the real-time location as well as location history.

Besides, you can monitor various phone activities starting from social media messages to browser history. Here are the key features of Spyic app.

Set Geofence and get instant alerts
Check real-time location on the maps
Location tracking through GPS and SIM
Stays hidden on the target device

8. LinkWise by RedTrac

With this geofencing software, you can receive customized alerts based on set Geofences. With its proprietary technology, LinkWise can collect the data from the target devices to provide you with detailed reports. It utilizes GPS and Geofencing for location tracking and reporting.

LinkWise can be great for fleet management and construction companies. Even with all the features, it has a simple interface for hassle-free operation. Here are the key features to watch out.

GPS tracking system along with Geofencing technique
Customized alerts and actionable notifications
Operation reports based on activities and logs
Real-time tracking of location and other activities

9. Kaspersky SafeKids

Kaspersky is a reliable brand and SafeKids app is particularly designed for parents to use Geofencing technique to keep an eye on their kid's movement. Parents can set Geofence and track their kid's location in real-time whenever required.

Besides, there are various parental control features to restrict kid's phone activities. Here are the key features of Kaspersky SafeKids.

Set Geofence and track kid location
Restrict screen time for the target device
Block inappropriate content with web filters
Enable safe search option for YouTube

10. Reveal Manager

Reveal Manager by Verizon Connect is the leading app for industrial applications in various working fields such as fleet management. You can set Geofence, track real-time location, and check the real-time performance of vehicles. It has map data from over 80 countries and is great for the logistic industry.

You can also set customized alerts and notifications based on vehicle routes and activities. The app will eventually migrate to Spotlight by Verizon Connect. Here are the key features of the Reveal Manager app.

Create Geofence for strict monitoring
Locate vehicles and spot target persons nearby you
Block inappropriate content with web filters
Review historical performances and routes traveled

Conclusion

There we go with the list of the top 10 geofencing software for your consideration. Considering all the parameters, we recommend KidsGuard Pro as the best Geofence app. This is because it brings a lot more relevant features that go perfectly with Geofencing and monitoring the target person properly.